Article by Sabrina Aubut originally published in the Atmosphere magazine. Read the latest edition here.
The Atmosphere team chose to visit Calgary and its surroundings in early September. Summer was drawing to a close, the sun's rays were dazzling, the mountain air deliciously fresh. There were fewer tourists around, but all the outdoor activities were still available. It was the perfect time to visit Alberta and experience nature at its finest.
Magnificent Lake Louise, Banff And Canmore
A trip to the Albertan Rockies means a stay in vast Banff National Park, which cover 6,641 square kilometres! It's a huge territory with few inhabitants, dotted with glaciers, mountains, stunning valleys and rushing rivers. The town of Banff, situated between Lake Louise and Canmore, is the ideal base to explore this vast park.
Forty-five minutes north of Banff lies Lake Louise, renowned for its turquoise glacier lake and ski resort. The crowds of tourists can make it hard to connect with nature on the lakefront, but you don't have to venture far down to find yourself quite suddenly alone, able to take in unforgettable views of the lake in peace.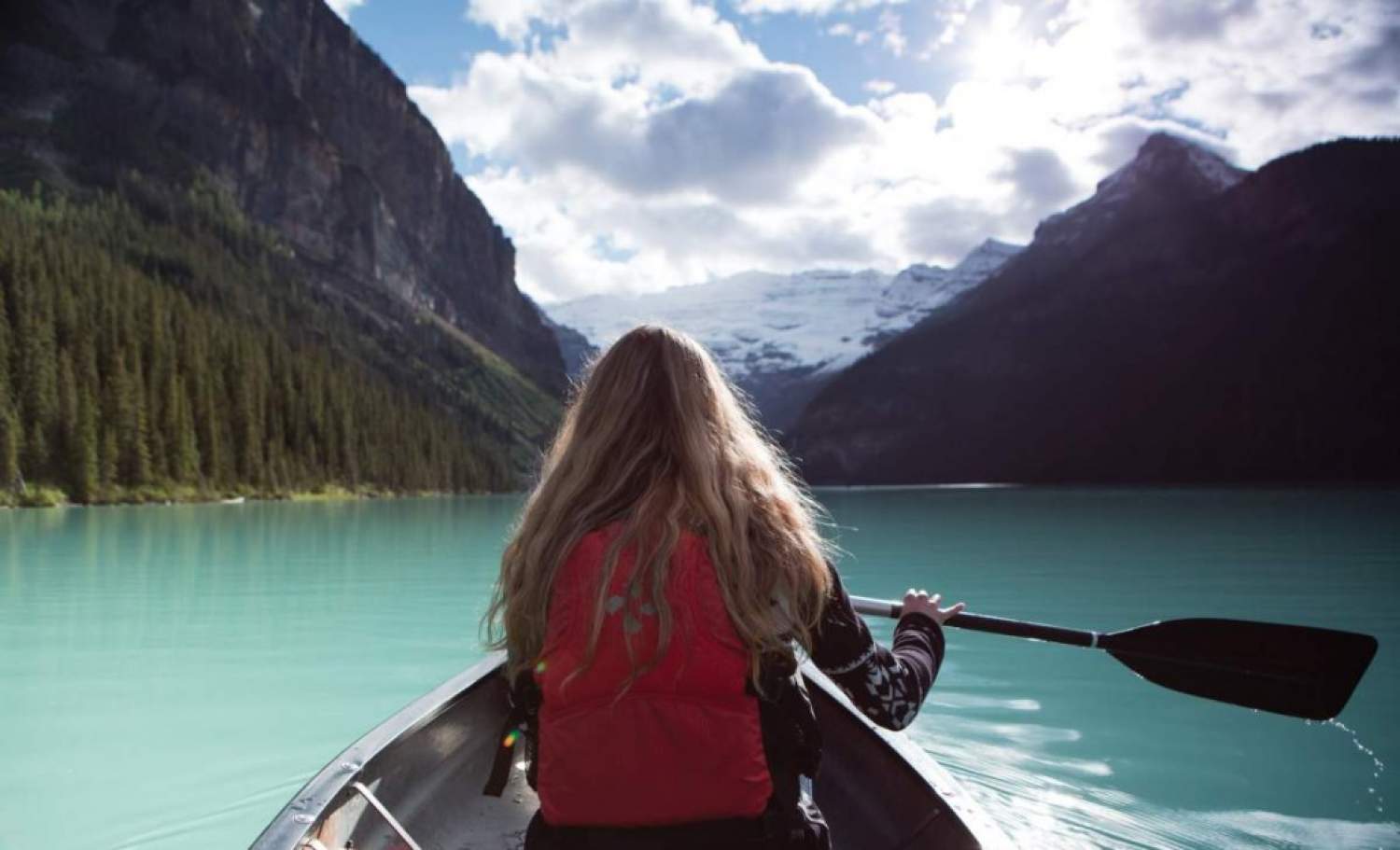 If you continue on toward the eastern side of the lake, you'll find yourself on the Plain of Six Glaciers Trail. Overlooking the valley, it's probably the best vantage point from which to admire the spectacular panorama before you. We found ourselves stopping to take pictures every few minutes! The trail eventually narrows to a path bordered by steep drops on either side, great fun for adrenalin junkies. You'll find yourself literally surrounded by glaciers; listen for the awesome sound of ice breaking up on the cliffs in the distance. It's the perfect spot for an impromptu and well-deserved picnic. On the return path, the rustic little Plain of Six Glaciers Tea House is a must-stop for a cozy cup of tea in a fairy tale setting.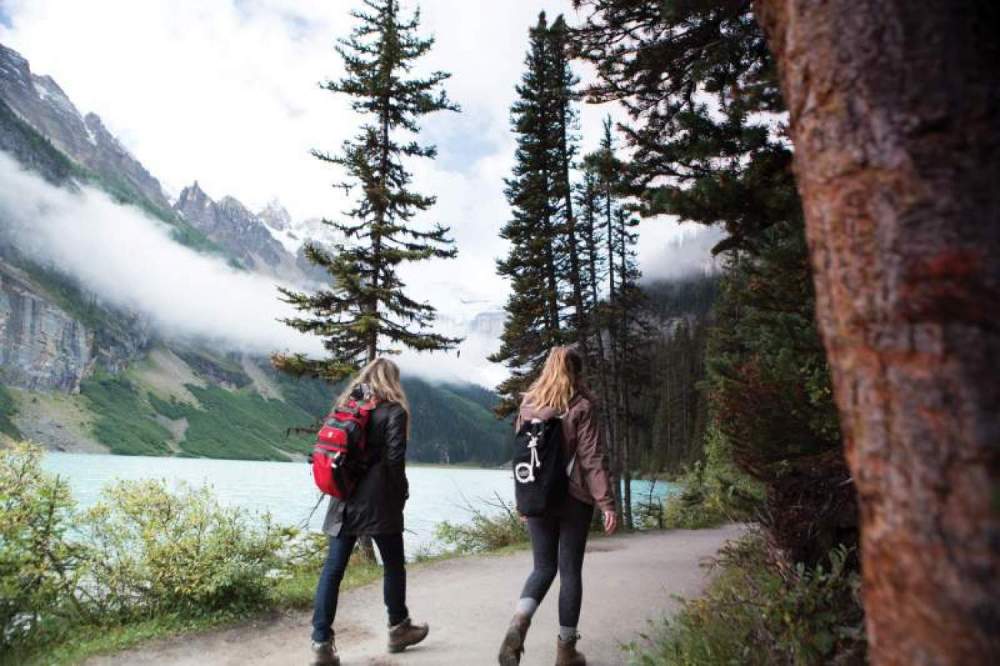 Fourteen kilometres from Lake Louise, Moraine Lake is a similar glacial reservoir, but set in more unspoiled surroundings. It also happens to be a grizzly sanctuary! Early morning is best if you want to avoid the crowds. When the air is misty and you can hear the occasional cry of a bird, the experience borders on mystical.
In Johnston Canyon, approximately 30 minutes north of Banff, you can set off on an easy, 20-minute walk to the lower falls, and another, more challenging, 45-minute hike to the upper falls. The canyon's limestone caves and protected walkways along the cliffs provide countless incredible views.
Twenty minutes south of Banff, Canmore is the town where the locals live. It's also a great place to do outdoor sports in a picture-perfect setting. Horseback riding, mountain biking, hiking and climbing are just some of the possibilities. Unable to resist the turquoise water that comes straight down from the glaciers, we tried our hand at white-water rafting. The experienced, funny guides at Canadian Rockies Rafting showed us a very "refreshing" time!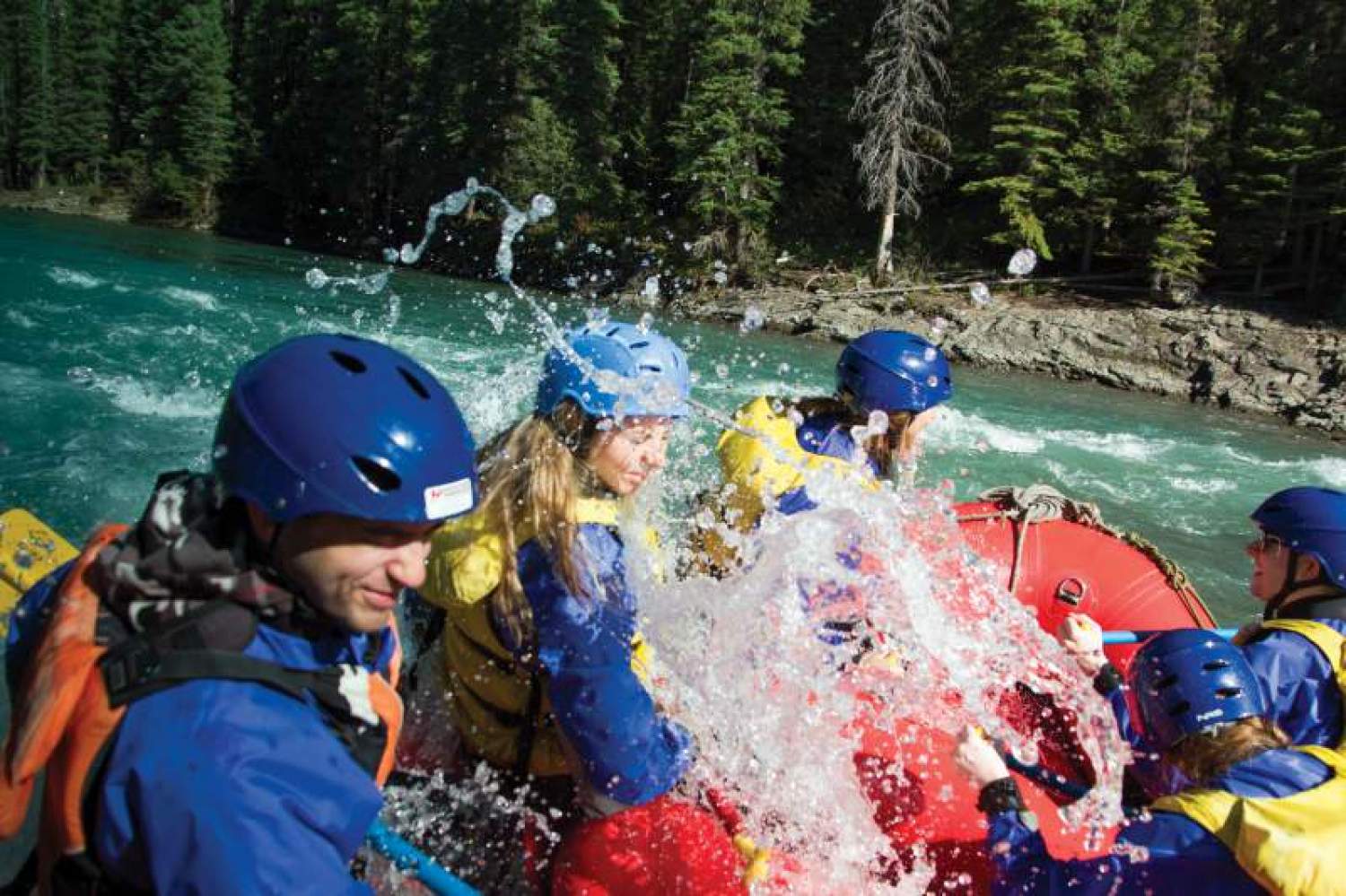 Banff: Where To Stay
Mountaintop Spectacular: The Fairmont Banff Springs
The Fairmont Banff Springs, dubbed the "Castle in the Rockies" and inspired by the imposing manors of Scotland, is a world-famous UNESCO World Heritage Site. Built in 1888 in majestic surroundings by the Canadian Pacific railway company, it once served as a lodge for passengers en route toward the West.
Canadian Forest Rustic: The Deer Lodge
Cozy inns, that make you feel right at home, can be found at various places around the national park – we tested the Deer Lodge in Lake Louise, and are good value. Another option is renting a recreational vehicle (RV). Several companies offer this service, which lets visitors enjoy unique vacations.
Banff: Where To Eat
Banff
Lake Louise
Canmore
Surprising Calgary
At the confluence of the Bow and Elbow Rivers, Calgary is crisscrossed by brand-new highways and viaducts. Although it was founded in 1875, Calgary looks like a very young city that's having an astonishing growth spurt!
A visit to the Inglewood neighbourhood with Karen Anderson, founder of calgaryfoodtours.com, is a great introduction to the city. Calgary's oldest neighbourhood is attracting increasing numbers of entrepreneurs and creative types, and Karen knows all the local merchants, along with their history and the products they sell. She introduced us to a number of new businesses, all of them unique and inspiring. To give just a few examples, there was an artisanal bakery that uses only ancestral flours and processes, a sourdough loaf takes three days to make, for their absolutely divine bread; an amazing spice store; and a store that sells Japanese knives made by the same ironsmiths who design samurai swords. The tour ended in style, in the middle of Rouge restaurant's gorgeous garden, where we sipped on a glass of very fine Valdespino sherry (Rouge was voted one of the 100 best restaurants in the world by San Pellegrino in 2011).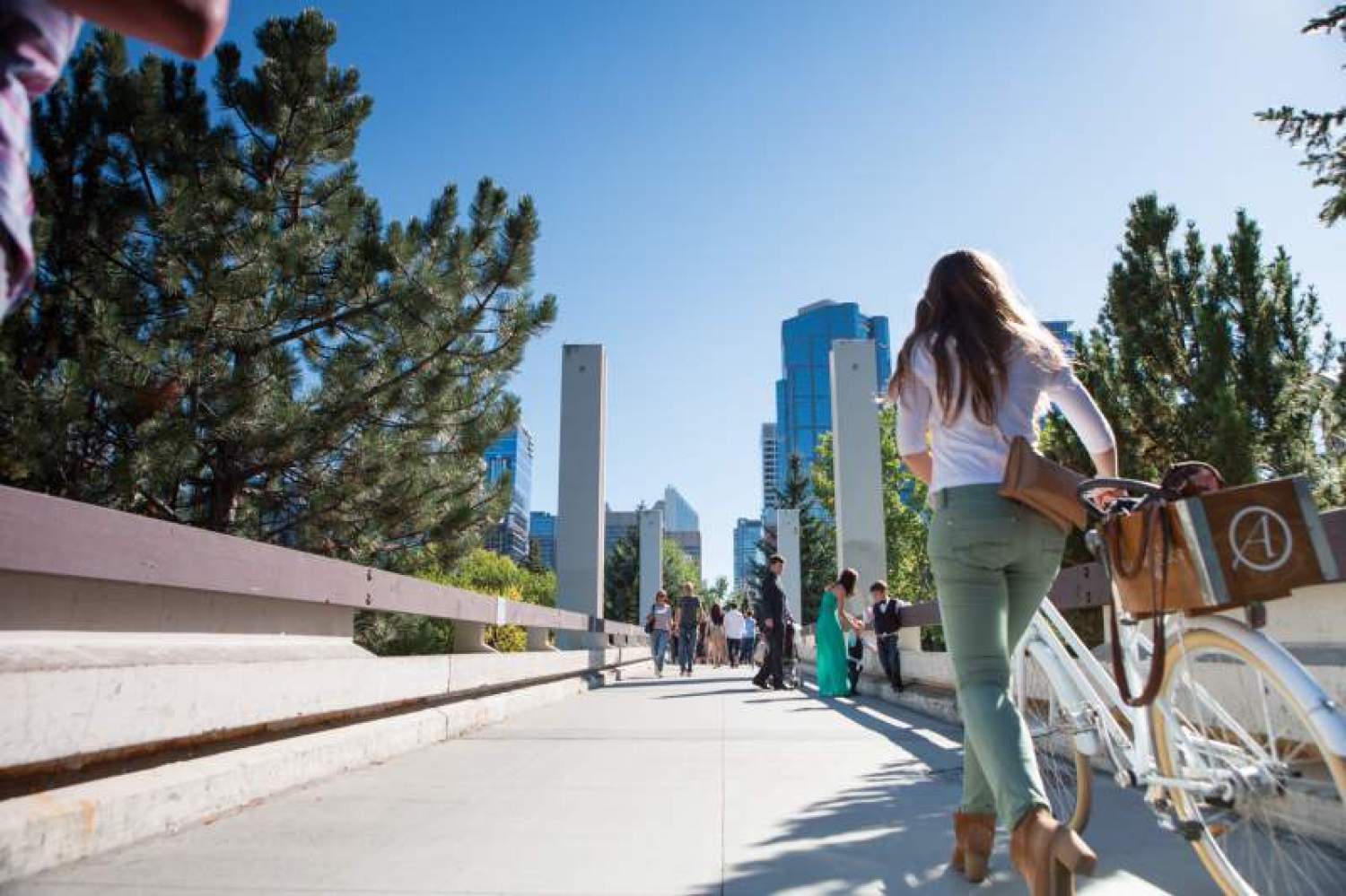 The best way to explore the other parts of town is by bike. From downtown, it takes about ten minutes to get to East Village, a once-seedy neighbourhood now in full gentrification mode. While we were there, East Village was hosting a local artisans' fair, where shoppers also got to sample the wares at a multitude of trendy food trucks. From East Village, you're just steps away from the Calgary Stampede site. Taking the bicycle path from the shore of the Bow River heading west, you'll cross Prince's Island Park, a lush oasis filled with young people playing Frisbee and hanging out. Downtown is just to the south of here, where the friendly, harmonious streets play host to the city's biggest festivals, like Canada Day and the Calgary Folk Music Festival. Crossing the north shore of the Bow and heading west, you arrive at Kensington Village, home to artists and students. It's a great place to stop for a cupcake, check out the little vintage clothing stores and immerse yourself in this unusual "village".
We visited four cities in four days. After our sojourn deep in the wilderness, we were ready for the effervescent charms of Calgary, but the extraordinary beauty of the mountains stayed with us. While we were in Alberta we met several people who had settled in the Rockies after falling under their spell. Many of them had been seeking adventure when they first set out for the mountains, but stayed for the peace and quiet and the pure air. We completely understood where they were coming from. As for us, we'll always have our memories!
Calgary: Shops And Restaurants We Loved
Book an Air Transat flights to Calgary and start exploring Alberta.
Cover photo credit: Marc-André Laurin
The comments and contributions expressed are assumed only by the author. The recommendations, intentions or opinions expressed are not necessarily those of Transat AT Inc. or its affiliates. See terms of use of the Air Transat website.