Ottawa is not only the capital of Canada, it is also one of the best cities for family vacations in the country. There are so many things to do with kids in Ottawa that the hardest part of planning a vacation is actually narrowing down what makes it to the schedule!
Home to an incredible number of national museums, galleries and educational opportunities, Ottawa is a family-friendly city. It's a great family vacation if you have active children but can't afford to blow the budget on a pricey family holiday. In Ottawa, the prices are low and there is an abundance of free activities.
The Rideau Canal
A UNESCO heritage site and a National Historic Site of Canada, the 200 km canal system fed by rivers and lakes connect Ottawa to Lake Ontario. There is no bad time to visit the Rideau Canal as there are plenty of activities all year round. One of the most popular things to do is to skate the Rideau Canal Skateway. This stretch of 7.8 km is the world's largest naturally frozen rink and is free to visit. If you don't have ice skates, there is a reasonably priced rental shop.
In summer, it's a great trail to walk, bike, canoe, kayak or even have a picnic. If you have young ones, there are boat tours to see beautiful views of the city.
Walk the Mer Bleue Bog
One of the lesser-known things to do in Ottawa with kids, you'll find lots of locals at the Mer Bleue Bog boardwalk.
This wetland is an important protected site in the city and is perfect for spending a bit of time in nature. There are walkable paths and lots of opportunities to spot wildlife in the marshes.
Calypso Waterpark
Hot days call for a cool escape and Calyspso Waterpark is the largest theme splash pad in Canada.
Located just outside Ottawa, it counts over 100 waterslides. There are also games and wave pools to keep all ages busy for the day.
Canadian Children's Museum
Located in the Canadian Museum of History, this museum is one of the best things to do in Ottawa with kids aged 5to 12 as it's designed to educate while entertaining.
Upon entering, kids receive a passport to travel the world. They learn about diversity and immigration in Canada while collecting stamps in each country they visit. Each stop has something fun for kids to learn about and interact with. They may try on a kimono in Japan or visit a European market.
Good to know: on Thursday evenings from 4 to 8 p.m., admission is free.
Parliament Hill
No visit to Ottawa is complete without a visit to Parliament Hill. While it may not seem like a government building would be the go-to spot for a fun family holiday in Ottawa, there are activities for kids of all ages, like the changing of the guard at 10 a.m. It is a full production complete with nearly 100 guards marching to bagpipes and drummers. Be sure to get there 20 minutes early for a good spot.
To add a bit of an educational spark, it's possible to take a free, 30-minute guided tour of the Parliament to learn a bit about how the government works.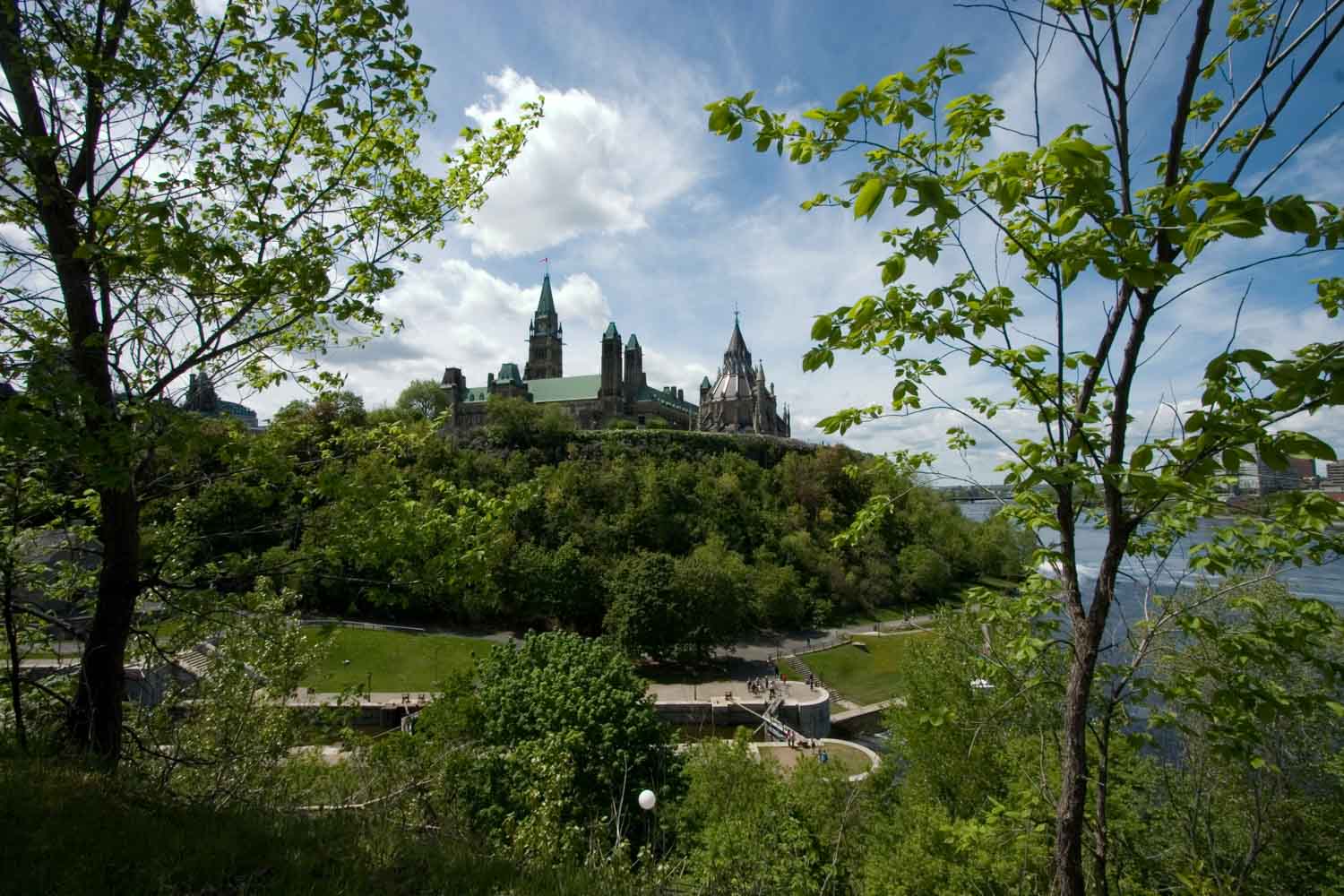 In the summer evenings, Parliament Hill is home to a sound and light show, which projects images onto the building while sharing the story of Canada. It begins at 9:30 p.m., so it's best suited for children who can stay up.
Royal Canadian Mint
The 45-minute tour at the Royal Canadian Mint is great for school-aged kids to learn how Canada's coins are made. Tours must be booked in advance to explore the facility, which is located in a castle-like historic building. At the end of the tour, it's possible to hold a solid gold bar worth over $750,000.
ByWard Market
Ottawa was once known as "ByTown" and while it is now history, the market remains. It is one of the oldest farmers' markets in Canada and now includes restaurants, galleries, and souvenir shops. A must-visit shop is the original BeaverTail shop, with one of Canada's most renown pastries. Although there are many flavours today, the original is with cinnamon sugar. These sweet pastries are large and perfect for sharing.
Gatineau Park
Although technically in another city, Gatineau Park is one of the most popular things to do in Ottawa with kids. Locals love getting out of the city to explore the trails, caves, take a quick swim or have a picnic. There are trails of varying lengths and difficulties, including the Sugarbush Trail, which is stroller-friendly. It's possible to camp here all year round. In the winter, it's popular for skating, cross-country skiing and snowshoeing, especially at night.