We truly enjoy winter to the fullest in Quebec City. As soon as the temperature drops below zero, and the city becomes covered in white, a variety of fun-filled winter activities come to life.
So put on your tuque and mittens, and take part in these Quebec City activities sure to put a smile on your face during the chilly season.
The Dufferin Terrace toboggan slides
Since 1884, The Dufferin Terrace toboggan slides have been thrilling young and old alike. Overlooking the St. Lawrence River and next to the famous Château Frontenac, these unique slides are one of the oldest attractions in Quebec. Settle into your toboggan and speed up to 70 km/h! Once you reach the bottom, warm up with a delicious cup of hot chocolate from the small booth next to the slides.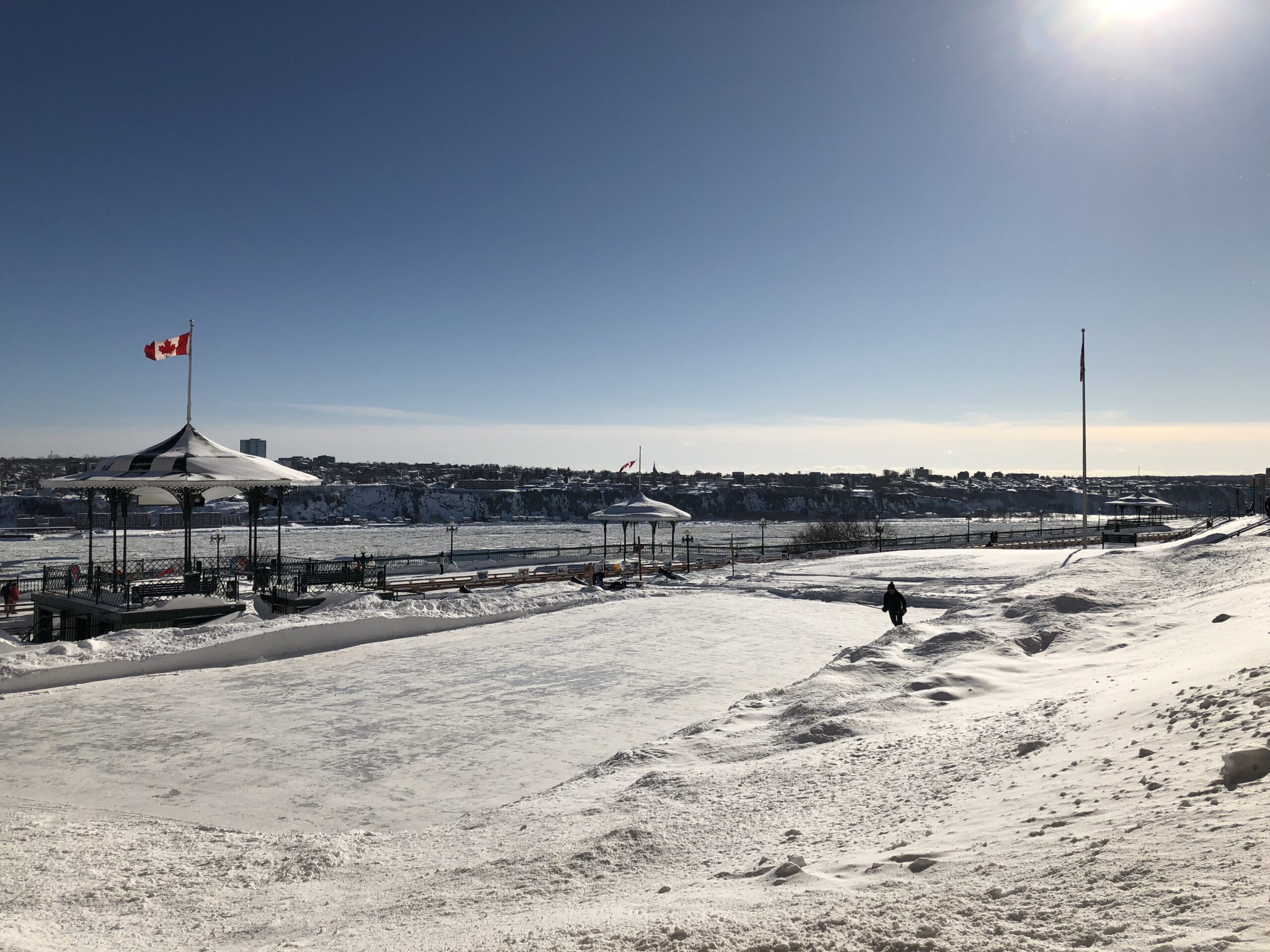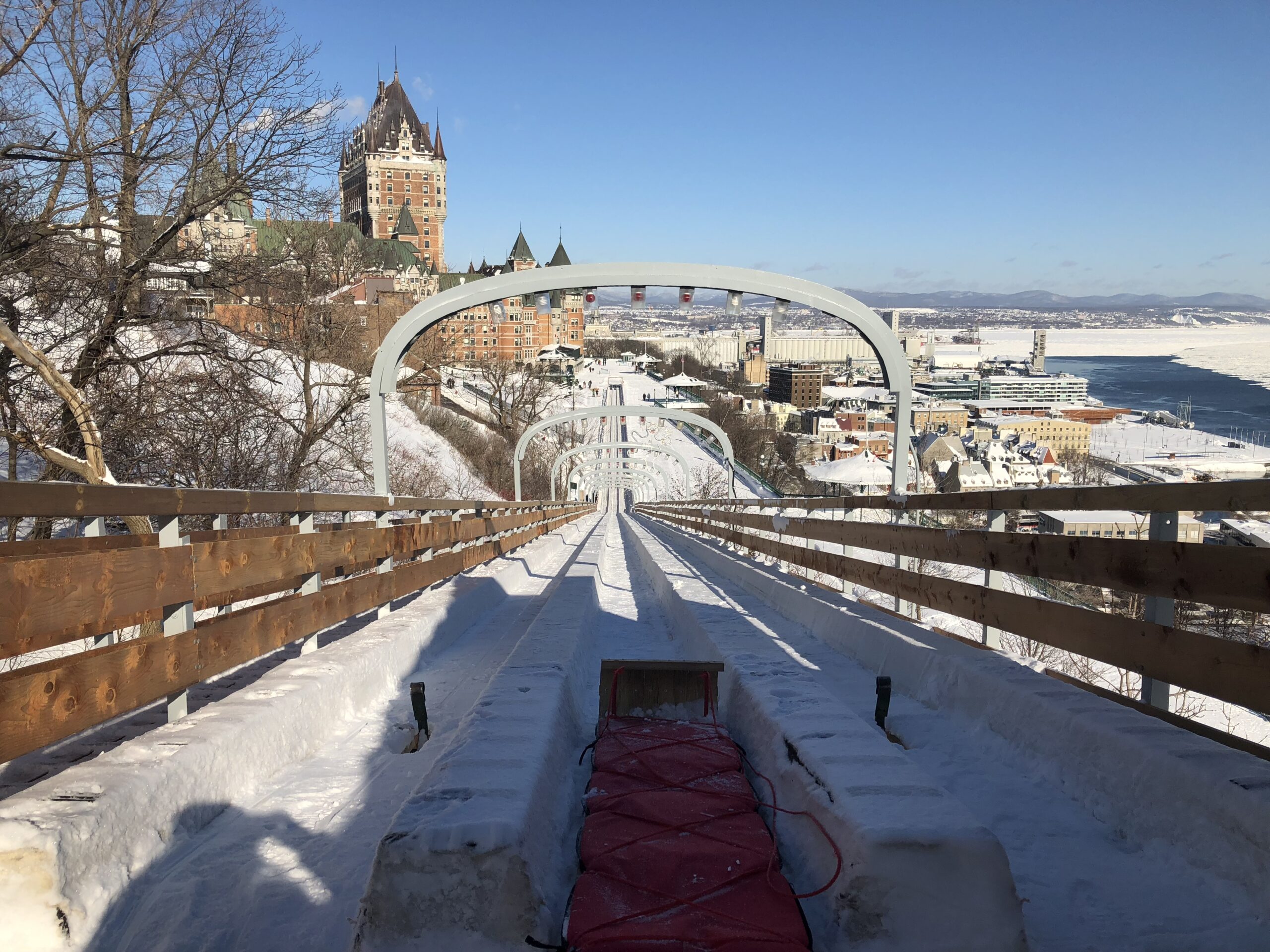 A toboggan can seat up to 4 people.
Each slide costs $3 per person.
Group packages are available.
A trip to the Quebec Carnival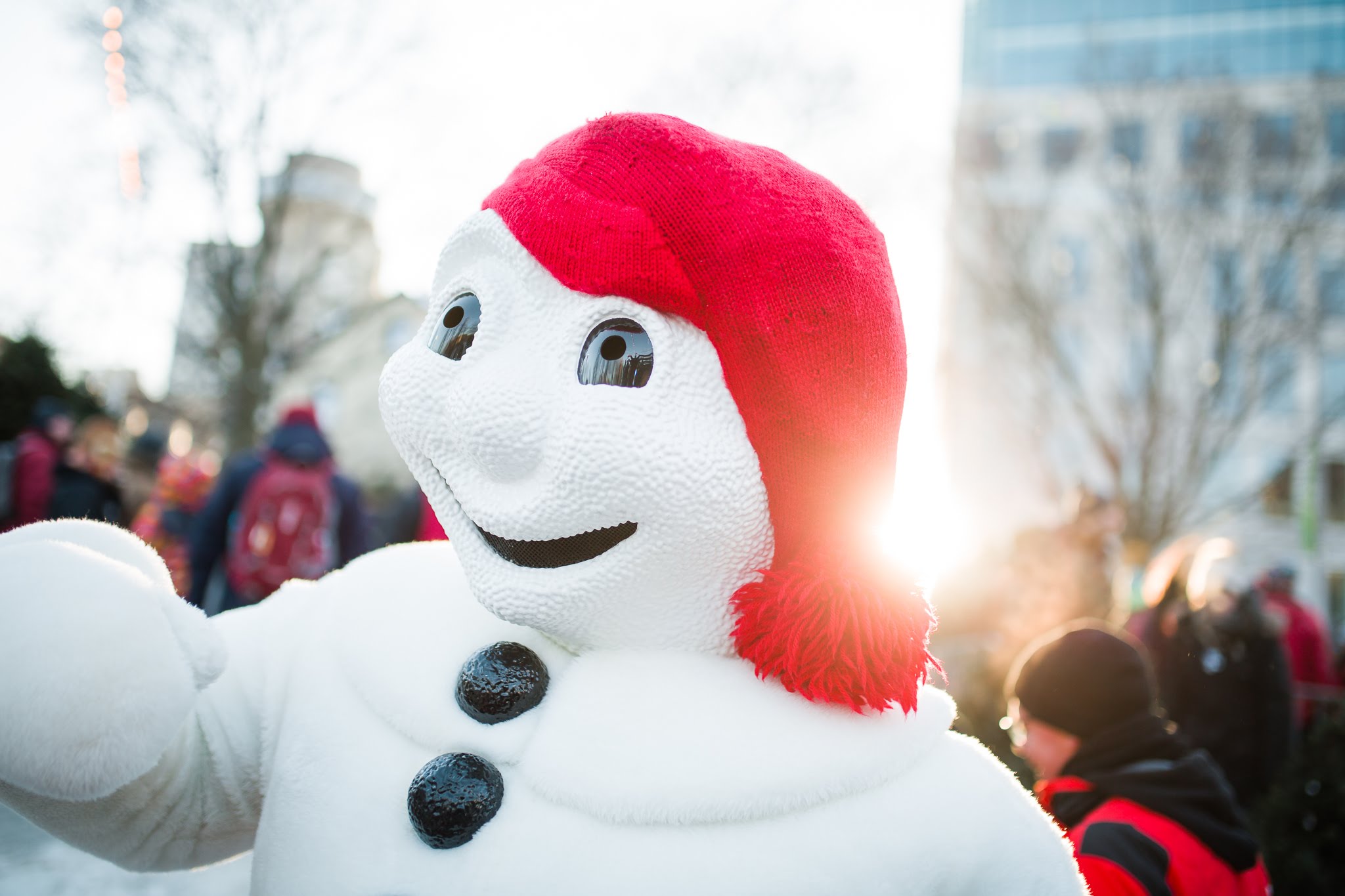 Don't miss the largest winter carnival in the world: the Quebec Carnival! For 10 days in February, the Carnival features more than 200 activities and attracts close to 500 000 festival-goers. Plunge into the Bonhomme's universe, the official Carnival representative, and discover the joie de vivre of Quebecers in winter. On your bucket list: take a selfie with this famous snowman! Observe or try iceboat racing, snow baths, mechanical moose riding (variation of the bull) and the "ride-cul" race—hitting the slopes seated on a ski! All these activities are unique to the Carnival of Quebec.
You'll also notice several French-Canadian traditions such as wearing the arrow sash and sipping the famous Caribou drink made from red wine, hard liquor and maple syrup. There's nothing better than sharing a Bonhomme Carnaval-headed cane filled with Caribou to warm you up!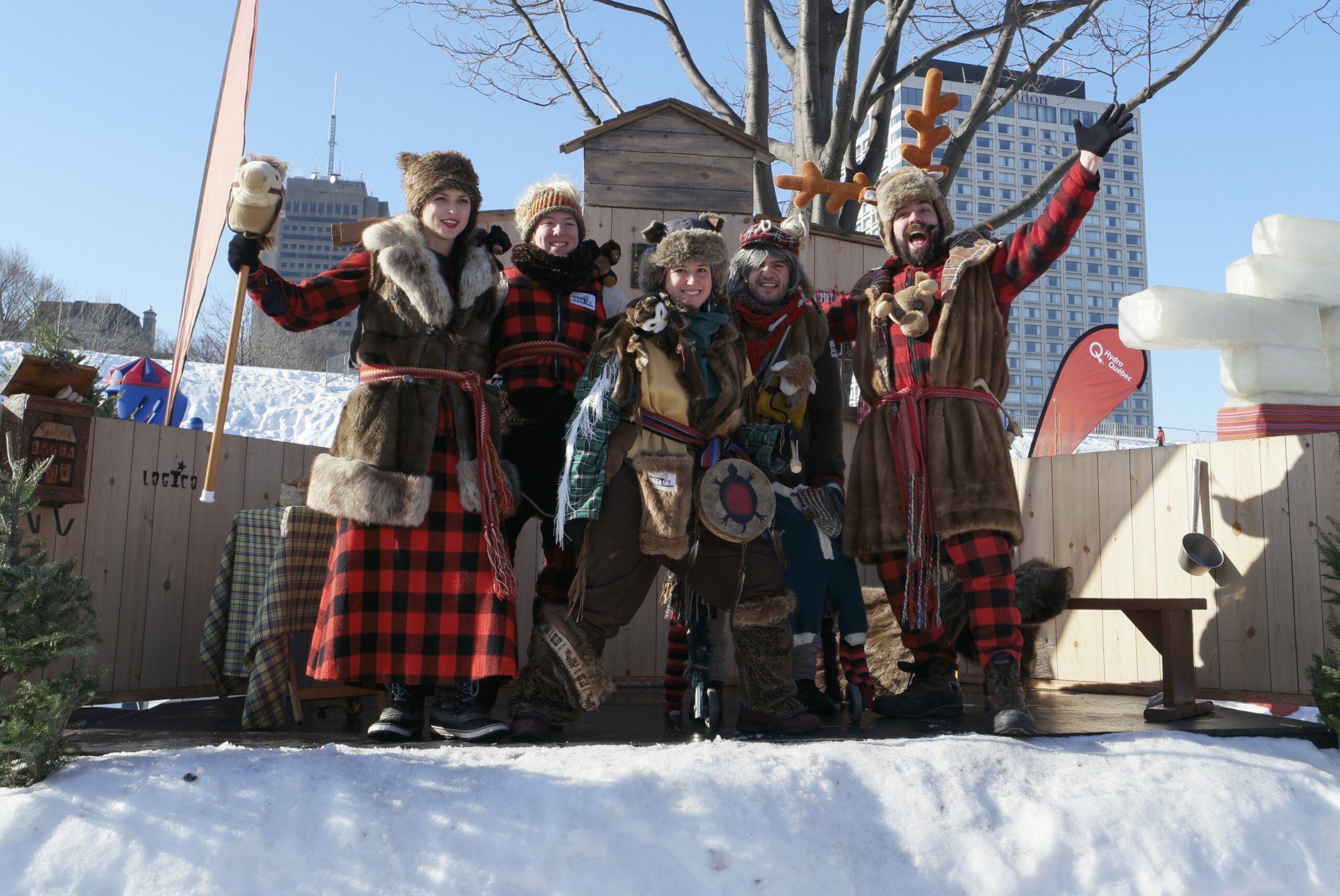 The festival offers new activities every year. This year, Bonhomme Ice Palace was transformed into an interactive playground at night, suited for both kids and adults.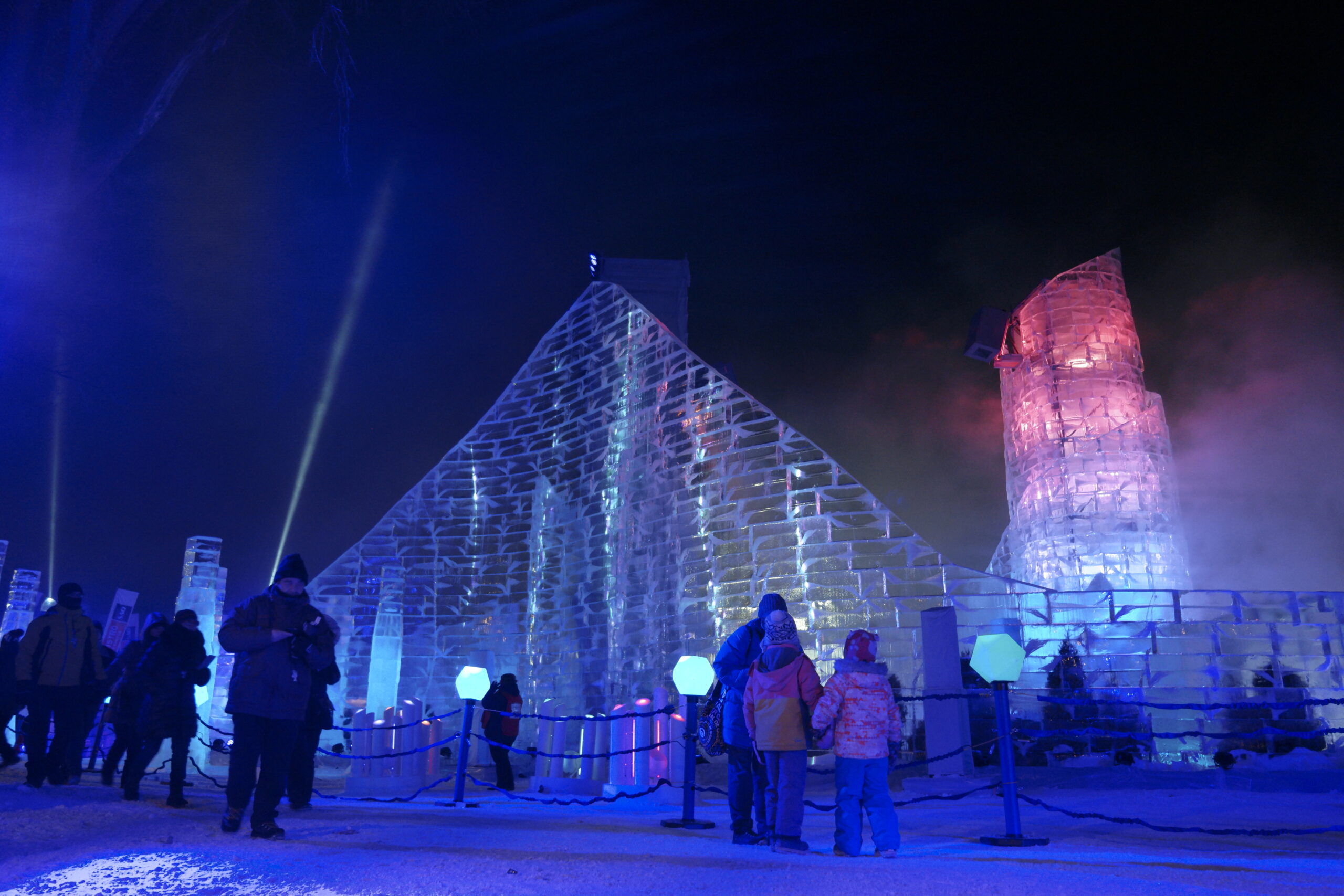 A magical night at Valcartier Ice Hotel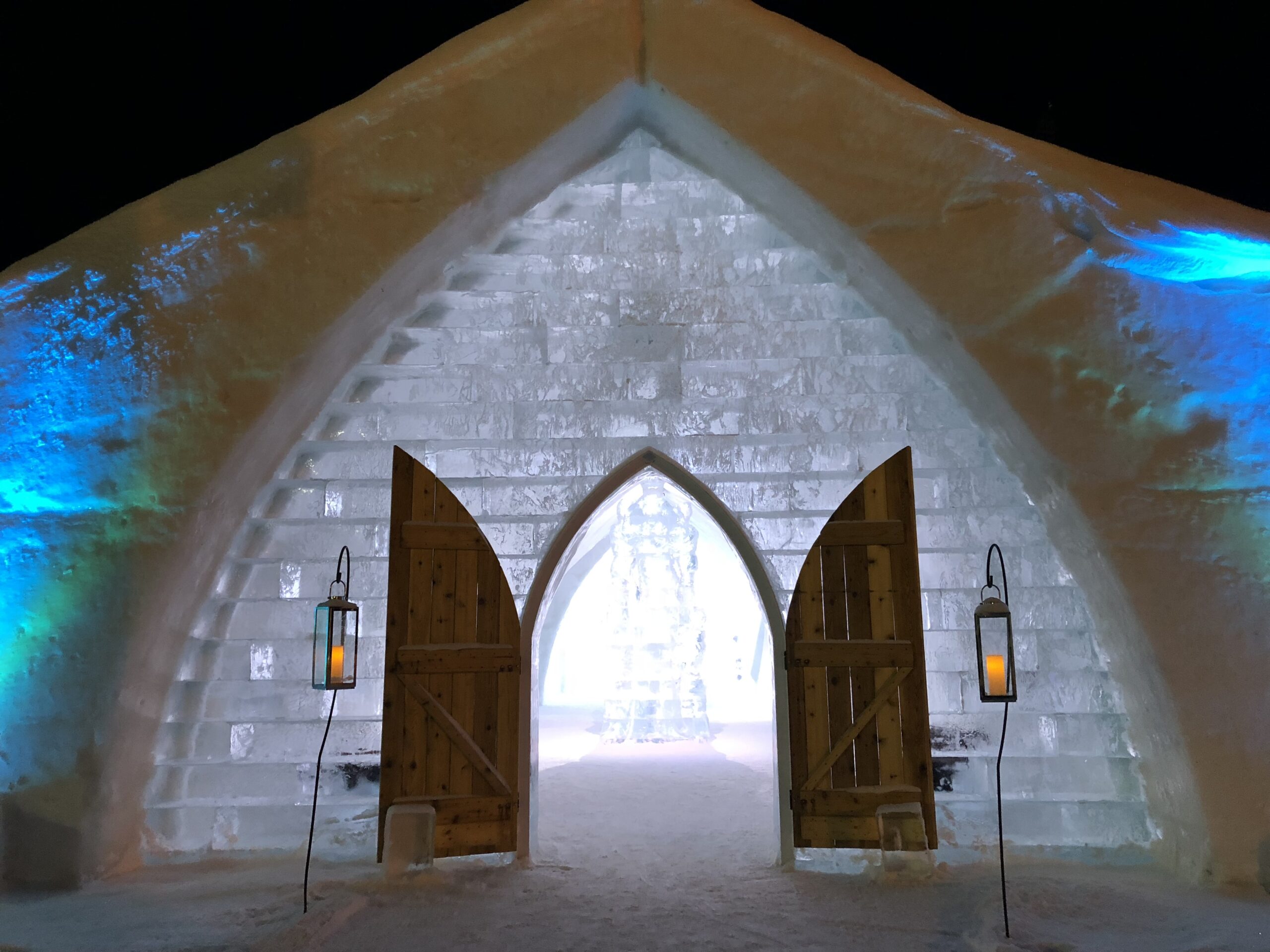 As you may already know, Quebecers don't live in igloos or have pet polar bears. But even though we live in houses, we sometimes want to experience something new, spending a night at the Ice Hotel in the Valcartier Vacation Village! A 30-minute car ride from downtown Quebec City, this work of art, exclusive in North America, amazes thousands of visitors from across the globe each winter. Prepare yourself for a unique northern experience in this impressive structure built entirely out of snow and ice. If you're the courageous type, spend a night in one of its 45 rooms, or simply visit the magical hotel and sip a cocktail served in an ice glass, just to warm you up! 😉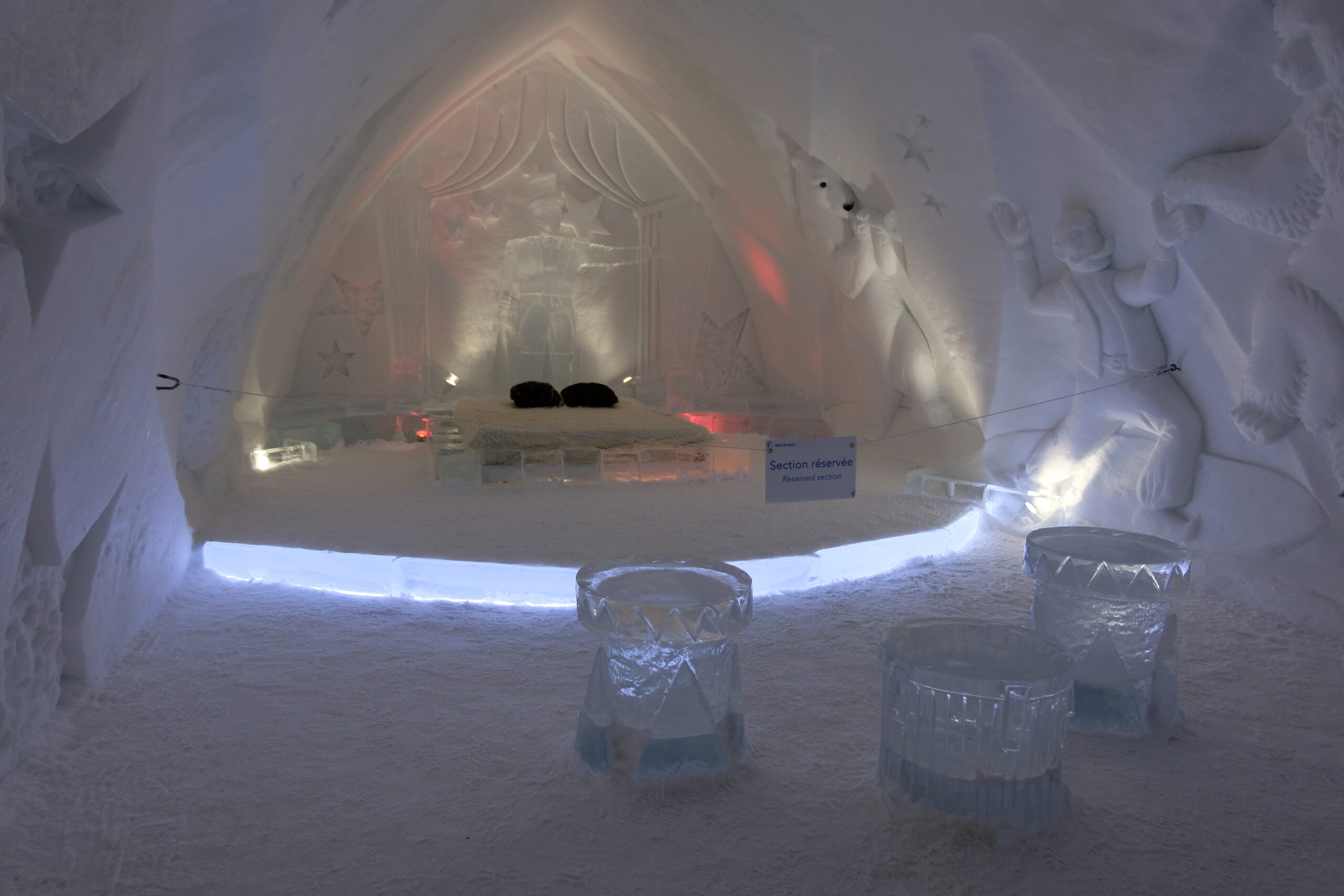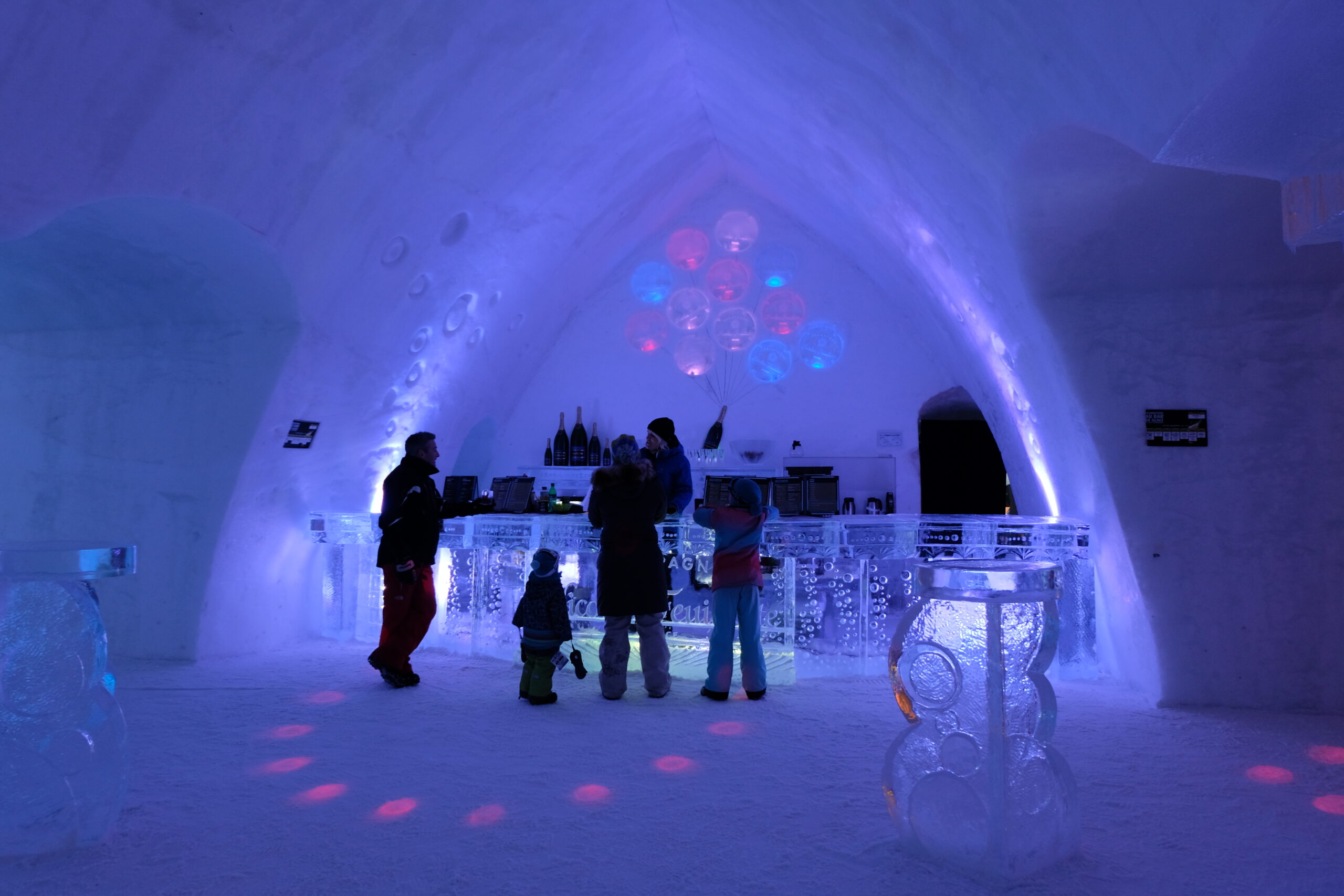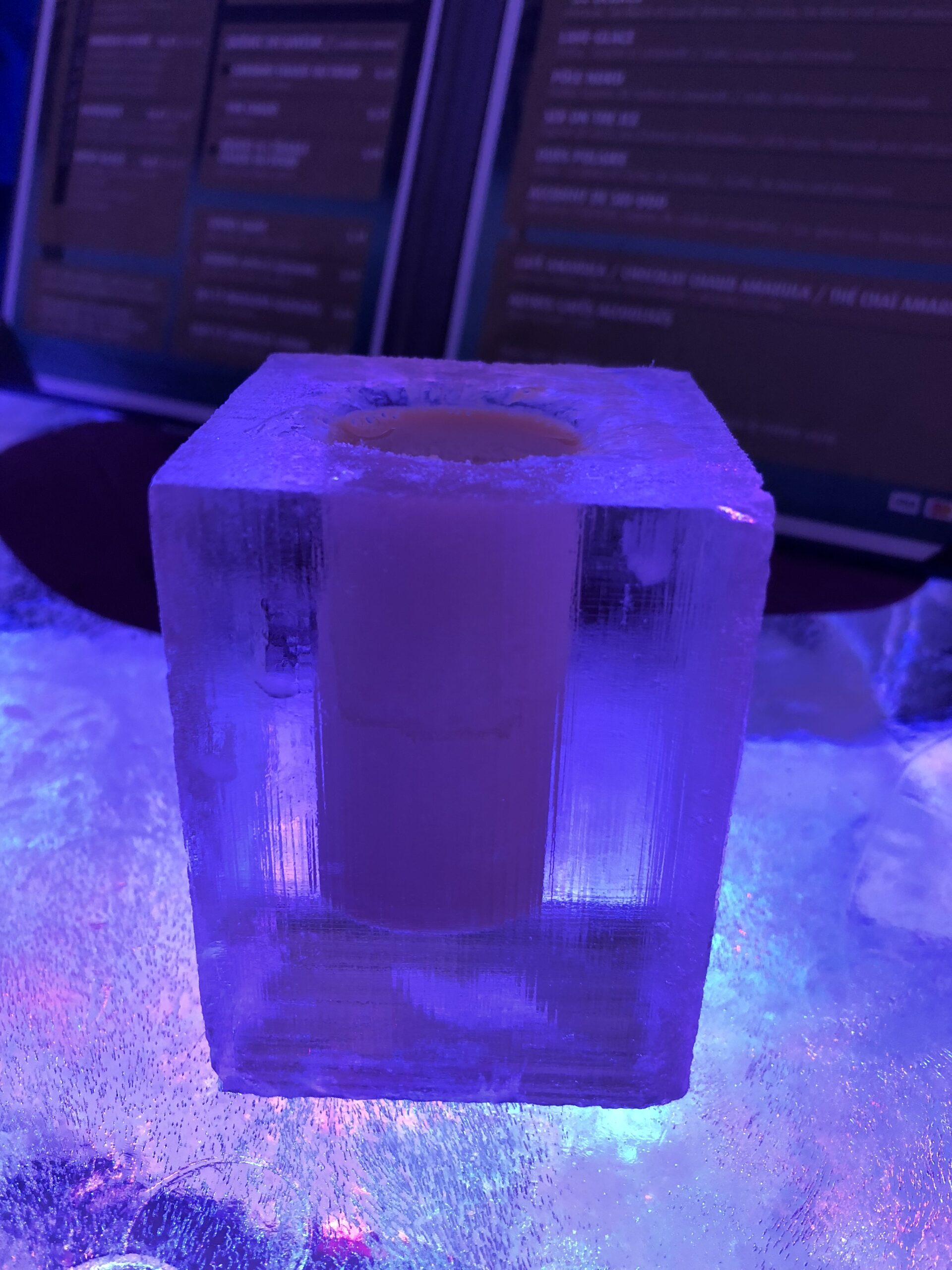 Several winter activities are also offered on site and are sure to please the entire family.
This temporary hotel welcomes guests between December and March (varies according to temperature).
Open house or guided visits are available every day between 10 a.m. and 9 p.m. (reduced family rates offered). Free entrance for kids less than one meter tall.
Tip: bring synthetic or wool clothing if you want to spend the night at the Ice Hotel. Avoid wearing cotton since it retains humidity.
A winter hike at Parc de la chute-Montmorency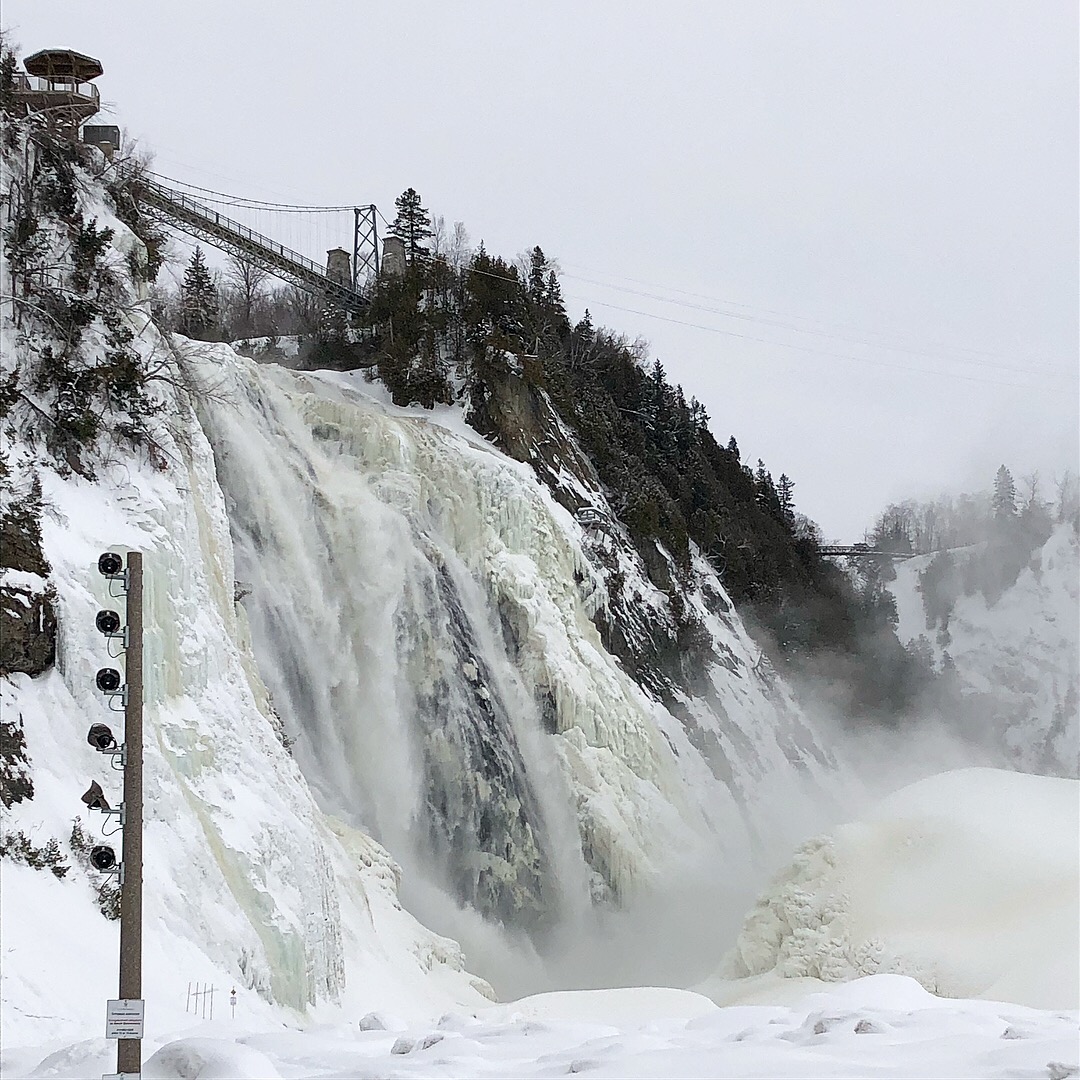 You've certainly admired a waterfall in summer but have you ever seen one in winter? Parc de la Chute-Montmorency, located 13 km from Old Quebec, will delight those who love the outdoors. It's the perfect spot to admire the beauty of the white winter landscape and appreciate the strength of the impressive Montmorency Falls, 83 meters high (30 meters taller than the Niagara Falls).
Observe the majestic falls from the cable car, which will take you all the way to Manoir Montmorency. You can also admire the falls walking or snowshoeing along the pathways of the park. The more adventurous types can even climb the cliff's frozen walls that frame the falls.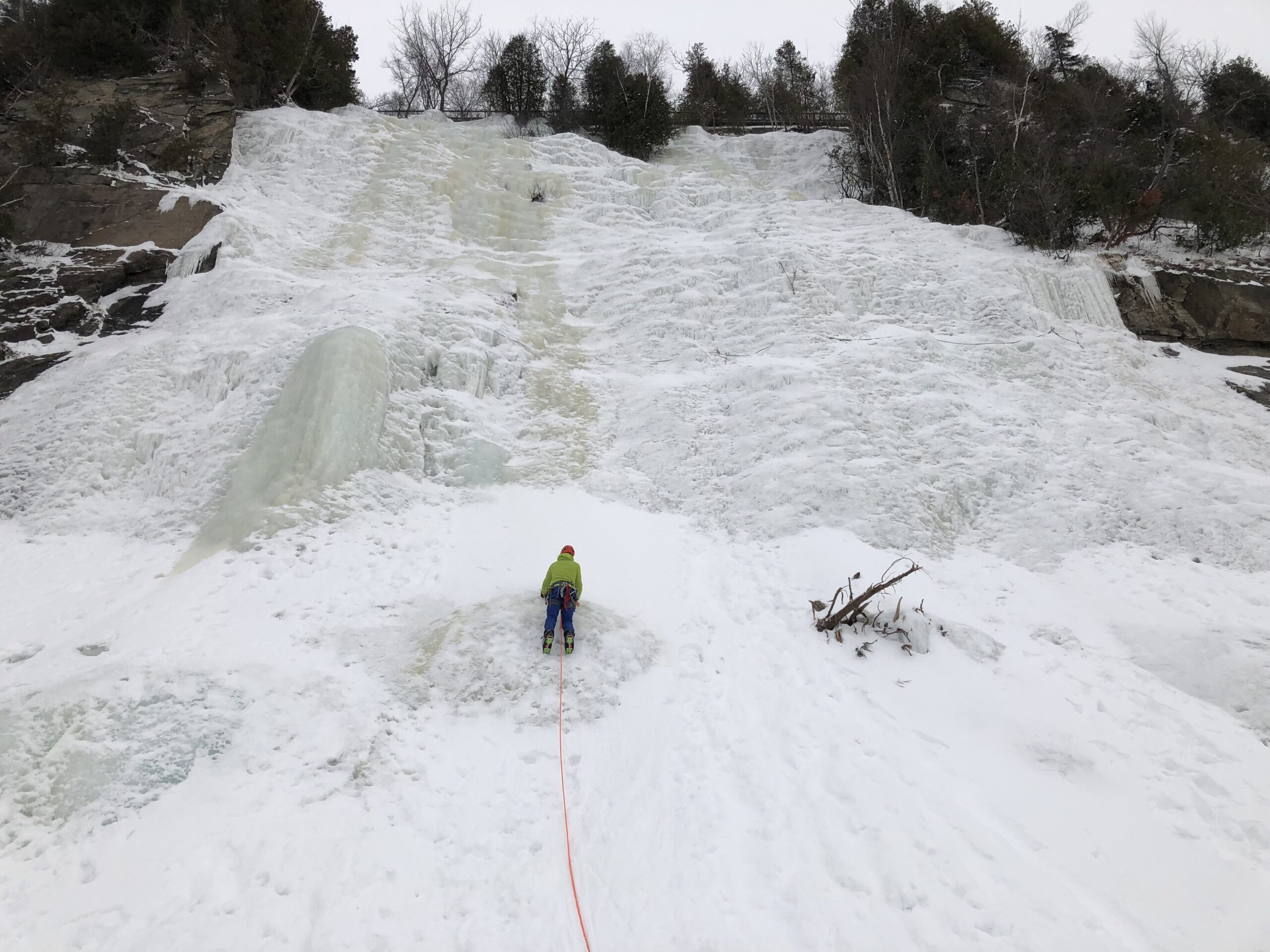 When the temperature drops below zero, the mist from the crashing waterfall freezes and forms an impressive ice cone called Pain de Sucre (Sugarloaf) at the base of the falls. The waterfall lights up come nightfall to create an even more magical ambiance.
A round-trip cable car ride is $12.08 per adult.
There is a 487-step panoramic stairway but it's not accessible in winter.
Wear warm clothing: snow pants, coat, boots, tuque and mittens.
The harsh winters in Quebec don't scare us! Come discover the range of activities in winter's capital created to warm up our hearts. What are you waiting for? Book your flight to Quebec City today!
The comments and contributions expressed are assumed only by the author. The recommendations, intentions or opinions expressed are not necessarily those of Transat AT Inc. or its affiliates. See terms of use of the Air Transat website.