Nestled between the sweeping prairies and the Rocky Mountains, Calgary is an adventure lover's paradise. Known as the gateway to the Canadian Rockies, many thrill-seeking travelers use Calgary merely as a conduit to the mountains or Alberta's vast Badlands. But, there's no need to leave the city limits to find fabulous outdoor adventure! With acres and acres of green space, an array of Olympic worthy venues, and miles of excellent hiking and biking trails, rest assured that there is no shortage of incredible outdoor things to do in Calgary.
Here are four thrilling summer activities in Calgary to enjoy when you visit.
1. Take to the Air to Enjoy Incredible City Views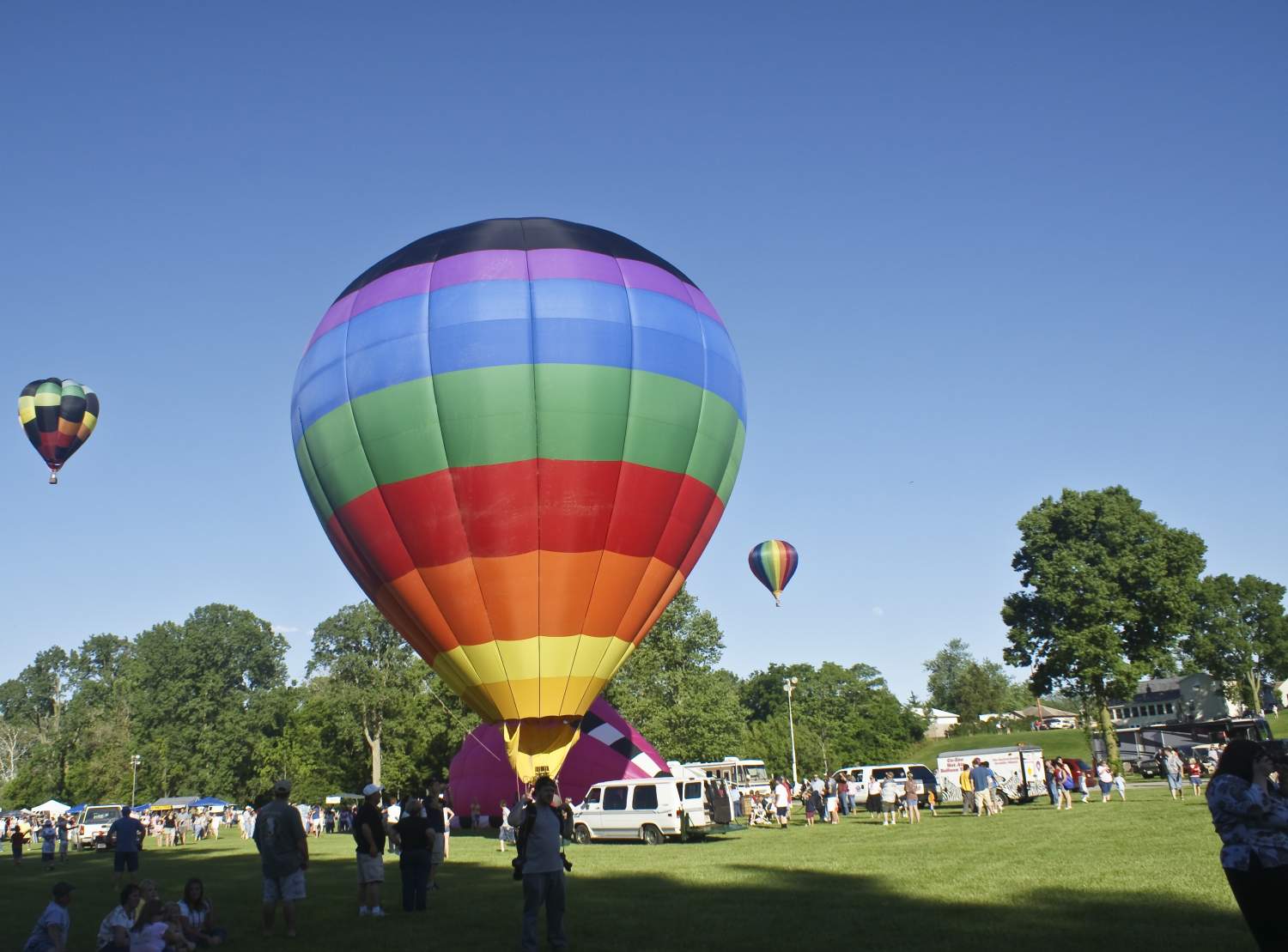 Southern Alberta has some of Canada's most spectacular landscapes and Calgary sits amidst the best of them. There is no better way to get a view of everything the city and surrounding area has to offer than floating high above in a hot air balloon! All aspects of a balloon flight are thrilling; from setting up and inflating it, to drifting weightlessly high in the sky. Then there's the exciting landing and to finish it all off, a celebratory champagne toast.
Canada's largest balloon company, Sundance Balloons, has been taking wide-eyed guests up, up and away on magical balloon tours since 1985. Their tour in Calgary takes about four hours, including 45 minutes to one hour flying and time to get to and from the launch and landing sites. Seeing Calgary via hot air balloon is a truly amazing experience, a thrilling way to view Calgary's breathtaking green spaces and beyond including, provincial parks and the majestic Canadian Rockies.  
2. Float Your Way down the Mighty Bow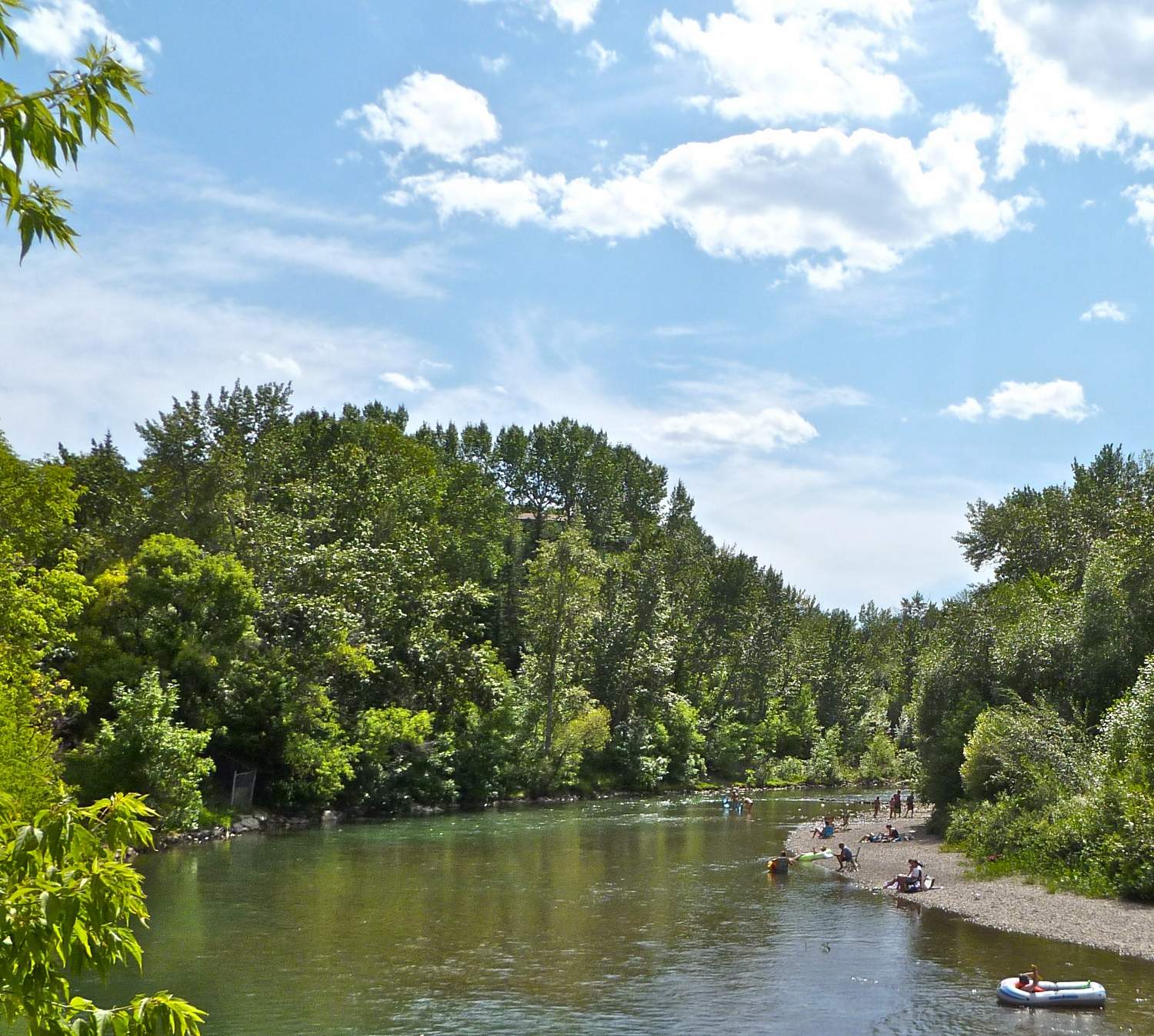 Another exciting way to see the sights in Calgary is from a raft! A beloved local tradition, floating down the Bow is a popular summer activity in Calgary. The city is located at the confluence of the Bow and Elbow Rivers giving would be rafters some choice for scenery and skill level.
The Elbow River is the slower and shallower of the two. A perfect choice for families with small children and those who want to enjoy a shorter, less challenging rafting adventure. The Bow is still a leisurely float, but the River itself is notably bigger, faster and colder than the Elbow. There are also more obstacles to navigate on this route, but they won't keep you busy for long. There's still plenty of time to sit back and enjoy excellent views of the city and local wildlife.
Lazy Day Raft Rentals provides visitors with everything needed to tour down the river including rafts, paddles, life jackets, safety kits, route information and maps. They encourage you to take advantage of river access to some of Calgary's best city parks.  They'll even prepare a picnic lunch that you can stop to enjoy! Make sure you plan before setting out to raft. Being properly prepared will help you make the most of your adventure down the river in Calgary.
3. Push Your Limits trying some of the Fastest Olympic Sports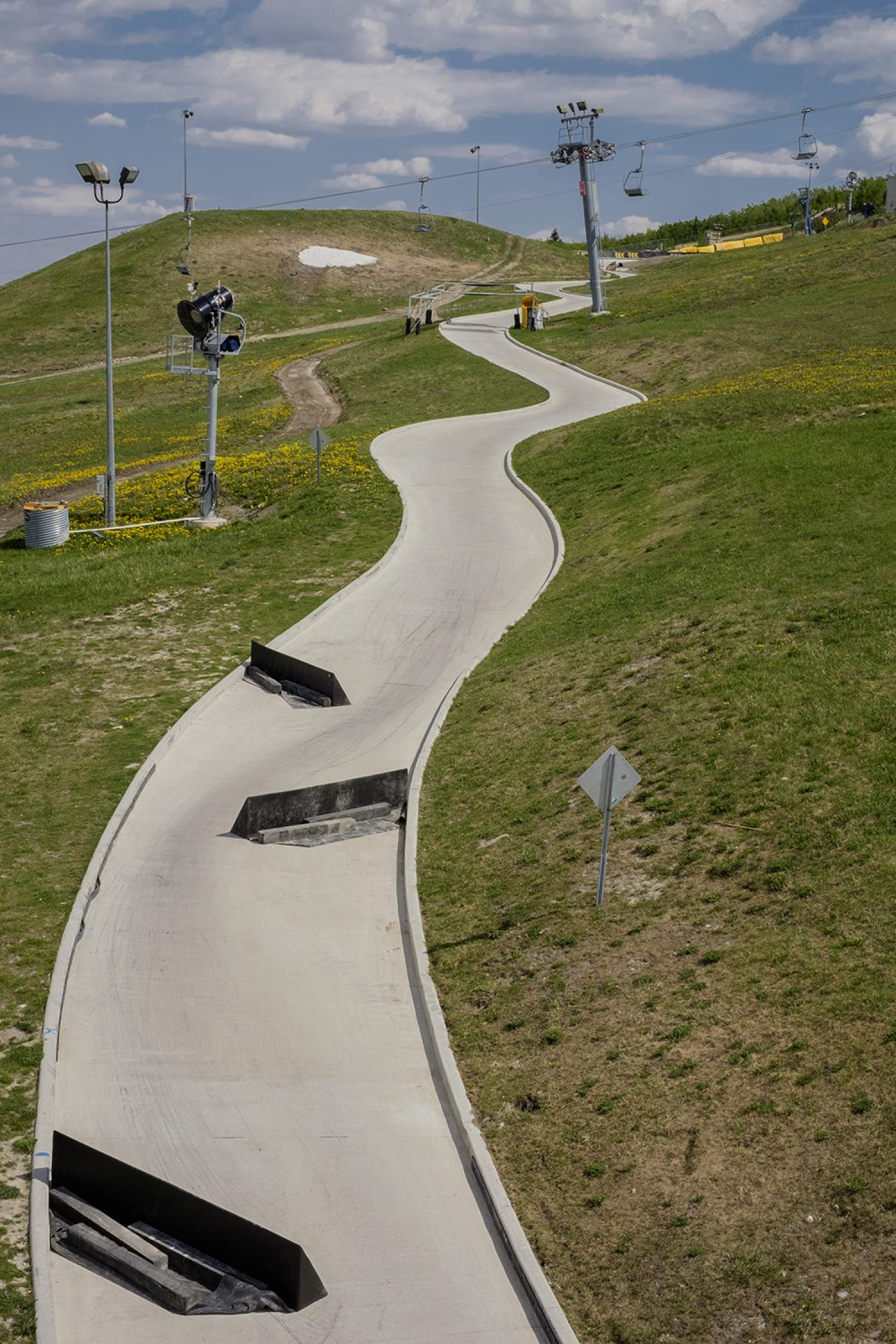 Calgary hosted the Winter Olympics in 1988. All of the world-class sporting venues built for the games have been diligently maintained and are used for competitive sport and leisure enjoyment today. Canada Olympic Park offers visitors the chance to try their hand at some exciting winter sports, not exactly what you'd expect for outdoor things to do in Calgary!
Bobsleigh and luges typically require ice to move, but who needs ice when you have wheels? The uniquely wheeled Summer Bobsled and Skyline Luge are two thrilling rides you can experience in the summer at Canada Olympic Park.
On the Summer Bobsleigh ride, a professional pilots the sled down the legendary Olympic track. Feel your adrenaline surge as you soar through ten turns, zipping and zooming at speeds up to 80 kilometers an hour! The sled is super fast and you can be sure it's a ride you'll remember for the rest of your life.
The special SkyLine Luge track boasts over 50 exciting twists and turns. It measures 1800 meters downhill, making it the longest luge track in the world. Enjoy stunning views of Canada Olympic Park and Calgary as you take the chairlift to the top of the Skyline Luge then zoom back down the track on a truly unique wheeled gravity ride. The ride is so much fun; one time down the track is never enough. Skyline Luge Calgary includes two thrilling trips with each admission.
4. Discover Calgary's Urban Splendor, Get on a Bike and Ride!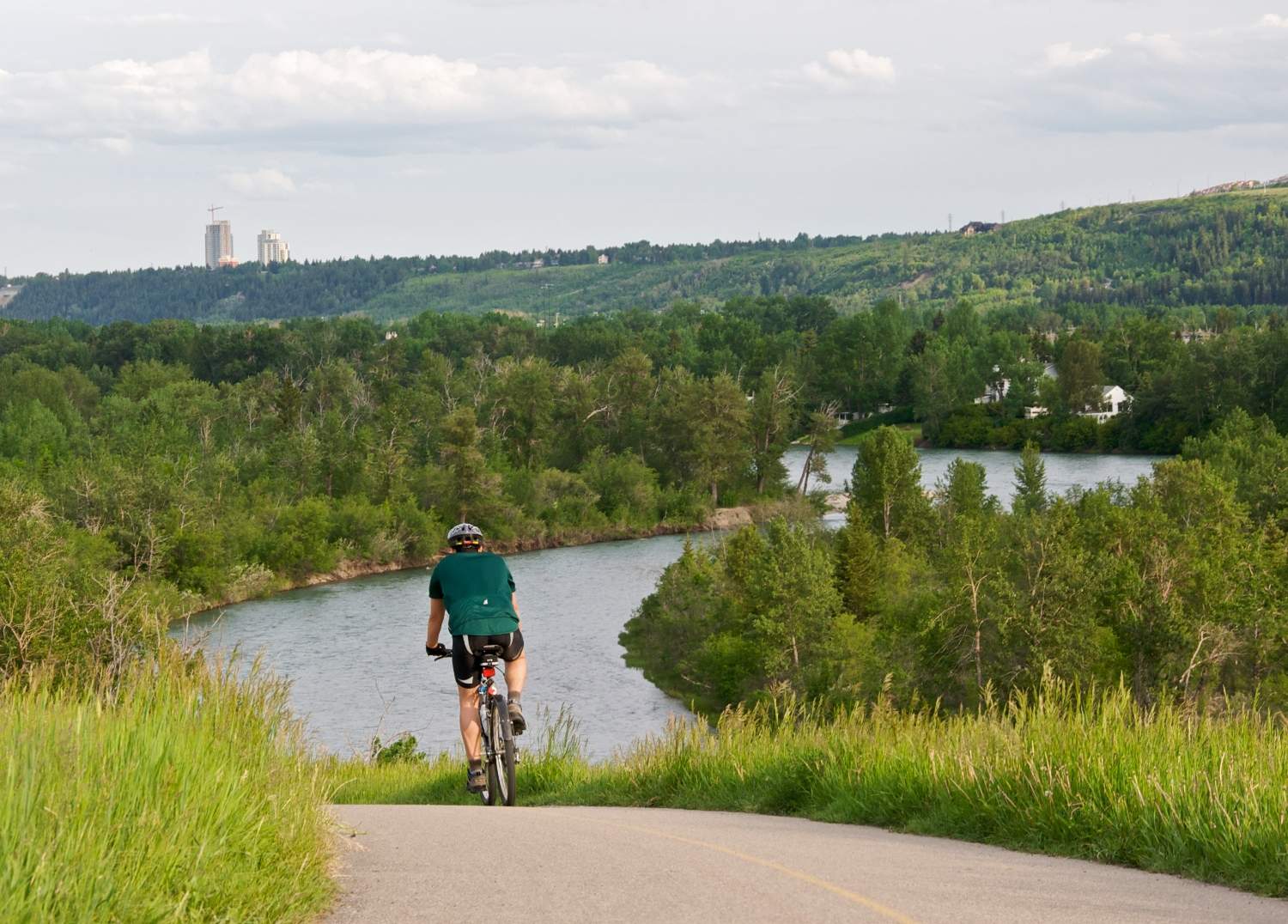 Calgary is huge, not by way of population, but the size of the area it covers. Its hulking urban footprint is roughly the size of New York City without the overcrowding of people and city blocks jammed with high-density living.
This far-reaching vastness amounts to tons of wide-open spaces and miles and miles of incredible urban trails. In fact, Calgary has the largest urban pathway system in North America with just over 800 kilometers of maintained pedestrian and bike paths!  This means visitors to Calgary don't need to leave the city limits to find great mountain bike terrain.
Canada Olympic Park gives visitors the chance to free ride mountain bike and ride challenging downhill courses all inside the city limits. Not traveling with your bike?  No problem, mountain bike rentals are available on the hill through WinSport as well.
There are rugged urban trails in parks throughout the city too, including Nose Hill Park and Fish Creek Provincial Park. Worth the trip just outside the city, Bragg Creeks network of trails are a favorite with locals. The extensive trail system offers riders hundreds of loops, tons of thrilling rides for every duration and skill level.  The Greater West Bragg Creek Trails Association offers lots of helpful information about hiking and biking in the area. Be sure to get their trail map, it describes all of the trails in the Bragg Creek area.
If you need to rent bikes or gear during your stay in Calgary, this article by The Avenue, offers many great choices for renting bikes in and around Calgary.
These are just a few of the exciting summer activities in Calgary visitors can enjoy. If you would like more ideas on adventure travel to Alberta's largest city, check out Visit Calgary's official tourism website.
And, of course, more great adventure lies beyond the city limits, Dinosaur Provincial Park, Canmore, and Banff National Park are all within a short drive from Calgary.
Come discover Calgary to make the most of your summer!
Cover Image: Dave
The comments and contributions expressed are assumed only by the author. The recommendations, intentions or opinions expressed are not necessarily those of Transat AT Inc. or its affiliates.
See terms of use of the Air Transat website
.