Glasgow is an exciting urban city with stellar shopping and great pedestrian walkways but it would be a shame to visit without exploring its majestic countryside. To truly experience Scotland at her best you should try a ramble across a moody moor, dipping your toes into an emerald blue loch or walking to an ancient castle on an island. Here are three awesome hiking adventures in Scotland that will get you out and exploring in the land of Braveheart.
Corrour to Rannoch Moors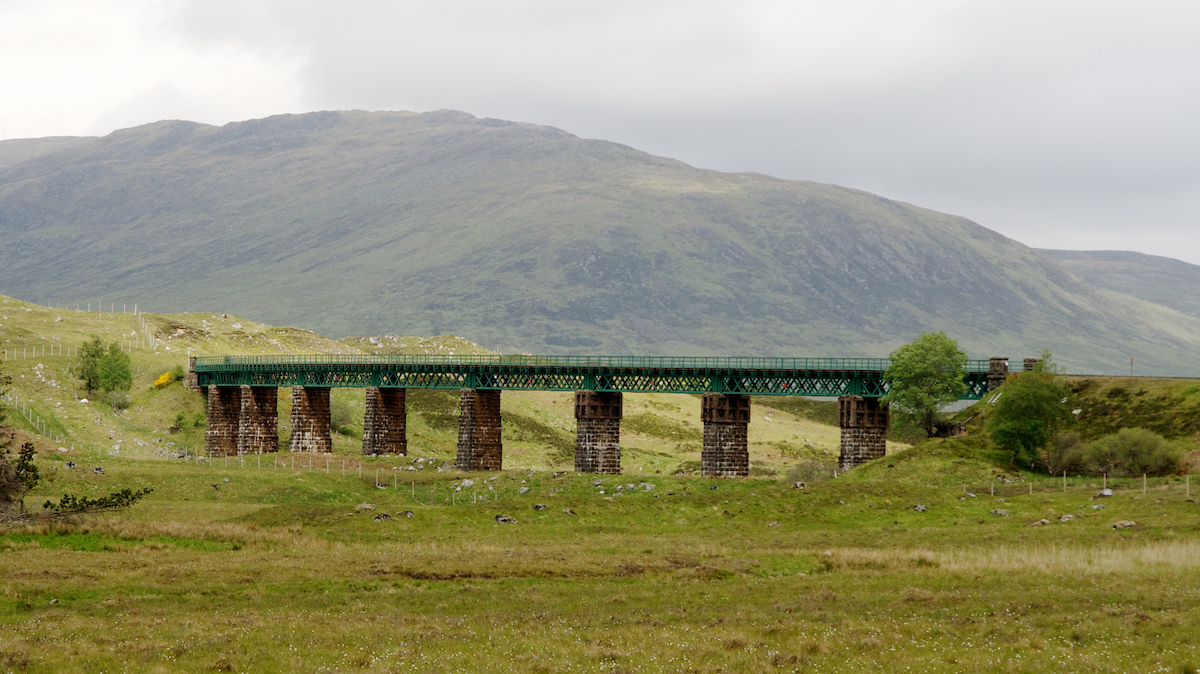 This magical hike through the moors starts with a West Highland Train ride to the remote station of Corrour, located about a three hours from Glasgow. Made famous by the movie Trainspotting, Corrour is a beautifully isolated spot, it is the only UK station without any road access and it is your starting point to an afternoon adventure through the bleak splendor of Rannoch Moors. You couldn't pick a better place to begin a walk in the wilds of Scotland!
Pack a picnic lunch and head to the Queen Street station in Glasgow to pick up the 8:21am train to Carrour, be sure to buy a return ticket for the last train out from Rannoch Station at 6:38pm. This route is part of the Road to the Isles and has been recently upgraded, making the four to five hour walk a wee bit easier and with less chance of a boggy wet walk.  The path is located east of the station and heads towards Loch Ossian Hostel, about a 20-minute walk, the hostel will be the only occupied building you'll see during your time on the moors. You should be able to see a route on the right marked Rannoch, and of the two branches take the one that heads over the heather covered hillside, and not the trail that follows the edge of the loch. If unsure you're heading in the right direction, stop at the hostel and ask, this is really the only place you can get confused during the hike.
The path skirts around Meall na Lice, a small crag, and then heads towards Peter's Rock. Here you can stop to read the memorial tribute to a young man who died at Loch Ossian. The route continues south, and then slowly you'll see, laid out at your feet, Rannoch Moor. This is where you'll truly understand the enormous expanse of the moor, and the views are simply spectacular. Along the path be sure to stop at the ruins of Corrour Lodge, once Scotland's highest shooting lodge, it is a perfect spot for a picnic lunch. Take time to listen to the stillness of the moors while you're here, you are now very far from civilization, roads, cars and the busyness of everyday life. There is no wifi, no cell service; it is you and nature alone together. Simply magical.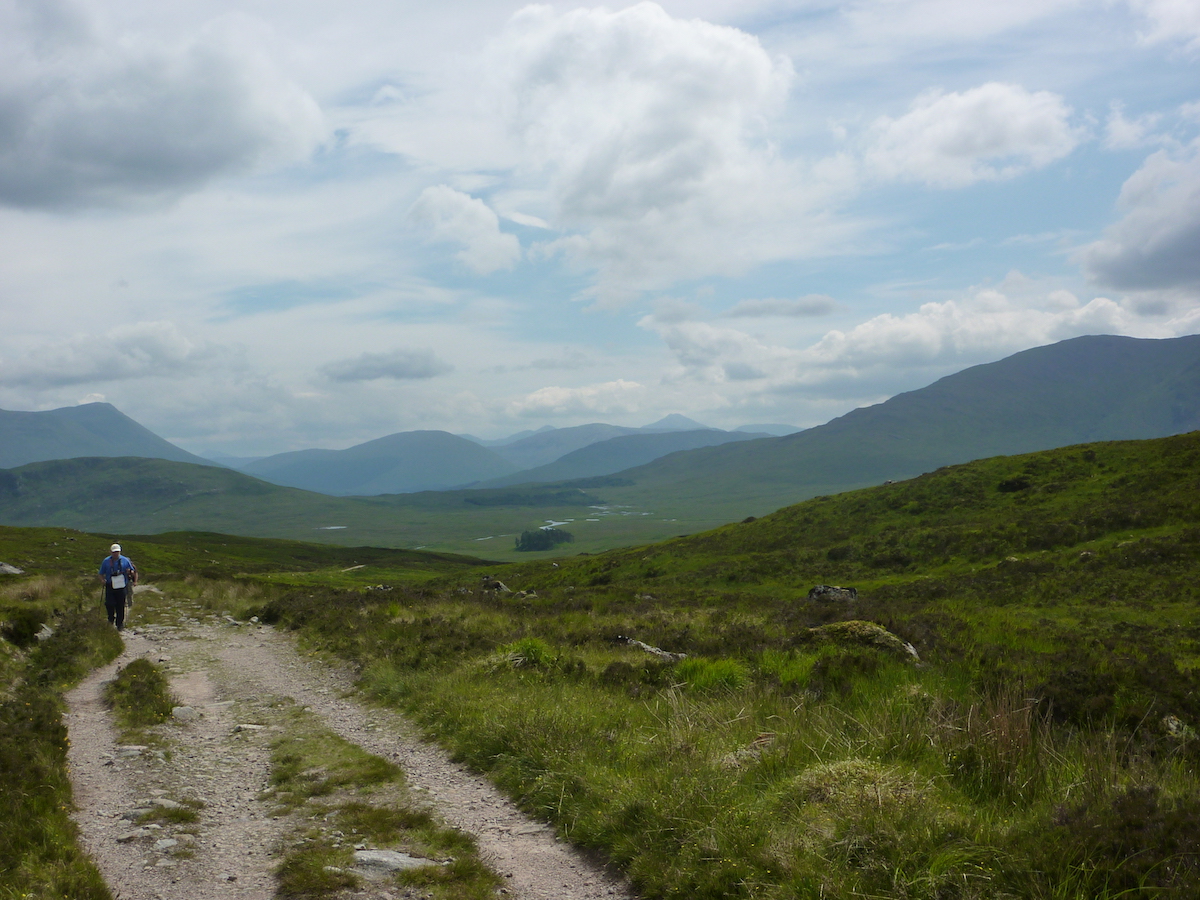 From the lodge ruins, stick to the path for another three miles as it winds its way below Carn Dearg, and then down towards Allt Eigheach, here you'll see Rannoch Station in the distance. You'll cross a bridge over the river and then immediately over a new bridge over another river. Take the path for another two miles to the B846 Road, turn right on this road and one mile later you will arrive at Rannoch Station. Once you arrive to the station, and if you have time before your train ride back to Glasgow reward yourself with a well-deserved treat from the quaint Rannoch Station Tea Room. The Tea Room is open from 8:30 to 4:30pm everyday except Fridays, March to October. Our favourite treat? Oh, it was so hard to choose between the cheddar cheese toasties and cream tea, so we had both!
A Walk Along Loch Lomond
Part of Trossachs National Park, Loch Lomond is Scotland's largest lake and can be reached by train within an hour from Glasgow's Queen Street Station.
For a perfect active day trip to Loch Lomond, take a hike along the eastern shore of the lake. During your visit you can ride a waterbus, climb mountains, explore the forest, walk along beaches and go for a cool dip in a loch. Here are a couple of our favourite Loch Lomond outings.
Balloch to Balmaha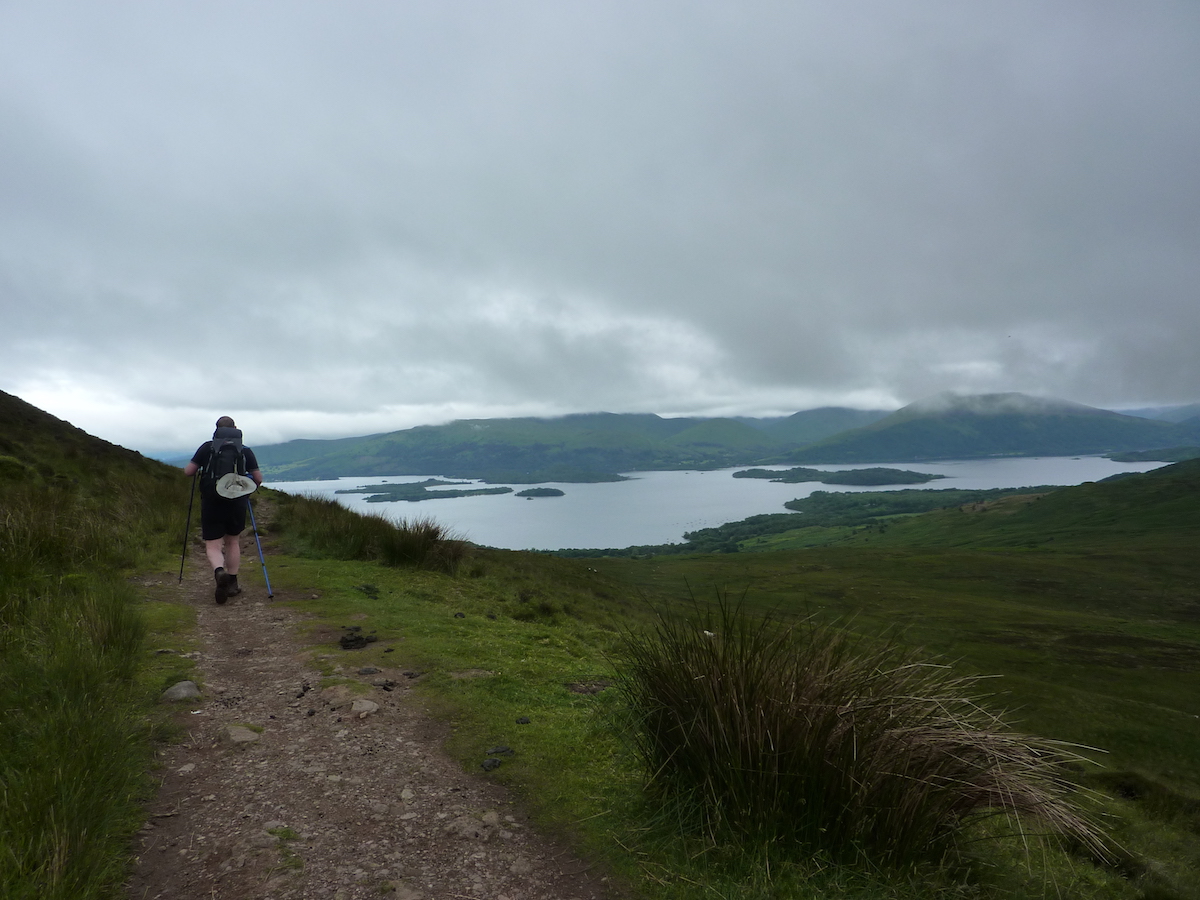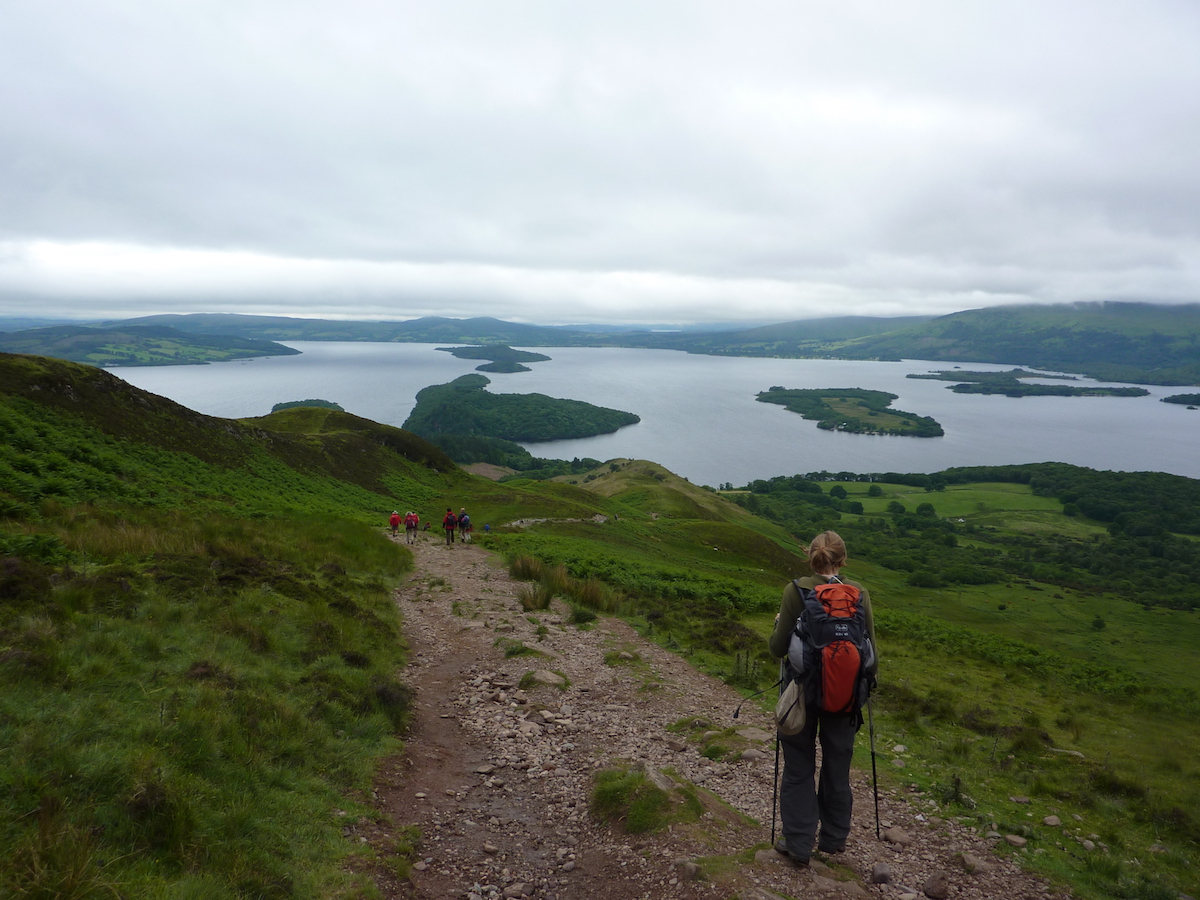 Hop on a ferry or waterbus to Balmaha, this is worth the trip from Glasgow on its own. It is so very special to be on a boat on a vast loch in Scotland, we love it even in the rain and mist! Once you arrive to Balmaha you can climb up Conic Hill, this small summit will take you about an hour and a half to climb with plenty of stops for photos. Located right on the Highlands Boundary Fault, the view at the top takes your breath away, a glimmering Loch Lomond dotted with a line of forest green islands, simply stunning especially on a sunny day.
Take a Hike on the Wild Side from Balmaha to Inversnaid
A more challenging Loch Lomond hike from Balmaha is a 15-mile trek north to Inversnaid. This is part of the West Highland Trail making its way along the shores of Loch Lomond, but be warned, it is rough terrain and you'll be scrambling up and down more than casual strolling along this path. If you're lucky you might come across some shaggy West Highland cattle along the way! From Inversnaid catch a boat to Tarbet, and reward yourself with yummy cake at one of the town's many cafes. Catch the train at the Arrochar & Tarbet Station back to Glasgow and a well-deserved scotch or pint of beer.
Isle of Arran
If you want to combine a challenging hike up a mountain, a visit a pretty Scottish Island, see an old castle and do it all on a day trip from Glasgow, head to the Isle of Arran. You can drive to Ardossan Harbour to catch the ferry to island or take a train from Glasgow Central.
Goat Fell Mountain Ramble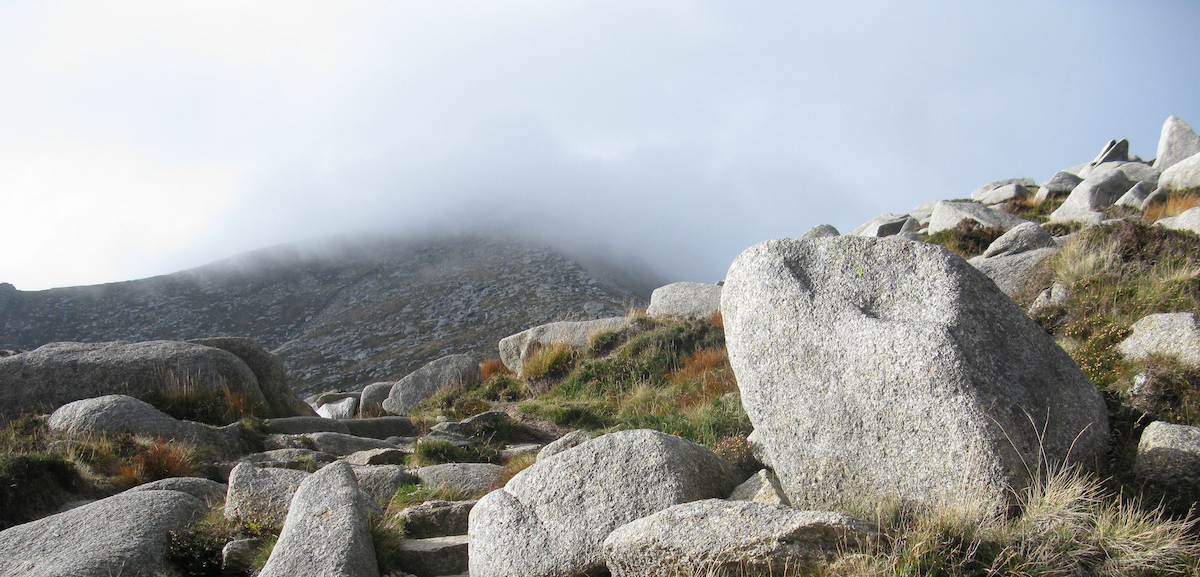 About a five-hour hike, the path up Goat Fell Mountain can be found on the left side of Broderick Castle next to the Cladach Car Park. We would suggest stopping at the nearby Island Cheese Shop, to pick up some delicious Arran smoked cheddar cheese before you head up the mountain. There is nothing better than sitting on the top of a summit, with snacks of yummy cheese and bread as a reward for a mountain well climbed! The walk up is relatively moderate until you get close to the summit, the final bit is a scramble over boulders and steep inclines but you are rewarded with a gorgeous picture perfect view of Arran once you arrive to the top.
Brodick Castle
Brodick Castle is conveniently located right next to Goat Fell Mountain; you may be more motivated to explore the lovely formal gardens before a hike up the mountain as opposed to afterwards. The castle itself is currently closed for renovations until Easter 2019.
For all hikes in Scotland remember the weather can change suddenly from a beautiful blue-sky day to sudden downpours, always bring raingear and wear proper walking or hiking shoes.
Get moving and plan your hiking or walking adventure in Scotland now. It has never been easier to book your visit and experience a walk along the wilds with some of the best hiking trips close to Glasgow.
Cover photo credit: john mcsporran
The comments and contributions expressed are assumed only by the author. The recommendations, intentions or opinions expressed are not necessarily those of Transat AT Inc. or its affiliates. See terms of use of the Air Transat website.