Jamaica, meaning "land of wood and water", is a jewel of the Caribbean described by its local as a curvaceous beautiful woman who sits in a vast ocean of blue. No wonder this country with lush jungle, stunning waterfalls and beaches attract tourists from all over the world.
Beyond its main popular attractions, we put together some of our favourite places to experience the real Jamaican culture on its northeast coast and its Blue Mountains area. Next time you're in Jamaica, venture out of your all-inclusive resort and discover some of the island's hidden gems. Believe us – they are well worth the expedition!
Local experiences near Ocho Rios
Bonding with the beach at James Bond Beach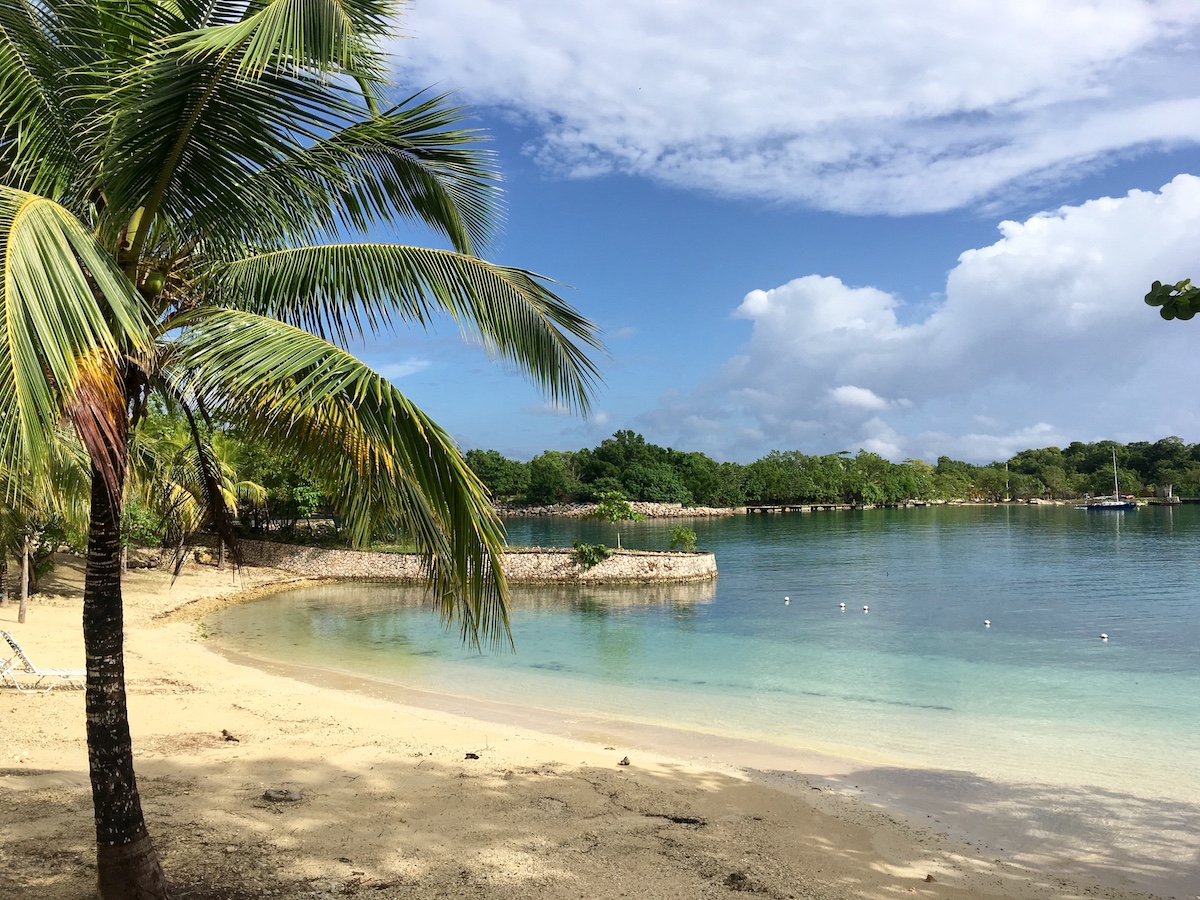 The Oracabessa Bay is the birthplace of Bond. James Bond. This is where the British author Ian Fleming bought a house in 1946 and wrote the famous James Bond novels while living there. GoldenEye, Fleming's former winter retreat, is now an oceanfront luxury hotel tucked inside a lush garden, hidden behind tall trees and bushes.
Located 20 min. east of Ocho Rios, James Bond beach is a wonderful and secluded spot to enjoy crystal clear waters and stunning mountain views. Scenes from the classic James Bond movie Dr. No were also filmed on this beach.
Tips: there is an admission fee of $5 per day. It is quieter in the morning and during weekdays.
There are bathrooms and changing rooms on location.
You can eat some delicious seafood at the two-story Moonraker Jamaican bar and grill.
This beach is also a concert venue for local and international artists, including an annual tribute to Bob Marley. Make sure to check the schedule if you are interested in attending a concert.
Chilling with the fishermen at Oracabessa's Fish sanctuary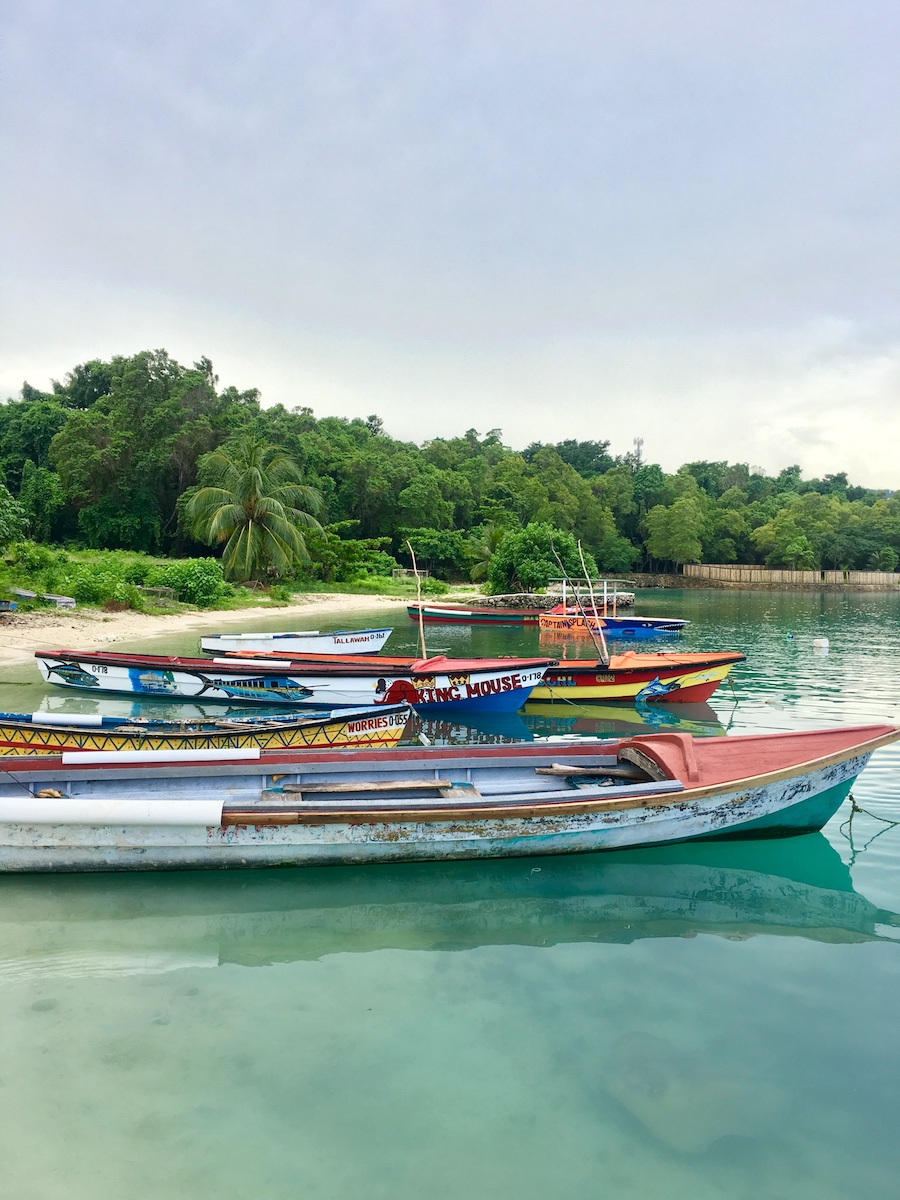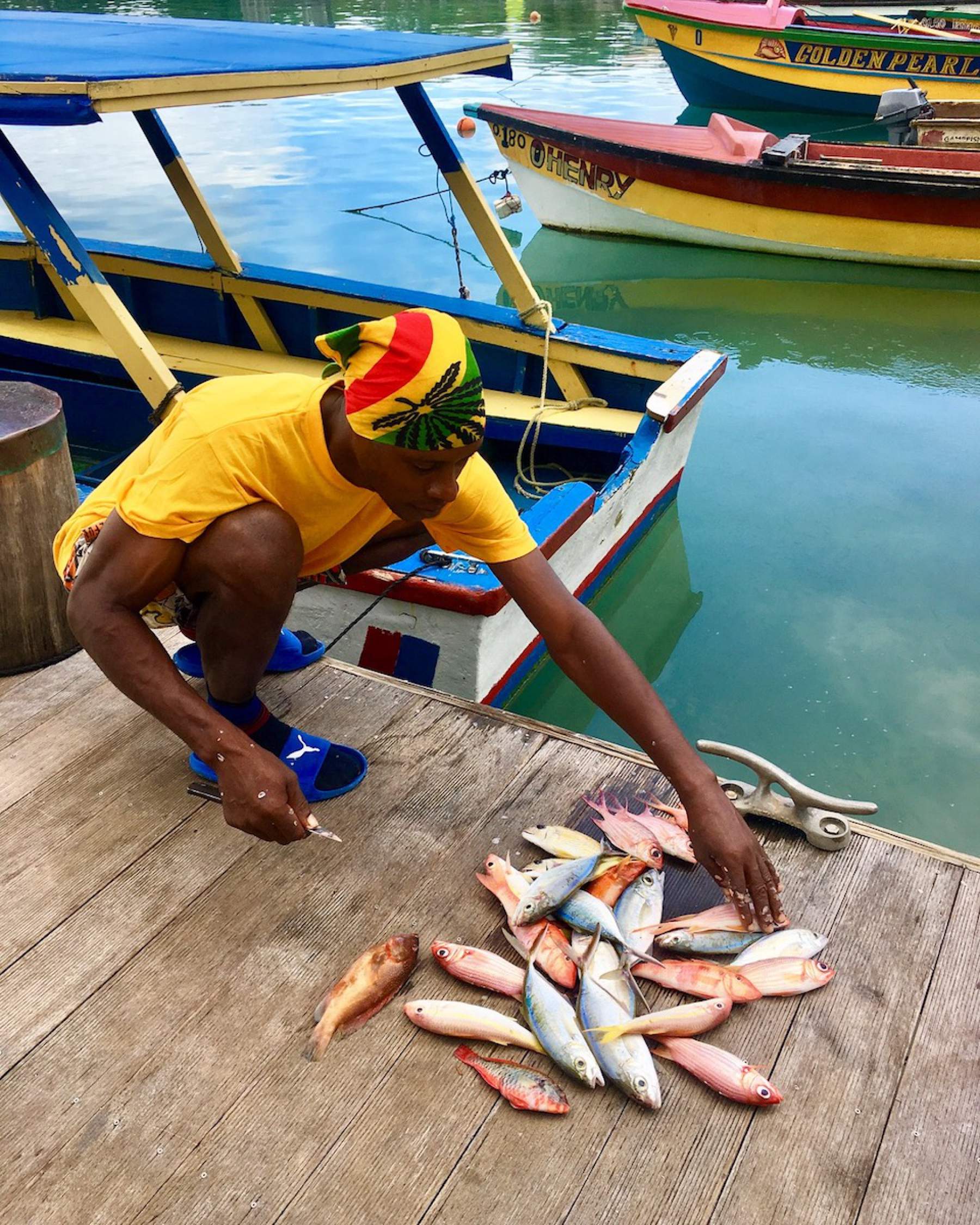 If you walk along the James Bond beach, you will find the Oracabessa Bay Fish Sanctuary  established in 2010 to protect Oracabessa's marine ecosystem. It's a great place to snorkel or meet some fishermen fishing on their colourful boats.
Tasting the love at farm-to-table restaurant STUSH in the BUSH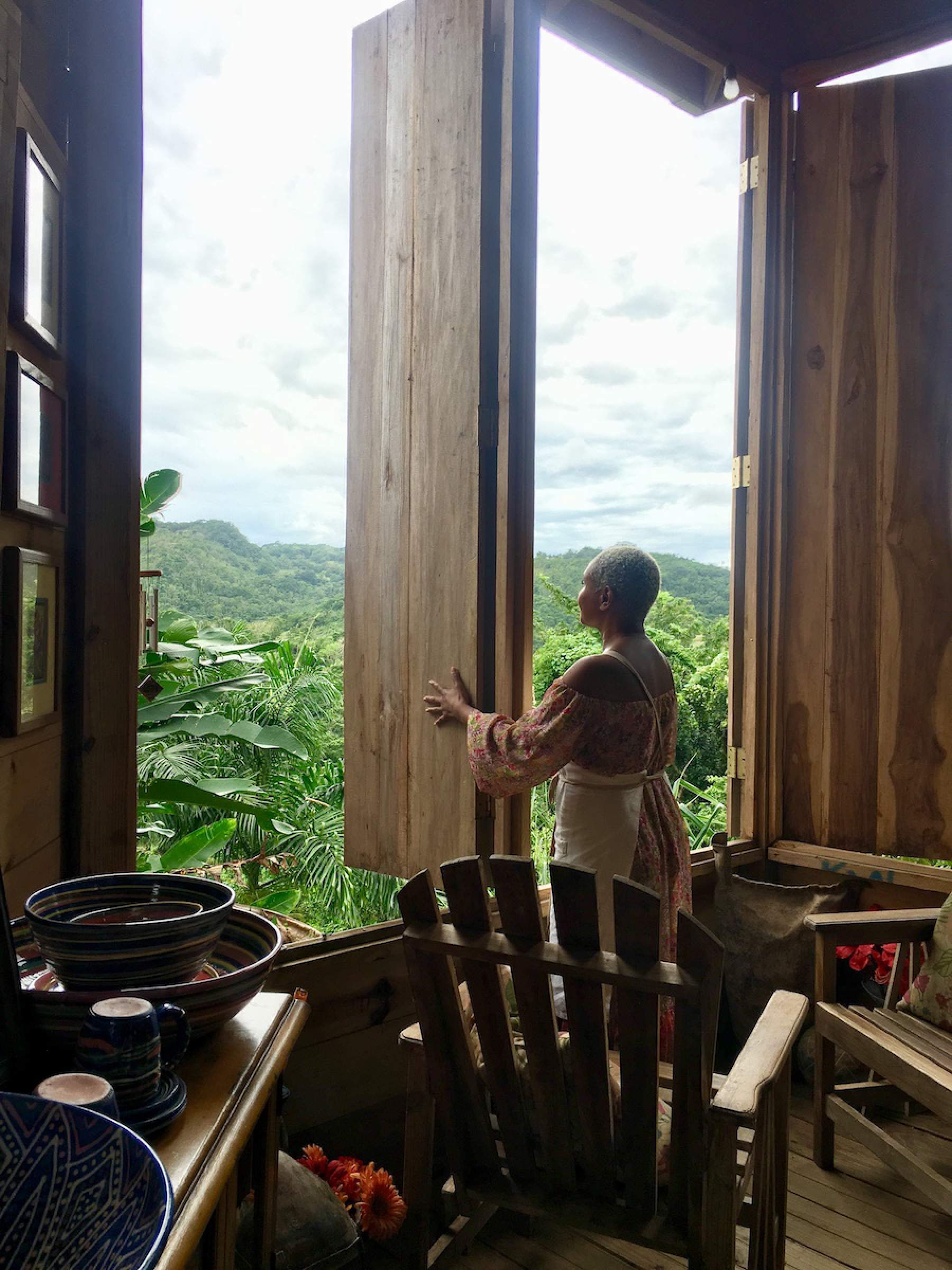 If you are in Ocho Rios, a visit to Stush in the Bush should be on your bucket-list. This sustainable organic farm is located about 35 min. west of Ocho Rios, in St. Ann Parish. The charismatic owners, Lisa and Chris, create delicious and intimate farm-to-table experiences for their guests, prepared with local ingredients. "Bush" in Jamaican patois refers to nature and the rustic farm setting, whereas "stush" refers to the fine dining and elegant presentation. It's the perfect combination of Rastafari and chic.
Your experience starts with a walking tour of their farm and then a gourmet diner in their gorgeous wood cabin. Get ready to eat some of the best food in your entire trip to Jamaica!
Everyone who visits them is welcomed to plant a seed on the farm to leave his or her mark.
Tips:
It is strongly recommended to book well in advance through their website, as the seating space is limited (up to 15 people per seating).
One rule: try everything!
Option of a 4-course or 6-course vegetarian meal, customizable according to your dietary restrictions.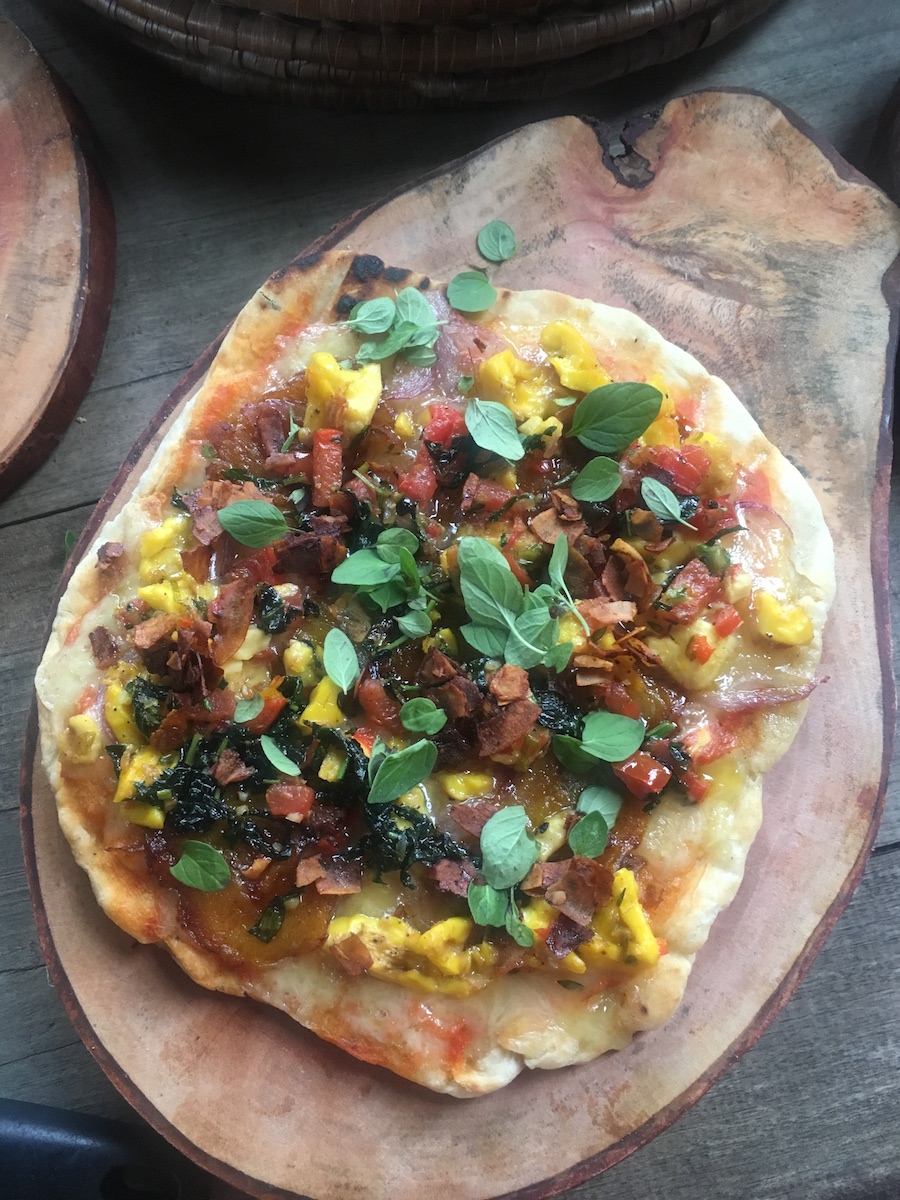 A hike in the majestic Blue Mountains
A seed-to-cup taste at Craighton's coffee plantation estate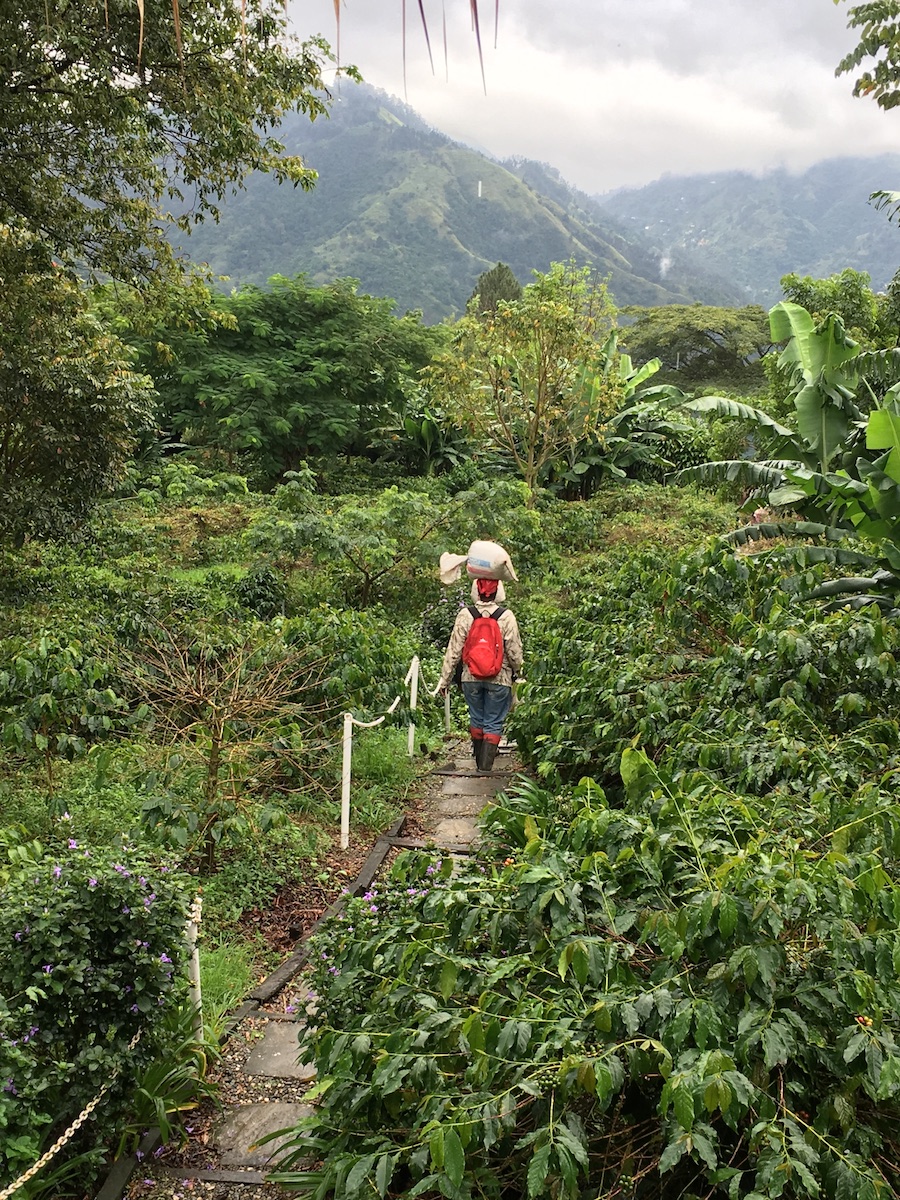 Don't miss the opportunity for a close-up look at coffee growing by visiting the Craighton's coffee plantation estate. Built in the 1800's, this Great House, perched over 2600 feet in the cool misty Blue Mountains, is one of the best preserved Georgian-style houses on the island. Tour the plantation with a coffee expert, enjoy the panoramic views on your way up and savour a delicious cup of Blue Mountain coffee, renowned for its smooth taste and hints of cocoa.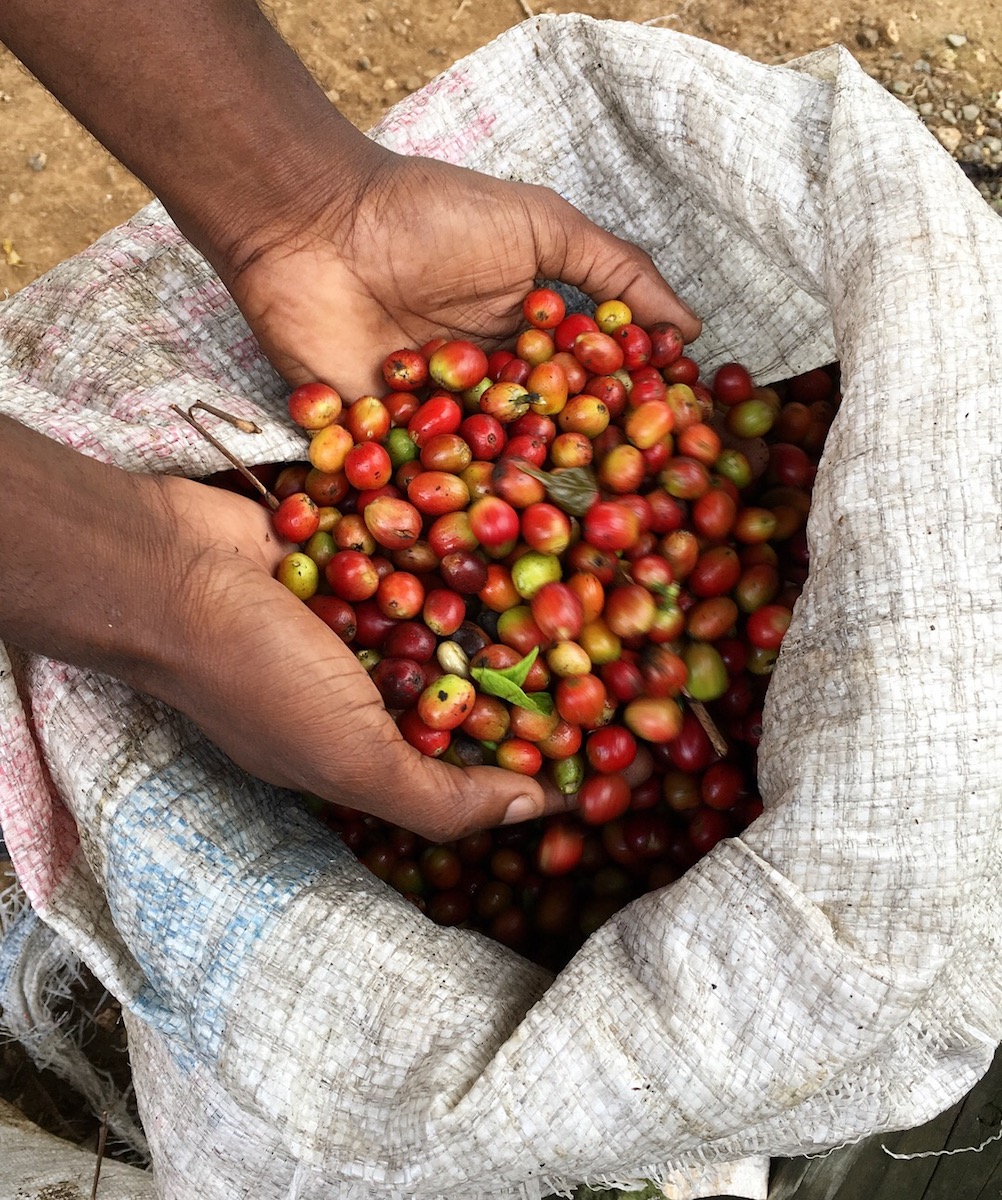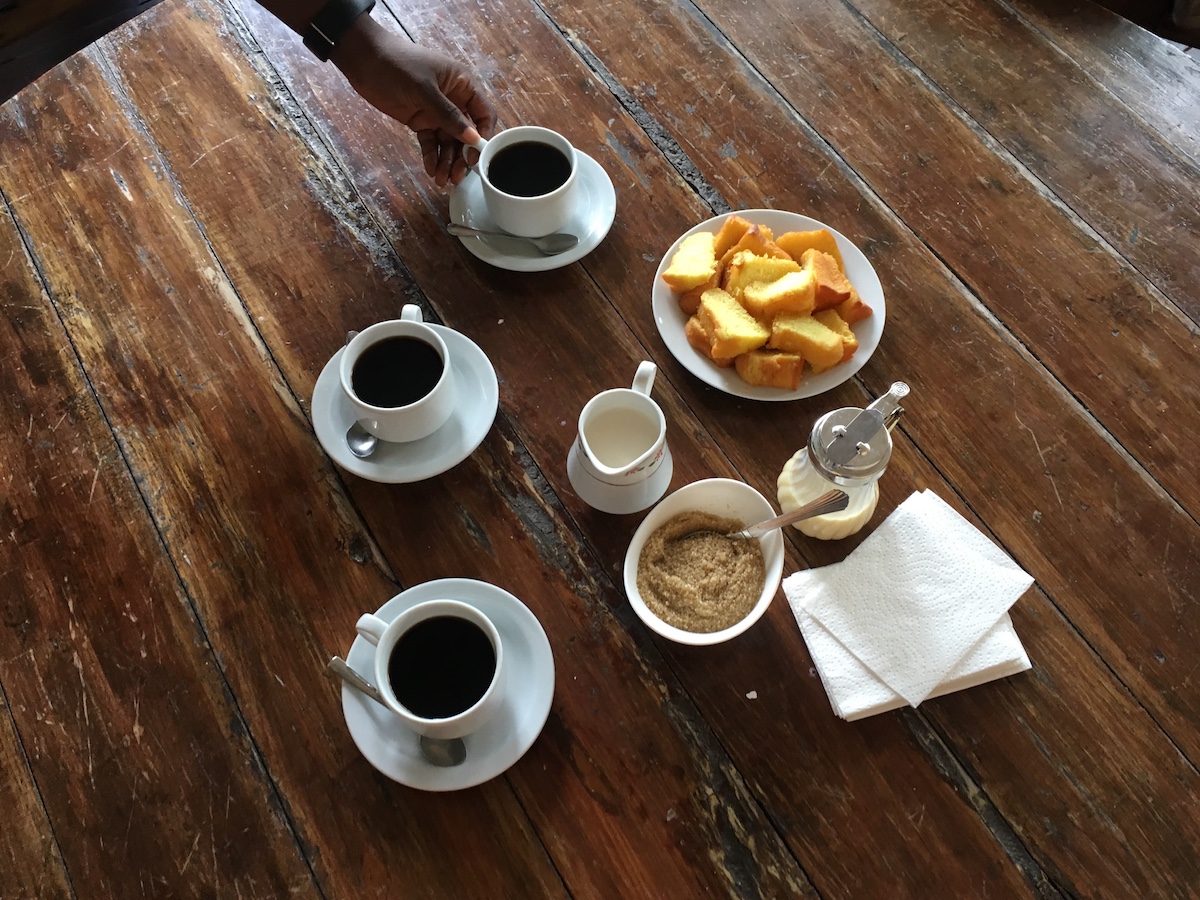 Fun fact: Japan-based Ueshima Coffee Company (UCC) owns this plantation Coffee Company since 1981 and 90% of its coffee production is exported to Japan.
Tips: From Ocho Rios, you can do a day trip to visit this plantation, as it takes about 2 hours by car.
Coffee aficionados can purchase Blue Mountain coffee bags on location at good price.
Bring good walking shoes, rain gear and insect repellent, as you will be doing a moderate hike to visit the plantation.
Lunch with a view at Crystal Edge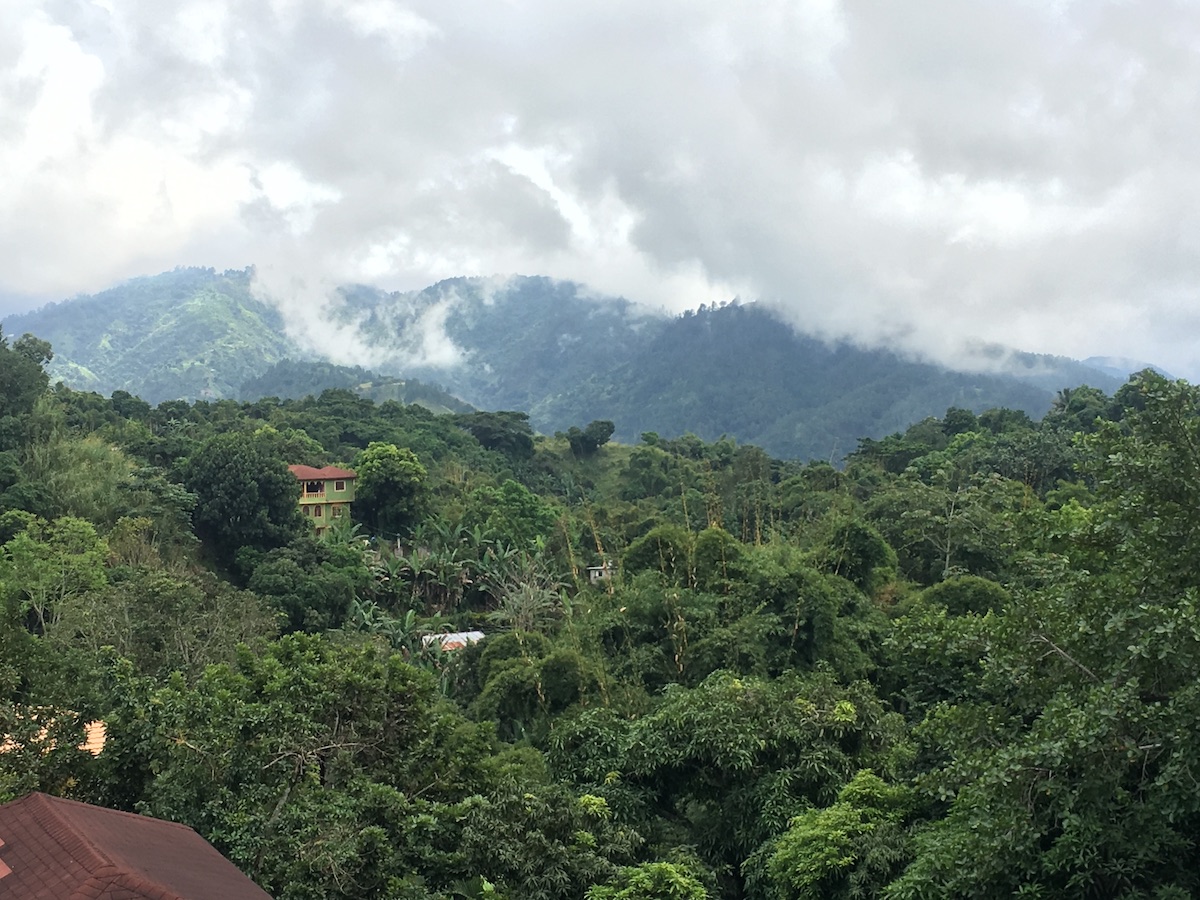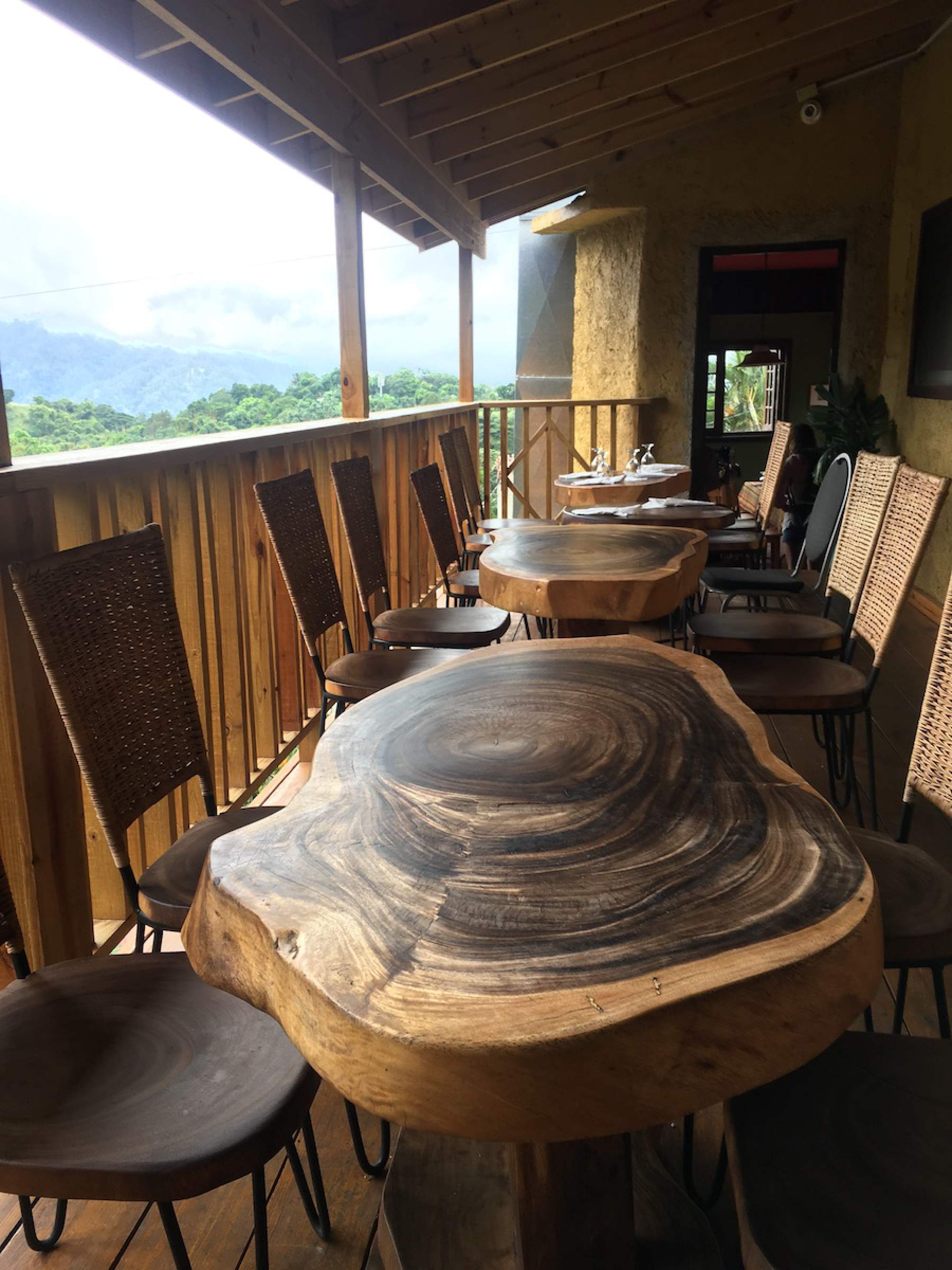 Crystal Edge, a Jamaican cuisine eatery in Irish town, is a great place to admire the Blue Mountain views and enjoy some authentic Jamaican favourites. Make sure to sit outside on their beautiful terrace!
Connecting with nature at Belcour Lodge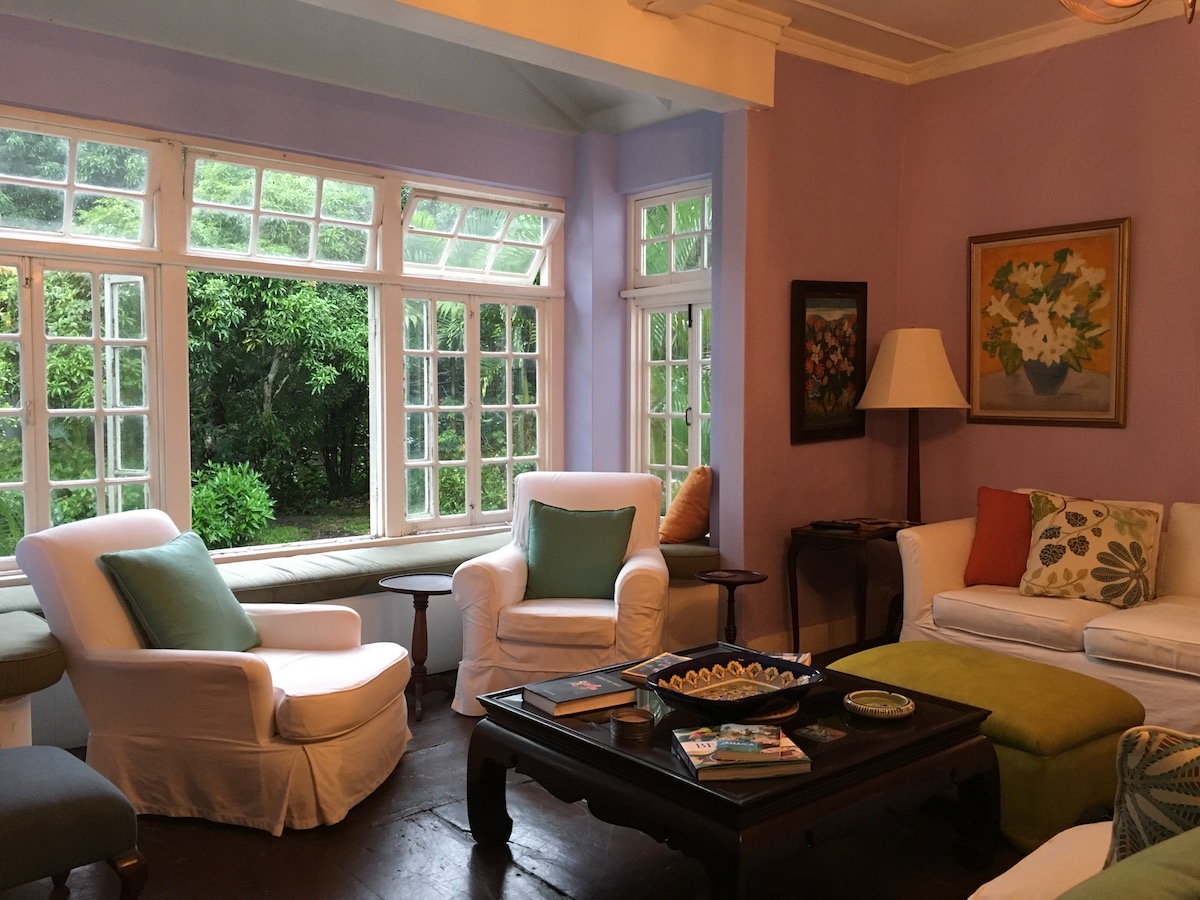 For a savoury culinary experience, visit the Belcour Lodge; a beautiful private, colonial-era property located in a lovely valley and surrounded by breathtaking mountain views. It belongs to cookbook author, Robin Lim Lumsden and her husband Michael. They offer culinary tours, which include a walk around their garden, where they have an apiary, a river and numerous tropical fruit trees. The tour is accompanied by a gourmet brunch, lunch or high tea in their beautiful home, all made from fresh and local ingredients. Robin's food is inspired from her French, Asian and Jamaican roots; you will love the fusion of flavours!
You will want to take home some of Robin's gourmet Belcour fruit preserves, and pepper and jerk sauces all made from natural ingredients.
Are you inspired to visit the real Jamaica? Yamon! Book your trip and get ready for surprising and wonderful moments.
All photo credits: Air Transat
The comments and contributions expressed are assumed only by the author. The recommendations, intentions or opinions expressed are not necessarily those of Transat AT Inc. or its affiliates. See terms of use of the Air Transat website.