When planning an epic sun holiday there's no denying that the beaches in Jamaica are some of the best in the world. That couples with incredible Jamaican food and raggae music, means it could just be the ideal vacation. And that's because there's a beach for everyone.
There are over 55 beaches in Jamaica that stretch along 900 kilometre's of the country's coastline. Whether you want a private or public beach, crowded or secluded, great for watersports or for lounging with a cocktail, Jamaica has something perfect for you.
Doctor's Cave Beach
Perhaps one of the most well-known beaches in Jamaica, Doctor's Cave is a private beach just off the hip strip in Montego Bay. It's name for the doctor who donated property to create a swim club. Today, it is a popular spot for those who want to bask in the sun without being bothered by blasting music and souvenir peddlers, as both are banned on this beach.
As it is part of the Doctor's Cave Beach Club, there are full facilities, including a restaurant and beach bar. You can rent equipment such as loungers and umbrellas and watersport tours available.
Entrance is $6 for adults and $3 for children.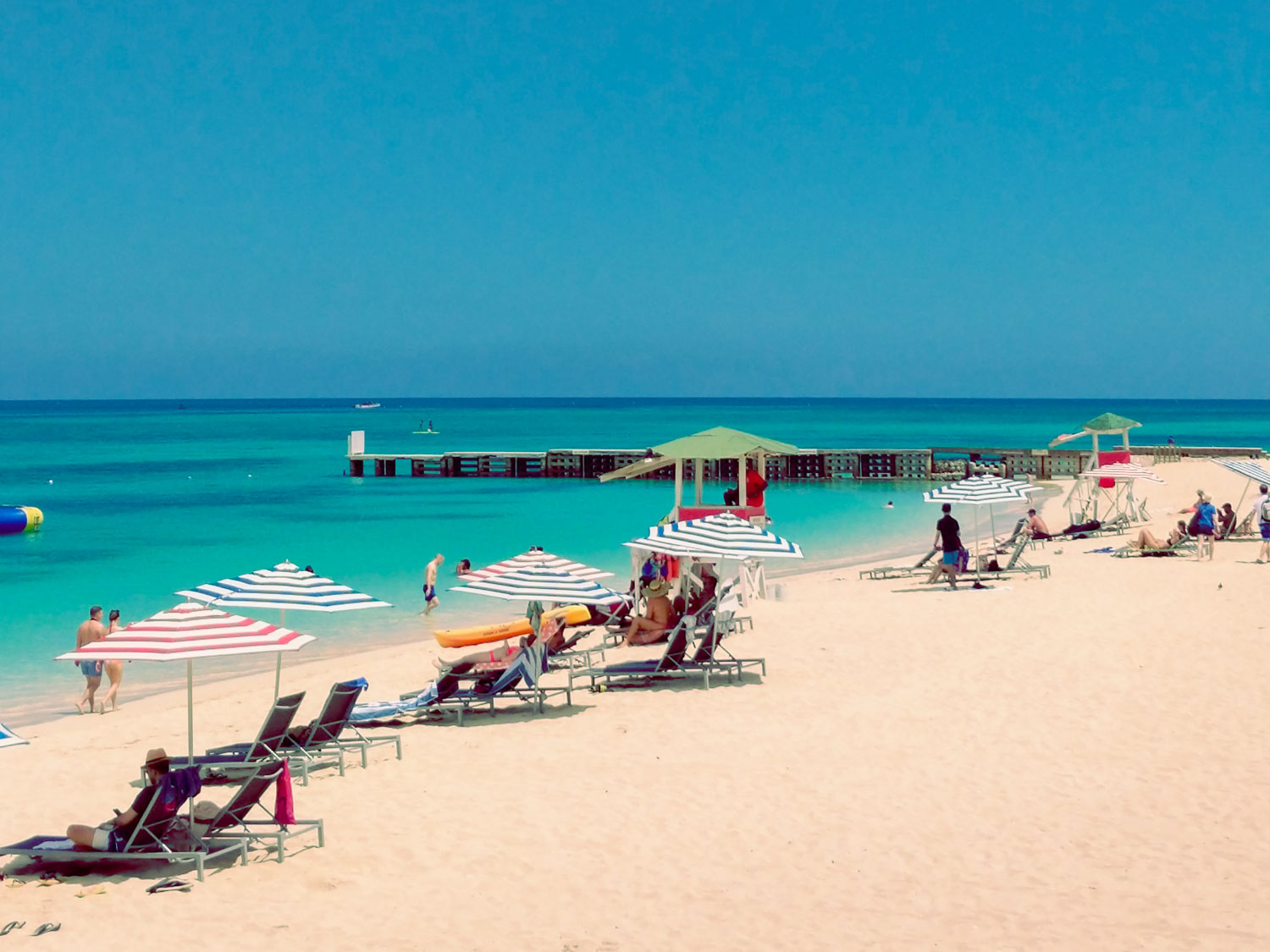 Seven Mile Beach aka Negril Beach
Located in the popular town of Negril, the white sands and turquoise waters draw the crowds to this beach, which is the longest beach in Jamaica. A resort town on Jamaica's west coast, there are lots of hotels and restaurants on the beach with plenty of other amenities. If you're looking for a good beach party look no further as it tends to go late into the evening here.
There are lots of other great things to do at Seven Mile Beach with many watersports available. There are designated areas for nude sunbathing. If you're brave, it's popular spot for cliff jumping. If you're a bit more timid check out Cliffhanger bar, and enjoy the view without the adrenaline rush.
Mammee Bay Beach, Ocho Rios
This beach is split in two, with RIU resort owning the private side. The public beach is equally beautiful and very popular. You'll find lots of places to sunbath, rent loungers and eat at the beachfront.
Active travellers like the waves here and it's popular for windsurfing and wakeboarding.
Boston Bay
Known for its surf and its jerk, Boston Bay is equally popular for surfing and to find the best jerk chicken in Jamaica. Located in Portland, Boston Bay is a small cove on the East side of the island where you can rent surfing equipment.
It's also considered the birthplace of jerk chicken and has many excellent jerk stands. While there are lots of little food huts, the beach is small and uncrowded so you won't have as many amenities as other beaches in Jamaica. It's perfect when you want to get away from it all.
Frenchman's Cove
This lagoon-style beach in Jamaica is truly spectacular as a river empties into the ocean. There's a promise of serenity with the surrounding cliffs of the cove providing a sense of wilderness.
It is so beautiful that it is the site of the iconic Lord of the Flies movie. And while it feels like you are in a secluded spot, Frenchman's cover isn't far from popular Montego Bay and Ocho Rios.
This is a private beach is a $10 entrance fee. This site is great for families, as there are showers and bathrooms available along with a restaurant.
Treasure Beach aka Calabash Bay Beach
Located on the South coast, this is one of the spots to find black sand beaches in Jamaica. It's for tourists who want to get away from it all, including the crowds and resort pricing. You can find lots of small vendors serving very reasonably priced food.
A small fishing town, there are no all-inclusive resorts here as it is not one of the most beautiful Jamaican beaches. But it is perfect for discovering Jamaica's more tranquil side.