Nestled in the heart of the Caribbean, Jamaica's Blue Mountains, named for the mesmerizing blue haze that envelops their peaks, offer an enchanting escape. A UNESCO World Heritage Site, this stunning region is renowned for its lush landscapes and vibrant culture. Avid hikers, adventure seekers, botanical and wildlife enthusiasts, coffee lovers and gourmet travelers will all find something to enjoy, with a wealth of activities that promise an unforgettable experience.
Whether you're savoring a cup of Jamaica's finest coffee or gazing at the azure horizon from high peaks, the Blue Mountains provide a unique and unforgettable Jamaican experience.
Hiking the Blue Mountains of Jamaica
Hiking is a top draw here, with trails that wind through verdant forests and offer stunning vistas of the surrounding countryside. The world-famous Blue Mountain Peak Trail takes you to the island's highest point, rewarding hikers with a spectacular sunrise view that stretches as far as Cuba on a clear day.
Hiking in the Blue Mountains of Jamaica can be a truly rewarding adventure, but preparation is key to ensure a safe and enjoyable experience. Here's a practical guide to get you started:
Research and plan
Begin by researching the available trails, difficulty levels, and necessary permits. The Blue Mountain Peak Trail is the most famous, but there are other options to explore.
Gear up
Invest in proper hiking gear, including sturdy, waterproof hiking boots, moisture-wicking clothing, a good backpack, a rain jacket, and a hat. Don't forget essentials like a headlamp and a first-aid kit.
Stay hydrated
Carry enough water (at least 2-3 liters per person) and snacks. The trail can be strenuous, and you'll need to stay hydrated and energized.
Take breaks
Pace yourself and take regular breaks to rest and appreciate the scenery. The Blue Mountains are home to diverse wildlife and flora, so keep an eye out.
Leave no trace
Respect the environment by packing out all your trash and not disturbing wildlife or plants. Stick to marked trails.
Weather awareness
Be prepared for changing weather conditions. The mountains can get chilly and rainy, so dress in layers and bring rain gear.
Safety first
If you're not an experienced hiker, consider hiring a local guide for added safety and to enhance your experience.
By following these practical tips, your hiking adventure in the Blue Mountains of Jamaica will be not only enjoyable but also safe and memorable.
A seed-to-cup taste at Craighton's coffee plantation estate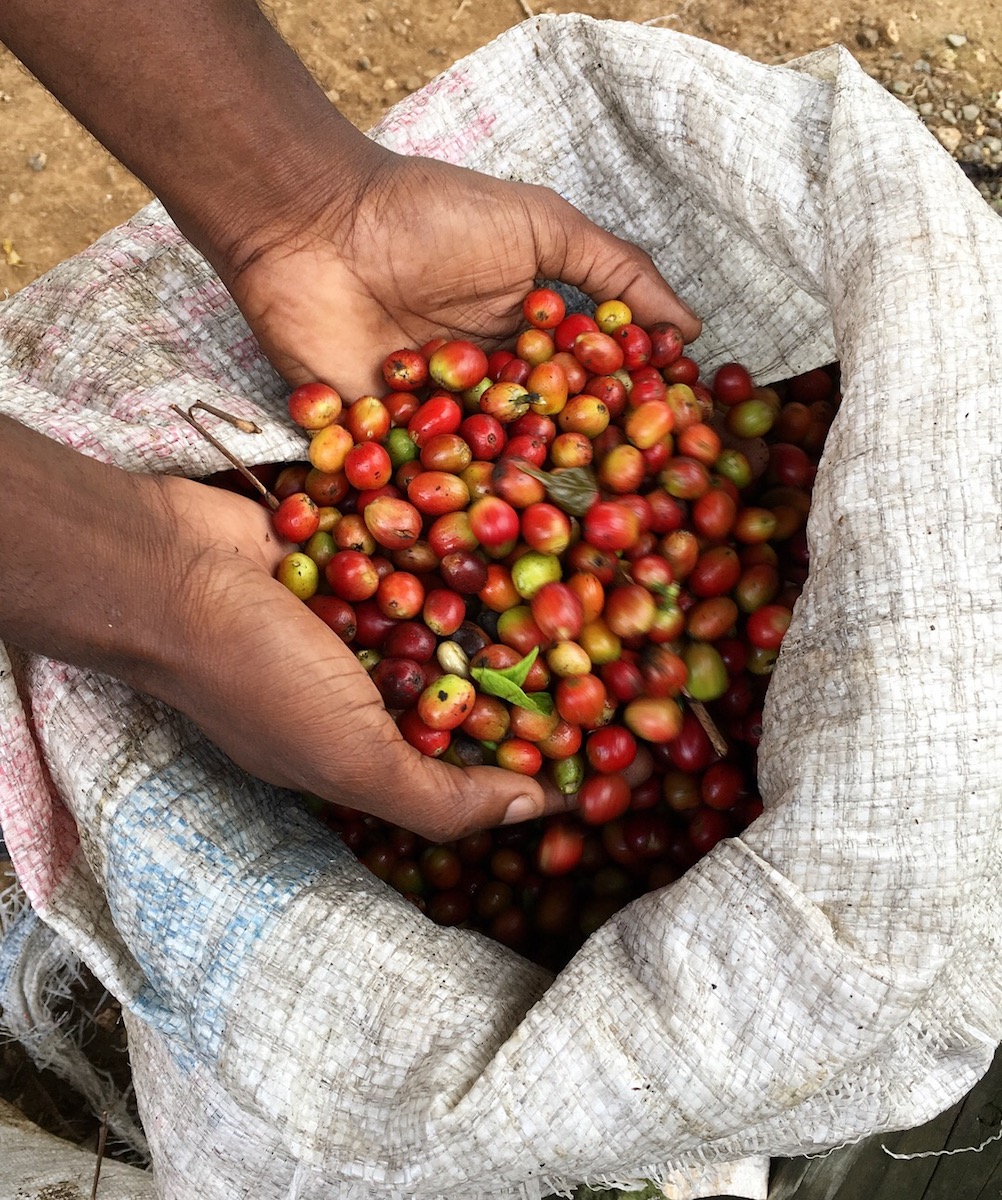 Don't miss the opportunity for a close-up look at coffee growing by visiting the Craighton's coffee plantation estate. Built in the 1800's and perched over 2600 feet in the cool, misty Blue Mountains, the Great House is one of the best preserved Georgian homes on the island. Tour the plantation with a coffee expert, taking in the panoramic views on the way up and savoring a delicious cup of Blue Mountain coffee, renowned for its smooth taste and hints of cocoa.
Fun fact: Ueshima Coffee Company (UCC) of Japan has been the owner of this plantation coffee company since 1981. Consequently, it now exports 90% of its coffee production to Japan.
From Ocho Rios, you can make a day trip to visit this plantation, as it takes about 2 hours to get there by car.
Coffee lovers can buy bags of Blue Mountain coffee at the plantation at a very reasonable price.
Be sure to bring good walking shoes, rain gear, and insect repellent. You will be doing a moderate amount of hiking to get to the plantation.
Lunch with a view at Crystal Edge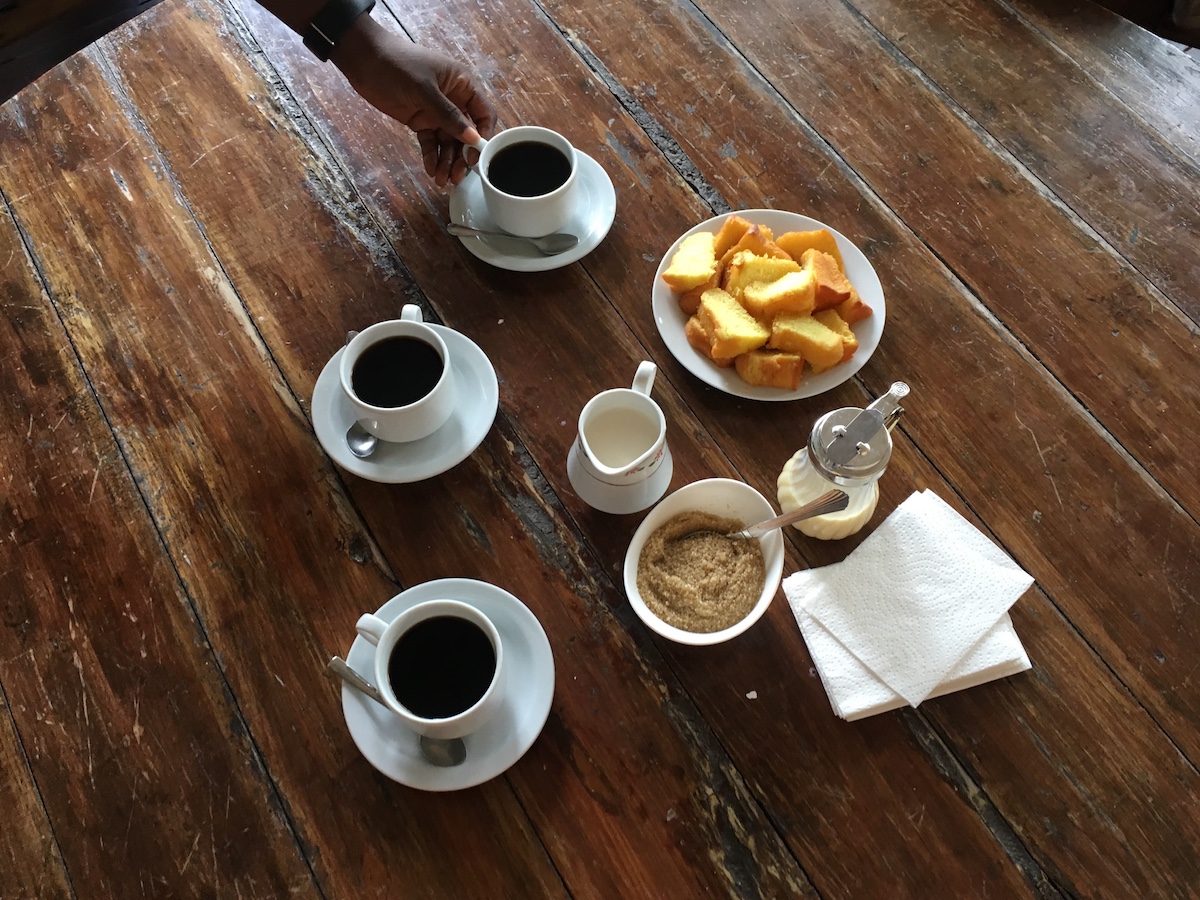 Crystal Edge, nestled in the charming Irish Town, offers an enchanting culinary experience whose memories will linger long after your visit. This Jamaican eatery is more than just a place to savor local flavors. It's a gateway to immerse yourself in the rich culinary heritage of Jamaica while being surrounded by the breathtaking natural beauty of the mountains.
The restaurant's spacious terrace is the crown jewel, with an unparalleled vantage point to soak in the stunning vistas of the Blue Mountains. Here, relish the crisp mountain air while indulging in a delightful array of authentic Jamaican traditional dishes:
Jerk chicken
Ackee
Saltfish
Curried goat
Bammy
Every bite is a flavorful journey that tells a story of Jamaica's history and cultural fusion. Crystal Edge's menu is a testament to the diversity and vibrancy of Jamaican cuisine
Connecting with nature at Belcour Lodge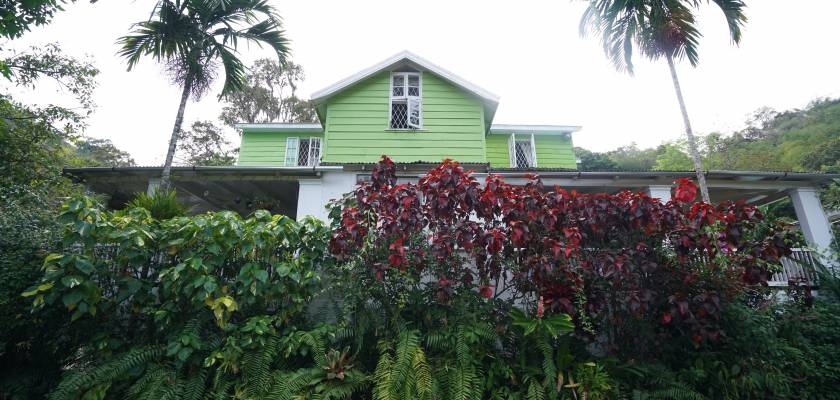 For a savory culinary experience, visit Belcour Lodge. It's a beautiful private colonial-era property nestled in a lovely valley and surrounded by breathtaking mountain views. It is owned by cookbook author Robin Lim Lumsden and her husband Michael.
They offer culinary tours that include a walk through their garden, where they have an apiary, a river, and numerous tropical fruit trees. The tour is accompanied by a gourmet brunch, lunch or high tea in their beautiful home. In any case, everything is prepared with fresh and local ingredients. Robin's food is inspired by her French, Asian and Jamaican roots; you will love the fusion of flavors!
Tip: Culinary tours must be booked in advance.
You will want to take home some of Robin's gourmet Belcour fruit preserves and pepper and jerk sauces, all made from natural ingredients.