Scotland may be best known as the land of kilts, bagpipes and sexy highlanders but it also is famous for its wonderful outdoor adventures. The country has an embarrassment of natural resources with its many glorious lochs, the breathtaking beauty of the highlands, and of course the closeness of the sea to most of its larger cities and towns.
We think a perfect active travel trip to Scotland should include lots of time outdoors on the water; paddling on a loch, canal or along the coast, it is a perfect way to experience wild Scotland. Here are our top picks for a fun kayaking in Scotland adventure.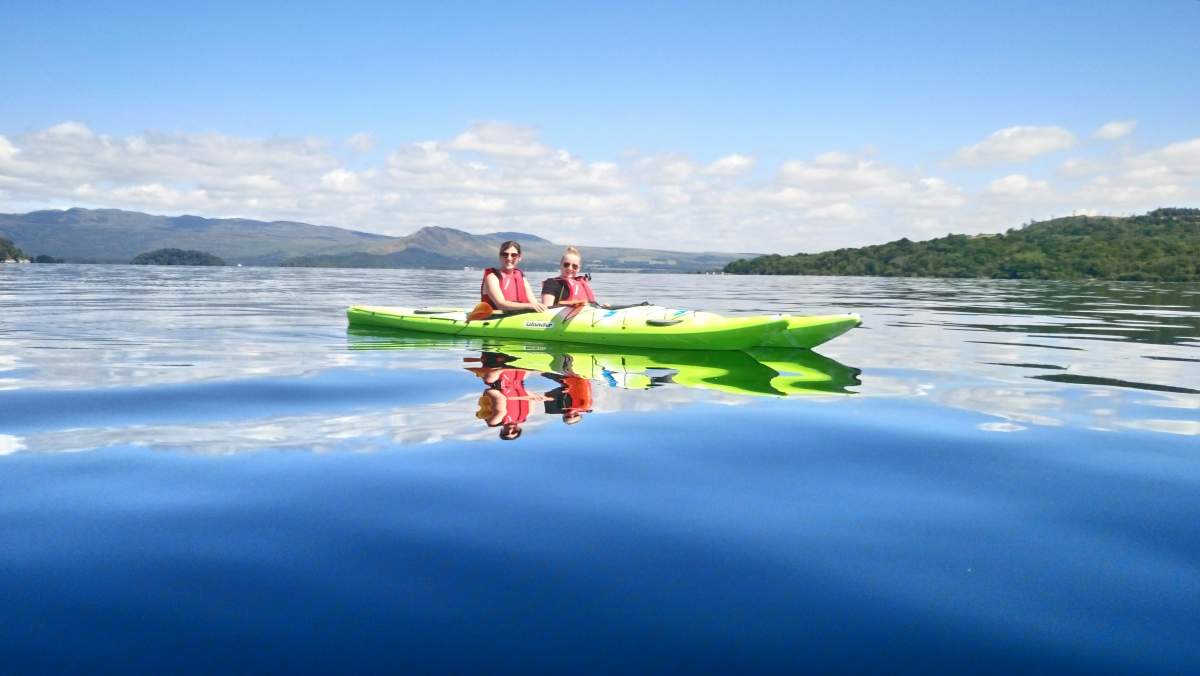 Kayaking on Loch Lomond
What could be better than spending a day quietly paddling on the lovely Loch Lomond in Scotland? The stunning lake and National Park is an easy commute from Glasgow and is a perfect spot for a beginner or intermediate kayaker to experience the wild side of Scotland.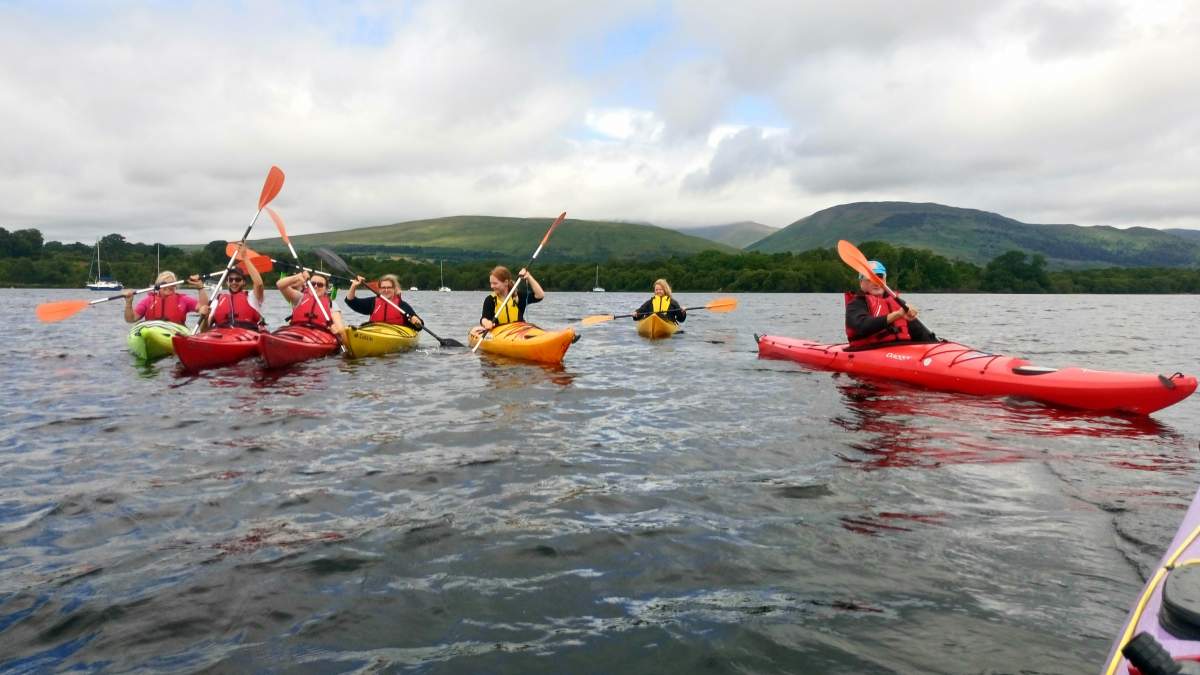 Take a guided day tour of Loch Lomond paddling along its stunning islands with Venture Caledonia. This popular day trip is a glorious way to explore the Western Highlands, playing in the water, and experiencing nature in Scotland.  Don't forget to pack a small picnic lunch and wear a swimsuit under your clothes for a 'lunch and swim time' on Inchmurrin Island, one of the many tiny islands that dot the southern end of Loch Lomond.
If you prefer a self-guided kayak experience in Loch Lomond, book your kayak rental at 'In Your Element' conveniently located on the shores of Loch Lomond.  This outfitting organization supplies kayaks, maps, paddle boards, and canoes by the hour, half day or daily rentals. Remember safety first when kayaking, go with a partner and be sure to give someone details of where and when you will be paddling.
Canal Kayak Tripping in Scotland
Hop into a kayak and explore the Scottish countryside via a canal, start in Glasgow at the Pinkston Basin and if you're energetic enough, paddle all the way to Edinburgh. The Forth-Clyde Canal winds its way through central Glasgow heading northeast out of the city. You can slowly meander through the locks, camp, book a hotel or an airbnb and within two or three days depending on how many pubs you stop at and your skill level, you will arrive in pretty as a picture Edinburgh!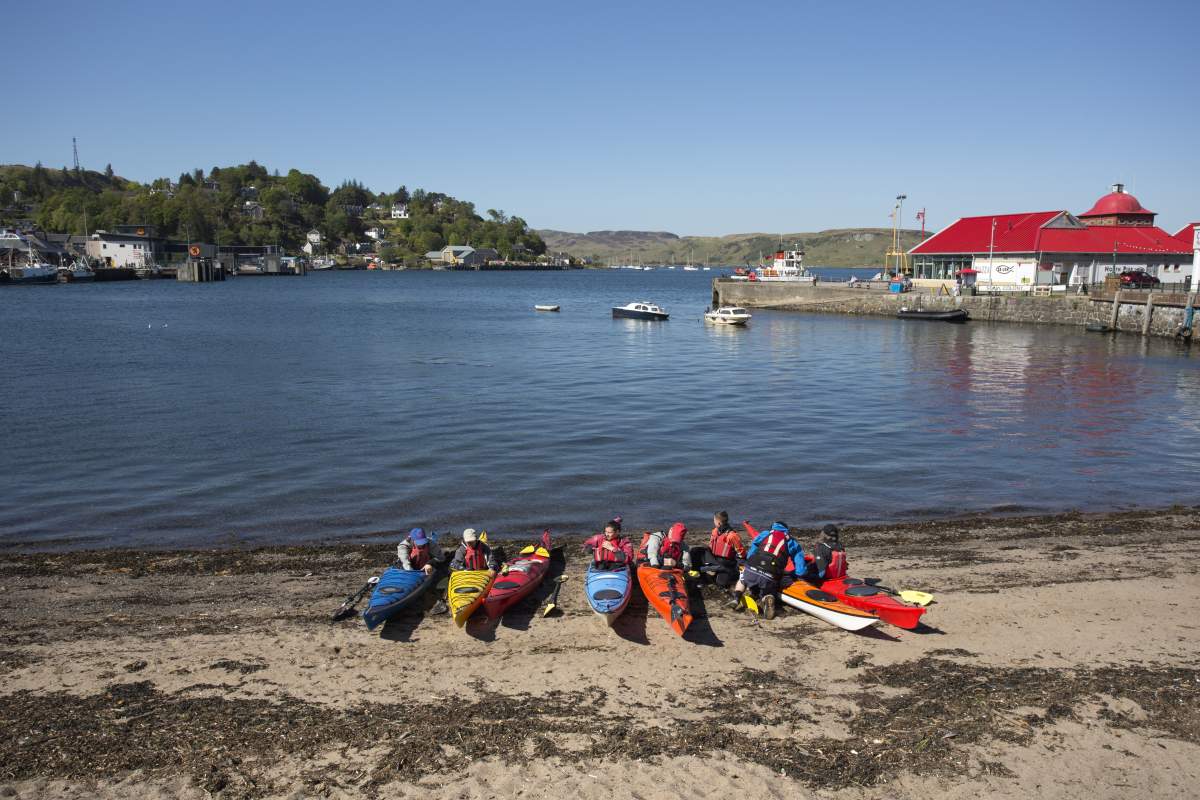 A word of warning, you will need to do short portages at the lock stations since the locks are used for bigger craft but this should not be too onerous with a nice lightweight kayak.  Eventually, around mile 24, you'll arrive in Falkirk and you need transfer to the Union Canal to continue on your journey to Edinburgh. Falkirk is also the location of the very marvelous Falkirk Wheel. Unfortunately the wheel is not safe for kayaks or canoes, so all small craft must portage about 900 meters uphill to Union Canal. Use this opportunity to rest, recover and build up your energy again. There is a café on the premises and after a relaxing meal head over to view the wheel in motion, it is genius-engineering accomplishment.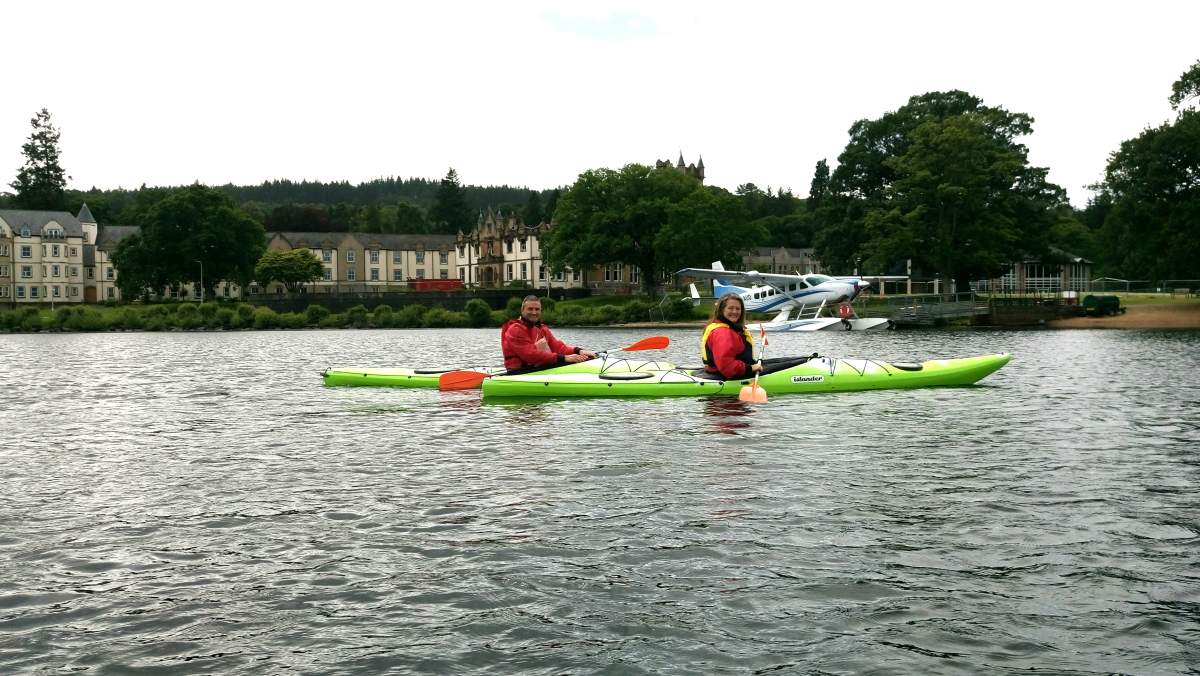 The only rotating boat lift in the world, the Falkirk Wheel lifts boats 24 meters into an aqueduct, boats must then pass through an additional 2 locks to finally enter Union Canal.  A double-headed Celtic axe, a propeller of a ship and a rib cage of a whale inspired the impressive design for the Wheel. The lead architect, Tony Kettle, described the Wheel as a "beautiful, organic flowing thing, like the spine of a fish."
Once you've finished gazing at this engineering wonder, and have had a wee rest, transport yourself and your kayak to Union Canal. You are now about halfway on your journey from Glasgow to Edinburgh, so settle back, paddle and enjoy the idyllic scenery along the canal.
As you pass through the town of Linlithgow watch for the towering palace visible from the canal. This is Linlithgow Palace, the birthplace of Mary, Queens of Scots. Finally after a 29 mile paddle along Union Canal you will arrive in Edinburgh, the Leamington Lift Bridge is ahead of you and you have done it! What a wonderful way to experience Scotland, this truly is a trip of a lifetime, a grand kayak adventure paddling in the Scottish countryside traveling between two of the country's major cities.
Kayak Trip Tips:
For safety and advice, contact and register your trip with Scottish Canals.
Kayak rentals available via In Your Element and TISO.
Sea Kayaking in Scotland
Experienced kayakers and just learning wannabes should try a day or two of sea kayaking in Scotland; this is what kayaking is all about. The open ocean, dolphins, seals, a gorgeous rugged coastline, tons of secluded bays and coves, it is what we call kayaking bliss.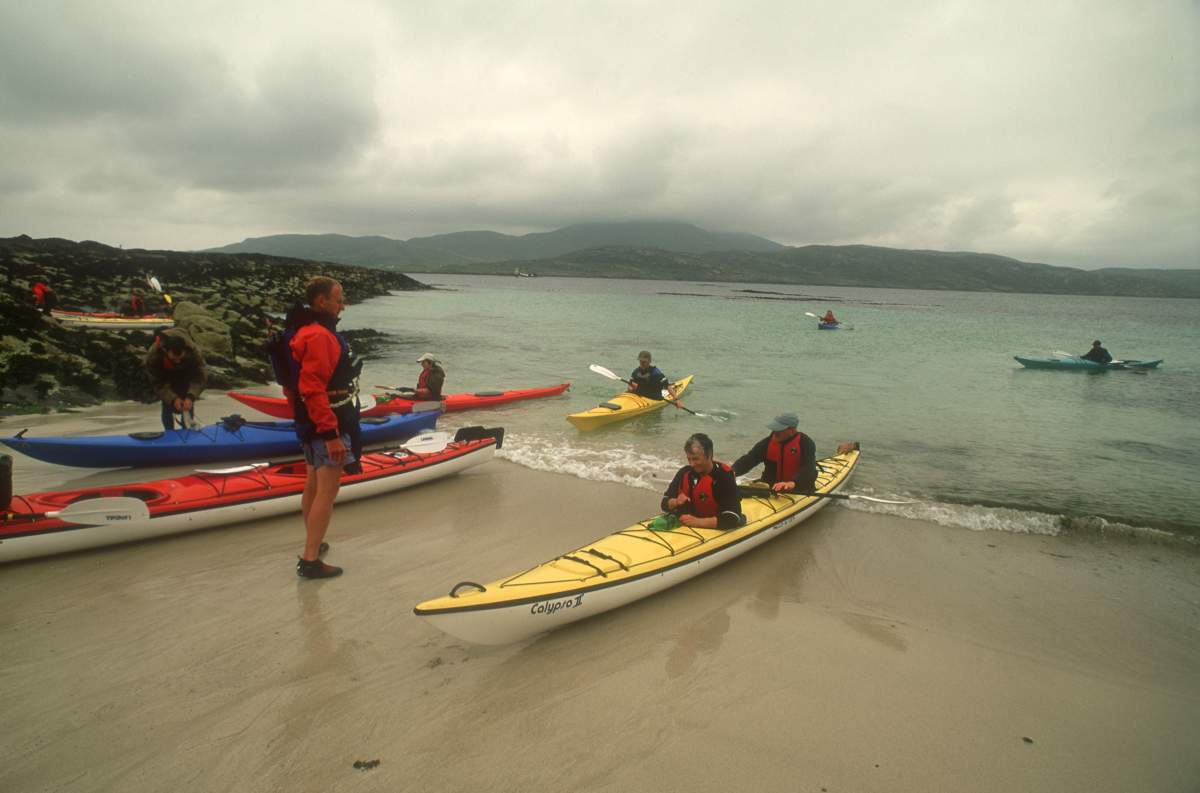 Our top pick for a sea-kayaking trip relatively close to Glasgow is with Sea Kayaking Scotland, which is located near Oban, on the Isle of Seil, and an approximate three-hour drive from the city.  
Well-trained guides will take you on an unforgettable paddle along the untamed western coast of Scotland and around the Isle of Seil. You can kayak with a group or request a private adventure. The guides will tailor any outing based on your skill level and requirements, as well as addressing all safety concerns dealing with open water kayaking.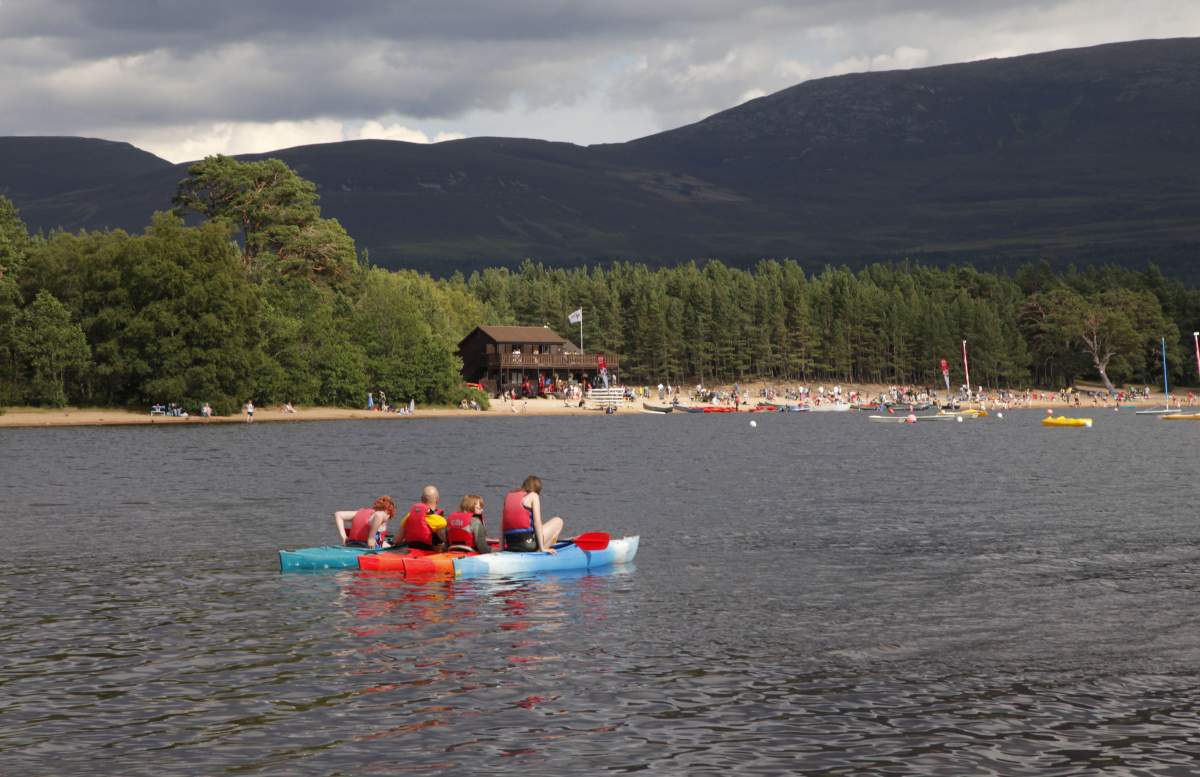 Give in to your thrill for adventure and plan your kayaking trip now. It has never been easier to book your visit and experience Scotland as an active traveller!
Cover photo credit: Dian Emery
The comments and contributions expressed are assumed only by the author. The recommendations, intentions or opinions expressed are not necessarily those of Transat AT Inc. or its affiliates. See terms of use of the Air Transat website.