This article was originally published in the May-October 2014 edition of Atmosphere, Air Transat's inflight magazine. Check the latest edition here!
Huge expanses of land that go on forever, First Nations people and a part of Quebec where nature is king: there is a parallel world barely three hours from Montreal. The Atmosphere team visited two very different nations—one rather remote, the other more urban—and came away with a renewed sense of awe at the power of nature and the people who live in it.
Tourism with the First Nations: Where To Go?
Manawan, or the call of the North
We head north, 250 km from Montreal, to the village of Manawan—Atikamekw territory in Lanaudière where the language and the culture live on. Are we still in Quebec? All is quiet, although we do see some stray dogs… It feels like we've crossed over into another country. We're greeted by our guide Régis, a giant teddy bear of a man, who leads us to the snowmobiles we'll use to explore the backcountry. We set off, wearing the suits we've rented for the occasion.
Everywhere we look, it's just evergreens and lakes. This is a land cut from a different cloth, where offroading is the road. Forty-five minutes later we arrive at a simple little house, heated by a wood stove, where some women are busy preparing moose stew for our lunch.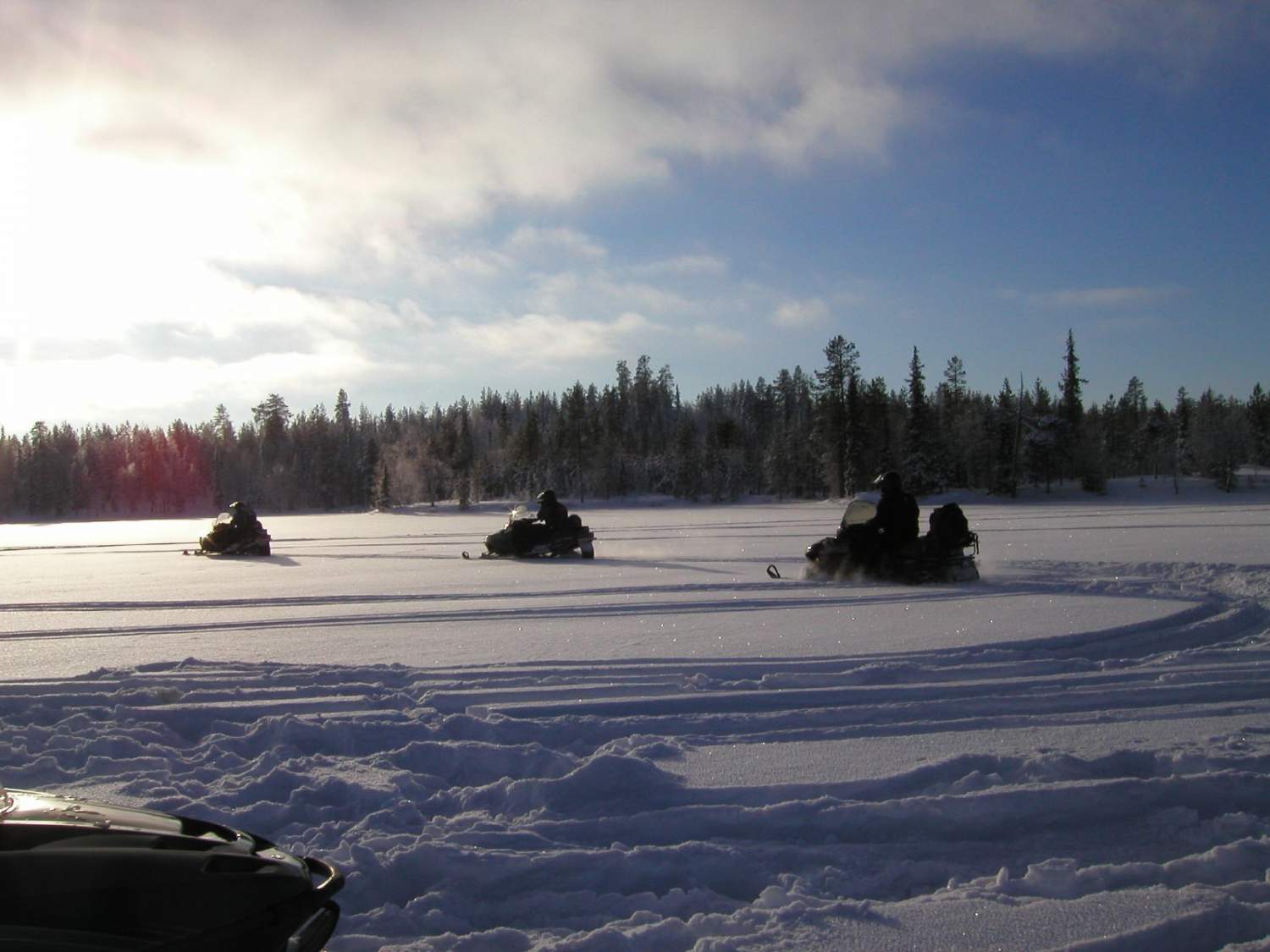 With nothing to do but head outside to explore, we take our time, listening to the sounds that nature makes. Later that night, the artist Sakay Ottawa plays us some tunes on his guitar. Around 9 pm we get back on the snowmobiles and head out onto Kempt Lake, an expanse of water 47 km long. A reddish moon peeks out from the clouds. We turn off the engines, look at the stars, feel the wind blowing. "Often, when I come out here by myself, I stop to listen to the silence," Régis tells us.
| | | |
| --- | --- | --- |
| English | Français | Atikamekw |
| Hello | Bonjour | Kwei |
| Welcome | Bienvenue | Miro peicak |
| Goodbye | Au revoir | Matcaci |
| Yes | Oui | Ehe |
| Thank you | Merci | Mikwetc |
| No | Non | Nama |
| I love you | Je t'aime | Kisakihitin |
The next morning, after some snowshoeing out in the woods, we're invited to follow a group of men, all of them huge, as they walk out onto the lake and prepare to install a 30-foot fishnet into the water. First, they cut and trim a tall tree, then carefully push it through a hole they've pierced in the ice. Next, they fix the net to the tree trunk, an impressive operation that takes several hours.
Wendake, land of the Huron
Just 15 km from Quebec City, Wendake is an autonomous Huron-Wendat territory. While the signs of heredity aren't obvious in this community, it is clear these people belong to their nation. The best way to explore this little-known world is with a visit to the traditional Huron Onhouä Chetek8e site—"From Yesterday to Today"—which includes a longhouse—the traditional Huron dwelling— a meat and fish smokehouse and a sweat lodge for purifying body and spirit. Oh, and ladies, the gift shop sells irresistible, locally made moccasins.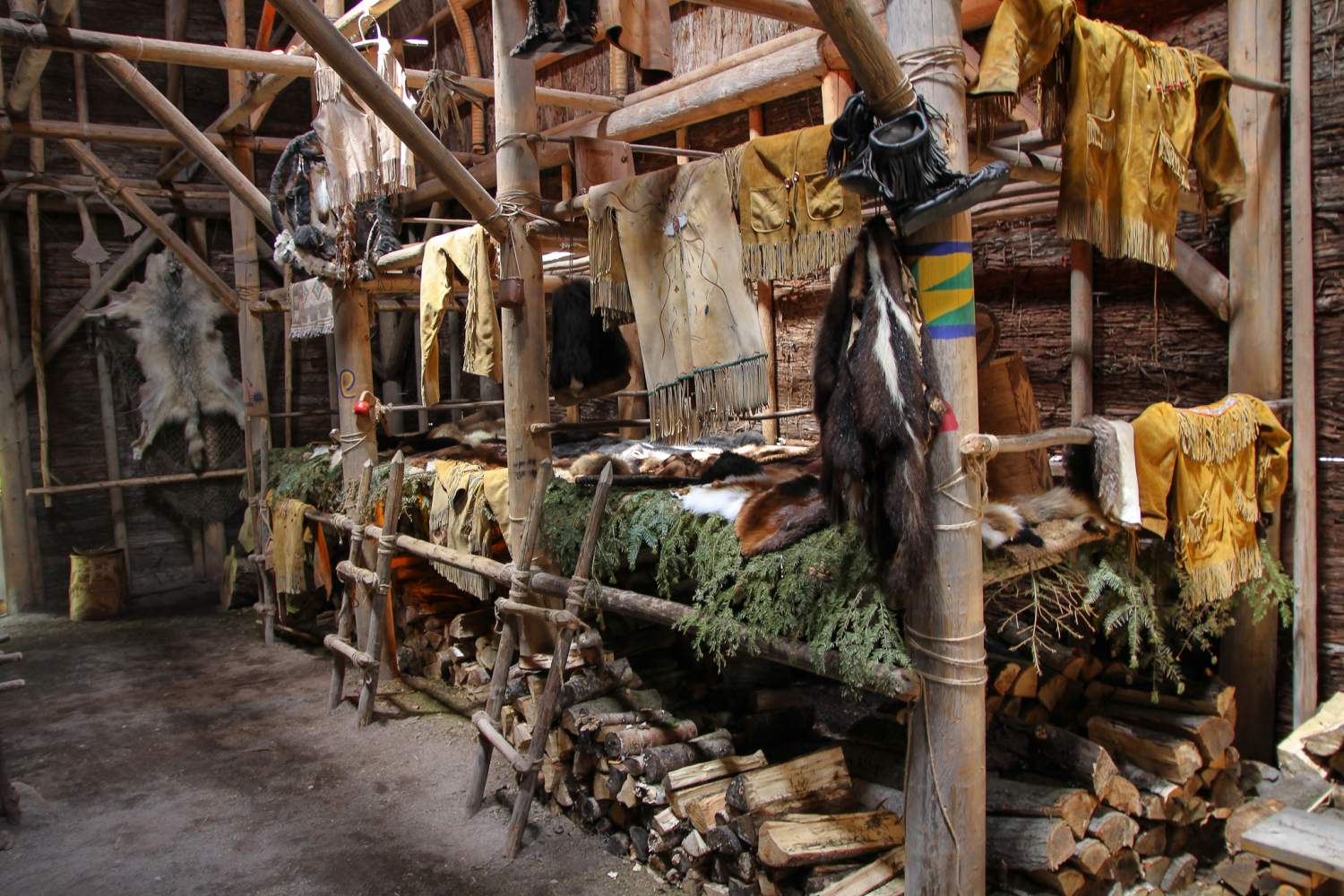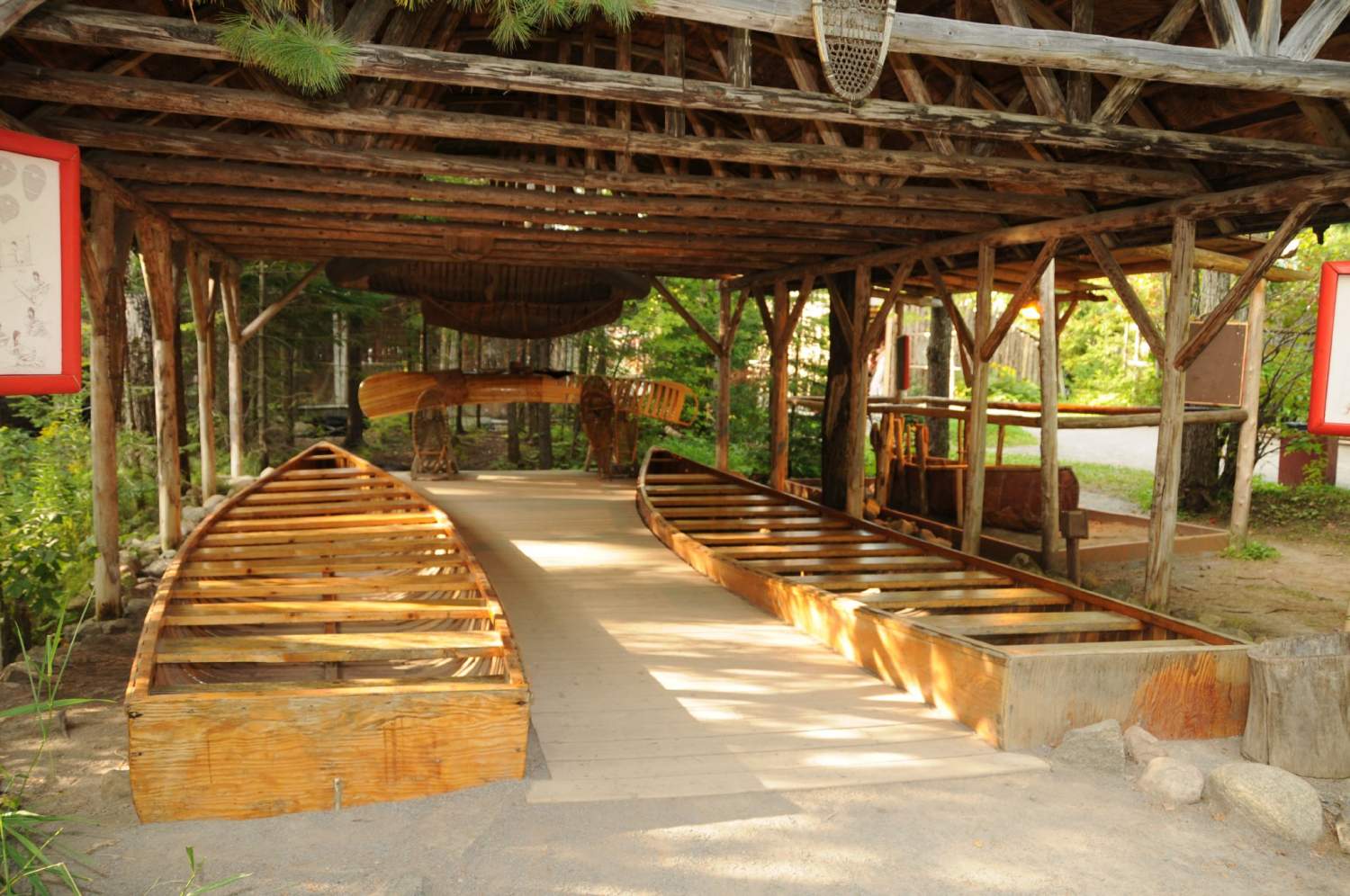 After feasting on fresh game at Restaurant Sagamité, we head to the luxurious Hôtel-Musée Premières Nations complex, where we're plunged straight into the aboriginal world. Our cultural immersion begins with an enchanting night in the adjacent longhouse. A fire smolders as Yolande, a storyteller, recounts Huron myths and legends and we snack on the traditional unleavened bread known as bannock. We cook the bannock ourselves, on a branch over the fire, and wash it down with Labrador tea. Later, we lie down on our beds of lynx, bear and wolf fur, snuggled into enormous sleeping bags, and drift off to sleep under the watchful eye of the "fire guardian".
In summer, the hotel buzzes with energy. Guests can throw themselves into any number of activities like hiking, canoeing and sea-kayaking on the Saint Charles River. You can even learn traditional embroidery using porcupine quills and moose hair. Evenings are given over to lounging on the hotel's patio, listening to the sound of the river rushing by below, then digging in to the Discovery menu at the hotel's award-winning restaurant, La Traite. Giving our taste buds a walk on the wild side, we order seal and caribou, two of the restaurant's exotic game offerings.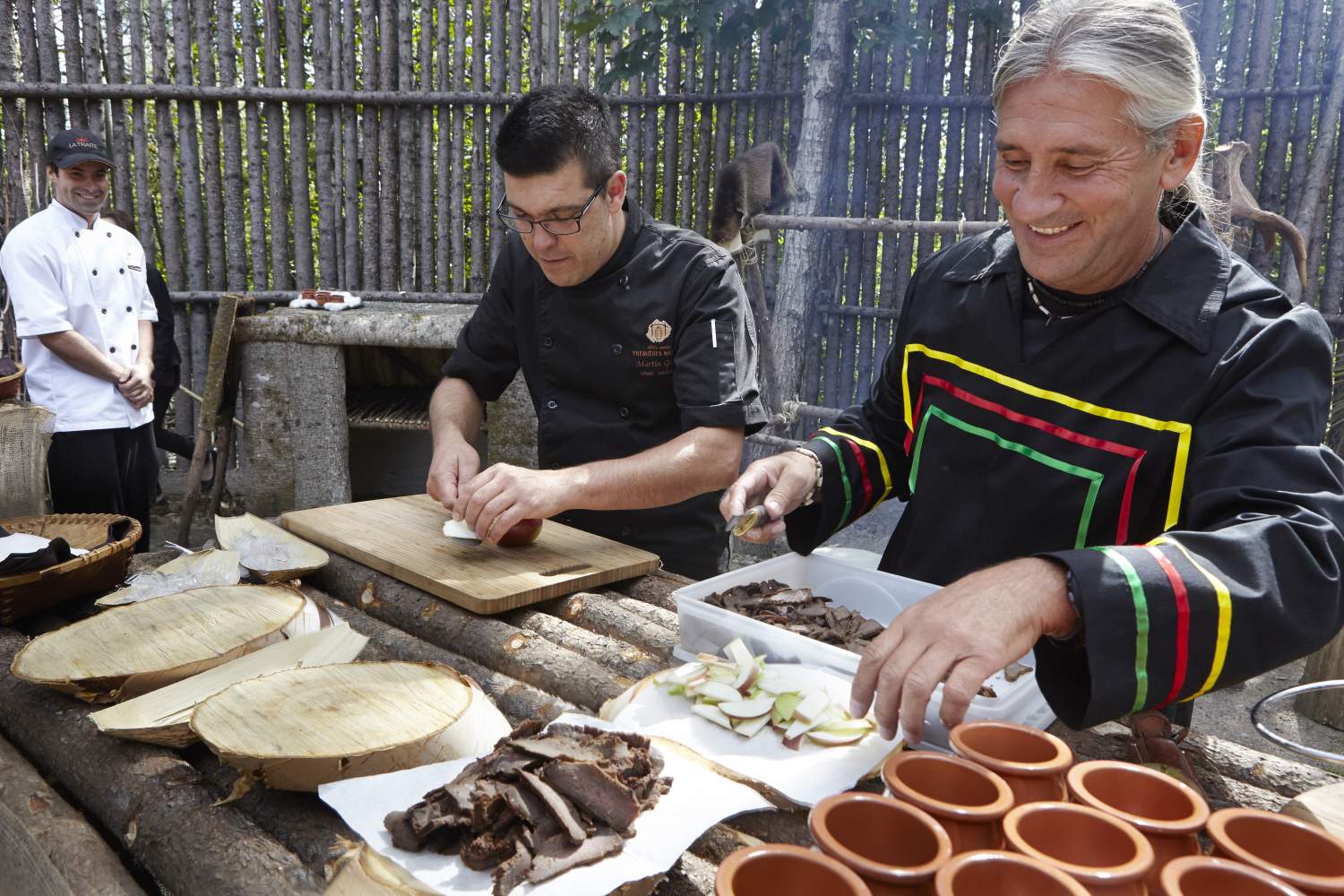 Our trip has definitely changed us. As we pull onto the highway that will take us back to the city, we begin to wonder if it wasn't all a dream. On First Nations territory, your entire being is pressed into service, your connection to nature re-established. We tell ourselves we'll be back in the summer, when the forest is at its sweetest. We'll spend a night in a tepee, do a medicinal plant workshop, a language workshop, try the interpretive hiking trails, go swimming in that giant lake…
It would be impossible not to come back, if only to show respect to the inhabitants of this land, and to the earth, too often thrown off balance by our modern ways.
Lac Taureau, reservoir of dreams
Majestic Lac Taureau is situated between the two nations. Lined with miles of white-sand beaches, it is set in a national park where visitors can partake in every conceivable outdoor activity, from bear observation to hiking, mini-cruises and kayaking, spa treatments, yoga, massages inside a tepee set by the water, and pike and bass fishing. As it is winter when we visit, we opt for dog sledding, unable to repress our giggles at the impatient barking of the gorgeous dogs, so eager to launch themselves into the forest. In this magical setting, we feel like we're in the real Canada, the one that lives in our imagination.
Cover photo credits: PROForest Service, USDA
The comments and contributions expressed are assumed only by the author. The recommendations, intentions or opinions expressed are not necessarily those of Transat AT Inc. or its affiliates. See terms of use of the Air Transat website.