There is nothing better than landing directly in Quebec City to head east and go on a road trip to explore the massive, lush national parks nearby. The great outdoors is yours for the taking! Be careful, however: here in Canada, distances can be intimidating. It's best to be well informed and to make sound choices in order to fully enjoy travels to these amazing places to visit near Quebec City.
Between forests and villages, the roads cross fields, coastline, lakes and rivers: here are a few tips for an exceptional stay.
Charlevoix, Great Destination for Wide-Open Spaces
From Quebec City, the Charlevoix region is accessible in about an hour and a half. Known for its gourmet personality and its numerous outdoor activities, Charlevoix will appeal to couples of all ages. In any season, there is something to keep you busy.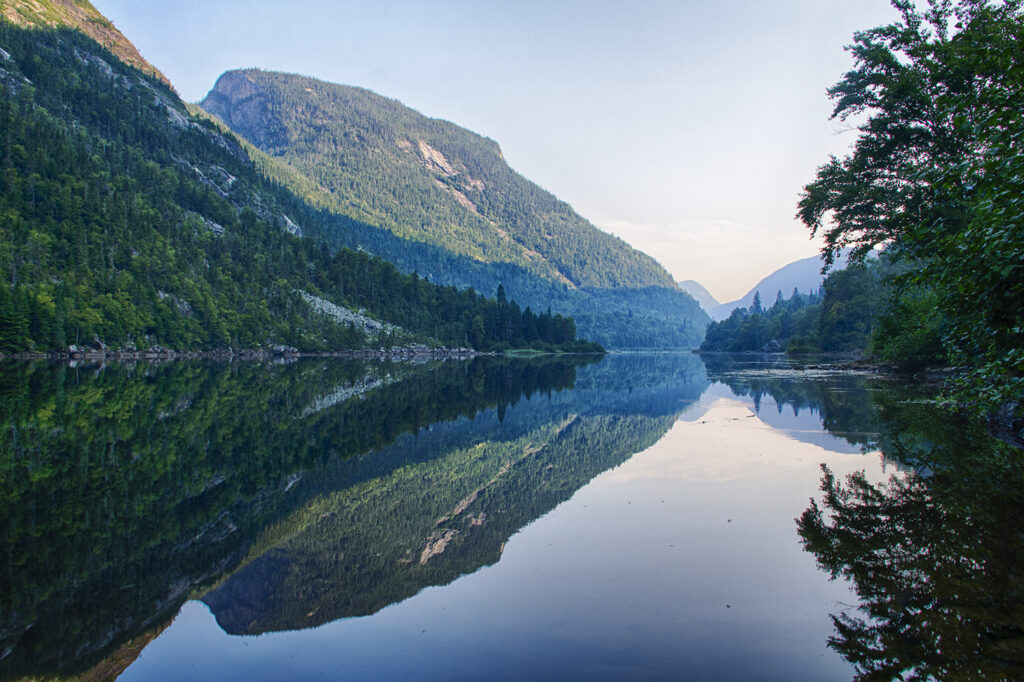 If your calves can take the workout, hikes with exceptional views await at the Grands-Jardins National Park and the Hautes-Gorges-de-la-Rivière-Malbaie National Park. Accessible from the village of Saint-Aimé-des-Lacs, the latter has one of the most popular trails for photographers: the Acropole des Draveurs. Closer to the river, Le Massif, best known for its ski trails, is becoming a destination of choice for mountain bikers in the summer and should definitely be featured in your Quebec travel plans.
Lodging options in the Petite-Rivière-Saint-François area are plentiful, from the new Club Med Québec Charlevoix to luxurious chalets or modest cabins. Keen to sleep somewhere unusual? Dômes Charlevoix should definitely be considered and will definitely be a highlight on your Quebec travel itinerary.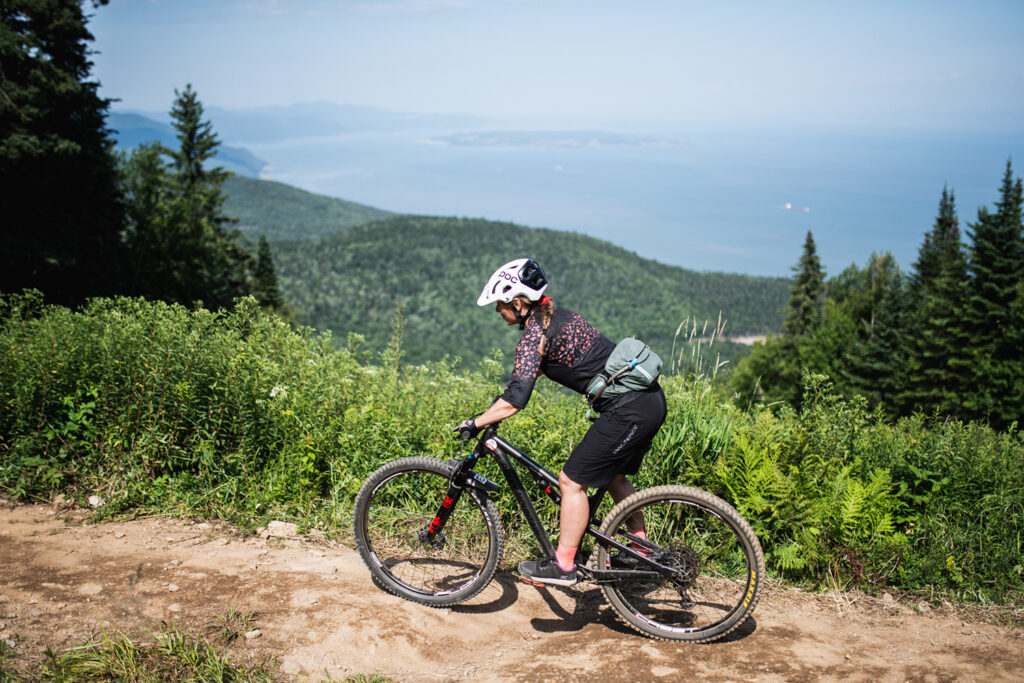 With its art galleries and fine dining, Baie-Saint-Paul is a must-see. The hotel Le Germain Charlevoix is a sure bet for staying put for a couple of nights and exploring the area further afield in the day time. Perfectly located for exploring the city on foot, the establishment has a spa and an excellent restaurant that focuses on local flavors,. In the summer, the Train de Charlevoix, which offers day trips, pulls into the station next door. It is possible to take it from the Parc de la Chute Montmorency station, near Quebec City, to La Malbaie, via Baie-Saint-Paul.
In La Malbaie, the Fairmont Le Manoir Richelieu is a reason alone to stay in the region. A historical institution, it offers superb views of the St. Lawrence River.
Saguenay-Lac-Saint-Jean, One of the Best Places to Visit Near Quebec City
The Saguenay-Lac-Saint-Jean region is also immense, and yet it's a must on any Quebec travel itinerary. From Quebec City, you have to cross the Laurentian Wildlife Reserve (takes about two hours), which amounts to over 7861 square km of forest and lakes, to get there.
Saguenay Side
The majestic fjord is a must-see. You can contemplate it by taking the hiking trails of the Fjord-du-Saguenay National Park (among the most popular are the Sentier de la Statue, in the Baie-Éternité sector, and the short Sentier de l'Anse-de-Tabatière, in the picturesque village of l'Anse-Saint-Jean), by taking the Navettes maritimes du Fjord, which allows you to stop at various sites and villages between La Baie and Tadoussac, without a car. This second option is particularly popular with cyclists, who can alternate between segments on water and on wheels.
For families, the Parc aventure Cap Jaseux, in Saint-Fulgence, at the mouth of the fjord, offers aerial courses adapted to different levels, sea kayaking, a via ferrata, hiking trails, mushroom and wild plant picking, and unusual lodging. Thrill-seekers should not resist climbing the rock walls of the via ferrata in the Fjord-du-Saguenay National Park, Baie-Éternité sector, considered one of the most beautiful courses of its kind in the province.
Seeing beluga whales is a must on any trip to Quebec! Head for the Baie Sainte-Marguerite sector of the Saguenay-Lac-Saint-Jean Marine Park. It is even possible to camp near the shore to hear their breath in the early morning.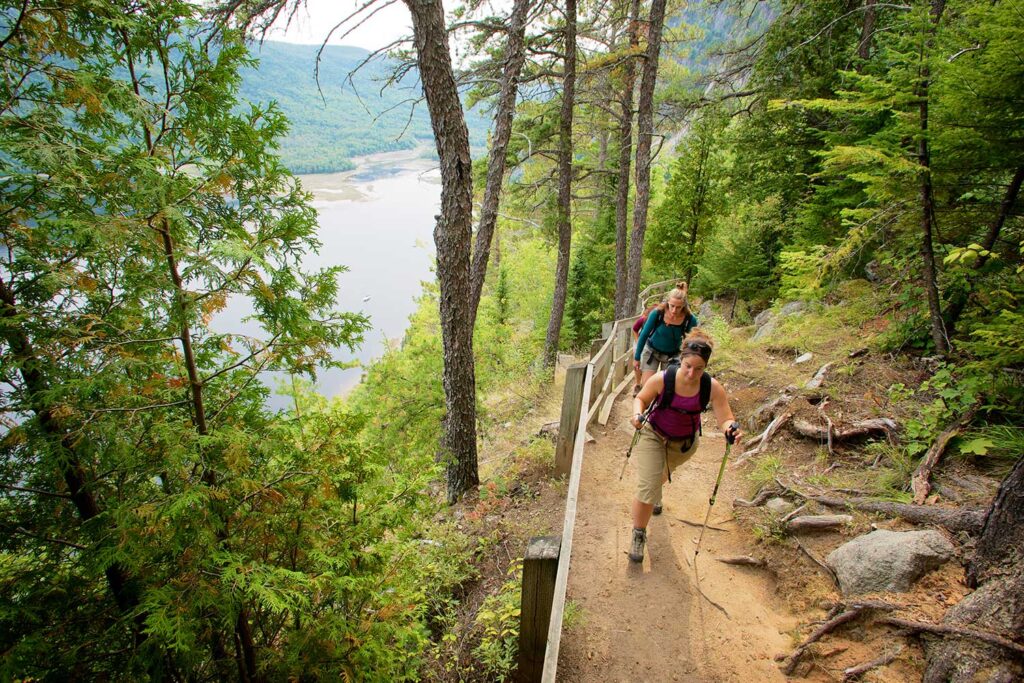 Lac-Saint-Jean Side
The said lake amazes by its immensity and its deep blue. Imagine: it is about twice the size of the island of Montreal! For a more comfortable lodging with a view on the lake, the l'Auberge des Îles, in Saint-Gédéon, is worth considering. It is possible to combine a stay at the Inn with a night on a floating accommodation – the Iloft (for the sporty ones, you have to go there by kayak) to blend in with nature. There are many water activities available.
There are some nice beaches around Lac Saint-Jean, but most are private. There are a few public beaches to discover: the beach at Pointe-Taillon National Park, Le Rigolet, in Métabetchouan, and Vauvert-sur-le-lac-Saint-Jean, in Dolbeau-Mistassini. There are many camping sites in the region, including the Chute à l'ours, in Normandin, a few kilometers from the famous Zoo sauvage of Saint-Félicien, another must-see in the region.
Tadoussac & Côte-Nord, Quebec by the Sea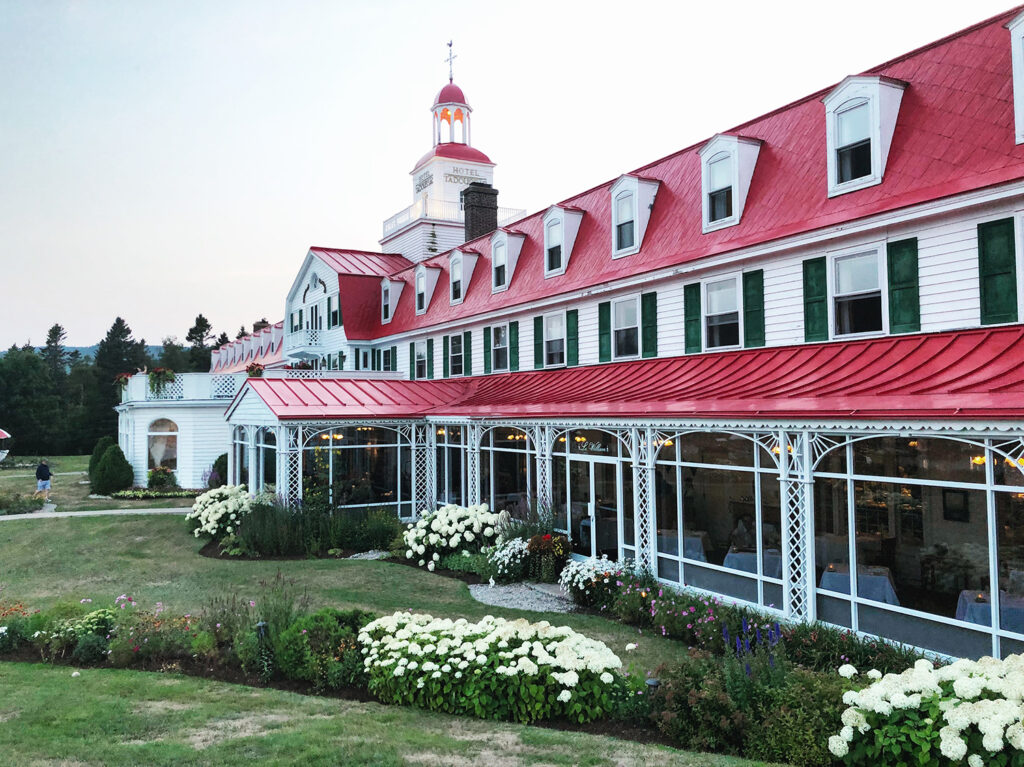 The gateway to the North Shore, Tadoussac is located 213 kilometers from Quebec City. Many know the area for its whale watching cruises in a marine protected area.
A charming little town, Tadoussac has a few good restaurants, such as Chez Mathilde. L'Hôtel Tadoussac will please history buffs who like the old-fashioned chic of the belle époque. Facing the bay of Tadoussac, the establishment is also known for its restaurant. Not far from there, Camping Tadoussac offers the possibility to pitch a tent or to opt for the ready-to-camp formula. The view is splendid!
If you want to enjoy the peace and quiet of nature during your trip to Quebec, you should consider staying in Sacré-Coeur, about 45 minutes from Tadoussac. Two sites in particular stand out: Canopée-Lit, with its tree houses and transparent bubbles, and Alfred le voisin d'Oscar, comfortable and beautifully decorated yurts with a view of the fjord.
Looking for more inspiration? Read about 15 Road Trips from Montreal to Experience Quebec's Gorgeous Nature and a Road-Trip in Canada's Great Outdoors.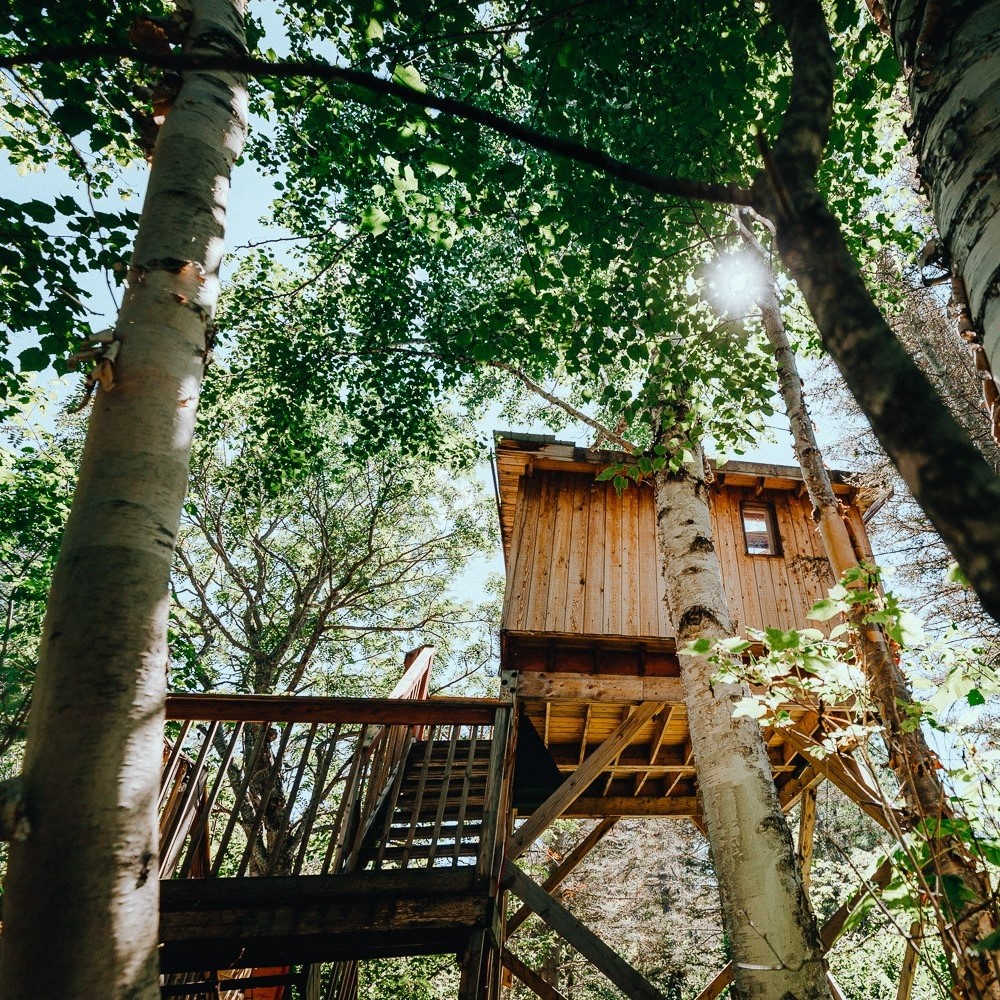 For whale watching from the shore or by sea kayak, the village of Les Bergeronnes is the place to be. From the rocks of cap de Bon-Désir, you can observe large marine mammals, but also practice ornithology and visit an interpretation center.
If you wish to explore further, Route 138 can take you to Natashquan. It is best to allow a good ten days to discover the region, or even two weeks. If you have a little time, the Mingan Archipelago National Park Reserve, some 870 km from Quebec City, is definitely worth a visit. It's impossible not to be impressed by its limestone giants and to fall in love with the puffins in this gem part of the best places to visit from Quebec City!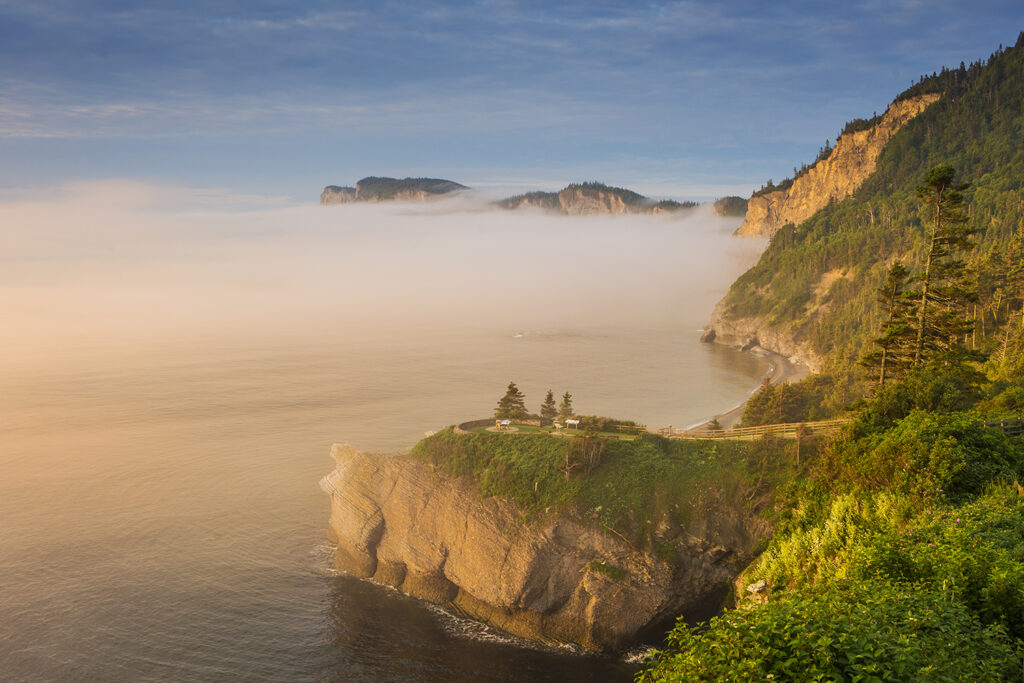 Quebec Travel: Know Before You Go to These Places to Visit Near Quebec City
Cover image photo credit: Parc national des Hautes-Gorges-de-la-Rivière-Malbaie © TQ/Pierre Charbonneau
The comments and contributions expressed are assumed only by the author. The recommendations, intentions or opinions expressed are not necessarily those of Transat AT Inc. or its affiliates. See terms of use of the Air Transat website.