Airports, queues, aircraft and delays can be disruptive and challenging for just about everyone, but especially so for travellers with autism spectrum disorder (ASD). Our colleague Chrystal Healy is not only our Vice-President Corporate Responsability, she's also Samuel's mom, a curious and friendly 8-year old boy with autism and a keen interest in all things pilots and planes! Together, Chrystal and Samuel have successfully taken to the skies following an extensive preparation process. With their travel experience in mind, we put together a few tested and tried travel tips for children with autism to help make the travel experience as smooth as possible.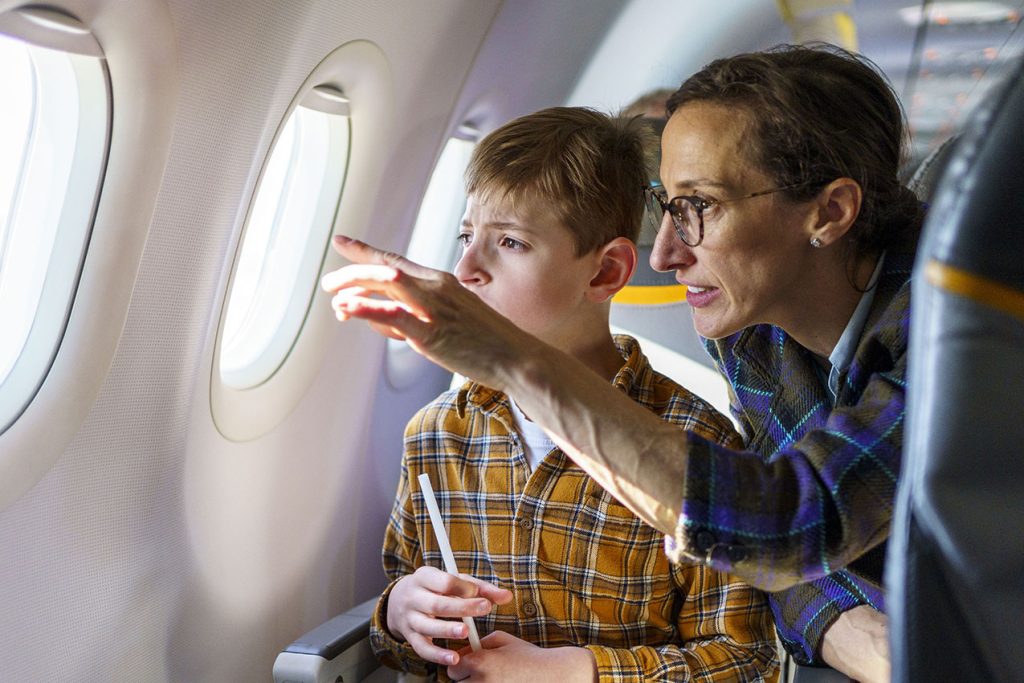 1. Prepare, prepare, prepare
Preparation is key! As soon as travel plans as confirmed, begin preparing your child with the tons of tools available online, including visual supports. As most parents of children with autism know, social stories are a great way to prepare for any new or potentially disruptive changes to routines. If possible, visit the airport ahead of departure to help your child get used to the many sounds, sights and crowds. Aéroports de Montréal has a great video about the airport process.
"My son loves watching videos of a place several times before we visit. I also always have a note pad that I can use to help illustrate any changes in the planned schedule. No need to be a grand artist, he is a fan of my stick figures!", explains Chrystal Healy.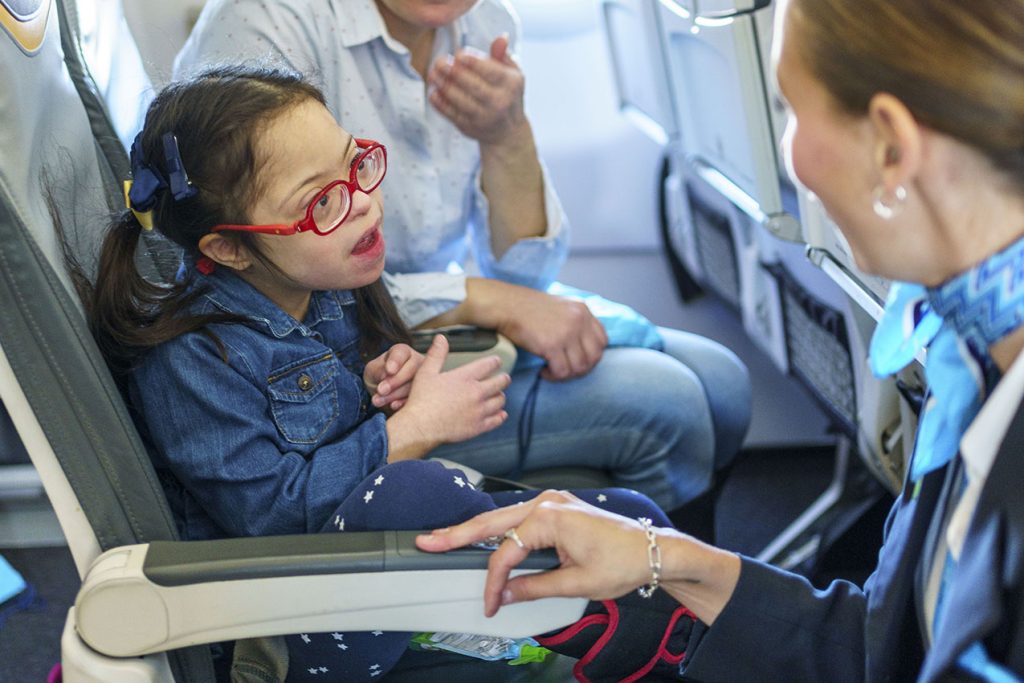 2. Enroll in the Premium Kids program
In collaboration with Aéroports de Montréal, Air Transat holds a Premium Kids event every year to help children on the autism spectrum get better acquainted with the travel process in the most authentic way possible. From the carpark shuttle to the security check, and from boarding to customs, every step of the airport experience is planned. This allows parents to see how their child responds to this hands-on experience and perhaps feel more confident in the possibility of going on a family trip.
This truly is a wonderful initiative for families looking to get travel tips for children with autism. To enroll for next year's Premium Kids wait list, click here.
3. Right time, right place
Travelling with special needs children often means having to pick the most convenient flight. As far as timing goes, it may be wiser to pick a flight that aligns with your child's sleeping schedule and timezones to minimise potential disruptions.
Picking the right destination is also hugely important. Keep realistic expectations!
"Maybe Australia isn't such a good idea for a first-time flier! I recommend starting small with a shorter flight with no time change to see how your child adapts and to try to have a positive air travel experience", adds Chrystal Healy.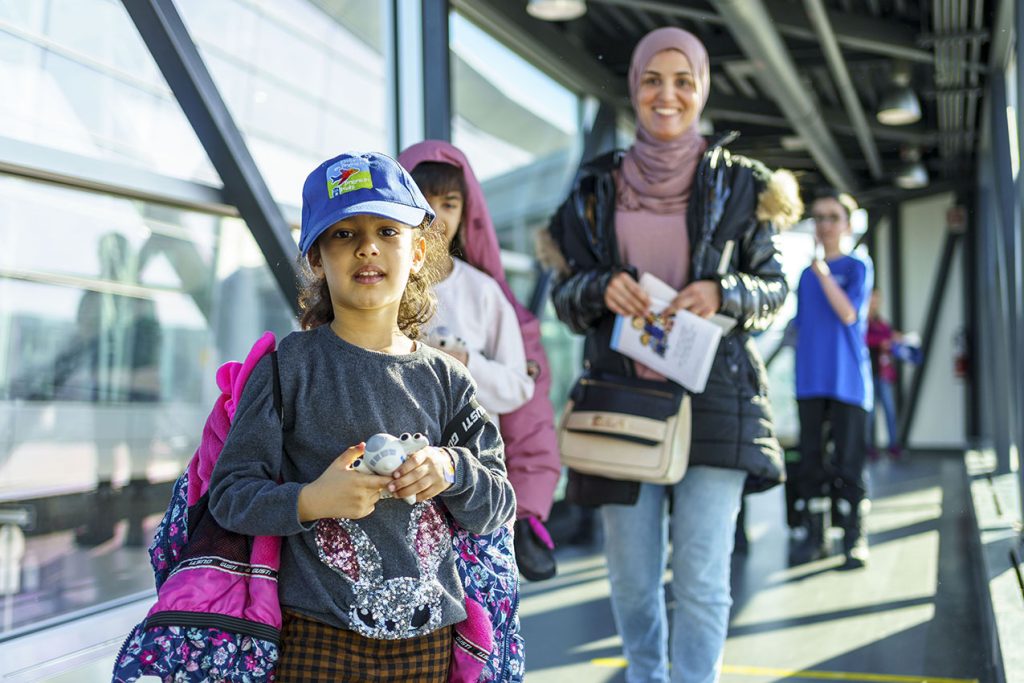 4. Book seats in advance
Knowing your child's preferences will be hugely helpful in picking the right seat for them. Most airlines, including Air Transat, will be happy to offer seating arrangements so that families can be together during the flight. To make a seat selection, fill out the Air Transat online form or phone your travel agent at least 48 hours before your flight.
Are they likely to kick? Ask if bulkhead seats are available.
If they tend to be irritated by people walking by them frequently, avoid a seat near the lavatory.
On the contrary, if they want to walk around frequently, choose an aisle seat.
5. Pack these essentials in your carry-on bag
There are plenty of things to consider before boarding the plane: temperature, entertainment, electronics, you name it. Chrystal Healy has a few helpful suggestions to try and make the air travel experience positive for yourself and your child.
Blankets
If you've been on a plane before, you know that temperatures can change quickly between boarding and cruising altitude. Moreover, not all flights (especially the shorter ones) have blankets for passengers. If your child is sensitive this kind of environmental change, come prepared with your own blankets or appropriate clothing.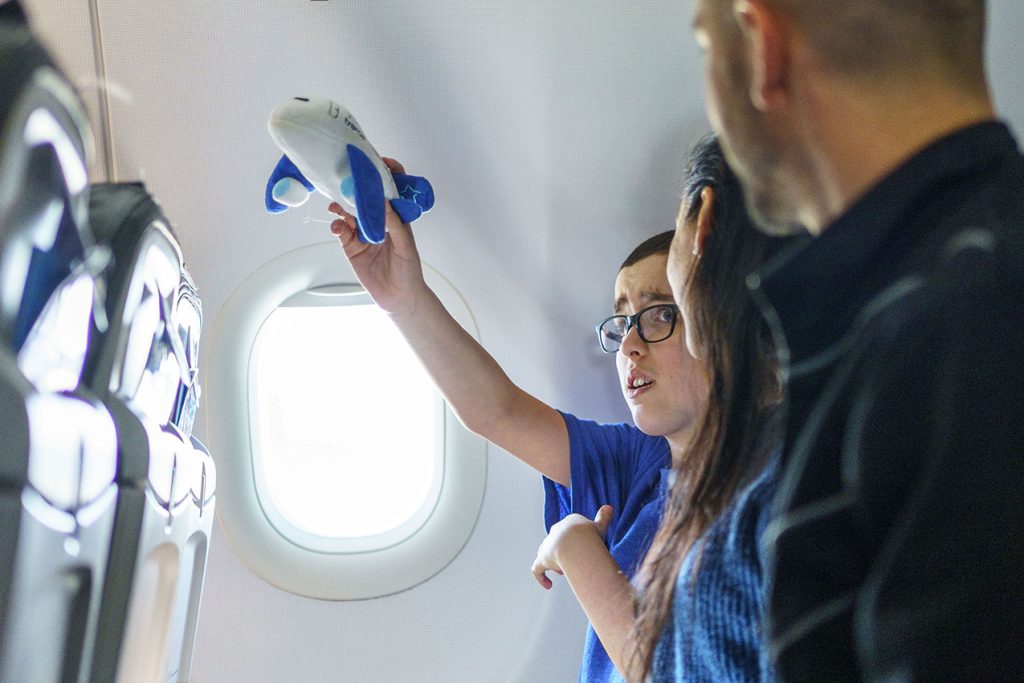 Noise-cancelling headphones
If your child is sensitive to sounds, investing in a pair of noise-cancelling headphones can make a huge difference in their perception of the travel experience. Keep in mind, however, that there will be times when electronics may not be used on the plane such as during takeoff and landing. Don't hesitate to ask the cabin crew upon boarding if your child can keep their headphones on throughout the flight, if circumstances allow.
Hand-held devices
Hand-held devices like iPads and cellphones can be lifesavers… so long as you remember to fully charge them prior to departure. Make sure to download their favourite shows, movies, or music so they can enjoy them offline. If it's a long flight, consider bringing a portable charger.
6. Skip the queues and ask for help
Many children on the spectrum have difficulty waiting in line and can become overwhelmed by being around so many people. If this sounds like it could be an issue for your child, remember that it's worth talking to a member of the airport staff as they may allow you use a disabled or priority passenger line at check-in and security. This can be hugely helpful to manage your child's stress levels — and your own! Do not hesitate to speak up and ask for help.
If skipping the line isn't an option, scope out a quiet place to wait with your child. When possible, ask your partner or someone you are traveling with to wait in line for you instead.
"This is what me and my husband do at water parks, for example, and other venues that don't have accessibility initiatives", suggests Chrystal Healy.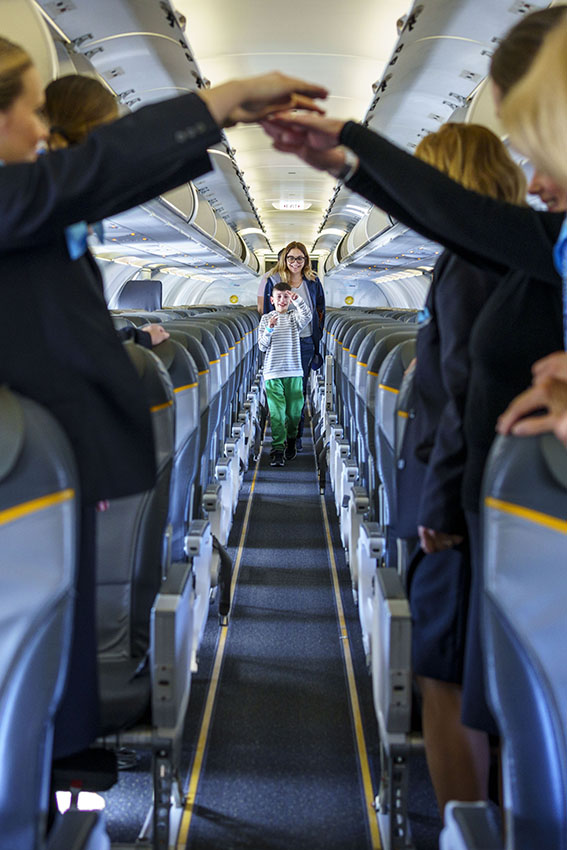 7. Board the plane first or last
Depending on your child's preferences, you may want to board first or last. For example, if you prefer to settle your child on an empty plane before crowds of people pack into the aisles, ask for priority boarding. On the other hand, if your child is not exactly patient, boarding last may be a better option.
"My son is very social and loves people. However, he is very impatient. So I personably prefer boarding last, as there is less wait time. When possible, I send my husband to pre-board with our carry-on bags and have him prepare our seats", adds Chrystal Healy.
8. Expect the unexpected
With travel as with anything else, it's simply not possible to predict how everything is going to turn out. Delays, for one, are unfortunate but for a multitude of reasons they can potentially be part of the travel experience. Make sure your child is prepared for this and have a contingency plan. At the airport, scope out a quiet place or a lounge to wait. If this is a new-to-your airport, you may be able to get a recommendation from the airline staff at the gate.
It is important to accept that your child may have a negative reaction to the travel experience. Let the airline staff and flight attendants know ahead of time that your child may react strongly. If you need to and if this is something that your child will welcome positively, tell them how they can help.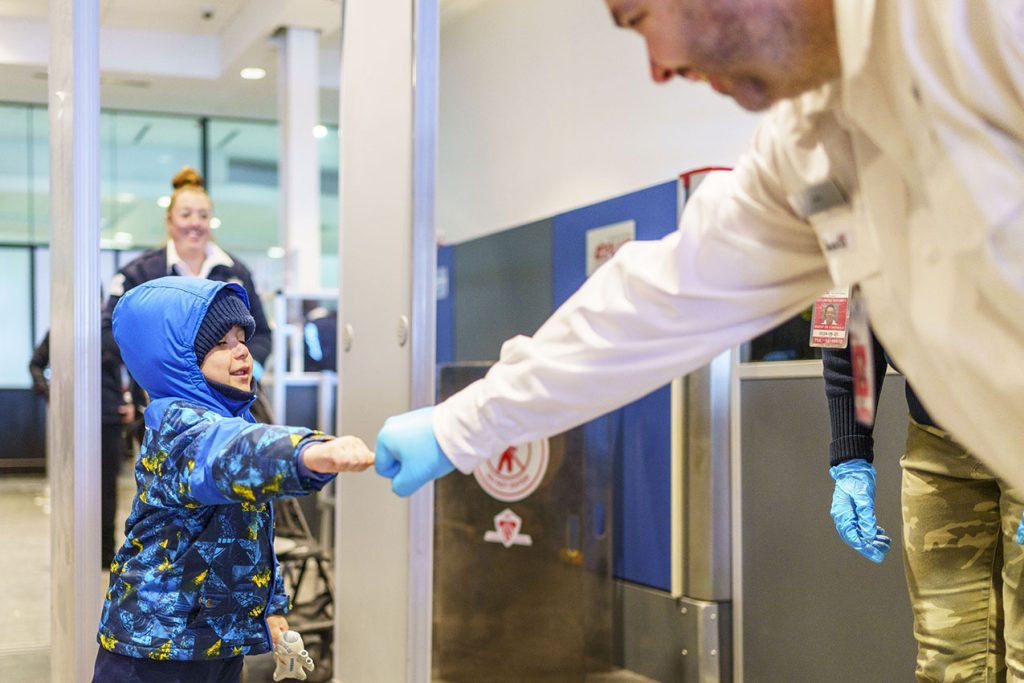 9. Look after yourself
"If you're like me and can't sleep before an early flight, try to avoid them. Travelling can be extra challenging for families, moreso with a child on the spectrum. Every little bit of preparation and help goes a long way", concludes Chrystal Healy.
Remember how you need to put on your own safety mask before helping others? That's not just a security drill; it's also true when you potentially face stressful situations, including travelling with a child on the autism spectrum. Make sure you get plenty of sleep the night before and that you eat a full meal before a flight to ensure that you are in the best possible disposition. Again, timing is everything.
Special thanks to Autism Little Learners for their precious work in creating the social stories.