Named the world's third most livable city and considered a true cyclist's paradise, Vancouver is definitely doing something right. After travelling to Vancouver ourselves, we can confirm that this metropolis really is everything it claims to be!
Discover the City by Bike
A network of bicycle lanes and a bike-sharing program are both part of Vancouver's action plan to become the world's greenest city by 2020. Bike rental shops abound, and many hotels serve as rental outlets for guests. The Opus, for example, provides cool new models (from cruisers to mountain bikes) free of charge.
We've come up with two different itineraries to take you on a tour of our favourite places. Choose the one that suits you best, or try both and discover the contrasting elements that make up Vancouver's unique charm.
Route 1:  The Flower Child
Formerly a hippie haven, the residential Kitsilano neighbourhood still radiates peace, love and harmony with nature.
Breakfast
Begin your morning at the incongruously named Café Zen, whose plaid-patterned tablecloths, friendly service and hearty breakfasts draw crowds of locals on their way to nearby Kitsilano Beach. We suggest the generous Lumberjack breakfast, consisting of eggs, hash browns and all the goodness you'd expect from a typical Canadian breakfast.
Kits Beach 
Play tennis, swim laps at the heated, saltwater Kitsilano Pool overlooking the ocean, or relax on the sturdy log benches that dot Kits Beach. We just can't get enough of this picturesque stretch of sand, which made Reuters' list of the Top 10 City Beaches around the World.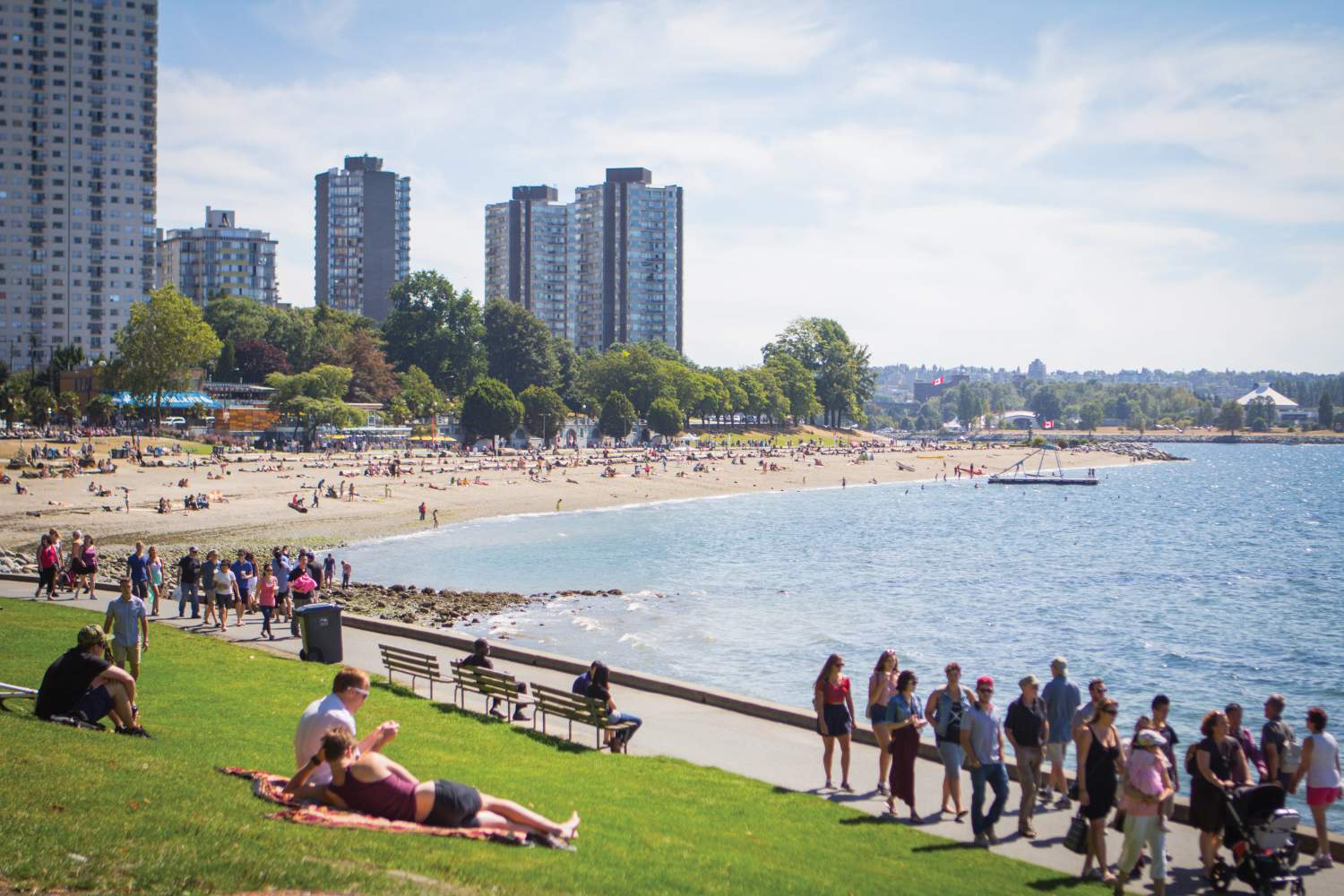 Lunch 
For a well-priced, ethical gourmet experience, Fable serves food you and your wallet can feel good about. Head chef Trevor Bird is the mastermind behind this "farm-to-table" concept. Everything is prepared from the ground up – even the bread, preserves and ketchup–using only locally sourced ingredients, and the result is divine.
Spanish Banks
After lunch, it's well worth taking the time for a stroll down West 4th Avenue for the breathtaking mountain vistas that assert themselves in all their glory at every intersection. The waterfront properties are also quite a sight as you pedal to the beach of Spanish Banks for an afternoon of sunbathing, swimming or beach volleyball.
Hadden Park
Vancouver's natural setting is so beautiful it's positively surreal–the perfect backdrop for stand-up paddleboard yoga, a tricky yet enlightening activity which is quickly gaining momentum in warm, coastal cities around North America. Cycle over to Hadden Park and prepare for a moment of Zen after the ultimate core workout on the calm waters, as boats drift gently by.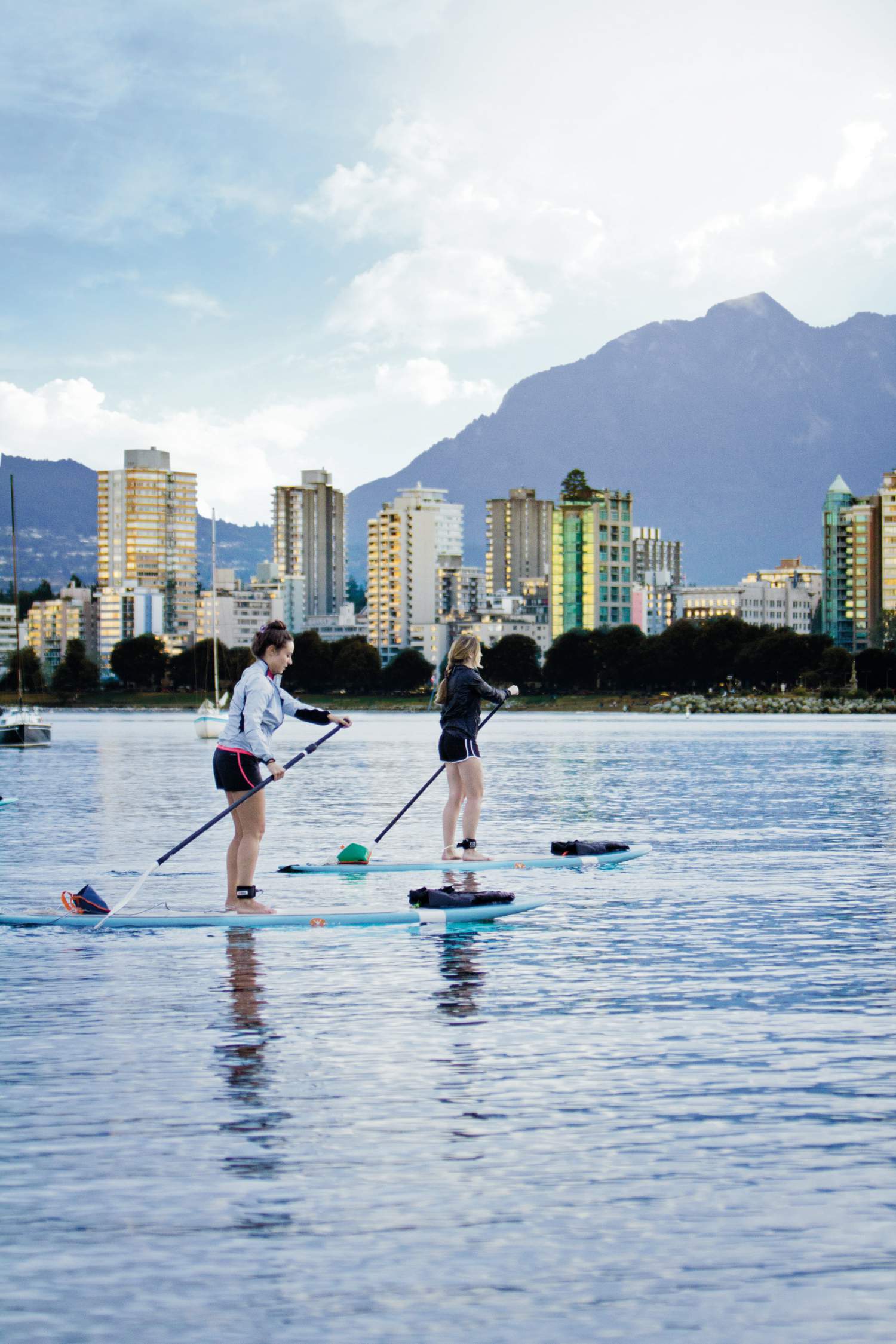 Route 2: The Trendsetter
Gastown's iconic red-brick roads lead to hip cafés and snack shops bustling with positive energy. Fuel up for a bike ride that's bound to be the highlight of your trip to Vancouver!
Breakfast
Freshly baked goodies and specialty, in-season coffee are on the menu at Revolver, a family-owned café with a progressive concept. "We don't make it until you order it," says manager and part owner George Giannakos. Watch as the baristas meticulously pour, brew and stir to produce one perfect cup at a time. We opted for the Tasting Flight, much like a wine tasting, but with caffeine: a definite must.
Picnic Preparations
To beat the lunch rush, grab sandwiches to go at Meat & Bread right up the street from Revolver, or try Nelson the Seagull–which we all agreed made the best bread we'd ever had! For dessert, Cartems Donuterie offers original, one-of-a-kind donuts like Canadian Whiskey Bacon and Earl Grey.
Stanley Park
There's no better site to start exploring Stanley Park than Canada Place where you can watch seaplanes take flight every 10 minutes. From there, striking panoramas will follow you as you cycle to your destination. You'll ride through upscale yet unpretentious Coal Harbour into Stanley Park and past a succession of beaches. It's staggering to think this 1,000- acre rainforest, home to otters, bald eagles and blue herons, is just minutes from downtown.
English Bay
You're likely to have worked up quite an appetite by now, so park your ride for a waterfront picnic at English Bay, Vancouver's most popular beach. Palm trees and flowers brighten the boardwalk, creating a uniquely exotic feel. It's a great place to chill out for an afternoon, so kick back, relax and enjoy the West Coast vibe that characterizes this remarkable city.
Hiking
Go for gold with the Grouse Grind. A steep ascent up 2,830 uneven stairs, it truly is a "grind", although on a less demanding note, a free shuttle will bring you from Canada Place to "Mother Nature's Stairmaster" in just 15 minutes. Then, it's a one-hour hike for the pros (a little longer for the rest of us), followed by a real sense of accomplishment upon completing the 2.9-km trek. Check out the grizzly bears and lumberjack shows once you reach the top. "Canadiana" at its best!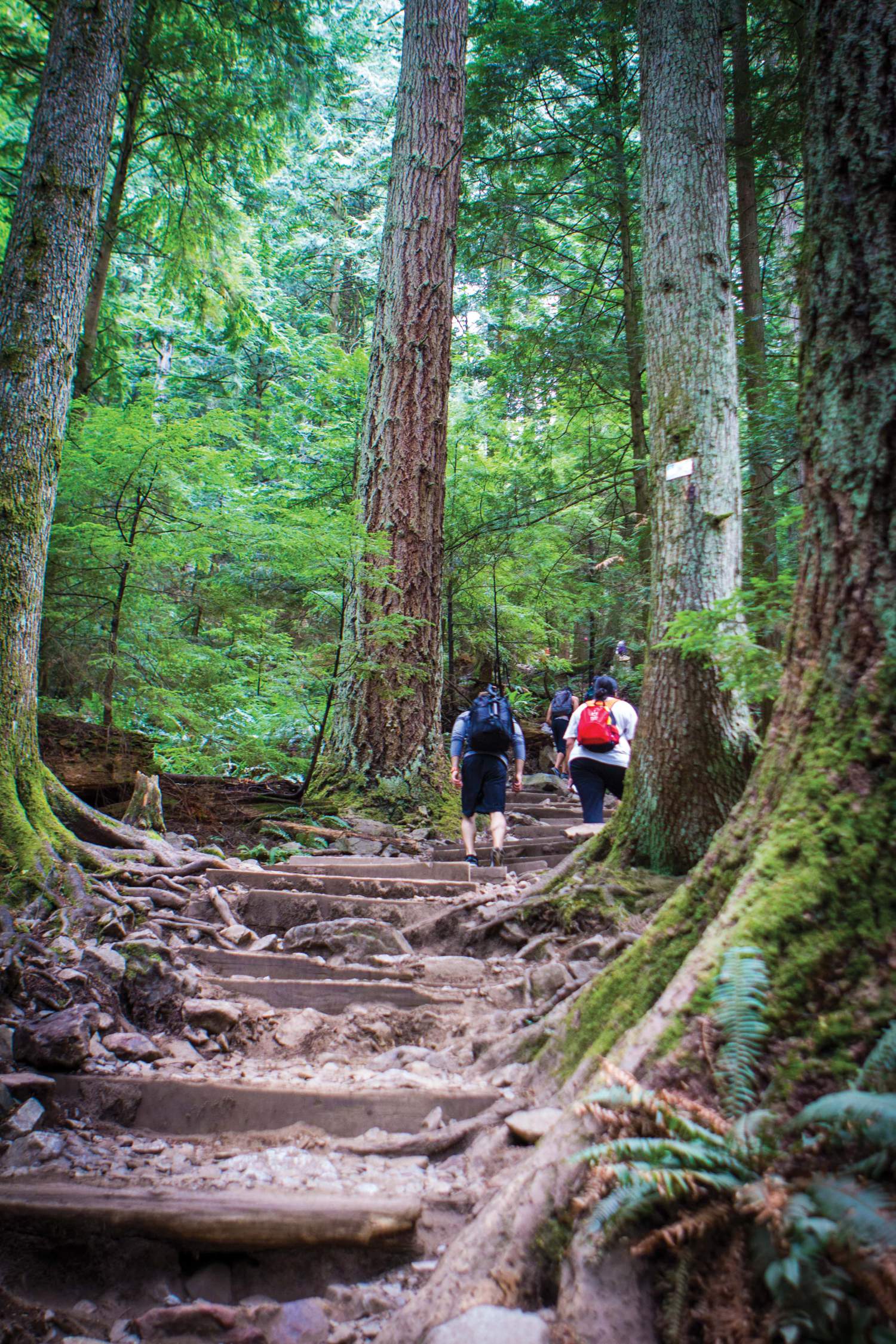 Mountain Biking 
Ernest Hemingway once said, "It is by riding a bicycle that you learn the contours of a country best, since you have to sweat up the hills and coast down them." First-timers (like us) and experts alike will have a blast tackling Canada's best off-road trails on a specially designed mountain bike. Once you've got the basics down (we opted for a private lesson with Endless Biking), you'll be racing on rugged mountain terrain in no time!
Guided Tours
A guided bike trip around Vancouver is another fascinating and healthy way to learn about the city with a knowledgeable local. We went with Cycle City Tours, who gave us The Grand Tour and shared lots of fun facts throughout the ride.
Wine & Dine
After days of biking and hiking, you'll probably want to remedy your aches and pains with good wine, well-crafted cocktails and a nourishing meal. Feast your eyes on our top picks–you'll want to keep them in mind for next time you travel to Vancouver!
[foogallery id="12890″]

Vancouver Urban Winery
Cab it to Hastings for a wine tasting at this beautifully converted warehouse that serves wine on tap. The delightful medley of B.C. wines will surely please your palate!
55 Dunlevy Ave, Vancouver, BC V6A 3A3
(604) 566-9463
http://vancouverurbanwinery.com/

Bao Bei
This busy Chinese brasserie is probably the most popular hangout in Chinatown. Their Kick Ass House Fried Rice is to die for, and the Pork Jowl comes in at a close second.

163 Keefer St, Vancouver, BC V6A 1X3
(604) 688-0876
http://bao-bei.ca/

The Keefer Bar
Drop in for a look at this apothecary's cocktail list just a few doors down from Bao Bei. We prescribe the Keefer 75, a refreshing blend of dragon fruit gin, lemon, lavender syrup and sparkling wine.
135 Keefer St, Vancouver, BC V6A 1X3
(604) 688-1961
http://www.thekeeferbar.com/

Wildebeest
Vegetarians, beware! The roasted veal sweetbreads at Gastown's new "it" restaurant are out of this world, but their claim to fame is the fall-off-the-bone Angus beef short ribs.
120 W Hastings St, Vancouver, BC V6B 1G8
(604) 687-6880
http://wildebeest.ca/

La Pentola
We love the award-winning menu, fresh ingredients and reasonable prices, and the creative chefs always manage to turn the simplest dishes into works of art!
350 Davie St, Vancouver, BC V6B 5Z6
(604) 642-0557
http://www.lapentola.ca/

Granville Island Public Market
This market is bursting at the seams with gastronomic delights, from prepared dishes to local produce and seafood. You can also try your luck at the harbour, where local fishermen might be selling their catch of the day, fresh from the boats!
1661 Duranleau Street, Vancouver, BC V6H 3S3
(604) 666-6655
http://granvilleisland.com/public-market

Minami
Enjoy inexpensive, quality sushi anywhere in the city (tried and true!), or treat yourself to something more extravagant at trendy hot spots like Minami, where George Clooney was sighted last September.
1118 Mainland Street, Vancouver, BC V6B 2T9
(604) 685-8080
http://minamirestaurant.com/
The Verdict
The starkly astonishing beauty of the Rockies and the endless vistas of the Pacific frame a super-civilized, modern metropolis inhabited by New Age enthusiasts, outdoor sports lovers and very lucky ordinary people clever enough to call Vancouver home. As for us, we came, we saw and we conquered–literally!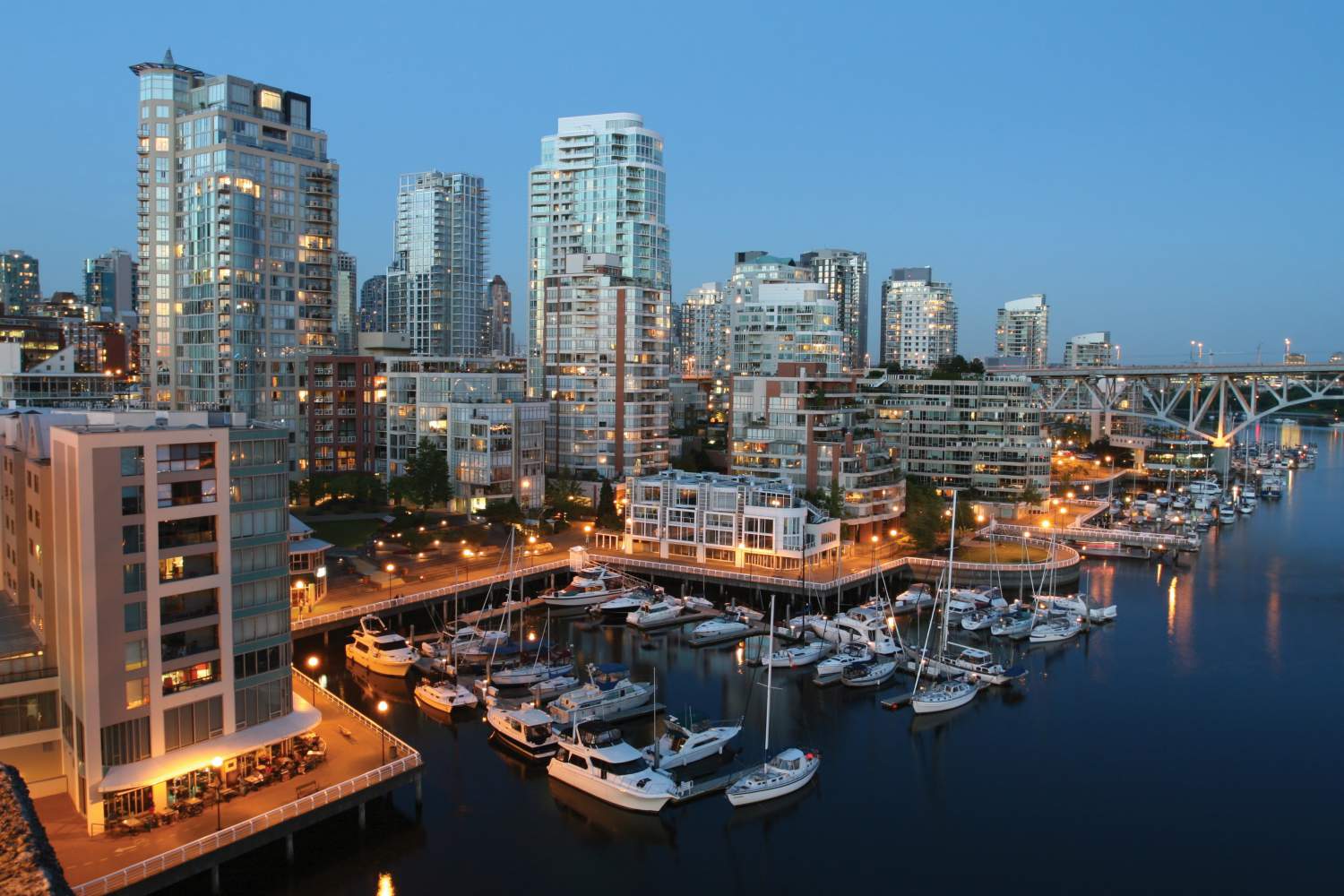 Run, or fly, to Vancouver with Air Transat and be sure to book a hotel in the heart of this outdoorsy city.
The comments and contributions expressed are assumed only by the author. The recommendations, intentions or opinions expressed are not necessarily those of Transat AT Inc. or its affiliates. See terms of use of the Air Transat website.
[foogallery id="12890″]