The Toronto Waterfront is fast becoming the city's hot new 'it' spot. With recently reconfigured streets that prioritize streetcars, bikes and pedestrians, Toronto is slowly changing its lakefront landscape from a desolate mass of bland condos to a walkable, bikeable vibrant community that is popular with both locals and tourists. Here are our top recommendations for a cool day out near the lake during your visit to Toronto.
Get Your Culture Fix on Toronto's Waterfront
Harbourfront Centre on Toronto's Queens Quay has been a cultural mainstay in the city for over forty years. This is the perfect place to try out a new craft in the Craft and Design Studio, contemporary dance performance at NextSteps or get your art fix at the Power Plant Gallery. Our favourite Harbourfront summer event series is Dancing on the Pier, where you can listen to a live band and dance the night away under the stars.
Fort York has begun a successful process of reinventing their venue while still remembering to honour its historical importance to the city. The organization has always done a great job of proudly showcasing Canada's largest collection of original War of 1812 buildings, and in the last few years it has also begun to use its beautiful grounds to promote art and music in the city, hosting popular summer festivals like Beerlicious, Vegandale Festival and the Camp Wavelength Music and Art Festival. On Fort York's southern wall, you can find a Toronto Instagram favourite, the Bentway Skating Trail and Beer Garden.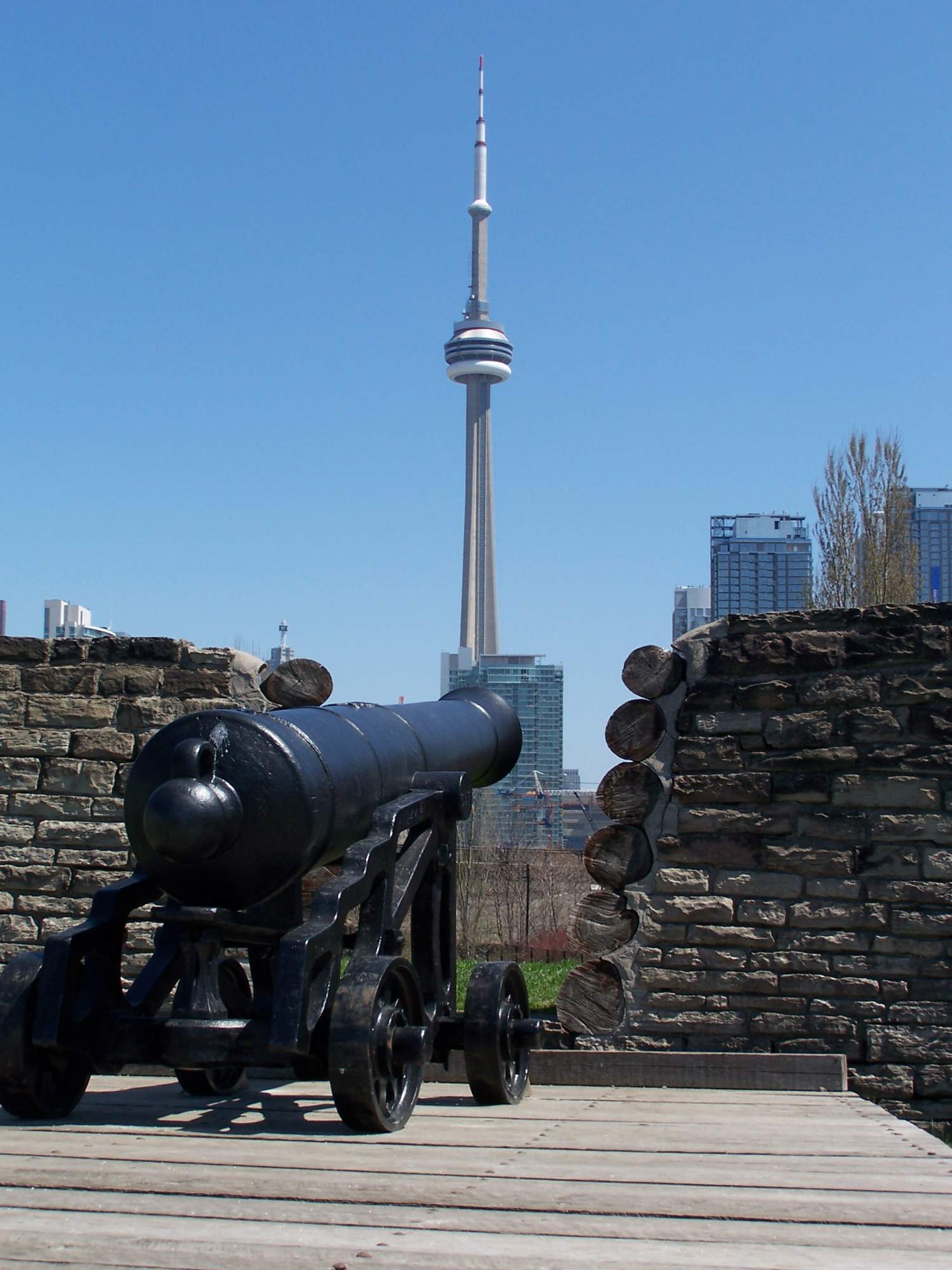 Ripley's Aquarium is not quite right on the waterfront, but since it is about a 10 minute walk from Lake Ontario and it is full of water and lovely fishies, we are including in our list. Explore and enjoy beautiful aquariums full of aquatic animals, 20,000 in all. We love, love, love the moving walkway through the 'Dangerous Lagoon' glass gallery where you are surrounded on all sides by sharks, sea turtles and sawfish.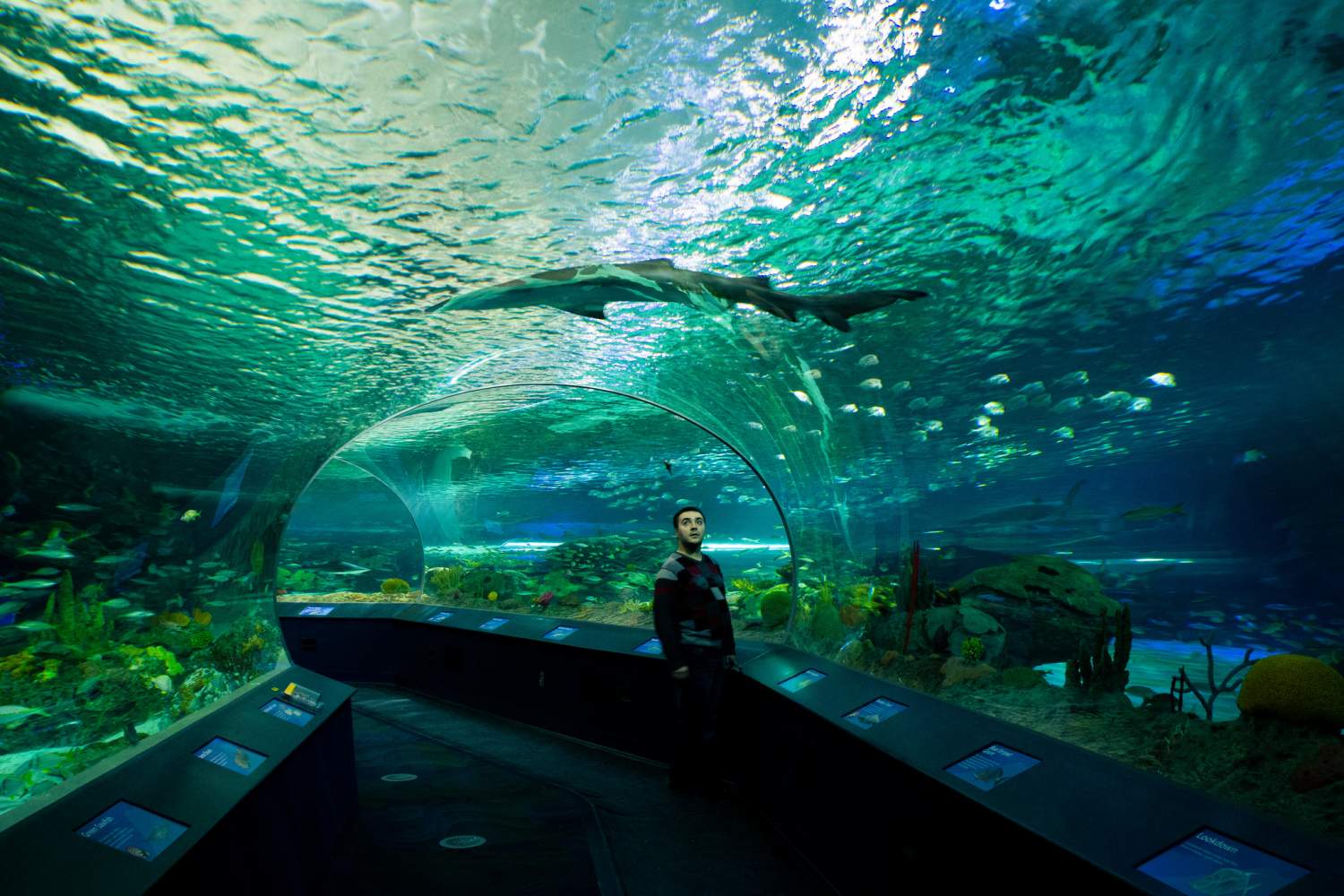 Small but mighty, the Redpath Sugar Museum is a great way to learn about Canadian sugar production and Redpath Sugar Factory's historical place on the waterfront. It is also the last industrial factory located in this section of the city, and it is a great place to explore Toronto's industrial past. Close to the Redpath Factory is the aptly named Sugar Beach, a cute little area along the eastern waterfront, in August, this location hosts 'Sail In' the country's largest outdoor cinema viewings.
The Sail In Cinema has a double-sided screen to allow movies to be shown both onshore and offshore for boaters. A word of warning, Sugar Beach may be pretty with pink umbrellas and white sand, but if you want to put your toes in the water, you are out of luck, this little 'beach' is located on a large pier, so don't bother with a swimsuit but do bring a lawn chair or blanket for comfortable movie viewing.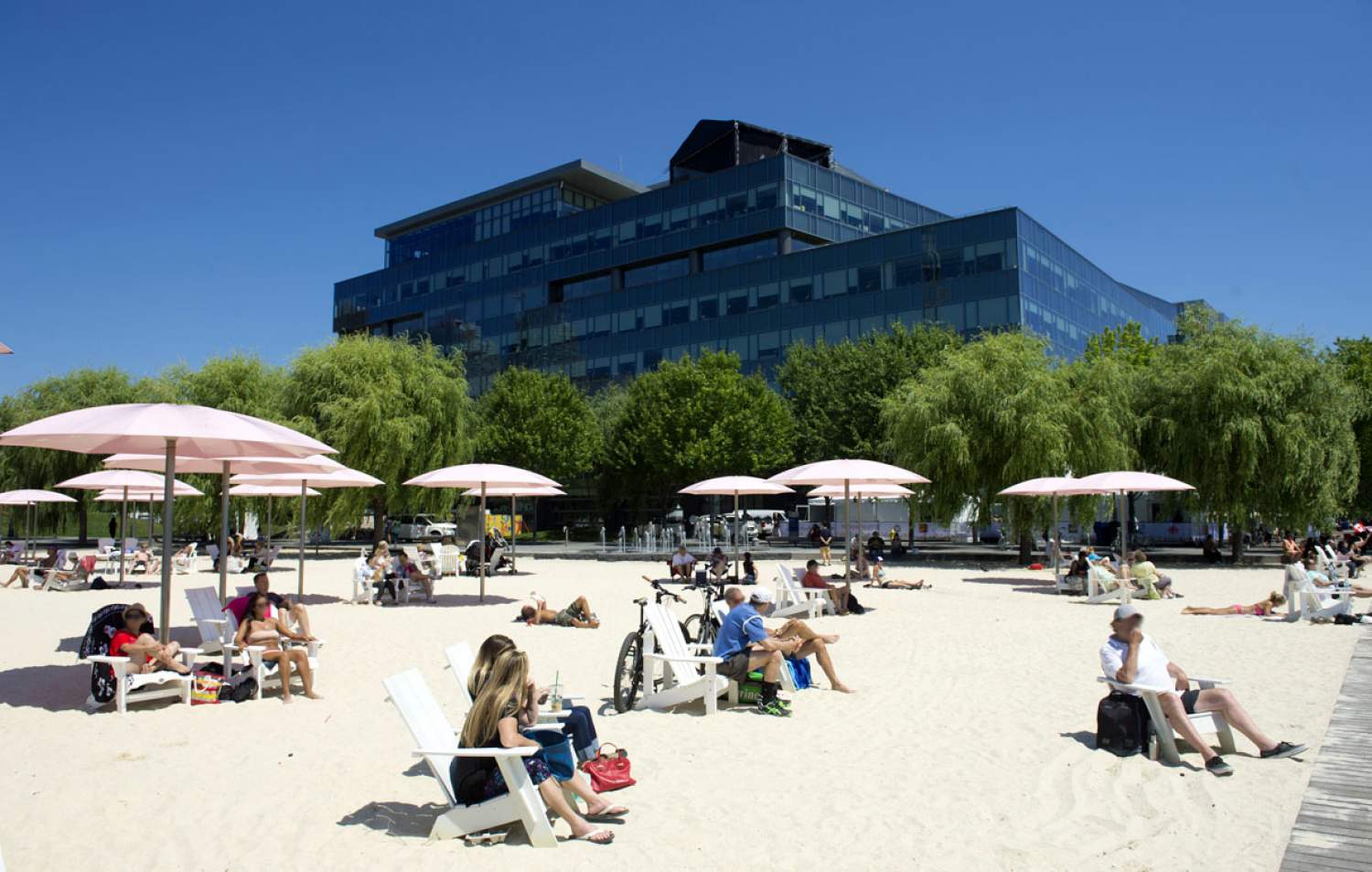 Active Adventures on Toronto's Waterfront
The new and improved waterfront makes it easy for people who want an active day out near the lake. The new bike and walking path along Queen's Quay makes spending a day along Toronto's waterfront a grand adventure. Yes, it's crowded and at times confusing but the path is separated from the road and really, how can anyone resist walking or pedaling along the water on a beautiful sunny day? If you prefer to bike you can rent a decent bike from Wheel Excitement, or if you're not fussy about bike style, grab a city bike from Bike Share Ontario, and have fun!
A favourite bike ride is coasting along Queens Quay from Spadina Avenue to Cherry Beach on the Martin Goodman Trail, with a stop at Canada's iconic pastry place, BeaverTails near Harbourfront Centre. We also recommend biking from Queens Quay to Trillium Park, a newly opened park located on the old Ontario Place site. This is a spectacular bike ride and a beautiful park with food stalls, a small beach and tons of great spots to stop and grab that perfect photo of Toronto. For more information about waterfront bike trails check out Ontario by Bike's Toronto section.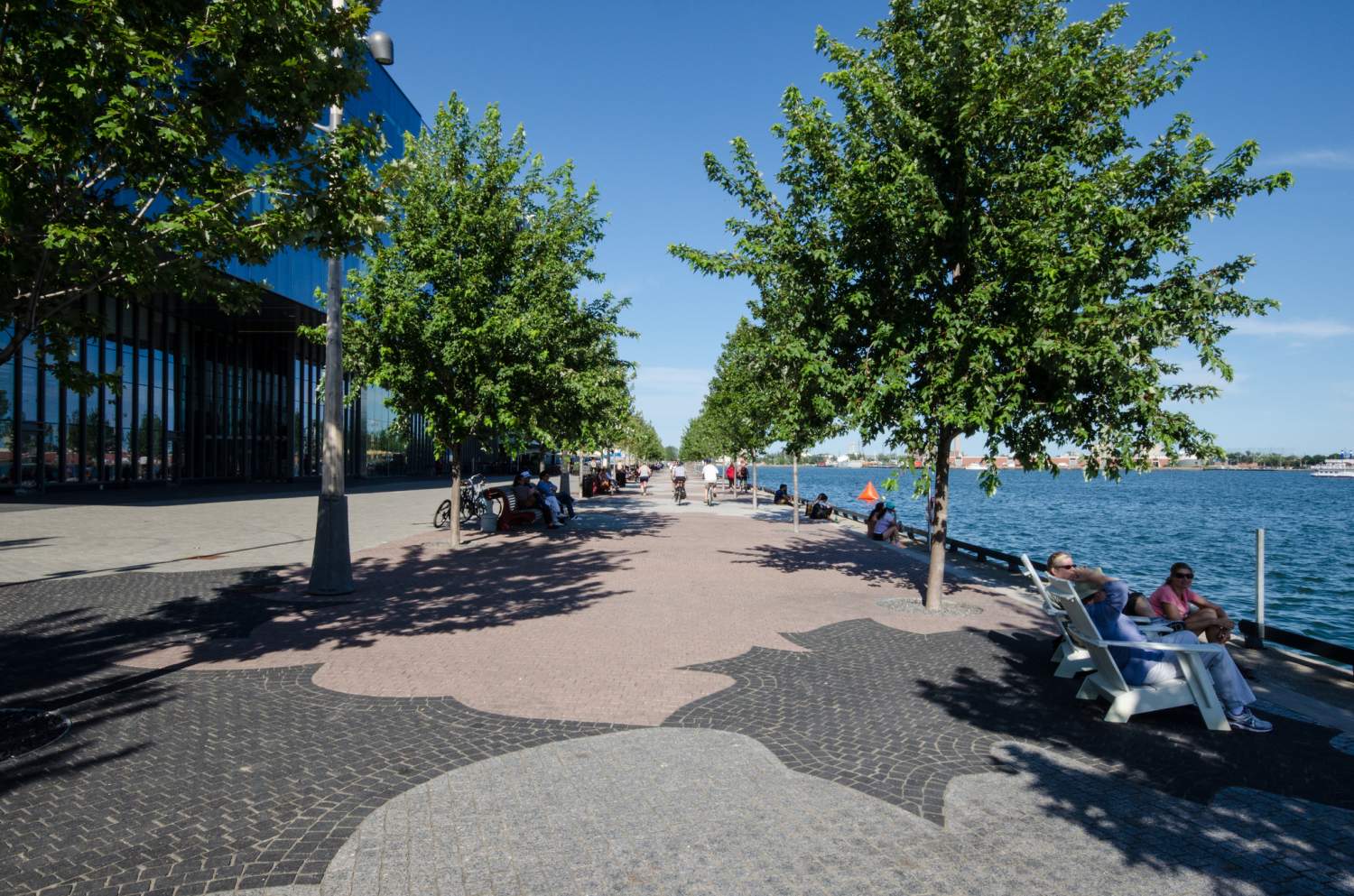 Photo credits: Chris TylerOur absolute favourite active adventure on the waterfront is to rent a kayak for a paddle out to the Toronto Islands, pack a picnic and be prepared for an idyllic day out. The Harbourfront Canoe and Kayak Centre offers canoe, kayak rentals as well as very popular social group paddles in the evening.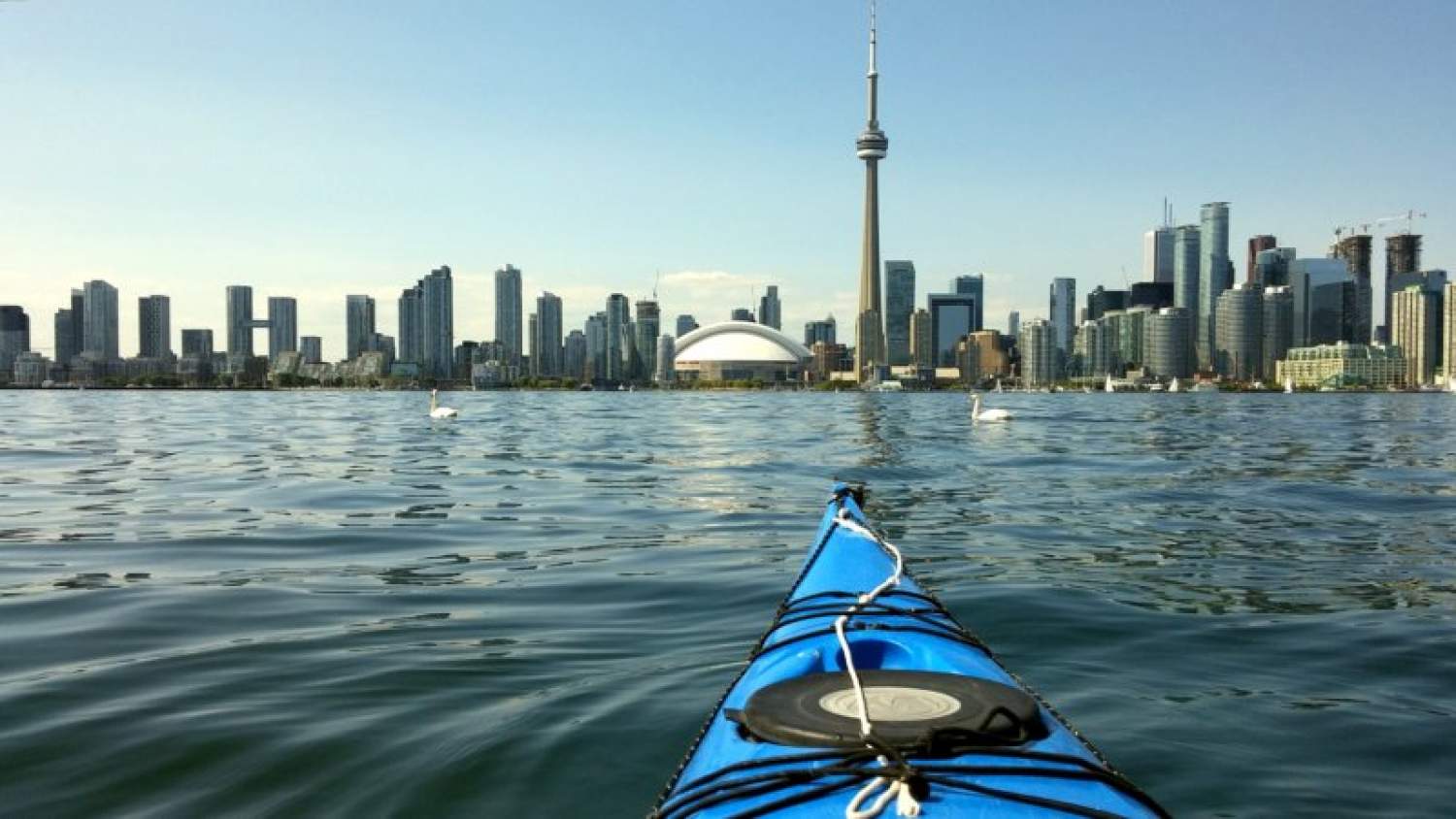 Best Booze Spots on Toronto's Waterfront
What can be better on a hot day in Toronto than sitting on a patio on the edge of Lake Ontario, one of the largest lakes in the world, and sipping a cool refreshing beverage? Amsterdam Brew Pub is our patio of choice along the water, with its large patio, great draft beer selection and yummy food, try the crispy brussel sprouts, healthy and delicious!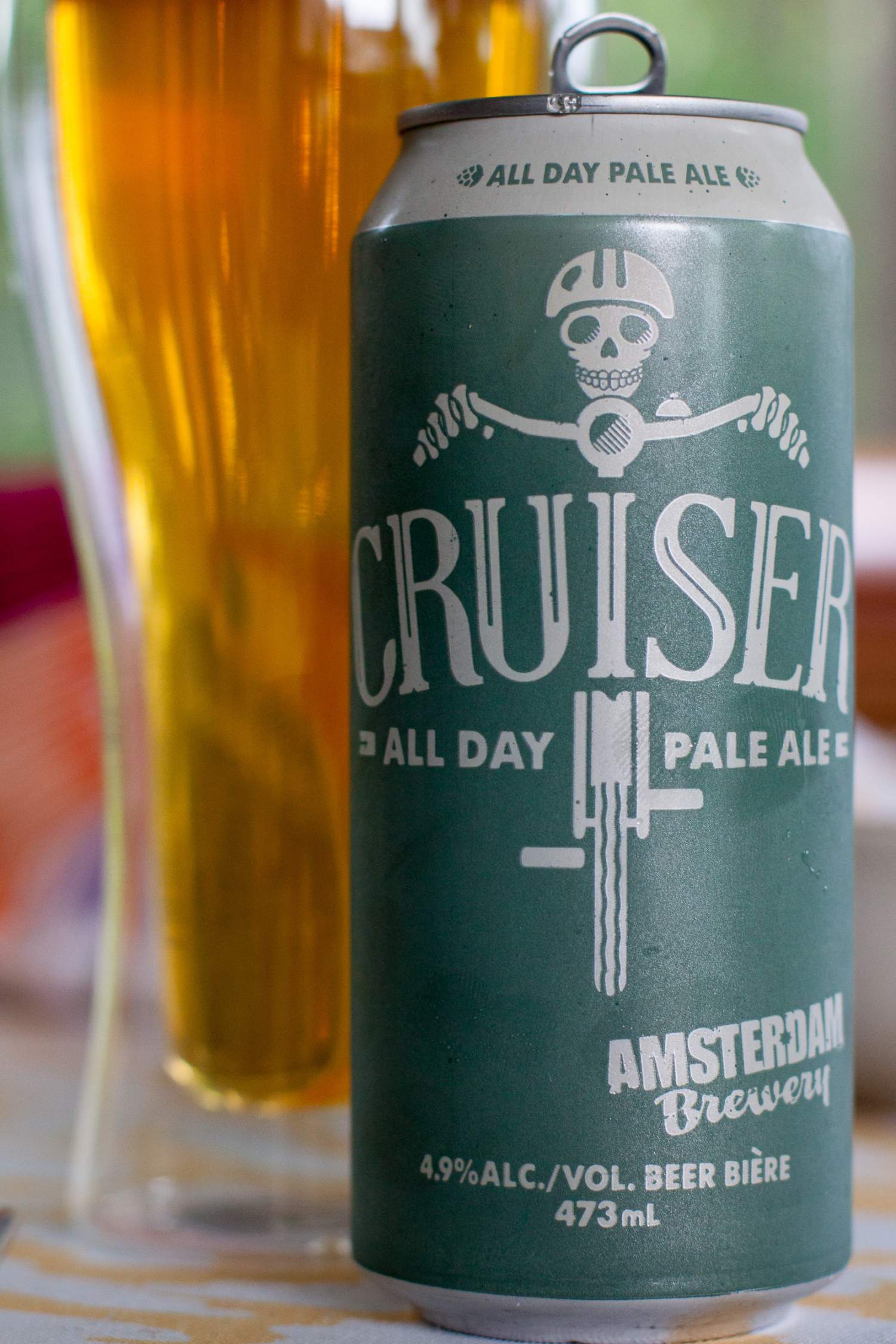 Another favourite watering hole on the Toronto waterfront is Boxcar Social
We fell deeply in love Boxcar Social's enormous selection of scotch, if you are a fan of Highland deliciousness in a bottle, Boxcar is the place for you, they have 14 varieties available, AND this is not all. Forget the typical Glenfiddich or Glenllvet offerings you usually get at a Toronto bar, here you are spoiled for choice, with over 100 bottles of scotch and whisky, be still our beating scotch warmed heart! As well as the extensive scotch menu, they offer a mighty fine collection of draft beer. This is our idea of heaven in Toronto on a cool summer night, a lovely patio overlooking the water, delicious drinks and a very fun bar.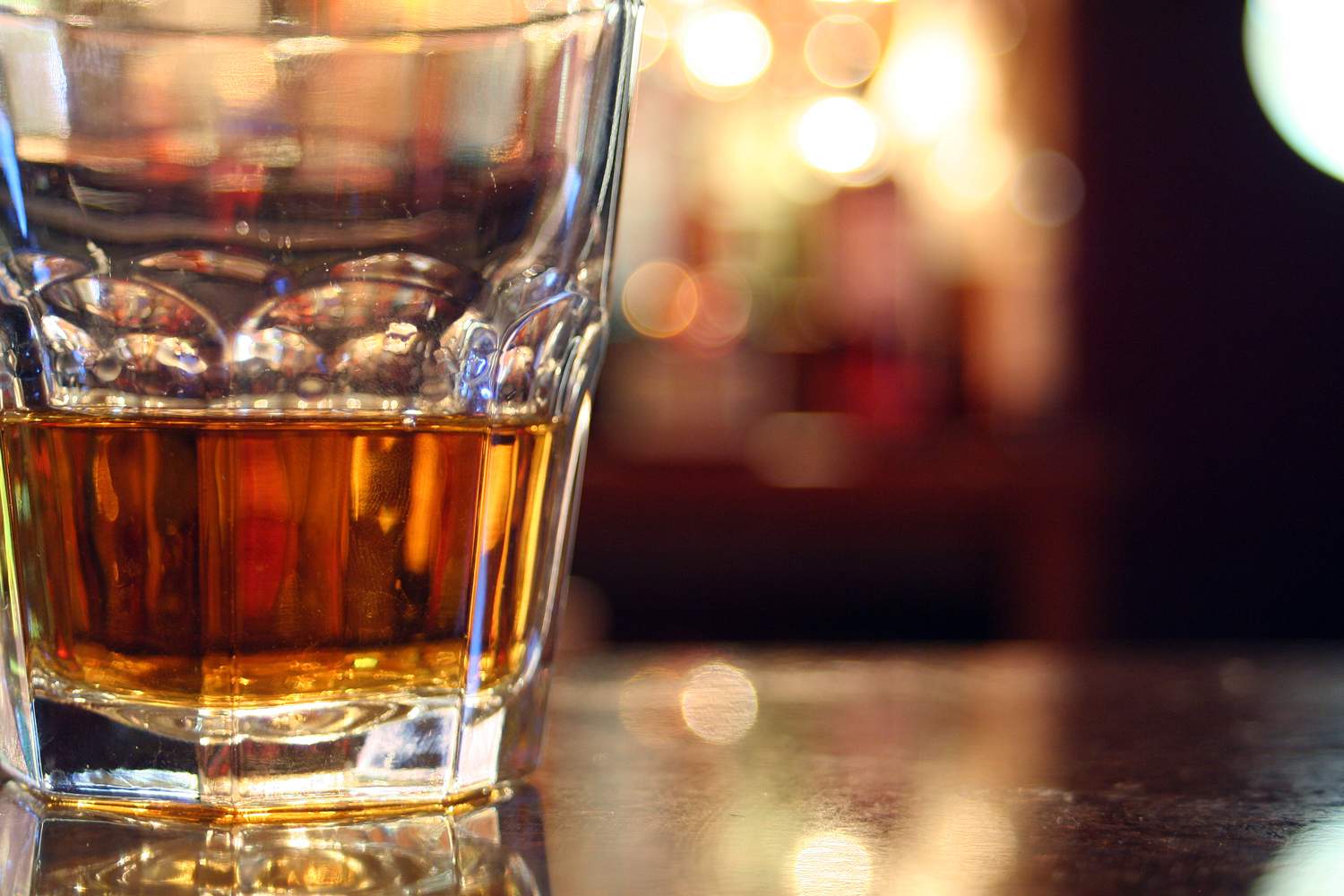 Steam Whistle Brewery and Tour
Again we have to acknowledge that the Steam Whistle Brewery  is not quite on the waterfront, it is located close to Ripley's Aquarium and is about a 5-minute walk from the water but it is a brewery and it has daily brewery tours. This, we feel, makes up for the lack of on-the-water ambiance. The very popular brew tour includes historical information about their iconic Roundhouse location, the beer brewing process and beer sampling, a perfect combo.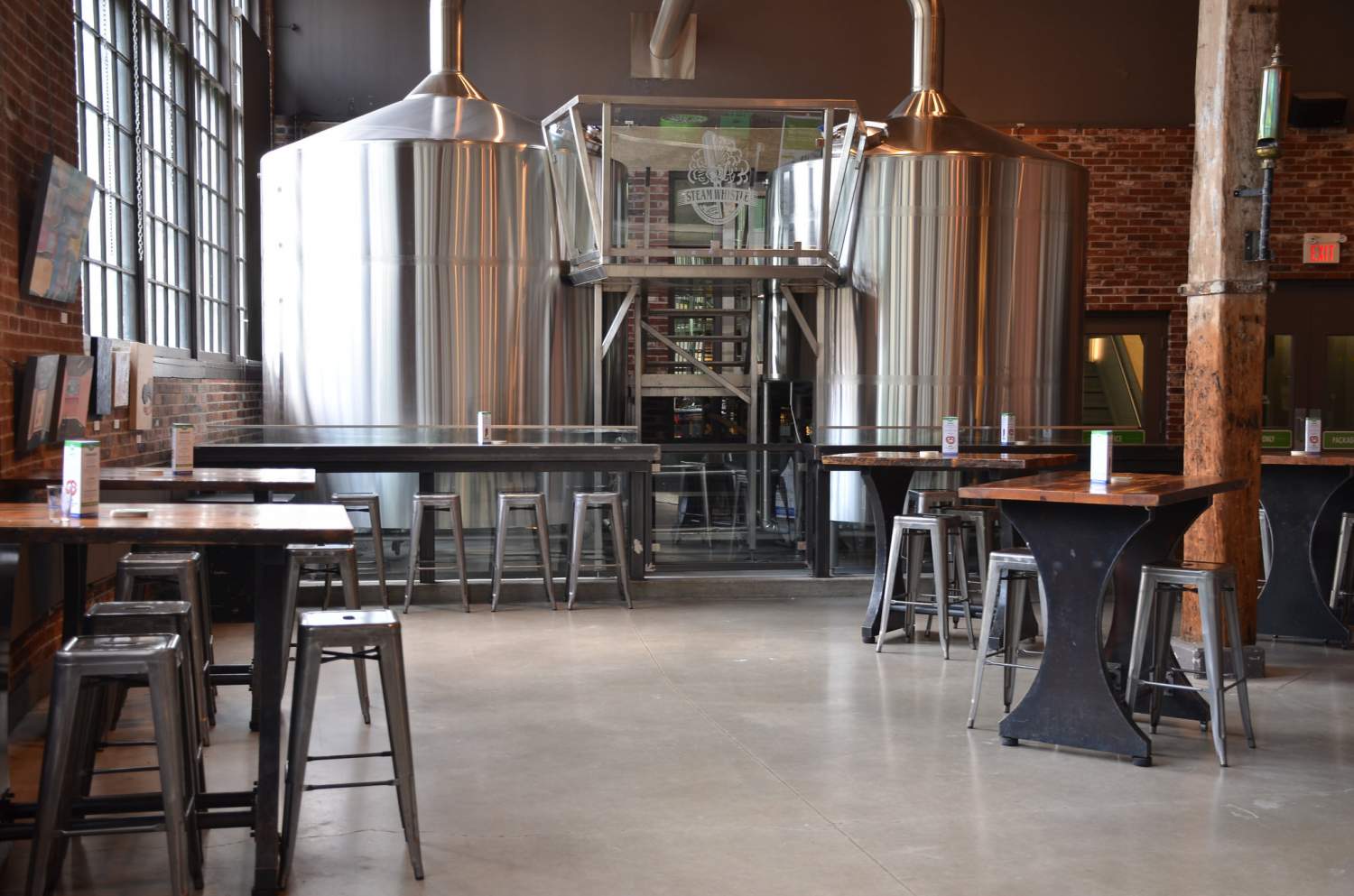 Plan your visit to Toronto to take in its new and exciting waterfront neighbourhood now. It has never been easier to book your visit Air Transat and experience the best of city life in Toronto.
Cover photo: Hab Four S
The comments and contributions expressed are assumed only by the author. The recommendations, intentions or opinions expressed are not necessarily those of Transat AT Inc. or its affiliates. See terms of use of the Air Transat website.