Without a doubt, Mexico is one of the best food destinations in the world. And while most travellers know tacos and quesadillas, there are so many other small bites to enjoy in this country.
Find Great Deals for Holidays in Mexico
Mexicans take food seriously, and so these small bites are snacks that have their own name! Antojitos means "little cravings" and they are meant to be something you enjoy in the morning or early evening in between meals.
They can be with meat, fish, seafood and there are plenty of vegetarian options too. Here are six common Mexican snacks found throughout the country.
Torta
Perhaps one of the best sandwiches in the world, tortas are Mexican sandwiches that are large enough for a meal. Yet they are considered a snack.
Each region makes a torta slightly differently as tastes and ingredients vary throughout Mexico.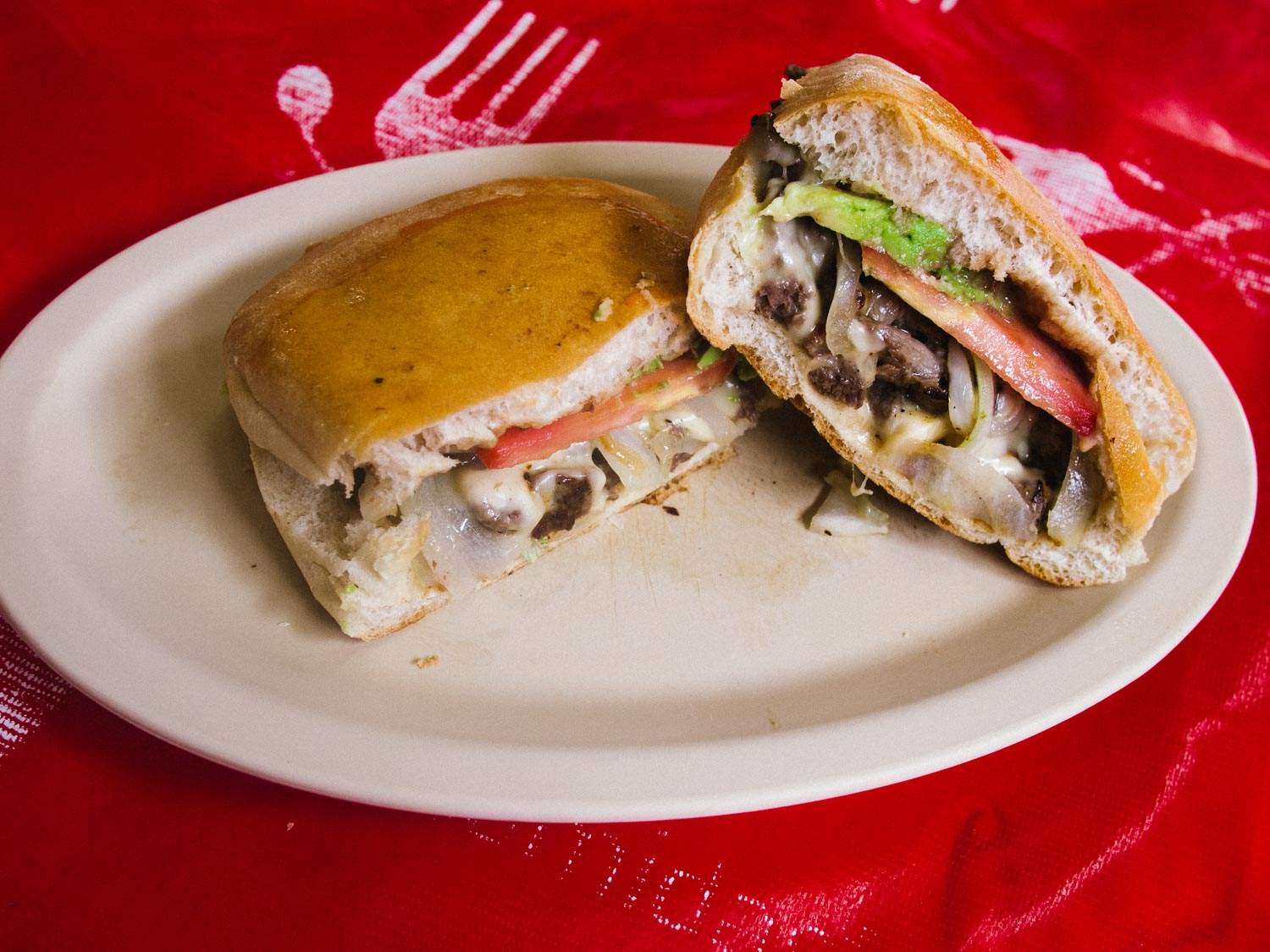 For example in the Yucatan they are filled with a spicy shredded pork called cochinita pibil. In many regions you can choose your filling: pork, chicken, beef as well as toppings. Tortas are served on a large crusty bread and have various topping from the standard lettuce tomato and onion to avocado, mole sauce or jalapeño. They are only a few dollars and make for great snacks on long drives or an afternoon at the beach.
Ceviche
Ceviche is known as a seafood dish throughout Latin America and while it most famous in Peru, Mexico also has ceviche as one of its traditional foods.
ALSO READ: Best Beaches in Mexico
Rule of thumb is to only eat ceviche where you are close to an ocean as you'll know ingredients are fresh. Fish and seafood are marinated in lime juice, the acid "cooks" the fish making it safe for consumption.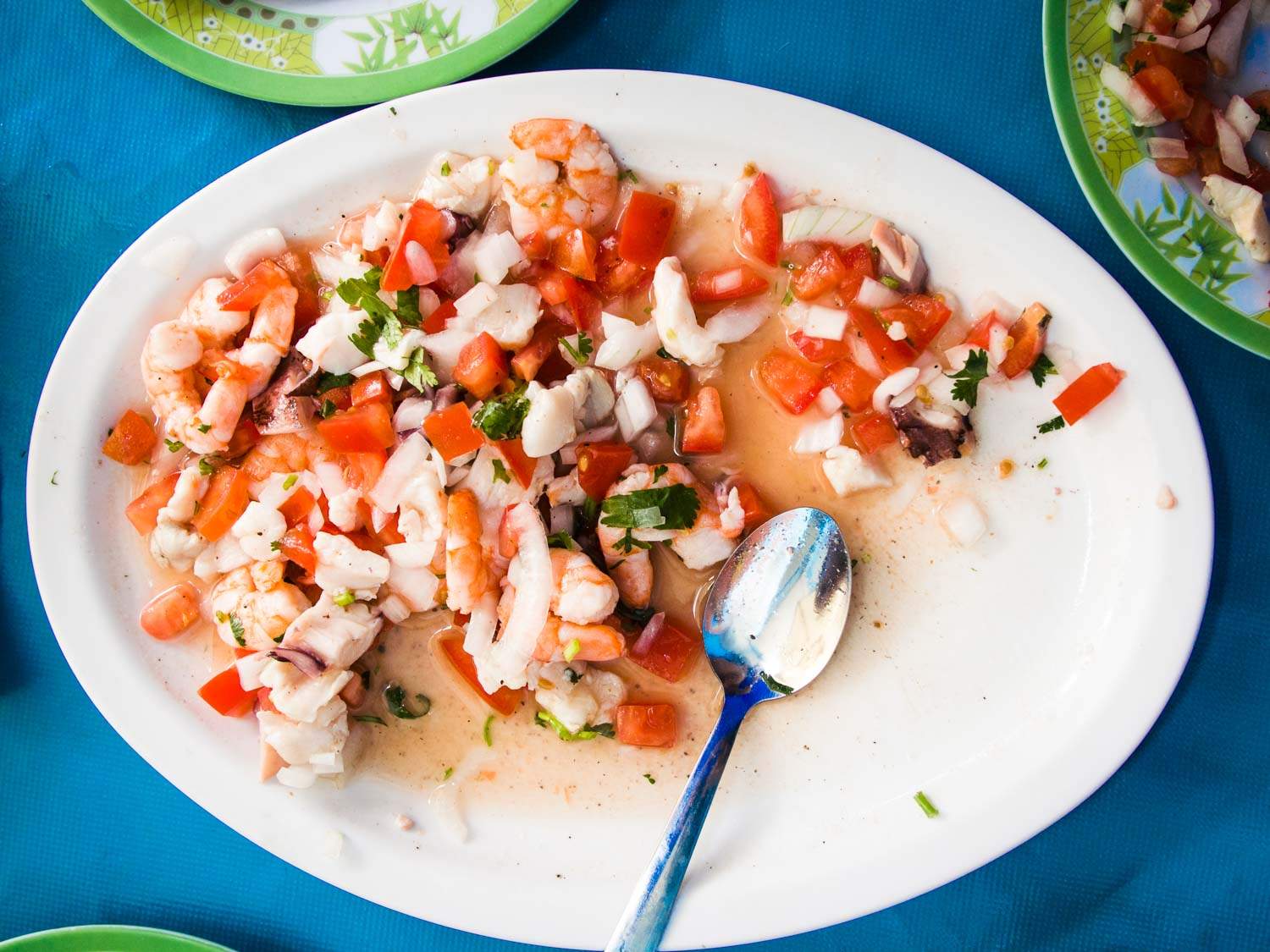 Ceviche is a very versatile dish and everyone has their own recipe. It's best to eat it for lunch or to make sure it is made to order so your dinner ceviche hasn't been sitting for several hours.
Chapulines
A type of grasshopper that is most well known in Oaxaca, a UNESCO world heritage site for culinary. Available May through early autumn, this delicacy is fried and topped with flavouring such as chile and lime.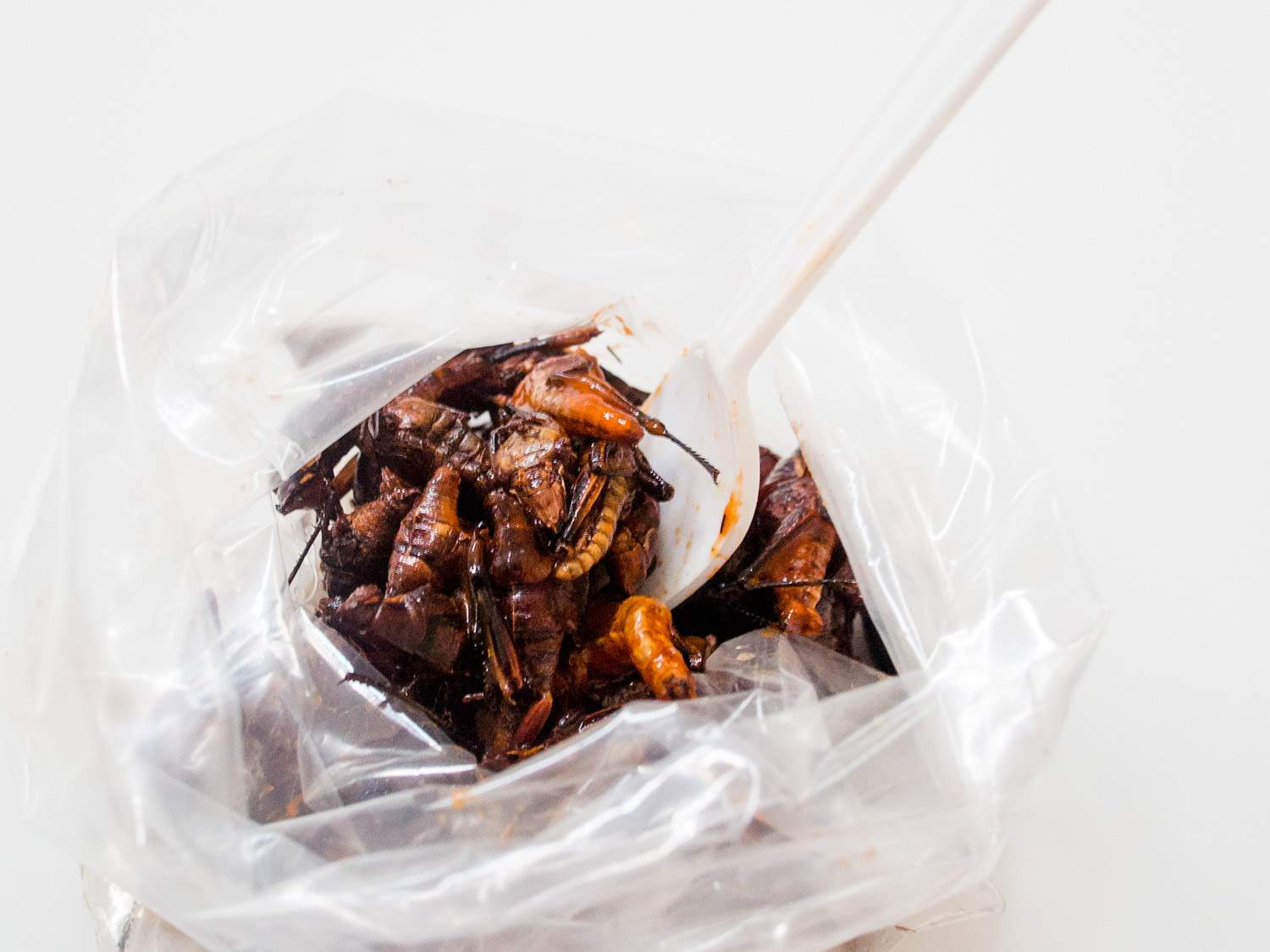 Eaten similar to potato chips, they are a great source of protein. They don't really have a flavour on their own, but simply a crunchy texture, and go well with an ice cold beer on a hot day.
Empanada
Empanadas are another dish found throughout Latin America. These doughy pockets can be made with a number of ingredients from corn to flour to plantain and hold a variety of ingredients.
CHECK OUT: 6 Ancient Ruins to Visit in Mexico
In Mexico there is such a large variety, but they tend to be smaller, snack size empanadas. They are usually fried, but sometimes baked as a healthier option. Various pork, beef, chicken and seafood are inside. And there's always the option to get a cheese only empanada.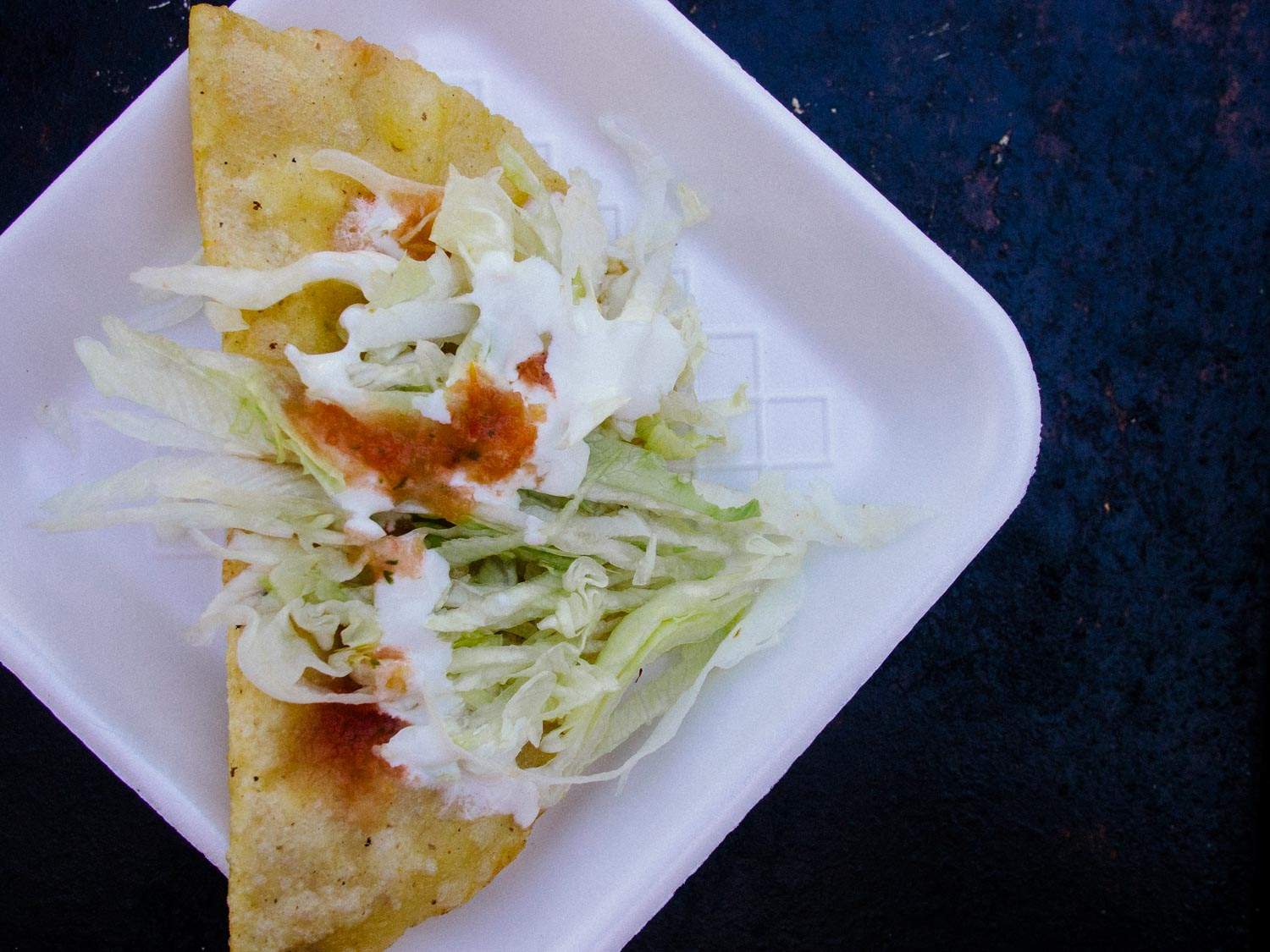 Empanadas are often topped with shredded lettuce, pickled red onion and quest fresco. Top them with crema and hot sauce to complete this tasty snack.
Panucho
These fried puffed tortillas are found throughout the Yucatan and are a great snack in Mexico. You can find them in markets as well as little street food stalls.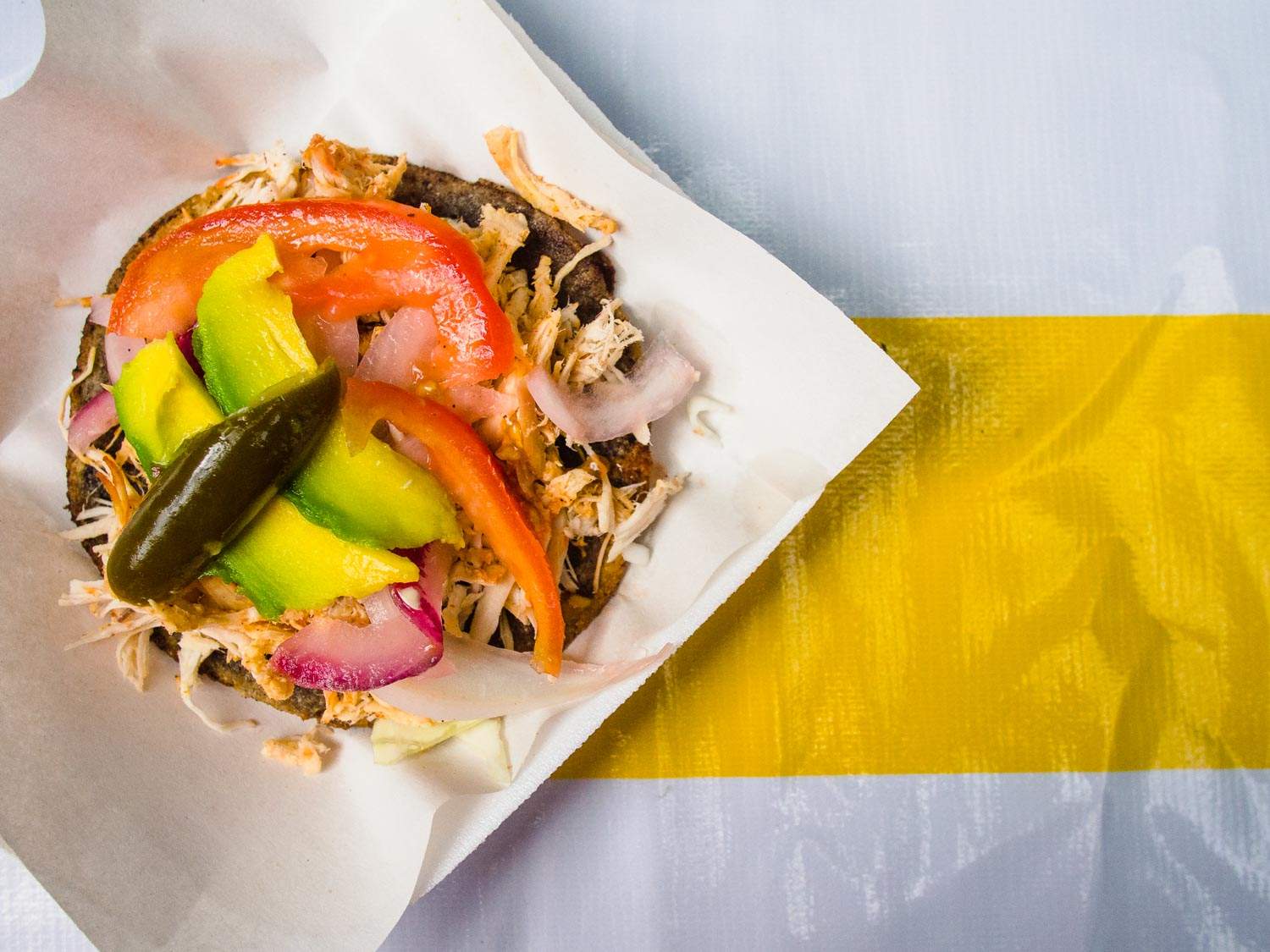 Stuffed with fried beans they have a variety of topping that are often pork or shredded chicken and then topped with cabbage and pickled onion. They are inexpensive bites and well worth seeking out your favourite.
Tostada
Tostadas are similar to tacos, they are simply the carrier of food. From grilled steak to deep fried shrimp, tostadas are a delicious mid-afternoon snack with a cold fruity drink.
READ MORE: 7 Best Places in Mexico for Tacos
Fried tortillas, they are different from panuchos because they are not puffed. Although these are street food options they can get messy as the fried tortilla can crumble after one bite. They are often better to eat sitting at a table to scoop up fallen toppings.