Cancun Mexico is one of the most popular sun destinations and it's easy to understand why. Not only does it have great beaches, nightlife and restaurants, it's also close to so many other great spots.
But Cancun isn't just a spot for college kids on Spring Break. There's something for everyone, from Mayan culture to the adrenalin rush of extreme spots. If you're planning a holiday in Cancun, you should consider these day trips.
Tulum Ruins
This could be the most popular day trip from Cancun. The Mayan ruins in Tulum overlook a breathtaking beach and crystal blue waters. It's worth going early to beat the crowds. Getting a guide is crucial to understand the history and tradition of the Mayan people, who still live in Quintana Roo today.
If you're able to do so, spend the afternoon in the town of Tulum. Its bohemian vibe has made it one of the most popular places to visit and is bursting with Instagram-friendly shops, bars and restaurants.
Valladolid
If you want to get into the heart of Mexico, Valladolid is the most underrated city in the region. A short drive from Cancun, you can wander the colonial streets of Valladolid popping into churches, craft shops and eating at the local market.
While it hasn't been overridden by tourists, don't worry if you're Spanish is non-existent as locals are friendly and will try to help as much as possible.
Rio Secreto
There are hundreds of cenotes throughout the region, or underground sinkholes you can explore. Many of them have been developed for tourists to explore safely with stairs, or ladders to climb into.
Rio Secreto is one of the most interesting as it stretches 12km. There are tours available to spend a few hours exploring this area walking and swimming through the caves.
For those a bit intimidated by caves, there are plenty of other cenotes in the region that are simply pools to swim in.
Cozumel
If you scuba dive you cannot miss a day trip to Cozumel. The second largest reef in the world, next to the Great Barrier Reef, it is a must visit site.
Only a short ferry ride away to this island, diving here is an experience even Jacque Cousteau marveled about. If you're traveling with friends or family that don't scuba dive there are lots of markets to explore, fantastic snorkeling, botanical gardens at Chankanaab National Park and jeep tours to explore the island.
Also read: What to do in Cozumel if you don't dive.
Xel-Ha
One of the most popular day trips from Cancun for families, Xel-Ha is a water theme park like no other.
A series of fresh water lagoons and salt water areas, there are plenty of activities to keep a family busy the entire day from learning to snorkel, swimming with dolphins and slow river tubing.
The more adventurous will want to check out cliff diving or petting friendly sting rays. To take a break from the water there are botanical gardens and jungle walks.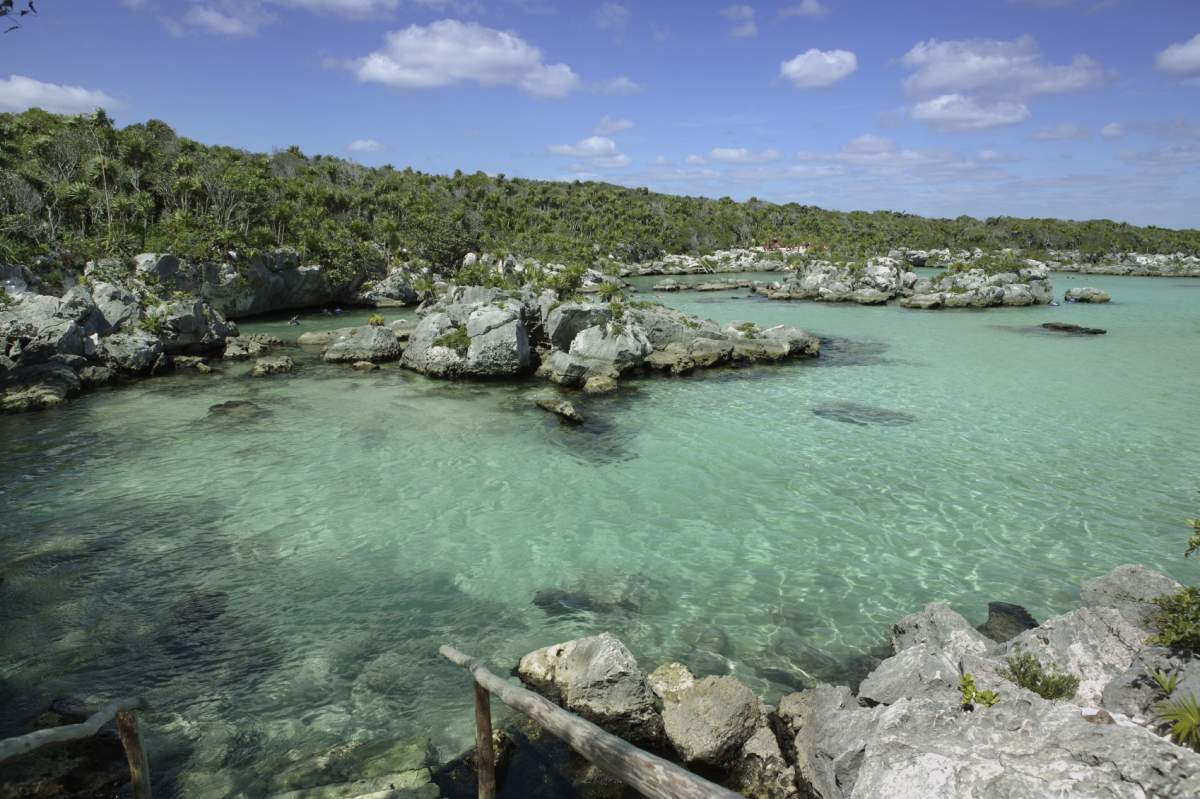 Sian Ka'an Ecological Reserve
Owned and run by the community, this off the beaten track reserve is an excellent way to give back to the local economy. Just south of Tulum, the region is one of the largest protected areas in Mexico. There are nature tours available and opportunities to kayak, birdwatch or fish.
The Mayan ruins of Muyil are also here, guided tours are available of this site which is not often visited by tourists and so it's easy to visit and photograph.
However, a must-do activity is a boat tour through the mangroves that ends with a unique experience as participants get out and float through the mangrove as the water gently pushes them out toward the open water. A waterproof camera is a must!
The comments and contributions expressed are assumed only by the author. The recommendations, intentions or opinions expressed are not necessarily those of Transat AT Inc. or its affiliates. See terms of use of the Air Transat website.