While pilots play an important role in the aviation industry, most play a relatively unassuming role in the public eye. We hear their voices on board, see them circulating in the airport and imagine their lives in all four corners of the world, of course. But do we really know them? Not quite.
The exception to the rule is Captain Robert Piché. In August of 2001, his landing in the Azores after hovering over the Atlantic Ocean for 120 kilometres without fuel propelled him to national hero – and instant celebrity – status.
On October 1, 2017, the captain, who continues living the life of an ordinary guy to whom something extraordinary happened, flew his last transatlantic flight as an Air Transat captain. At age 65, after a 45-year career, including 20 with Air Transat, it was time for him to hang up his cap and make way for the younger generation.
We chatted with him to get his take on his career, travel and aviation. In part one, we'll talk about his unconditional love of travel.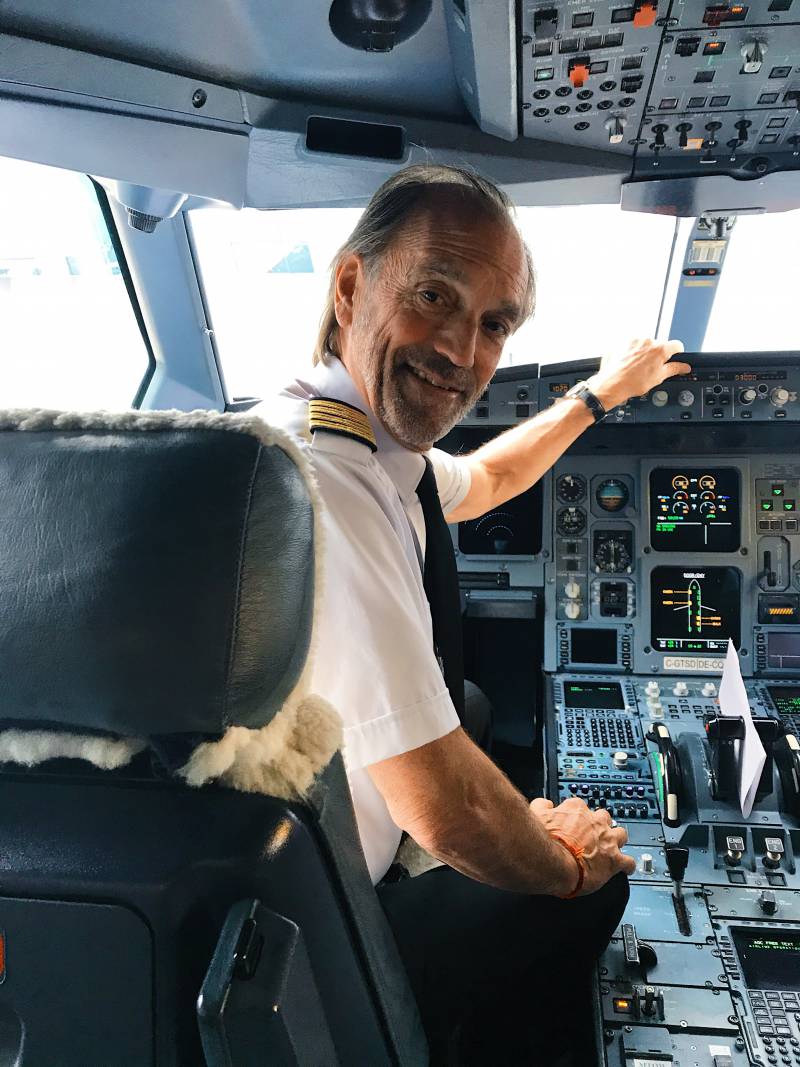 Combining his dream with his passion
Robert Piché's childhood dream was to travel the world. "Before completing my flying course, I enrolled in a law program in CEGEP in order to work in international law so that I could travel. It goes to show how important travelling was to me. Aviation has become my passion and this career has ultimately allowed me to combine my dream with my passion."
What does he love most about his job? Travelling, of course! "We have plenty of freedom. As long as you arrive on time for your airport transfer, you're free to do whatever you want. And the benefit, compared to a family that travels once a year, is that we are in less of a hurry. If I don't have the chance to discover a neighbourhood this time, I can always do so the next time."
Let's talk about travel
Robert Piché has nearly explored all four corners of the world and has had the opportunity to visit several destinations dozens of times. Which are his favourites? "France! I appreciate that it's a French-speaking country. I never tire of visiting Paris, Nice, Marseille or any city in France. Paris is special. I'm always happy to go back, even if I've been 250 times. I loved when our stopover hotel was in the Saint-Michel neighbourhood. Another one of my favourite destinations is India: I've been five times and plan to go back. It's a very large country worth discovering – it's impossible to go just once! I like the organized chaos that reigns in Delhi."
As a recent retiree, he will travel to the north of Vietnam, to Laos and to Cambodia for two months with his wife. And next summer, he plans to travel three months aboard a cargo ship travelling between Delhi and New York. "I need to know what it's like to live quietly and alone for three months without being recognized and without being judged!," he states while laughing.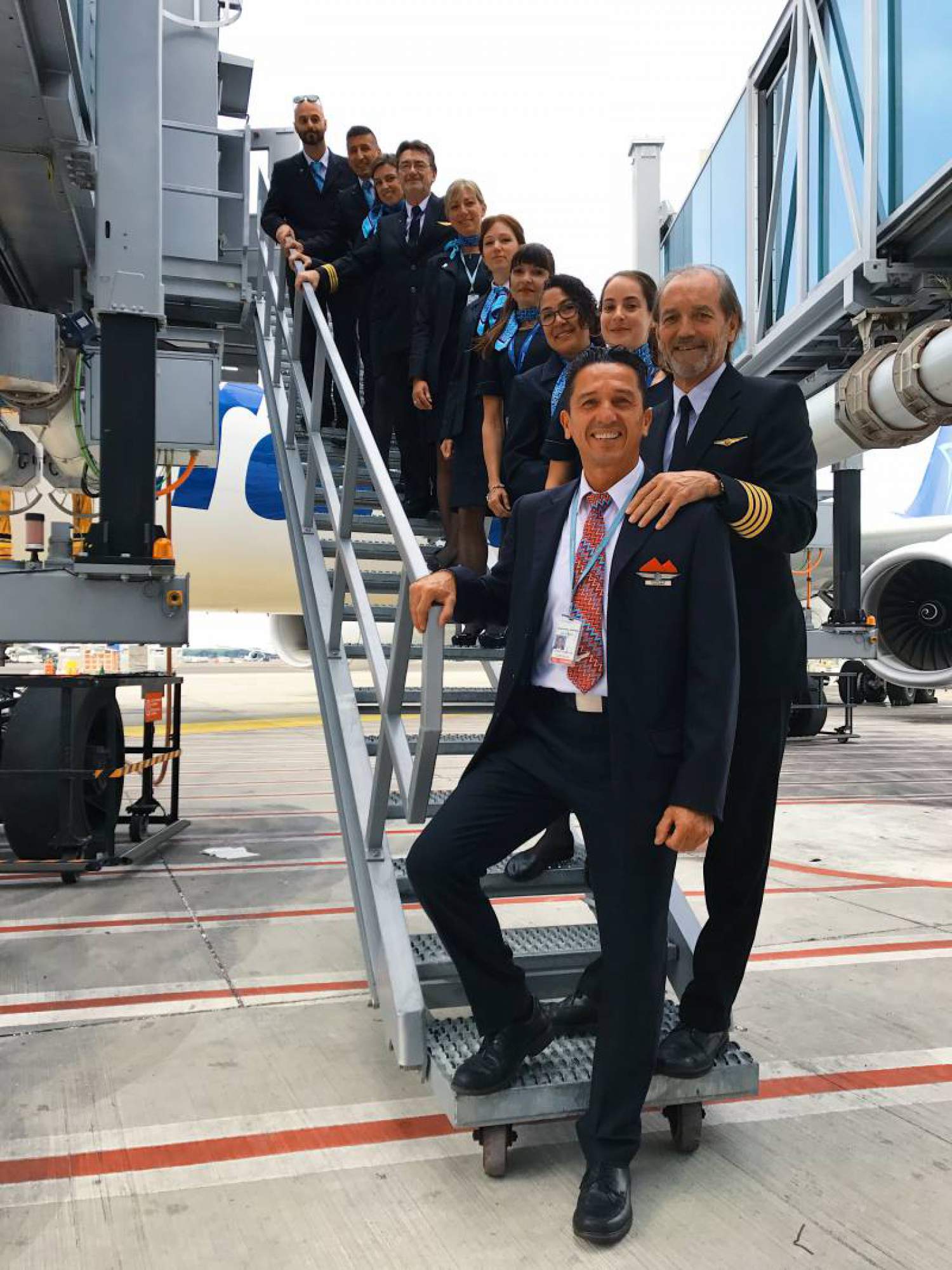 Delightful stopovers
What's his favourite stopover? "When I travel for work, I love Dublin for its atmosphere, music and party scene. It's world-renowned! When I want to relax and have a good time, there's always Athens. It's an affordable city, there's plenty to do and you can easily visit the Greek islands. And in the middle of winter, it's hard to beat a two-day stopover in the sun in Punta Cana, that's for sure!"
And even after all these years, this adventure enthusiast continues taking advantage of his stopovers in order to explore destinations as he's always done. "That's why I chose this job!," he laughs.
Captain Robert Piché, a 20-year Air Transat pilot with 45 years of aircraft experience, retired in October of 2017. Read part one of our interview with this exceptional man to discover more about his passion for travel and his favourite destinations.
This captain, made famous by his Azores landing in August of 2001 after an in-flight fuel outage, discovered his passion for aviation thanks to his desire to travel the world.
A passion for aviation
Mr. Piché initially thought his dream of becoming an airline pilot in Canada was unattainable. "When I was young, there were no prospects. Only one airline operated in Canada and the positions mostly catered to Anglophones at the time."
Two events in particular led him to come to the realization that he had finally achieved his dream. "I'll always remember the first sub-contract (wet lease) I completed for Transat in Johannesburg. I couldn't believe I was in South Africa." Having harboured a long-time fascination with Singapore Airline pilots, a symbol of a dream that seemed unattainable to him, he reflects on another memorable landing: "I landed just behind a Singapore Airlines Boeing 747 in Amsterdam. It came from Singapore, while mine came from Vancouver. Although we came from different cities and diverse cultures, we probably travelled the same distance and ultimately landed at the same airport. That's when I realized I was in the big leagues."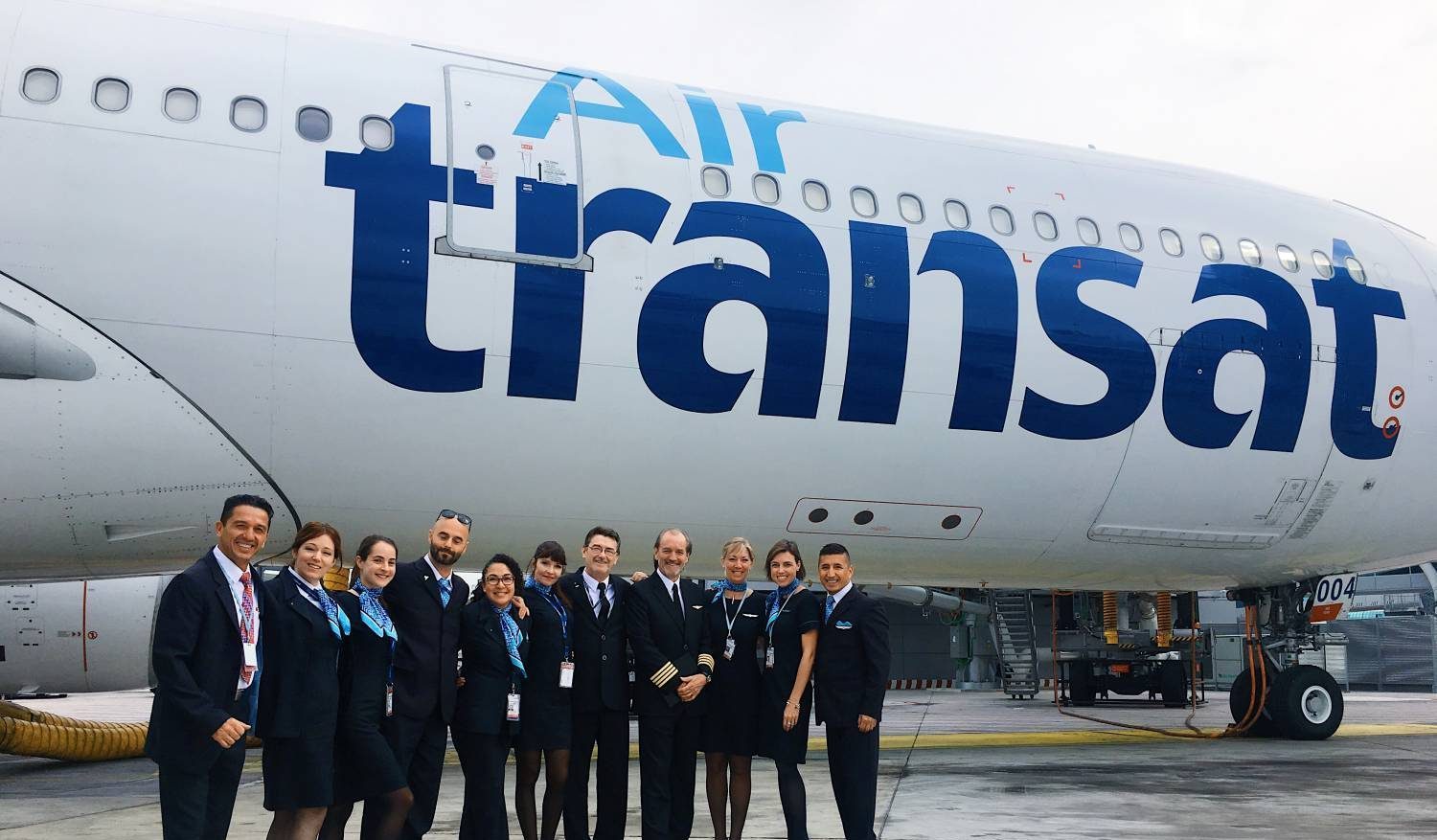 Photo credits: Air Transat
Take offs and landings in rapid succession
The captain, who has forged a reputation as a plane operator with a love for manoeuvring the aircrafts he pilots, doesn't hesitate long when asked which airports offer the most exciting challenges. He cites Costa Rica as an example, where its mountainous landscape adds some spice in the event of a thunderstorm.
Captain Piché also mentions St. Martin, of course, with its world-renowned runway nestled between the beach and the mountains. "On this particular runway, it's important to touch ground as soon as the strip comes into view due to its short length. If you don't make the landing early enough, the right turn that follows will end up arriving too suddenly."
"That's the kind of landing I love. One night, I even arrived in St. Martin with an A330!," he adds, quite proud.
And the best landing? "Nice, definitely! On one of its runways, we form a 90-degree angle to the city centre, followed by a last minute turn. Both the city and the airport are at water level. And with its mountains – which are 8000 feet (2500 metres) high – just behind, it's quite an impressive sight."
And during take off? "Take offs are breathtaking from any city at night. Especially from Paris, because the airport is practically in the city centre, or from London, because having London at your feet is quite special."
Becoming a pilot: an attractive career choice?
Although he's passionate about aviation, Captain Piché believes that being a pilot, more specifically, a captain, is not for everyone. "First off, we need to break down the stereotypes that surround the profession. Some young people think they will fly all over the world, sleep in the finest hotels and come home for dinner. Part of that is true, but it's so much more than that: the job is different from the image it projects."
"You really have to be passionate about aviation because the schooling is expensive. Also, persistence is key. The working conditions are far from tempting at the beginning of your career. If you're lucky, you'll fly as a co-pilot in a small company during your early years. You should expect this for at least 10-15 years, or, if you're lucky enough to graduate in a high demand period, in three to four years. That said, you must have the passion to persevere in the hopes of getting a good position in a big company, like Air Transat. Once there, the working conditions become very attractive. You just need to know what to expect and be prepared to go through a difficult period before getting a taste of the finer side of the profession."
In addition to being passionate about aviation, a pilot must also possess two qualities that eventually develop, but are not taught: leadership and common sense. And is it safe to say that pilots have big egos? "Yes! You have to have a big ego in order to become a major airline captain. But you also need to know how to leave it outside of the cockpit, because an ego does not make for good decisions."
In addition to having the opportunity to travel frequently, he also appreciates the fact that he's the boss. "The captain makes the decisions on board the plane. We work as a team, of course, but I ultimately have the last word, and as long as I do my job properly and everything goes well, I don't really have to answer to my boss. I love the autonomy."
Fame: a heavy weight to carry
Since 2001, Captain Piché's popularity has never wavered. "People don't realize that I have to deal with it. I'm able to manage it, but I didn't choose to have to deal with all of this pressure. I didn't become a pilot to be recognized on the street as if I were an actor. I get tons of calls and Facebook messages from people I don't know wishing me a happy retirement. It doesn't stop! If someone comes to see me to ask for a photo at the airport, 50 people will line-up to get one too. It's very touching, of course, but it puts an enormous amount of extra pressure on me!"
"I am neither Air Transat's spokesman, nor its image, but people definitely identify me with Air Transat. I always have that in the back of my mind, which adds to the pressure. It's as if I was placed on a pedestal, I became THE captain, which leaves me with no room for errors. Yet, I'm not Superman. I'm just an ordinary guy to whom something extraordinary has happened."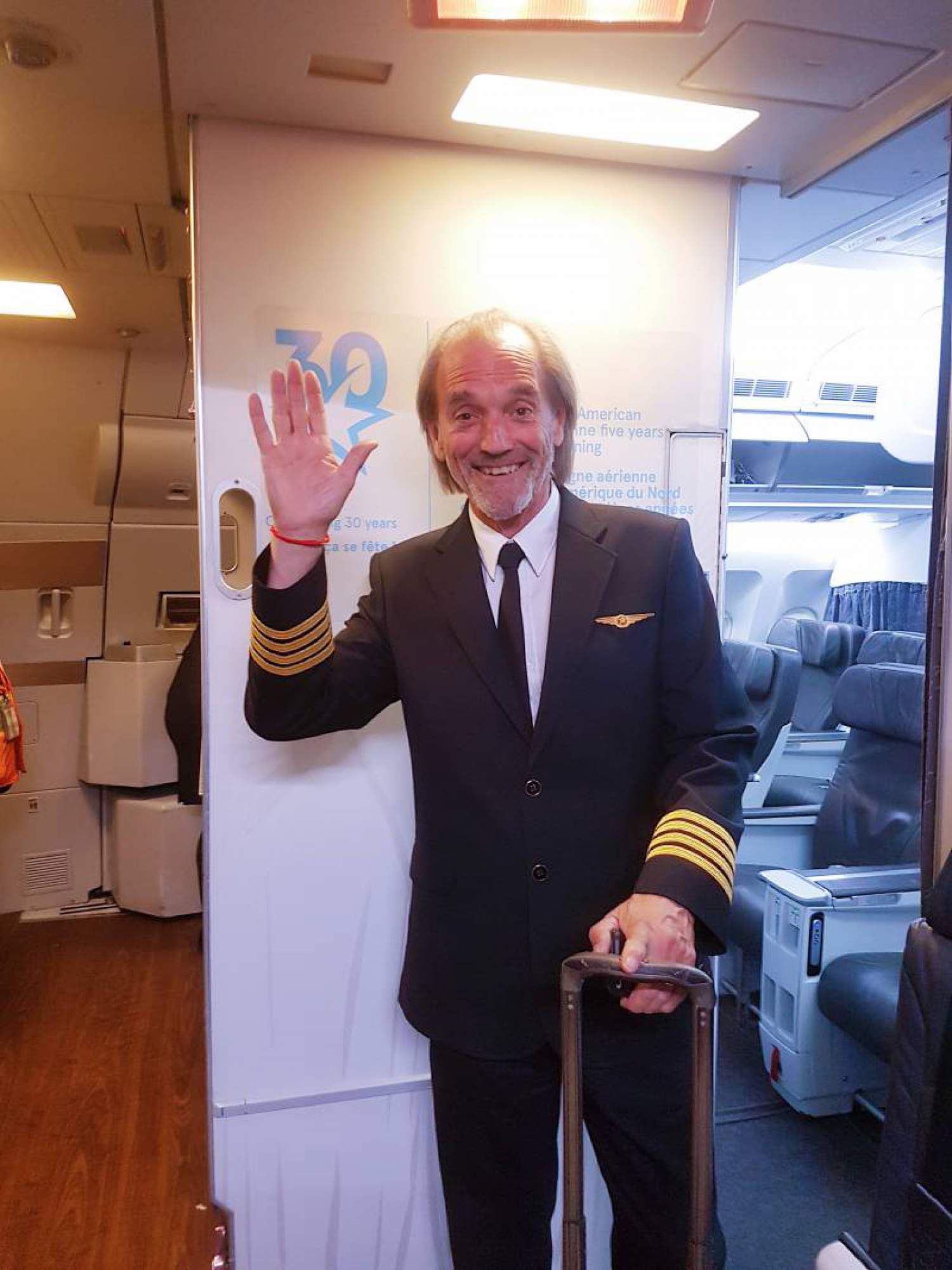 Happy to have worked for Air Transat
Robert Piché appreciates the fact that Air Transat is a French-speaking, Montreal-based company. "I have the opportunity to practice my profession internationally, to travel the world on board some of the most sophisticated aircrafts, to be based in Montreal and to be able to speak my mother tongue at work. It's worth all the money I could have made in China or in Dubai!" He also appreciates the openness to dialogue that is specific to Air Transat and that isn't found within all airlines.
"I'll never thank Air Transat enough for giving me the opportunity to work for them and for allowing me to become the pilot I am today. Because I wasn't en route towards that – I had shattered my own childhood dream. Air Transat allowed me to fulfill my dream. Without Air Transat, I don't think I would be in the same mind frame today, which has helped me finish my career in style."
"I'm going to miss my life as a pilot, that's for sure, especially the life I was leading when I would leave on sub-contract (wet lease), it provided me with an additional challenge. But at 65 years old, it's time for me to pass the torch, and I'm ready for that."
We wish you a happy and well-deserved retirement, Captain Piché!
The comments and contributions expressed are assumed only by the author. The recommendations, intentions or opinions expressed are not necessarily those of Transat AT Inc. or its affiliates. See terms of use of the Air Transat website.