Believe it or not, but there is more to the Netherlands than its easy-on-the-eyes and hyped capital. From canal towns like Gieethorn to the living postcard that is Delft, there's a lot to be said about quaint Dutch villages that make for easy day trips from Amsterdam and yet that are too often overlooked by visitors.
A shame, really, considering how easy it is to get from point A to point B! The Netherlands really is a compact country at just 41,543 square kilometres (to scale: 240 smaller than Canada) where most train rides only cost a few euros and rarely take more than one hour.
Haarlem
This former North Sea trading port is just 20 minutes outside Amsterdam! It retains a strong medieval character, complemented by grand churches and world-class art museums along with historic canalfront windmills. After all, this is Holland we're talking about! Think of it as a scaled down, politically correct version of the capital. Additionally, Haarlem (with two a's!) is famous for its 21 bygone hofjes: concealed courtyard gardens surrounded by almshouses once used to house spinsters and disadvantaged locals in need of shelter.
Kinderdijk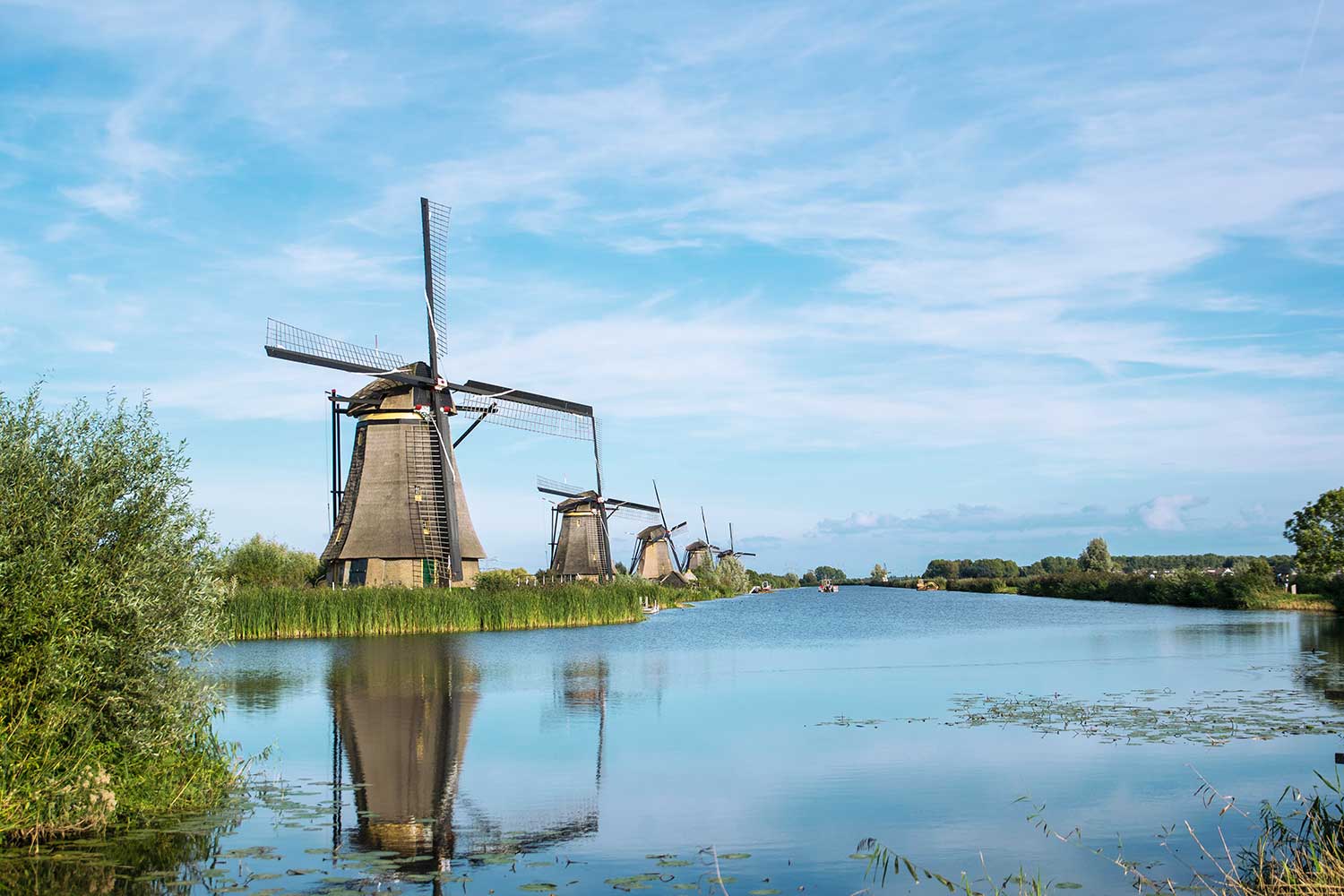 As most of the country is situated well below sea level, Dutch engineers have had to come up with rather ingenious hydraulic works; the Kinderdijk windmill network is a fine example of that, as they were solely built to drain the polder, a low-slung expanse enclosed by dikes, over which they are located in order to facilitate agriculture in the surrounding areas by draining the excess water into nearby rivers. The 19 windmills, now a registered World UNESCO site, were built in 1740. They still are the largest concentration of old windmills in the Netherlands.
Amstelveen
Located just a short distance from Amsterdam in the tranquil Dutch countryside, this green suburb is a popular destination for cycling day trips from the capital as it features lush flowery meadows, historic windmills, and, perhaps most importantly, mouth-watering cheese farms and clog factories. Could this be any more of a Dutch cliché? Probably not, but that doesn't make it any less enjoyable.
Delft
Is this Holland's most artsy city? Quite possibly; Delft is home to both the distinctive white-and-blue pottery known as Delftware as well as Johannes Vermeer, the illustrious Golden Age painter and one of the world's most acclaimed artists. In fact, art aficionados can visit the Vermeer Centrum, located on the former Dutch painters guild house where Vermeer used to work, notably on the famous View of Delft. Also worth exploring are the exquisite dimly lit canal-lined streets replete with eye-catching cafés where visitors can relive the city's glorious past as a former trading post.
Keukenhof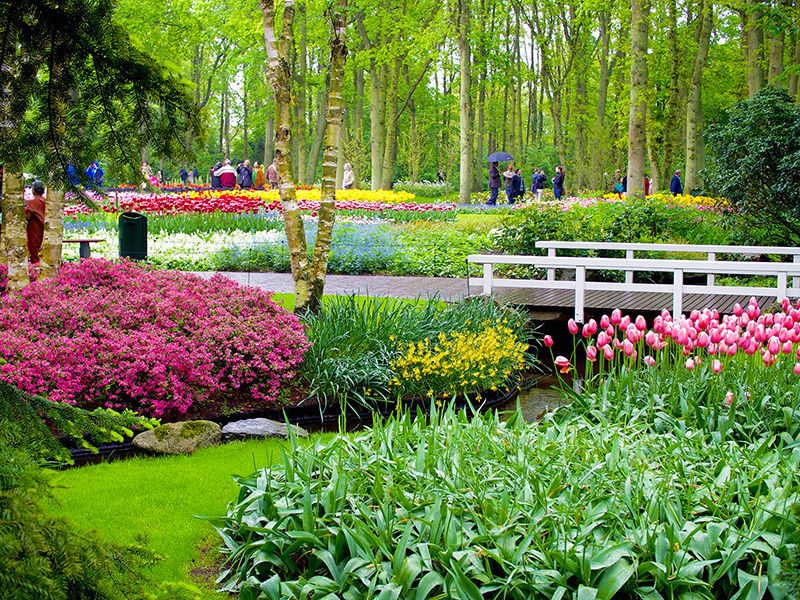 Welcome to the world's largest flower gardens! It's home to over seven million bulbs of 800 varieties scattered across an expansive 32 hectares area. Also known as the Garden of Europe, Keukenhof showcases large-scale flower displays from March to May, encompassing a myriad of shapes and colours, surrounded by the strips of emblematic Dutch flower fields blanketed with not just tulips but also daffodils, hyacinths, carnations, orchids, roses, and many more. Definitely a feast for the senses and one of the most popular day trips from Amsterdam come springtime.
Utrecht
With over 40,000 students within its city walls, Utrecht is an understandably fun and spirited town. The modest yet impressive medieval centre built around the soaring bell tower is the perfect backdrop to the network of 13th-century canals. They are at the lowest sea level than anywhere else in the country! Why? Because they offered barges direct unloading access to warehouses; in fact, Utrecht's canals are the only place in the world you can find inner-city wharfs. Nowadays, these characteristic, low-ceilinged spaces right at water level welcome atmospheric wine bars, vintage shops, and music venues.
Giethoorn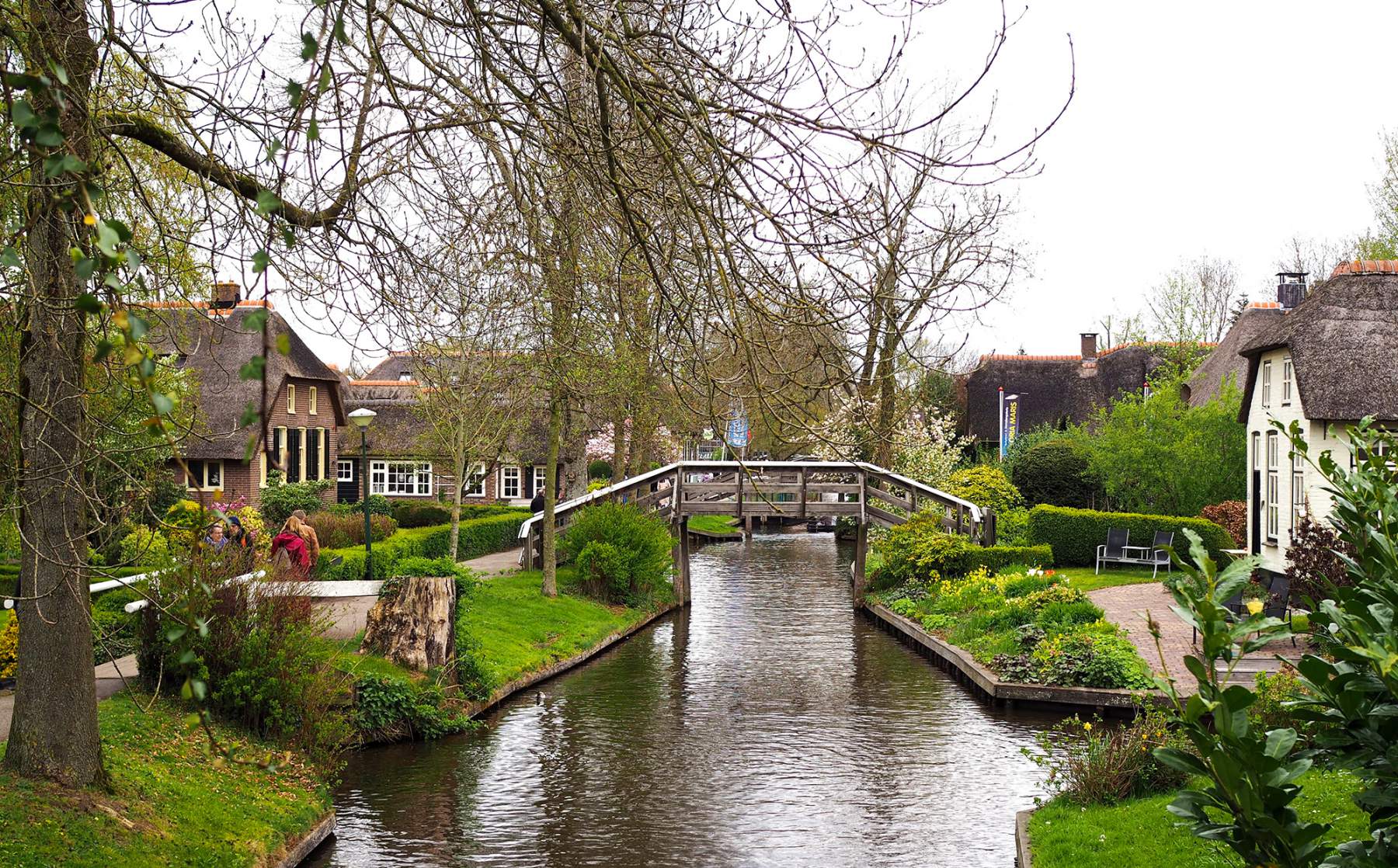 Have you ever looked up the Netherlands on Pinterest or so much as googled the Netherlands? Then, there's a fair chance you've stumbled upon this idyllic, picture-perfect village nicknamed the Venice of the North. Nestled in the lush Weerribben-Wieden national park, Giethoorn is the kind of place where cars make way for punter boats as the most common mean of transportation, where pastoral pace mingles perfectly with thatched-roof houses, and where wide-eyed tourists continuously thank the Instagram god for taking them to such a photogenic place.
Cover photo credit: Marie-Eve Vallieres
The comments and contributions expressed are assumed only by the author. The recommendations, intentions or opinions expressed are not necessarily those of Transat AT Inc. or its affiliates. See terms of use of the Air Transat website.