Drinking in Ireland in general, and pubs in Dublin more specifically, are no joke. One would think that cheering to a good pint of cold, crisp Guinness would be a simple thing to do, but there are serious rules to abide by when it comes to pub culture in Ireland — where the capital is second to none.
All visitors to the Emerald Isle, newcomers and afficionados alike, have to visit at least a few watering holes to truly understand and hopefully to enjoy the craic (good times) with live music, good friends, a few pints, perhaps even a leprechaun, and a bit of laughter.
Pubs in Ireland – A Little Bit of Context
Generally speaking, pubs in Dublin open at 10:30 a.m. and close at 11 p.m.
Pubs that open before that are called "early houses" and serve alcohol as early as 7 a.m., except on Sundays. Bars and clubs that serve alcohol after 11 p.m. are called "late bars" and usually close around 2:30 a.m.
Temple Bar is Dublin's most visited pub. It's in all of the tourist guides, and everyone from out of town goes to have a pint there. Since it's basically where the Dublin pub trail begins and ends, this bar is quite overpriced. And very few locals can be found on the premises.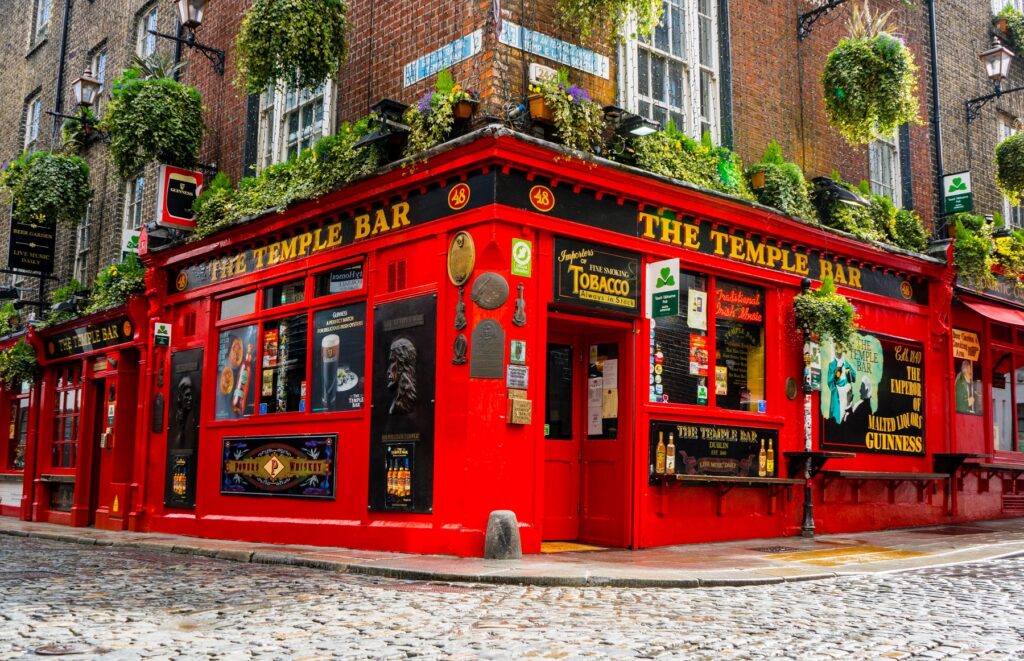 A Few Irish Beers and Drinks to Try
Guinness, Murphy's, Smithwick's, Harp and Caffrey's are some of the best and most widely drinked beers in the world, and Irish whiskey needs no introduction. Bailey's and its imitations are also great and soothing.
You could also try the legendary Irish Slammer, made by dropping a bomb shot of Irish cream and whiskey into a glass of stout. Sounds familiar? That's because you may know it by another name: the Irish Car Bomb, named after The Troubles, a series of conflicts that ended in 1998 after 20 years of violence between Irish Catholics and Protestants and in which car bombs were widely used. Whatever you do, please, don't order an "Irish Car Bomb" in Ireland, as that would be extremely insensitive.
Morning Drinking in the Best Pubs in Dublin
Yes, there is such a thing as "morning drinking" in Ireland. "Early houses" were initially kept for graveyard shift workers who wanted to grab a drink after their shift. They open at 7 a.m.
The Chancery Inn is one of them, having kept its license since 1927. It has also kept its rough-around-the-edges charm and working-man's ethos. Another good option with a similar vibe to the Chancery Inn is called The Windjammer. In both cases, a pre-breakfast pint can be quite the endeavour. Drink at your own risk!

A Breakfast Pint in Dublin
A pint with a full Irish (no, it's not a "full English breakfast") is much more enjoyable than a coffee! Doheny and Nesbitt is a very popular spot for lunch and brunch, and it can be difficult to find a table for lunch.
Strategically, then, it could be a good idea to head to this Dublin pub and order breakfast and a pint near opening time, which is 10 a.m.!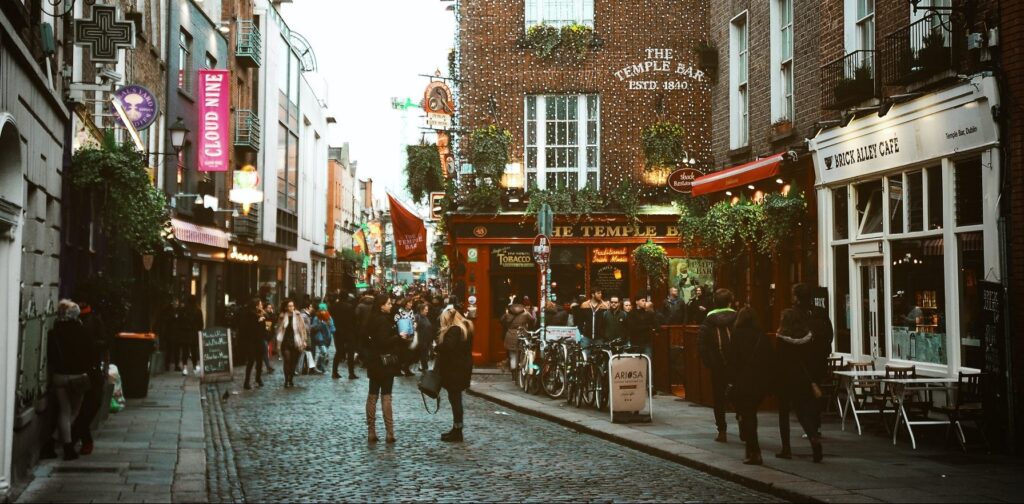 Lunch and Walk to Dublin Bars
If brunch isn't your thing, and you prefer a strong coffee and nothing else in the morning, The Old Storehouse pours a good pint and serves a good lunch. Decent food, decent prices, and a cool décor. It also has the added bonus of being right in the middle of things.
You can complement this meal with a long after-lunch walk. Old Dublin has lots to offer. There are a couple of wonderful cathedrals that deserve your attention!
The Oldest Pub in Ireland within Dublin
This walk might be a bit of an effort, but the pint that comes after it will probably feel rewarding.
Wet your whistle at The Brazen Head the oldest pub in Dublin, which claims to have first opened in 1198! Since it's one of those mandatory tourist trail spots, it often gets quite crowded. Heading there before dinner will provide you with more attention from the barkeeper – thus assuring a proper pour – as well as time and space to take a look at this museum of a bar!
Dinner… At the Right Pub
Dinner in Dublin should be quite straightforward. However, when it comes to dining in pubs, you might unfortunately be facing limited options that mostly consist of overprice, subpar dishes. Thankfully, there's The Lotts Cafe Bar. They're mostly known for their steak dish, but the décor will make you remember why you came to Dublin. What a façade!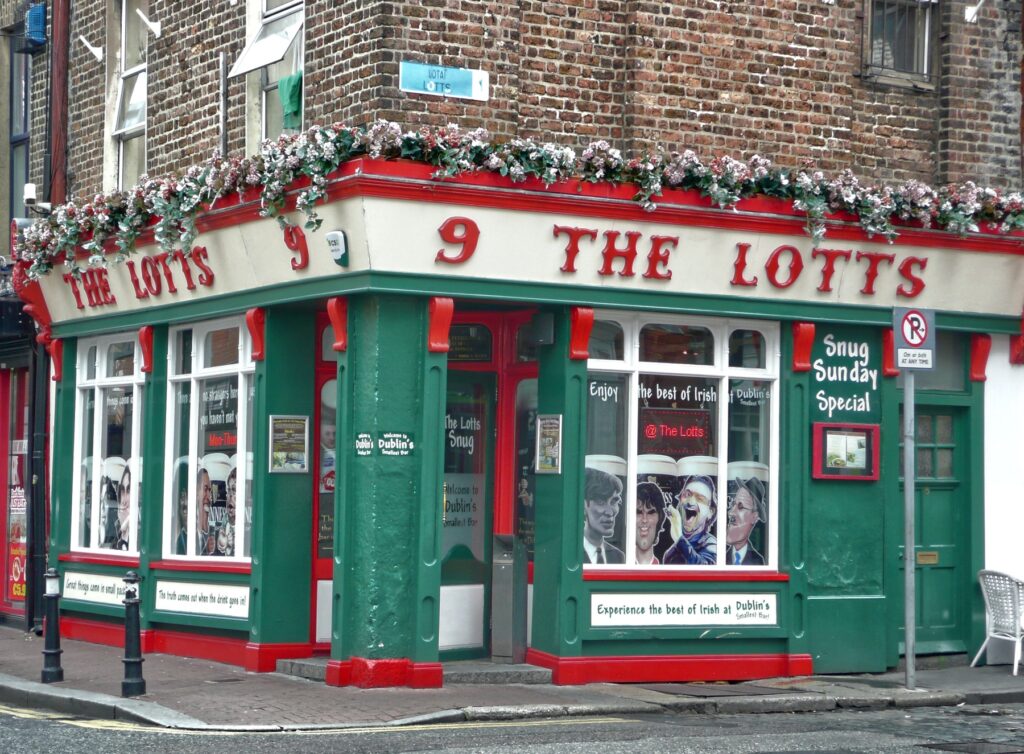 You Want Pubs in Dublin? We've Got Pubs!
There are dozens of awesome pubs in Dublin and it's difficult to see them all. Thankfully, this guide is here for you!
The Long Hall (51 South Great George's Street, Dublin 2): The Long Hall is a majestic Victorian watering hole with decorated mirrors, red-painted walls and wooden furniture. It's a mandatory stop. That's all that needs to be said.
Guinness Storehouse (St James's Gate, Dublin 8): The Guinness brewery experience is as touristy as it gets – you won't find a local in there – and the tour is kinda kitschy. However, Gravity Bar, located on the top level of the brewery, is a serious attraction, combining different versions of the famous black stuff and a beautiful view of Dublin. Go on!
The Palace Bar (21 Fleet St, Dublin 2): Did we mention that there are almost 800 Dublin pubs? It might be difficult to even avoid them! That's why this guide sends you to The Palace Bar – not to be confused with the horrible club called "The Palace" – which is said to be the oldest pub in Dublin to have kept its original form. It's as authentic as it gets!