Sometimes you need a break from the beach, and we think an Everglades day trip from Fort Lauderdale is definitely a great alternative to your beach blanket time in Florida. We promise you'll still have tons of fun in Florida's 'River of Grass' but it will be a very different kind of experience.
According to the National Parks Service website, the Everglades encompasses 1.5 million acres of tropical and subtropical land with one of the world's most diverse ecosystems. It is designated as an International Biosphere Reserve, a Wetland of International Importance and a World Heritage Site. Although often referred to as a swamp, the Everglades is actually a slow moving river. Writer Majory Stoneman Jackson called the Everglades a 'River of Grass' in her 1947 non-fiction book about the area.
The park is popular with both tourists and Florida residents with almost a million people visiting it each year. It has a quiet beauty that is best explored by foot, boat or bicycle, this is where you will almost be guaranteed to get up close and personal with a Florida alligator in the one of world's most spectacular wetlands. Depending on the time of year, (winter dry season is best), you might also see manatees, pelicans, herons, and maybe, just maybe, a very rarely sighted pretty pink flamingo.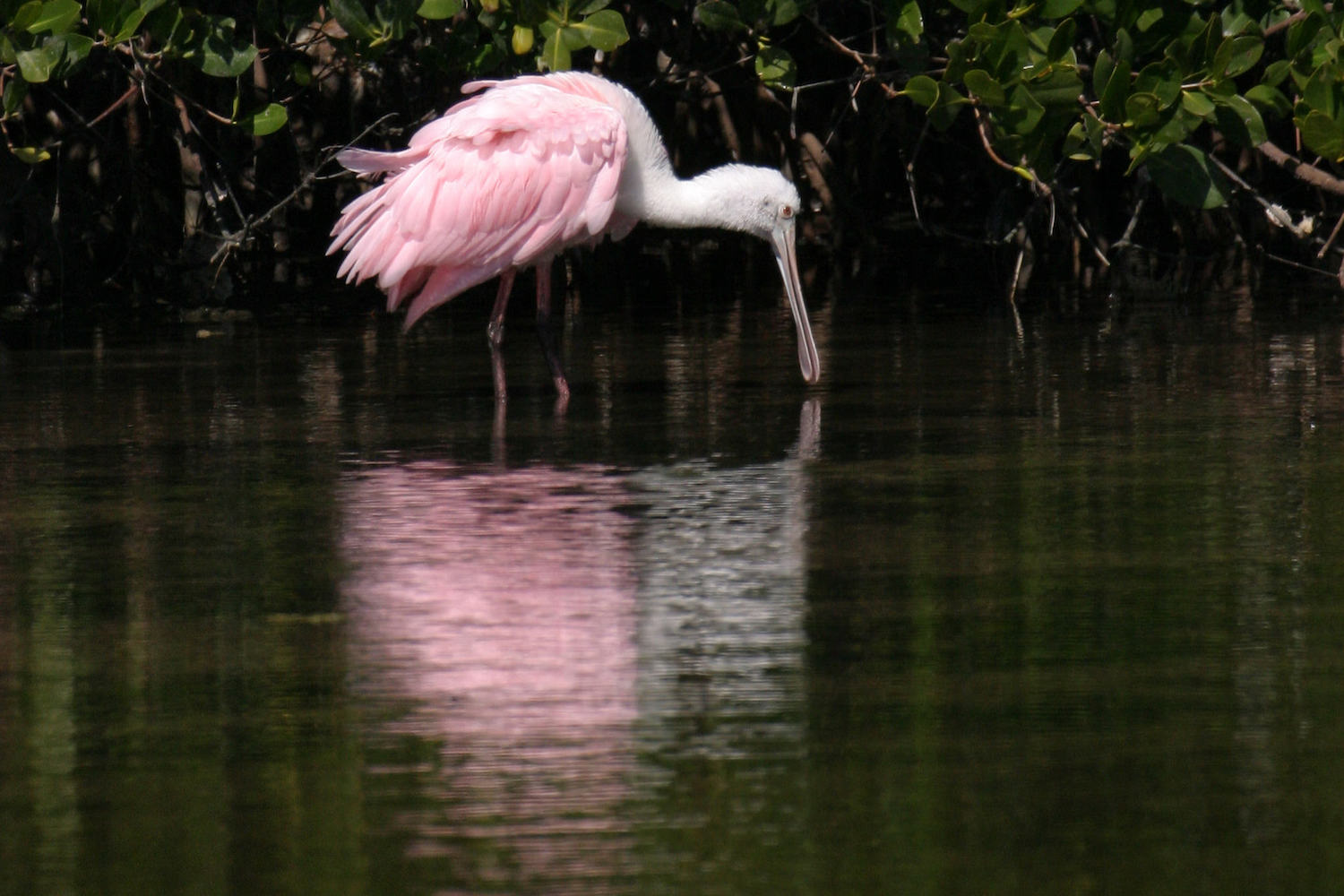 How to Access the Everglades from Fort Lauderdale
There are three main entry points into the Everglades Park, the main entrance located at Homestead, you can also enter the park from Shark Valley or the Gulf Coast entrance. All of them are accessible from Fort Lauderdale, and are about an hour and a half to two-hour drive from Fort Lauderdale.
One thing to keep in mind when planning your trip is that Hurricane Irma in 2017 did serious damage to all parts of the Everglades, check the park website for up to date information on what is and is not open.
Here are our top picks for a guaranteed excellent day trip visit to Florida's 'River of Grass'.
Hiking in the Florida Everglades
Experience a 'walk on the wild side'. Alligators in their natural habitat, sunning in a giant marsh, this is the real wet and wild Florida. Hike along the Anhinga Trail in the Everglades for prime gator viewing, this hike is one of the most popular in the park for a reason. It is teeming with wildlife; you will be stopping often for photos on this short stroll through the Florida wetlands.
Don't forget to bring bug spray because even though the trail is less than a mile in length, you'll most likely be the star attraction for mosquitoes. Binoculars are also nice to have handy for spotting the abundant but well camouflaged wildlife. The very accessible, stroller friendly paved and boardwalk trail takes you out to a saw grass marsh, and is one of best spots to see alligators, anhinga birds nesting in trees, large blue herons and turtles in the park.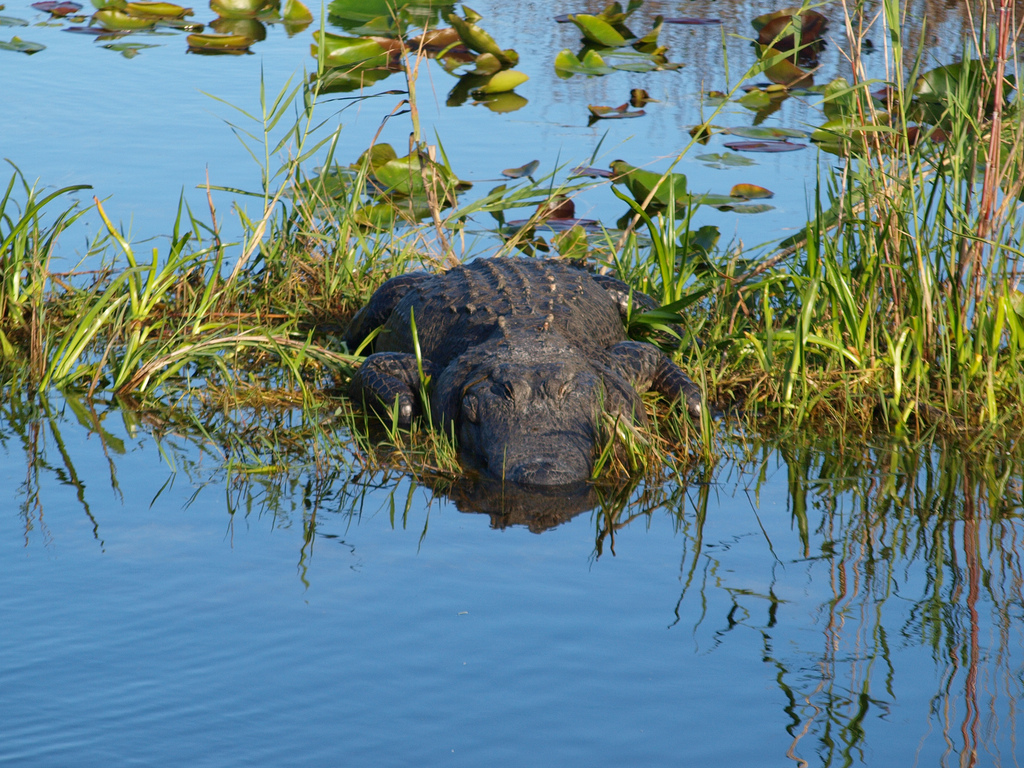 The Anhinga Trail is located about 4 miles from the Homestead entrance to the Everglades. You can stop at the Ernest Coe Center, the parks' main visitor centre for information or you can take the turnoff for the smaller Royal Palm Visitor Center and where the trail starts.  The twenty-five dollar entrance fee to the park is paid once you pass the Ernest Coe Center and is good for seven days.
You can wander the trail on your own during the day, or arrive in the morning for the 10:30 am Anhinga Amble Park Ranger Tour. The fifty-minute tour is free with park admission; you can find more information about available tours on the National Park Service Website.
Roadside Treats near the Everglades
Before you head back to Fort Lauderdale be sure to stop off in Homestead and cool off with a yummy fruit smoothie at the very popular Robert is Here fruit stand and animal farm. Our favourite smoothie was mango, or maybe the strawberry key lime, or the cherry key lime… ok we confess, we've tried quite a few and liked them all!
If you're a fan of cinnamon rolls, then Knaus Farms is a definite must stop spot, this Homestead favourite has been in operation since 1956, and is open only during the winter season. The farm store is cash only but this doesn't deter the locals who line up Monday through Saturday for their cinnamon roll fix. Strawberry upick is also available in season, which runs between February and March.
Where to Boat in the Everglades
Airboat Tours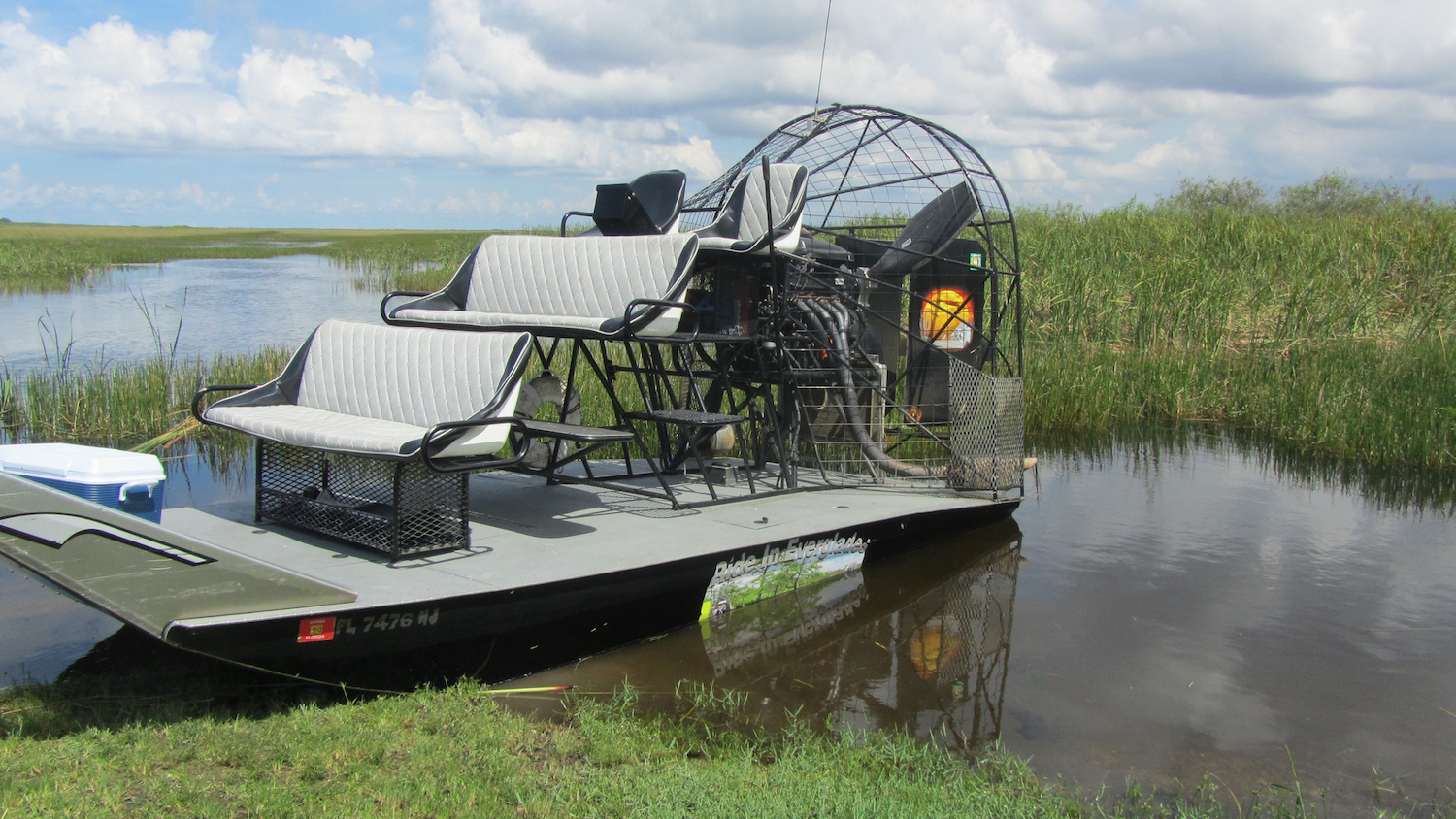 Loud but well worth the decibels, airboat tours have been the one of more popular ways to explore Florida's 'swampland' since the mid 1940's. In order to properly preserve and protect the wilderness park, airboats have recently been designated only limited access to the Everglades. The rides are still wild and fun but less intrusive and the Everglades can now be a true natural wilderness park.
There are three popular companies close to Miami that offer fun and educational 40 minute airboat ride through the wetlands: Coopertown Airboats, Gator Park and Everglade Safari Park. All offer guided group or solo airboat tours, restaurant/gift shop on premises and an interactive show either before or after the tour.
Paddling Along the Everglades Wilderness Waterway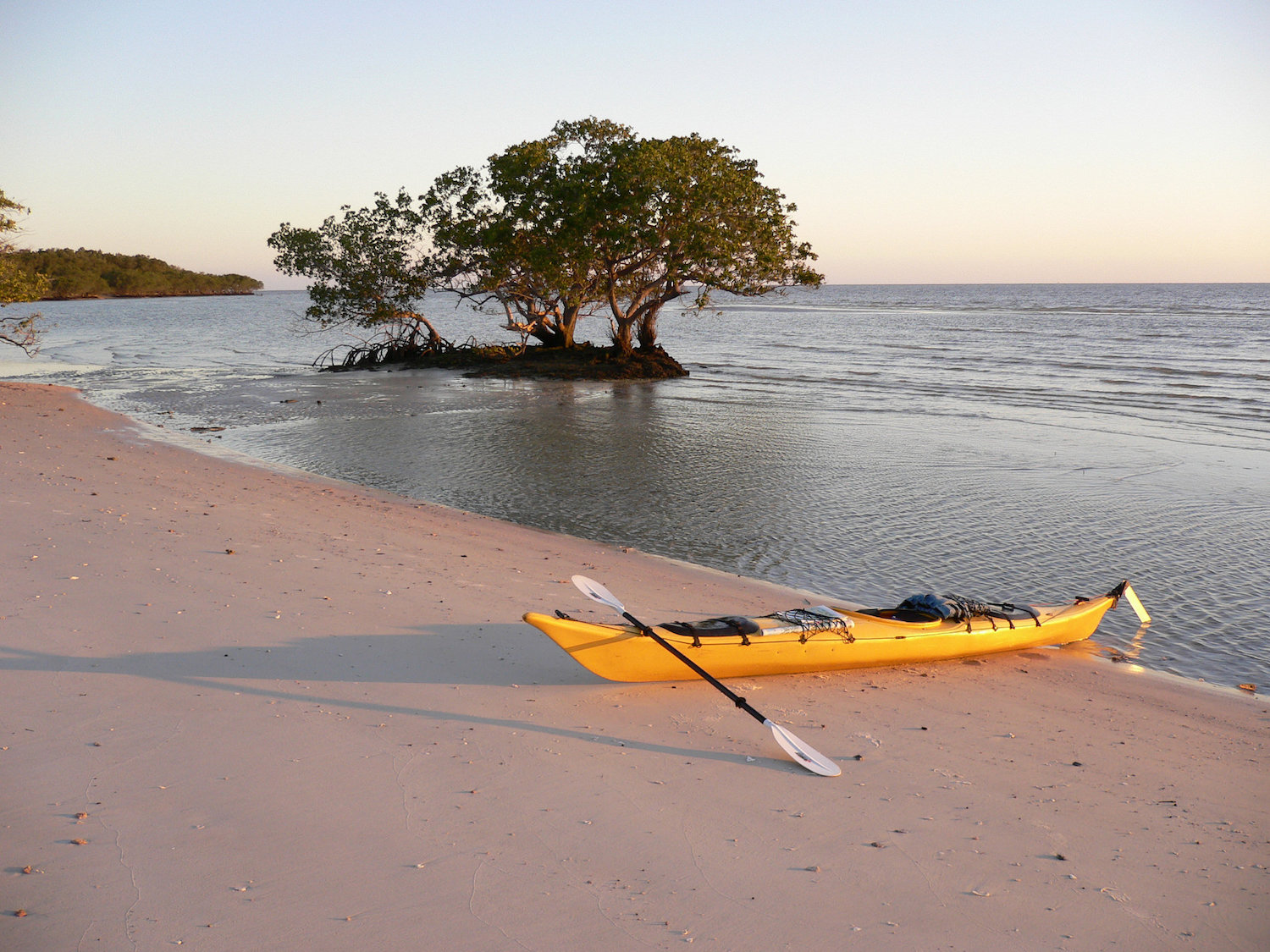 The Everglades most southerly access point at Flamingo is a 38-minute drive from the Ernest Coe Visitor Centre via the main Park Road.  There are plenty of stops along the Park Road to the Flamingo, you can explore the popular Pay-Hay-Okey hiking trail and overlook, check out the largest living mahogany tree in the US at Mahogany Hammock or snap a selfie from the car with a back drop of mangroves or saw grass prairie.
Flamingo is a popular destination for boating in the Everglades, and is an access point to the 99-mile Wilderness Waterway, a marked water trail from Flamingo to Everglades City. Kayak and canoe rentals are available between 12pm and 3:30pm through the Everglades Guest Services.
Unfortunately, because of damage sustained by Hurricane Irma in 2017, motorized boat tours have been suspended and the marina remains closed. Check the National Parks Service website for up-to-date information about what is and is not open in Flamingo.
There are two lovely paddling routes permitted with a boat rental, you can head out on Florida Bay or paddle along the Flamingo Canal into Coot Bay. Both trips are short, and will give you plenty of time to get the boats back for the 4:30 deadline. If you have your own canoe or kayak you can venture further out, but be sure to let the park rangers at the Flamingo Visitor Center know your plans so they can advise you on routes and any weather related issues.
Our favourite outing is a 45-minute paddle out of Florida Bay to Bradley Key. You can bring a picnic (leave no trace) lunch along, stop for a bite to eat on the key's small beach, and then head back to the marina, for a total three-hour kayak or canoe trip. Keep an eye out for manatees, Florida's gentle giants, this is also the best spot a sighting of the rare Florida crocodile, and if you're really, really lucky you might even spot a flamingo at Flamingo!
Biking Adventure in the Everglades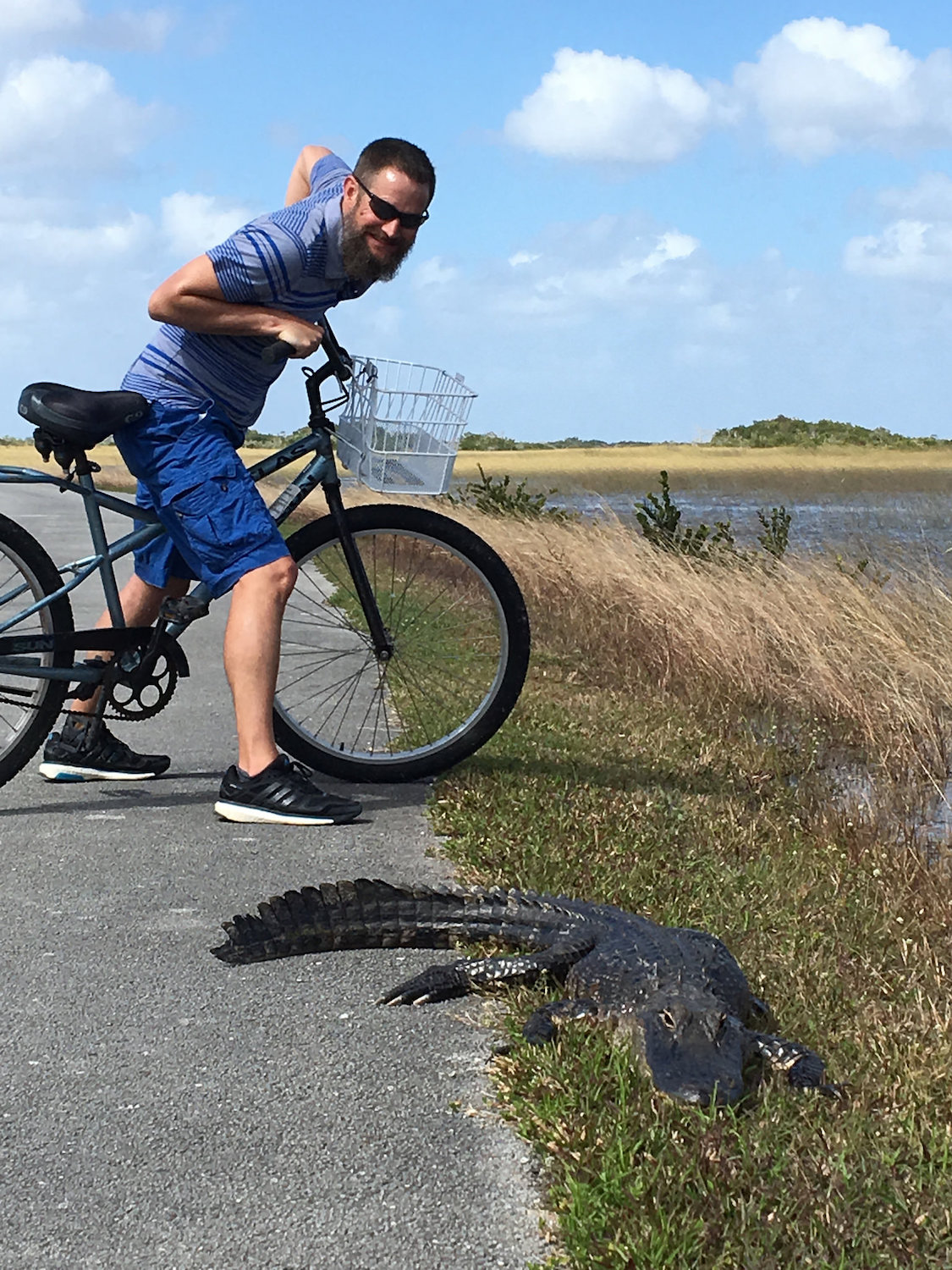 Biking is a pretty smart mode of transportation in the Everglades, with a bit of pedal power, you might create enough of a breeze to flutter your sweaty tee away from your clammy hot body and maybe even keep the bitey bugs at bay. Another bonus, you will definitely score tons of Instagram likes from your cool shot of biking past a sleeping alligator!
Shark Valley
The Shark Valley trail is about 15 mile round trip trek. The trail itself flat and well paved, making it an easy and enjoyable two to three hour bike ride, you can also opt to walk or take a tram tour along the trail.  Bike and tram rentals are provided by Shark Valley Tram Tours. Don't forget to bring lots of water, the Florida sun is very hot and biking in this kind of heat will make you dehydrate quickly! We also recommend riding in the morning to avoid the worse of the heat.
When you head out from the Shark Valley Visitor Center, bike along the canal or right side of the loop, this is where you'll spot the most gators, wading birds and other wildlife. There is an observation tower at the halfway mark of the trail, and this is a great place to take a break, the viewing deck of the tower provides a 360-degree view of the Everglades 'River of Grass' and gives you a good understanding of the immensity of the Florida's quietly beautiful wetlands.
There's so much to see and do on an Everglades Day Trip from Fort Lauderdale so put this visit at the top of your must-do list! Start planning your Everglades Park and Fort Lauderdale visit today with flights from Air Transat.
All photo credits: Dian Emery
The comments and contributions expressed are assumed only by the author. The recommendations, intentions or opinions expressed are not necessarily those of Transat AT Inc. or its affiliates. See terms of use of the Air Transat website.