The City of Angels is more than the sum of its stars, bright as those are. In addition to the movie-related tourist attractions of Hollywood and Beverly Hills, it also boasts a number of charming suburbs nestled between the ocean and the rugged mountains. These neighborhoods are home to a wide variety of people who have a love for their city. Here are three Los Angeles neighborhoods to explore during your next trip to California.
Getting around Los Angeles
It's not necessary to rent a car to get around Los Angeles. Depending on your destination and planned stops, it may be wiser to take a taxi to simplify your trip. For example, a taxi between Hollywood and Venice will cost about $45 USD, depending on traffic; a taxi between Hollywood and Echo Park will only cost about ten dollars.
By the way, street parking in Los Angeles is very complicated, even for experienced Montrealers! And valet parking and parking garages are especially expensive.
And contrary to popular belief, it's perfectly possible to walk from one attraction to the next! All you have to do is plan your trips one area at a time.
Venice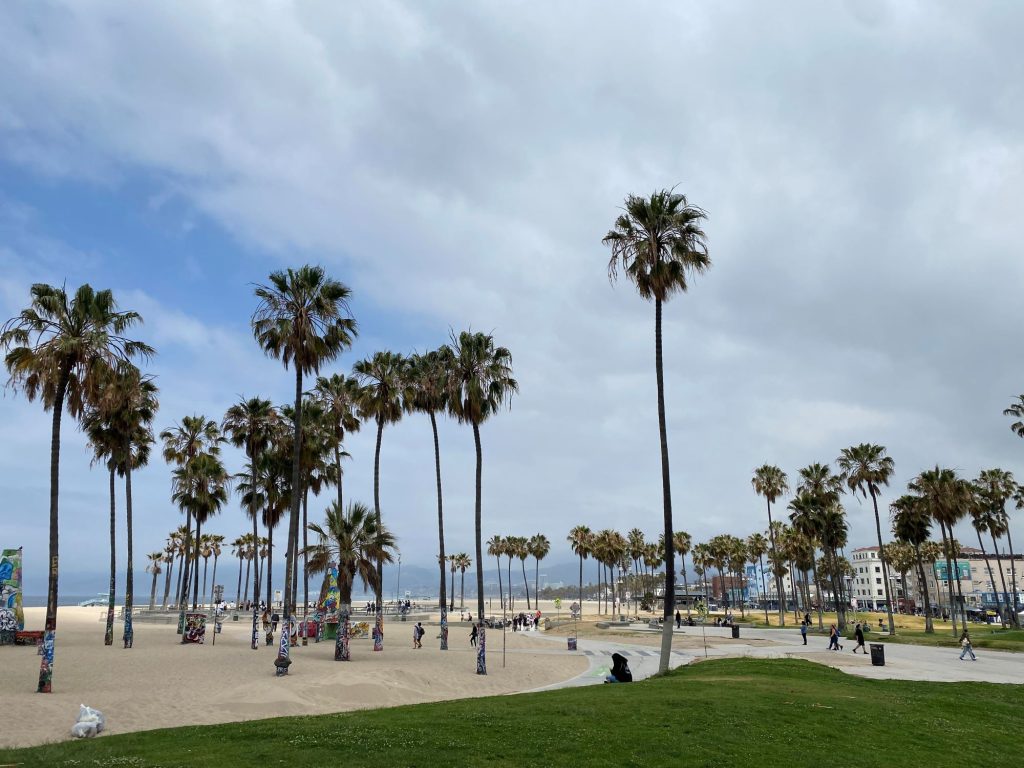 Welcome to Venice Beach, the vibrant and eccentric coastal gem of Los Angeles! Nestled among the sun-kissed beaches and surfers catching gnarly waves, this neighborhood is a kaleidoscope of color, culture, and creativity.
Stroll around the Venice Canals
But behind the bustling boardwalk is a quiet, almost bucolic area to explore namely the Venice Canals. Inspired by the canals of the eponymous Italian city, the picturesque waterway system was created in 1905. Today, the canals are a charming oasis lined with quaint houses, pedestrian bridges, and lush greenery. Strolling along the meandering paths, you'll enjoy a moment of tranquility while meeting the local duck population and get a peek inside the beautiful houses. Oh, and in case you were wondering, yes, these are each worth several million dollars.
Rent a bike on the boardwalk
A fun way to discover Venice is to rent a bike from the boardwalk. There is a safe, well-marked cycling path all the way to Santa Monica (where the beach is admittedly a bit nicer, if you fancy a dip in the ocean). You'll meet just about every kind of people along the way, from rollerbladers to counterculture fortune tellers, and from muscle-bound weightlifters to skaters in the iconic Venice Beach Skatepark.
Shop on Abbott Kinney
And for some quality shopping (in other words, shops on the boardwalk can be a bit cringey), head on to Abbott Kinney Boulevard where some of the trendiest brand have set up a flagship store.
Our top picks of things to do in Venice
Echo Park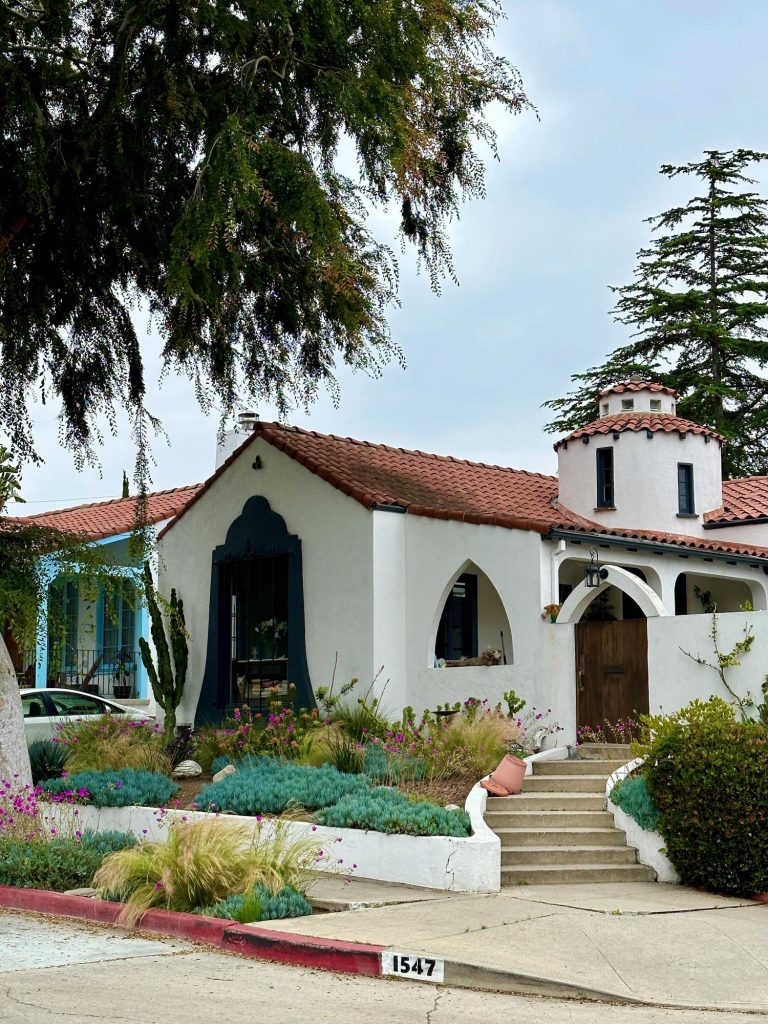 Welcome to Echo Park, where the beats are hip, the colors are vibrant, and the vibe is as cool as a cucumber wearing sunglasses. Nestled in the heart of Los Angeles neighborhoods, this eclectic enclave has a rich history and plenty of surprises.
Where to spot celebrities in Los Angeles? Echo Park is a good bet. Many young, trendy a-listers reside in the area.
Marvel at the Angelino Heights homes
Step into the time machine and discover Echo Park's storied past. Originally a retreat for the city's elite in the 19th century, it has since transformed into a cultural hotspot that oozes creativity. From beatniks to indie rockers, this neighborhood has attracted artists, musicians, and free spirits for decades.
While we're on the topic of history, make sure to marvel at the historic Angelino Heights. It's a nearby Victorian-era enclave filled with stunning architecture that will transport you back in time. While you're there, make sure to walk past Innes House, an iconic Victorian residence famous for serving as the exterior of the Halliwell sisters' home in the TV show Charmed.
Enjoy Echo Park Lake
One of the most fun things to do in Echo Park is to rent a swan-shaped pedal boat at Echo Park Lake. Bask in the sun, get a little workout in and admire the stunning skyline of downtown LA reflected in the water.
Hike to Angel's Point
Angel's View is a stunning viewpoint offering panoramic vistas of Los Angeles. Hike up and be rewarded with breathtaking sights of downtown, Hollywood, and Griffith Observatory. To get there, look for the hiking trail that starts near the lake, often referred to as the "Angel's View Trail."
Our top picks of things to do in Echo Park
West Hollywood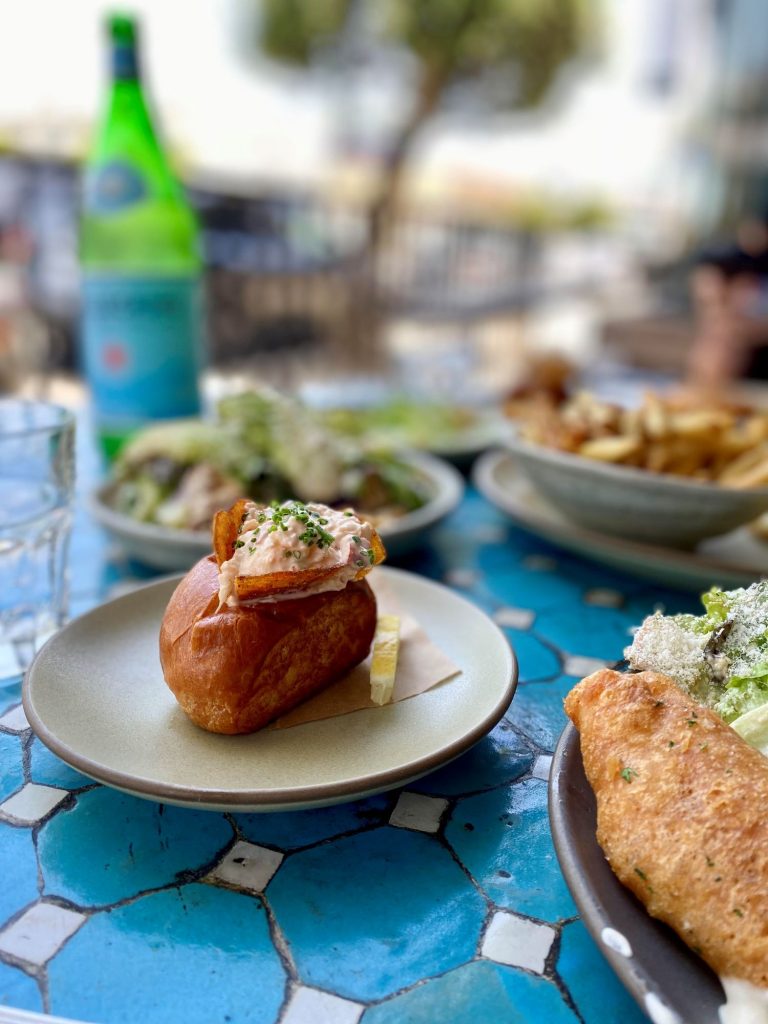 Welcome to West Hollywood, a vibrant and glamorous neighborhood that's like a non-stop Hollywood party. Situated in the heart of Los Angeles, this lively enclave has a personality that's larger than life. From trendy boutiques to world-class dining, West Hollywood is a playground for the fashionable and fabulous. The neighborhood's vibrant energy is contagious, drawing in a diverse crowd that's ready to see and be seen.
Visit Stahl House
Immerse yourself in the creative pulse of West Hollywood, where the vibe is a harmonious blend of sophistication and artistic flair. Begin your exploration by discovering architectural wonders such as the iconic Stahl House, a mid-century modern masterpiece that offers breathtaking views of the city. Join a guided tour to fully appreciate the architectural details and the history behind the Stahl House. Learn about Pierre Koenig's innovative design concepts and the significance of the Case Study House program.
Pro tip: due to its popularity, the Stahl House requires advance reservations for guided tours. Make sure to book your visit ahead of time to secure your spot.
Catch an outdoor movie
Head over to the Melrose Rooftop Theatre for an evening of cinematic magic. Settle into a cozy deck chair, sip on craft cocktails, and enjoy this fun alternative to a classic Hollywood experience! With the stunning backdrop of the Hollywood Hills and the twinkling city lights, the rooftop setting adds an extra touch of enchantment to the movie-watching experience. The Melrose Rooftop Theatre curates a diverse selection of films, ranging from beloved classics to recent blockbusters.
Our top picks of things to do in West Hollywood