To say that my husband was excited to bring me to Lucca would be an understatement.
My husband's family is from Lucca, and I was worried that no matter how excited I was when I arrived, it still might not live up to his expectations.
As we neared the town though, I don't know how I could have ever worried about not instantly falling in love with this most beautiful part of the world.
Getting to Lucca, Tuscany
Driving through 500 year old meticulously maintained walls into the pedestrian-only cobblestoned city centre, well, residents can drive through most areas, but don't you do it if you go, you'll get a nasty fine, the history of the city rises up to meet you.
Lucca is the capital city of the province of Lucca, and sits a mere 30 km from the sea, making it easily accessible by train and bus.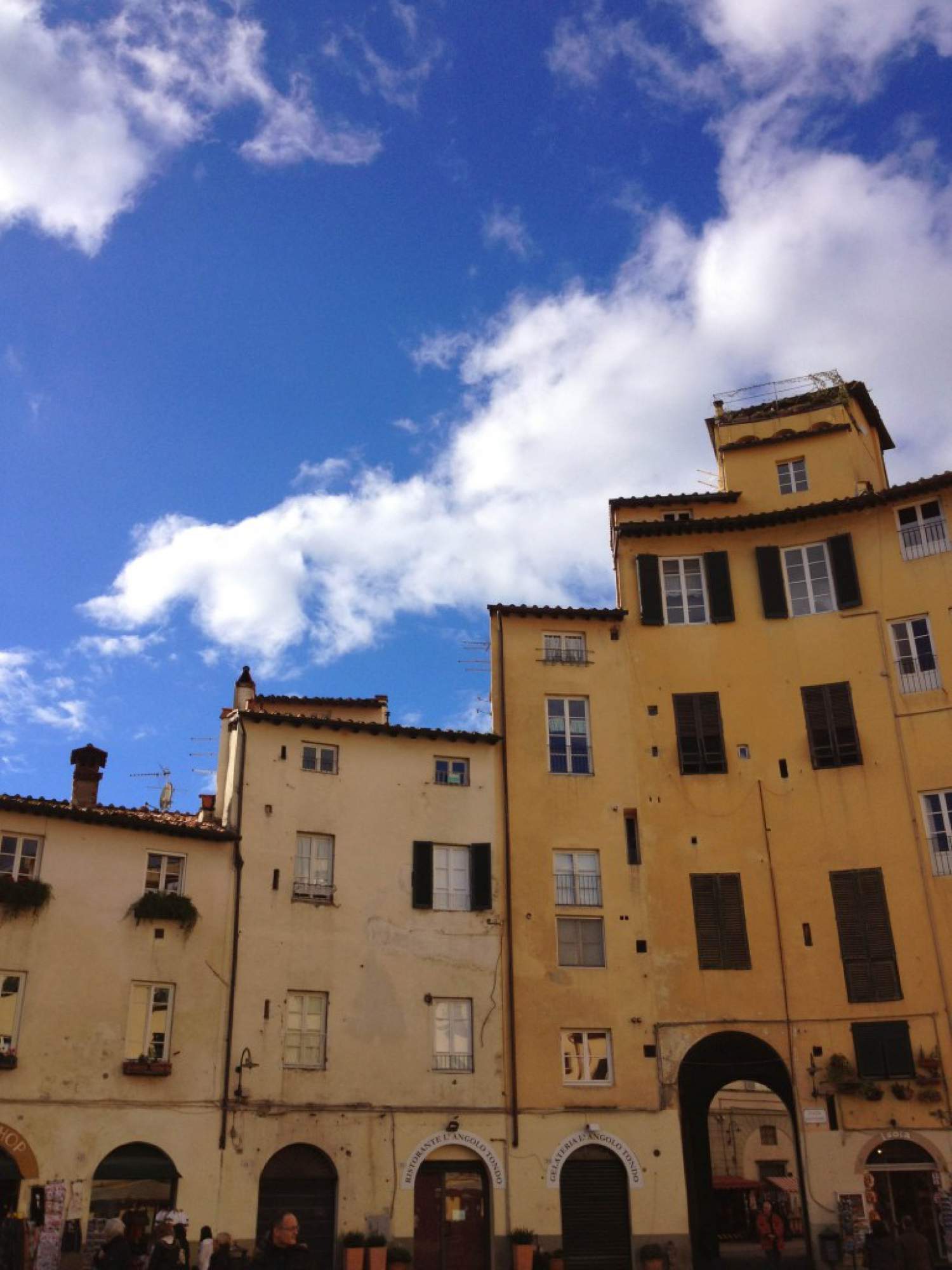 What to see in Lucca, Tuscany
Lucca is probably most well known throughout Italy for its art and architecture. The Piazza dell'Anfiteatro was built on the remnants of the original Roman piazza that was constructed in 180 A.D., and in the very centre of the anfiteatro is a brick with a cross carved into it in the very spot where the four entrances intersect.
Other items of interest to visit are the Chiesa di San Michele, an ornate church dated from before the 12th century that has it's own legend. The people of Lucca say that in a certain light you can see a green sparkle emanating from the statue above the church and that this is due to an emerald that was hidden in the statue itself centuries ago but never recovered. Or, you could visit the Torre Giunigi, one of the few remaining 250 towers that once rose within the walls. Climb up the 225 steps and admire the garden along with the 360 degree views of Lucca, the Apuane mountains, and even Pisa. No matter where you go, every street you walk down is rife with opportunities to see another fascinating building, church, garden, or villa.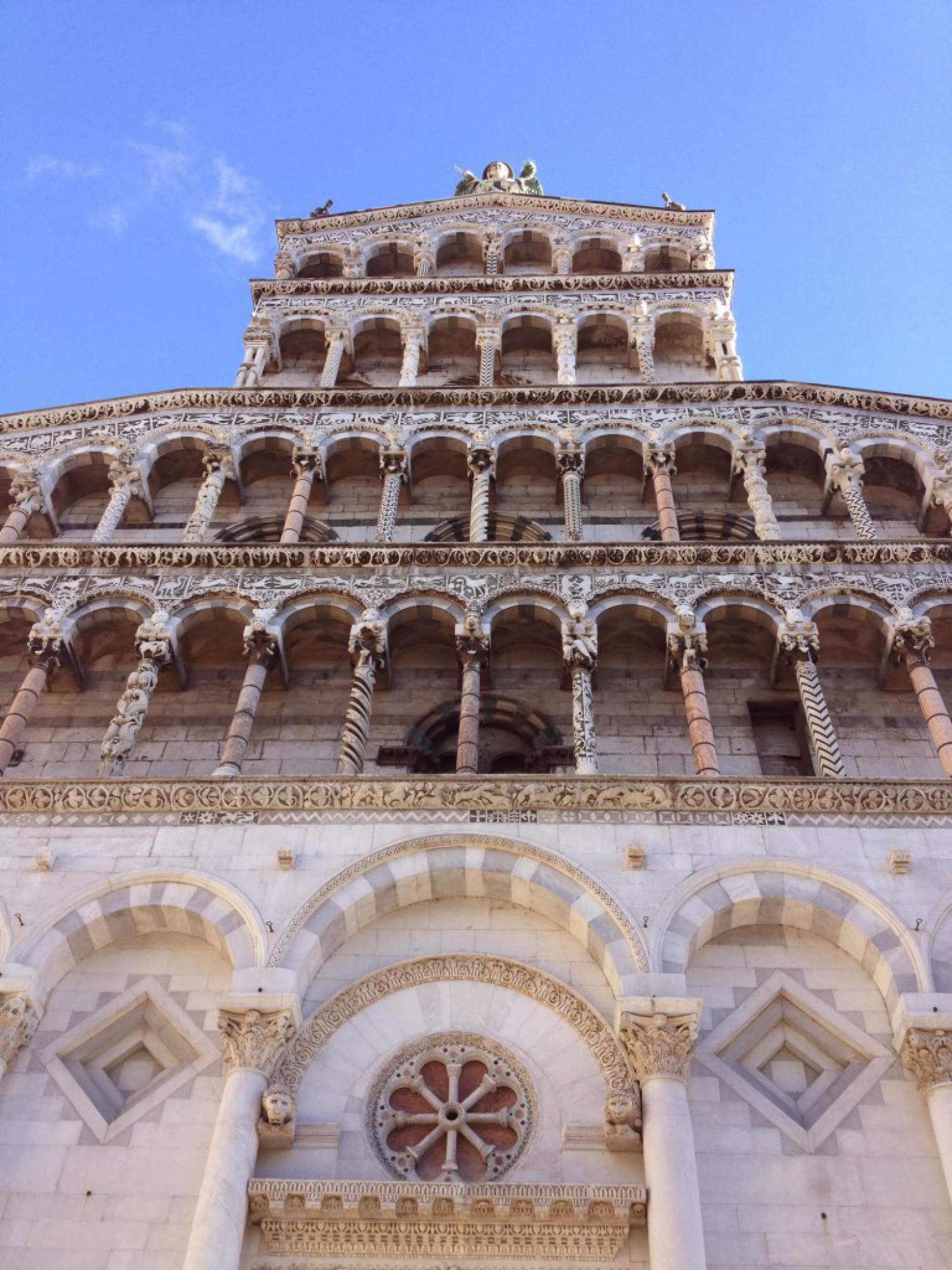 The walls themselves are a source of entertainment. You can rent a bike and enjoy an easy ride along the top of the walls. Don't worry about falling over the edge, though, as the walls are wide enough for two cars to drive down them at the same time.
A word of warning: don't try to make that drive.
What to eat in Lucca, Tuscany
Once you find yourself getting peckish, you will be delighted to try the local cuisine. Lucca is home to a wide variety of dishes, each one better than the next.
Some of the local delicacies include: Tordelli, a stuffed pasta with meat sauce (think ravioli, but never say that out loud in Lucca); castagnaccio, a crepe-like pancake made of hazelnut flour warmed and filled with ricotta; garmugia, a rich soup only available in the spring that is chock full of fresh vegetables and ground beef; or farinata, a type of soup made with black cabbage, beans, lardo, and cornflour.
Like so many areas of Italy, you could spend days sampling local dishes and never try the same thing twice. Of course, the best way to do this is to have dinner at one of Lucca's many excellent restaurants in the evening, when the day has cooled and night has come, at an outdoor table lit only by candles, surrounded by good company, good food, and a nice bottle of red wine.
You would be hard pressed to find a more authentically Italian experience than Lucca.
Find flight information and more great tips for travelling to Italy here.
#TransatExpatExperts
The comments and contributions expressed are assumed only by the author. The recommendations, intentions or opinions expressed are not necessarily those of Transat AT Inc. or its affiliates. See terms of use of the Air Transat website.