Article  originally published in the June-October 2017 edition of the Atmosphere magazine. Read the latest edition here.
Surviving four days of wild celebrations in Martinique
Carnival: A special occasion or period of public enjoyment and entertainment involving wearing unusual clothes, dancing' eating and drinking' usually held in the streets of a city.
I'm no stranger to this concept. Having experienced Carnival in Grenada' St. Martin and Jamaica' and being half Grenadian myself' there's no doubt that Carnival fever is in my blood. But these Martinicans take Carnival to a whole other level.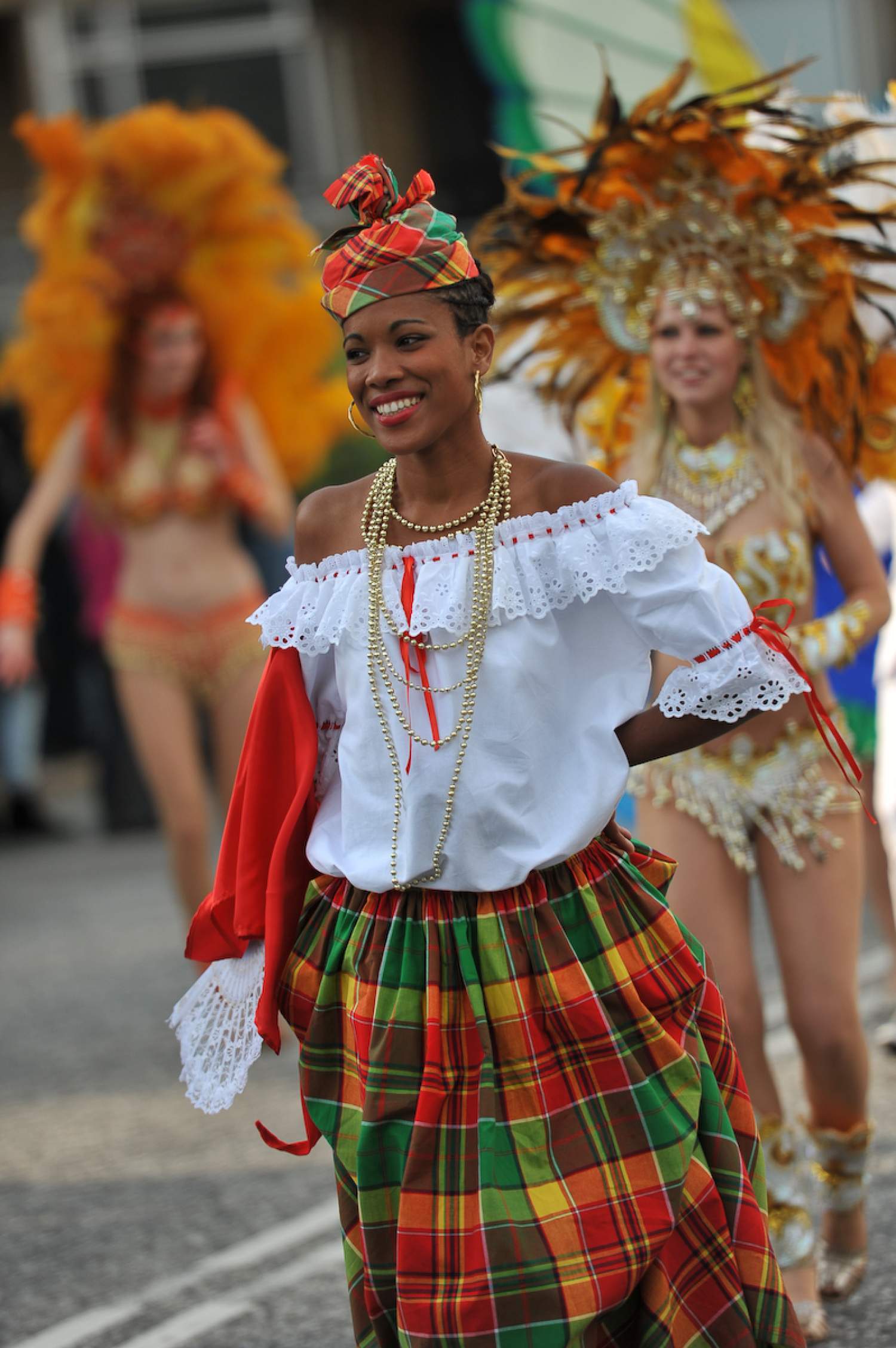 When I ask Jessica Marie from the Martinique tourism office what I should expect from the four-day Carnival in Martinique' she explodes with excitement.
"Inventive costumes' vidés (parades)' drum music, not steel drums like other islands' more like a deconstructed drum set, and they play it with chachas' they're like bamboo shakers filled with sand and they make this nice shooooka shooooka shooooka sound."
Exhale.
"Let's see' on Sunday is the first big vidé' and you can see the groupes à pied; it's also when Vaval is revealed. Monday is mariage burlesque and it's also Carnaval du sud. Tuesday is Mardi Gras—the day of diables rouges and you have to dress in red and black. Wednesday is the last day of Carnival' you have to wear black and white' and Vaval is burned."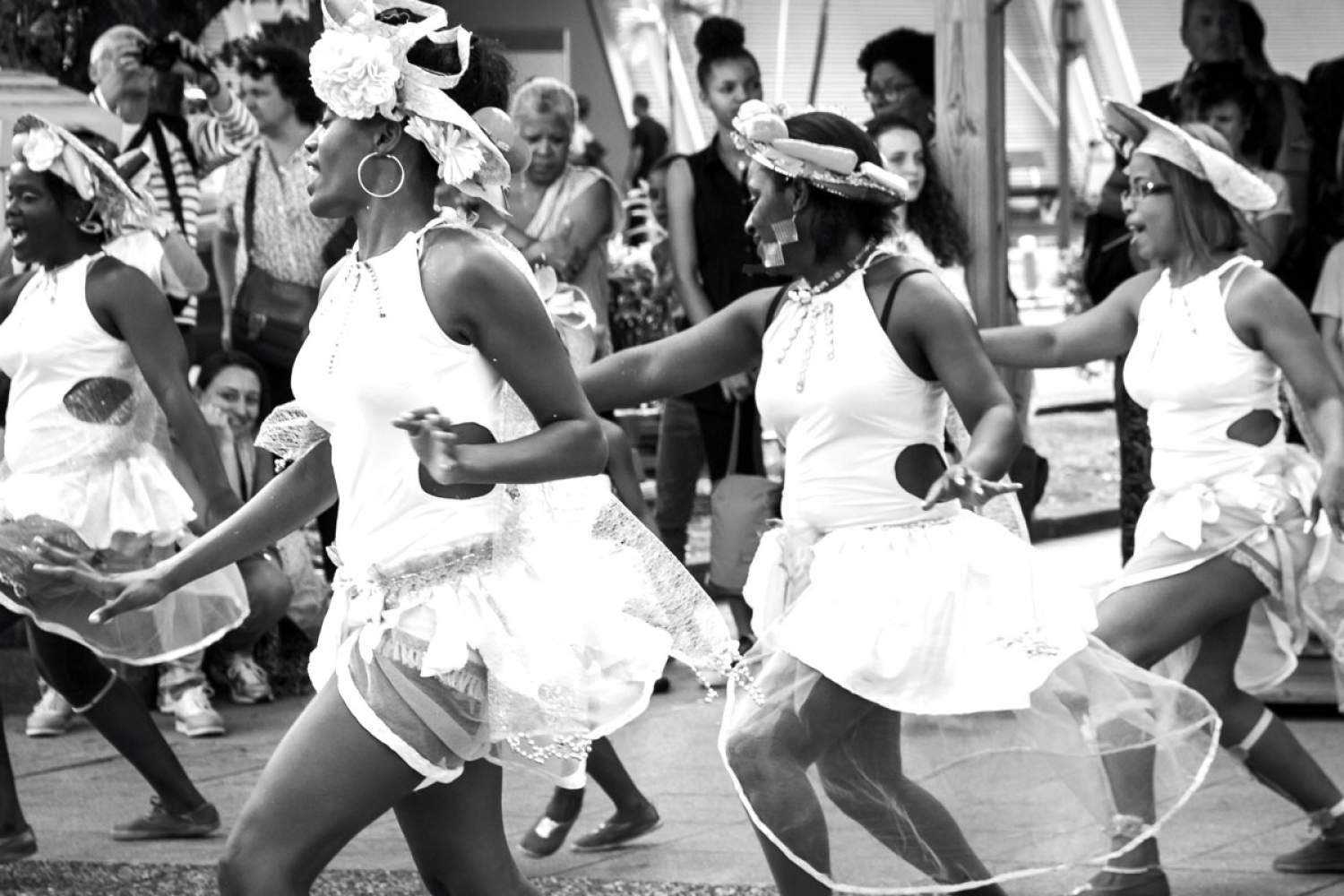 Her enthusiasm is beyond contagious' but I have a few questions. Who's Vaval? What's with the burning? And will I be able to keep up with Carnival?
Dimanche Gras
It's 4 a.m. on Sunday morning' and we've just driven back to Fort-de-France after a night of pre-Carnival dancing in Trois-Îlets. I'm tired and achy' but I'm told I can't go to sleep yet. In half an hour' the streets of Fort-de-France will be woken up by the vidé en pyjama' the first official parade of Carnival.
In no time' marching bands invade the dark streets' drumming up thunderous beats. Bradjaks' painted cars modified to rev insanely loud' roll down. The parade is guaranteed to wake up anyone that may still be sleeping. Or give those of us coming from a party their second wind.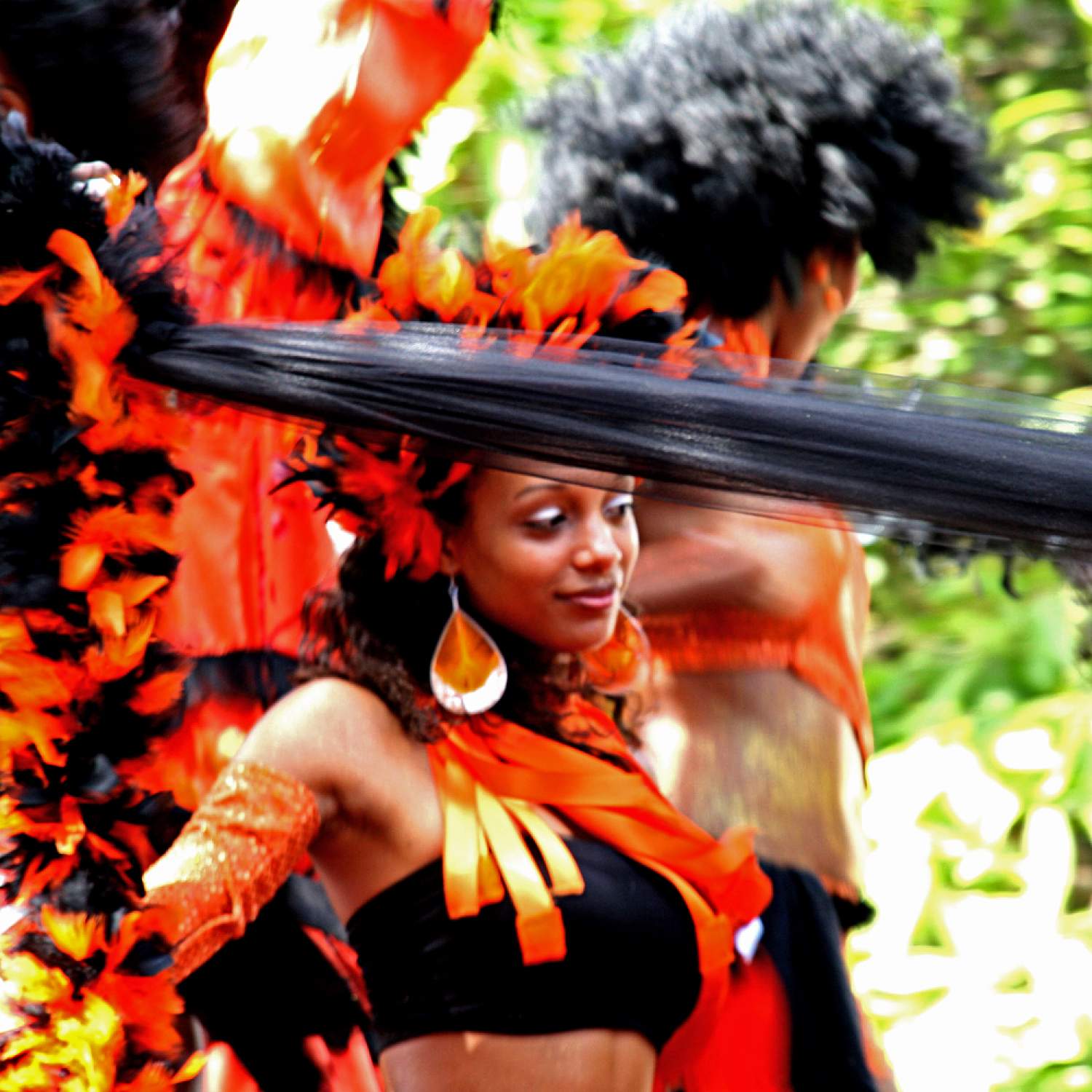 But I still sneak off to grab a few precious hours of sleep before heading back downtown for the afternoon parade. Carnival goers descend en masse' dressed up in all kinds of getups, bright ballerina tutus' neon fishnet stockings with mismatched leg warmers' feathered boas' colorful wigs. They sing and dance behind the groupes à pied (marching bands) that they like best.
Leading the parade is Vaval' the Carnival King' whose identity has been kept a secret until now. This huge papier-mâché statue on a float' meant to mock a political concept from the previous year' is an ever-present symbol throughout Carnival. It's burned on Ash Wednesday as penance for the wild Carnival celebrations. This year's Vaval has taken the form of a descendant of the Gauls.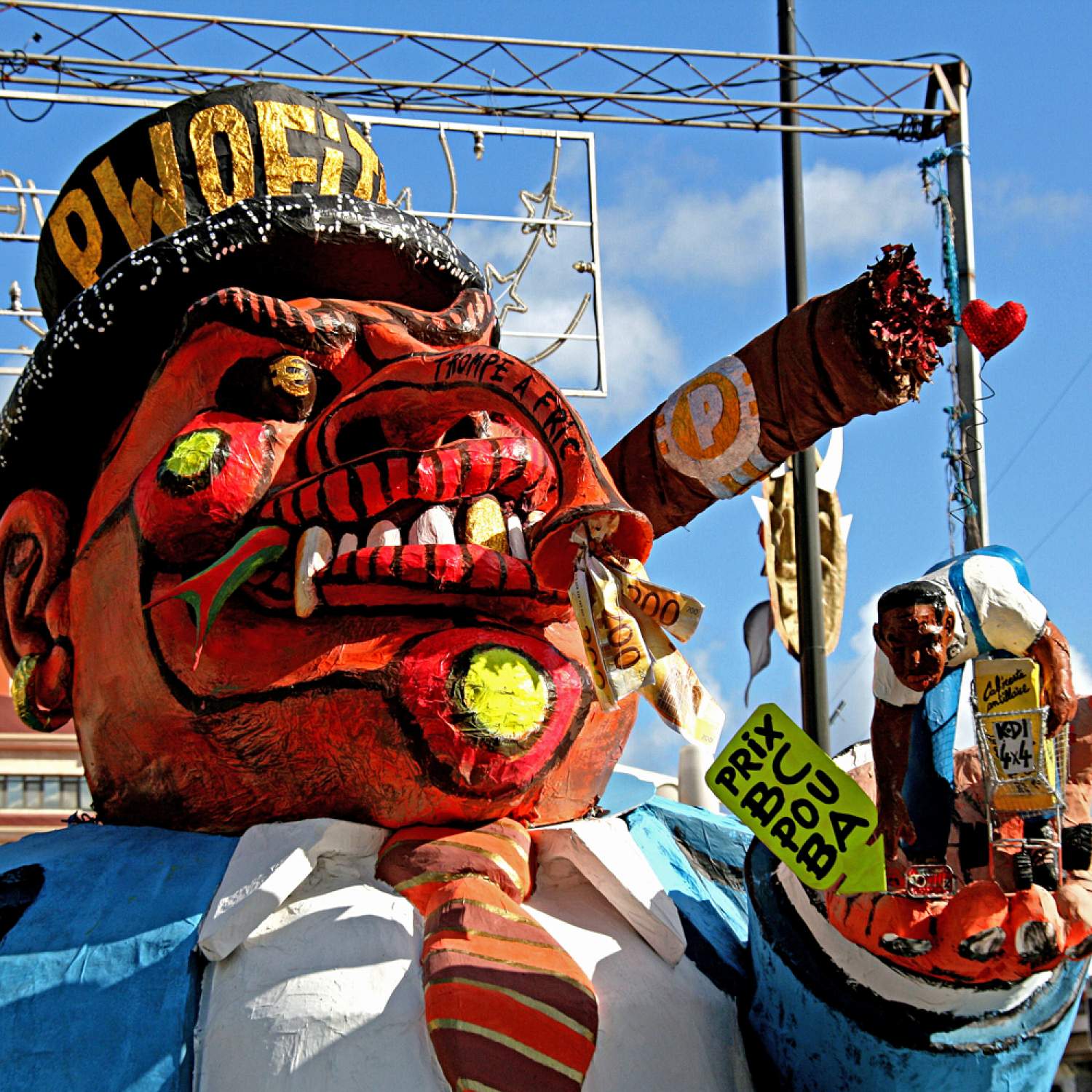 Lundi Gras
It's 4:30 a.m.' and I'm woken up by the sounds of drums and singing. It's so loud I could swear it's coming from the living room. It seems this morning's vidé en pyjama route is a mere block away. Since I'm up' I slip on my slippers and shuffle out to join the parade, yup' you guessed it, in my PJs.
In the afternoon' I catch a few z's' then it's back out again for another parade. The atmosphere has grown wilder' the music more intense. The theme today is mariage burlesque. Mock weddings sashay through downtown Fort-de-France' with a unique twist: the men are dressed up as glowing brides' the women as reluctant grooms.
Mardi Gras
It's 4:30 a.m.' and yes' the vidé is right outside my door. These Carnival days are catching up to me. Mama needs her beauty sleep' so I force myself back to bed.
Mardi Gras celebrations are happening around the world today' and here in Martinique' all the bands from around the island will strut through the streets of Fort-de-France for the mother of all parades. Leading the procession today is one of the island's premier marching bands' Va K Band' and I head over (decked out in today's red and black dress code) to the Squash Hotel to hang out with its 83 members as they get ready for the big day.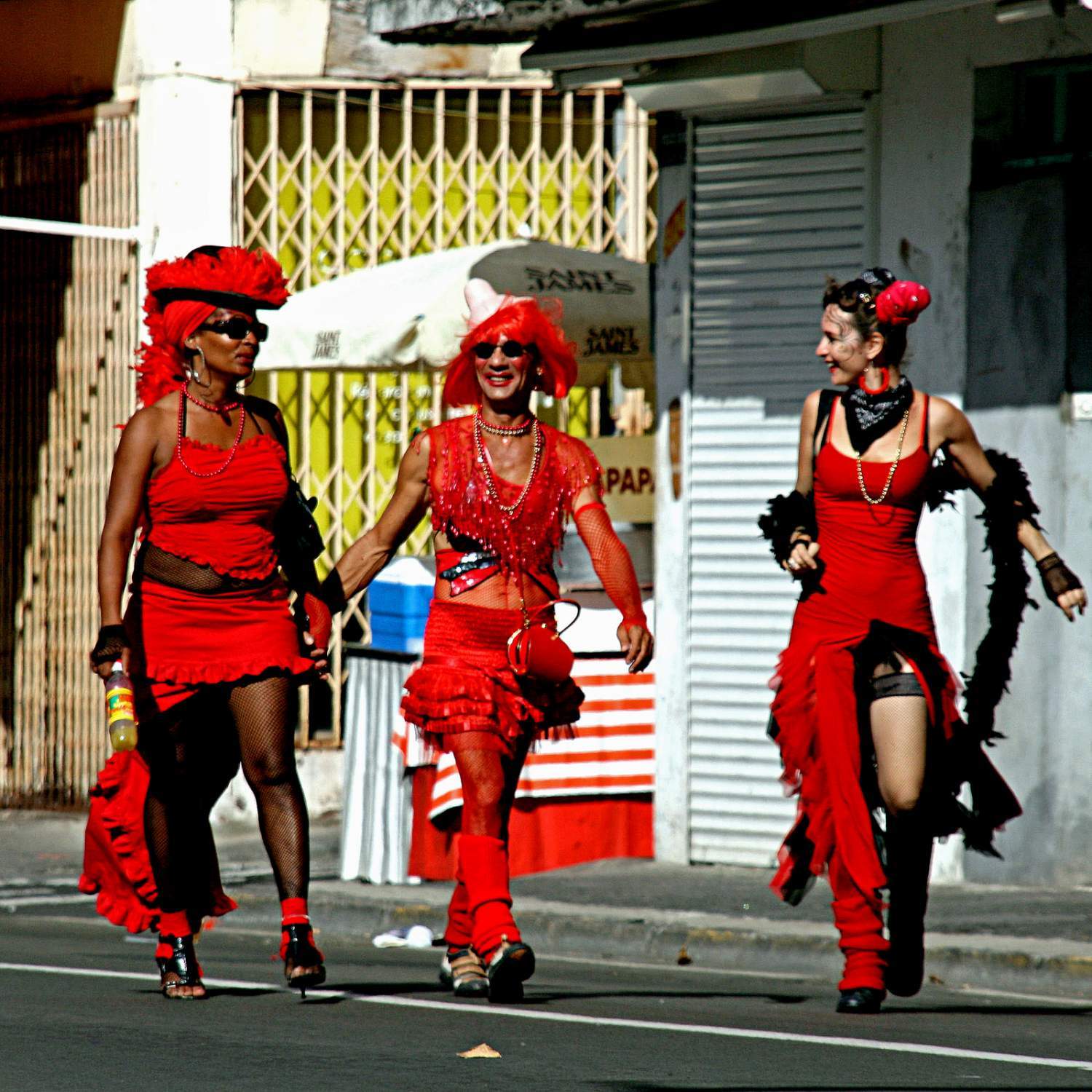 It's a frenzy of yellow tulle' red ribbons and silver sparkles. Last-minute adjustments are being made to costumes' and there's an assembly line for makeup, face' body' then sparkles all over. It seems somewhat chaotic' but Jessy' the band leader' and Chamy' her right-hand man' have it all under control. Before you know it' we're on our way downtown. And with a sharp whistle blow from Jessy' Va K Band falls into a tight formation and begins to play' the drumming so intense you can feel it in your bones.
"Didn't you bring earplugs?" a band member asks me. "Because it gets loud. Really loud' especially if you're walking with us."
Va K Band continues to march down rue Ernest Desproges' and I happily follow in its wake' welcoming the loudness.
The parade comes to an official end just after sunset' but that doesn't mean the party stops. People fill the streets' block parties pop up around every corner' and everyone dances' eats and drinks until the wee hours of the morning.
Ash Wednesday
It's 4:30 a.m. and I'm asleep. I learned my lesson and popped in earplugs before going to bed last night (or' should I say' a couple of hours ago). I don't know how these Martinicans do it' but I'm not prepared to sacrifice any more sleep (though I will participate in sacrificing Vaval later on).
By the time I arrive downtown in today's dress code—black and white' to represent the mourning of Vaval' who will be burned to ashes at sundown today, the party is in full swing. Fort-de-France is pulsing with music' rhythms overlapping' from zouk to biguine to samba to reggae.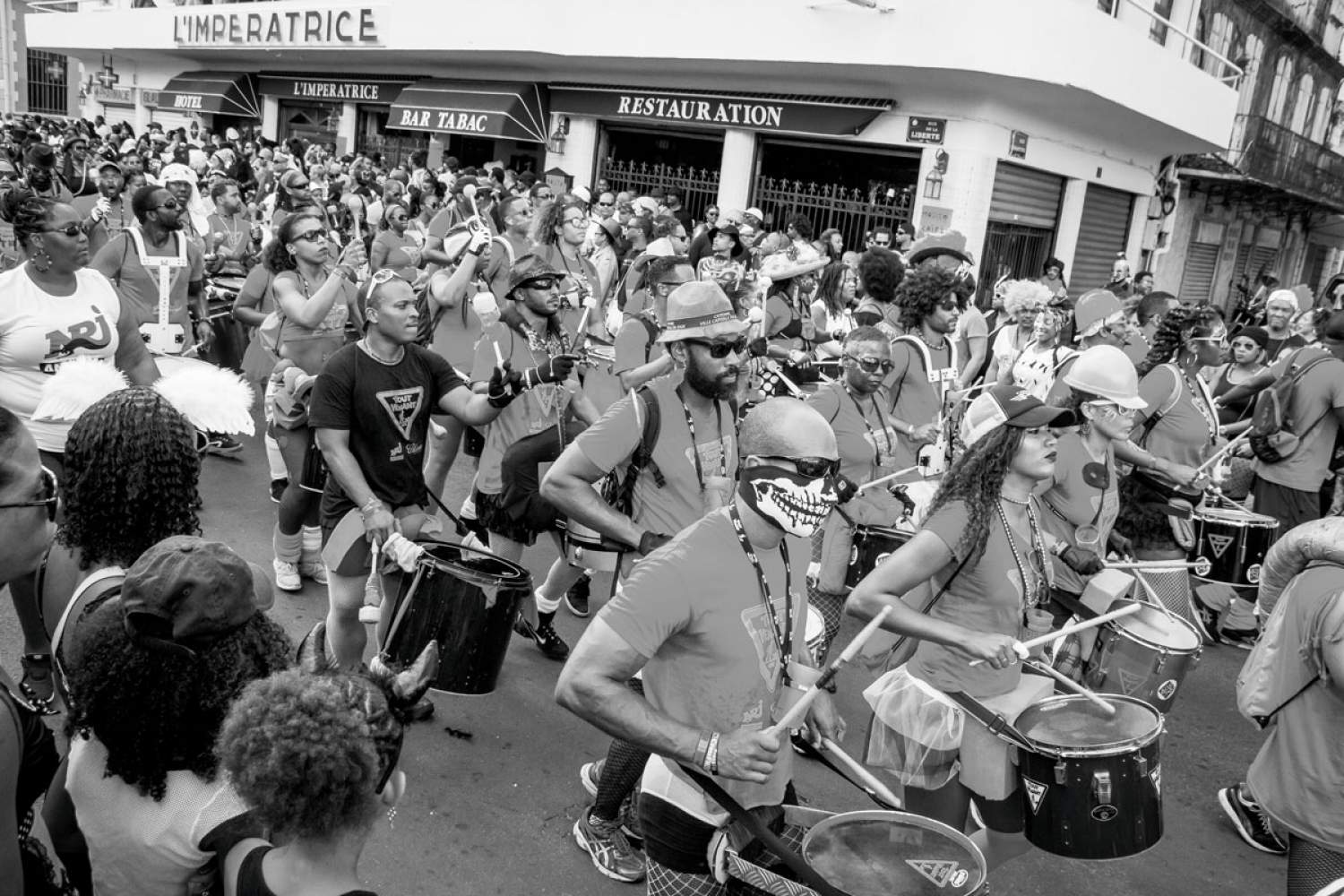 The characters are even more unusual than on previous days: Neg gwo siwo' men coated from head to toe in charcoal and molasses; Mariannes lapo fig' women dressed entirely in dried banana leaves; Diablesses' women in elaborate glittery costumes weeping as they mourn the impending death of Vaval. Touloulous, women in dresses and masks, completely covered in feathers.
The streets of the city are awash in a sea of black and white. It seems like the entire island has come out to celebrate the last day of Carnival. Excitement is at a fever pitch as the music gets louder and the crowds dance with even more fervour.
As the sun goes down' I head to the waterfront to find a spot to witness the burning of Vaval.
By 7:15 p.m.' flames engulf the immense statue. Carnival 2017 may have officially come to an end but' much like the runaway boa feathers drifting in the streets' Carnival fever will linger on.
Cover photo credits: Pixabay
Fly to Martinique in one clic
The comments and contributions expressed are assumed only by the author. The recommendations, intentions or opinions expressed are not necessarily those of Transat AT Inc. or its affiliates. See terms of use of the Air Transat website.