Article by Marie-Julie Gagnon originally published in the June-October 2017 edition of the Atmosphere magazine. Read the latest edition here.
Sloths and monkeys and toucans, oh, my! Celebrating ecotourism in the Costa Rican jungle.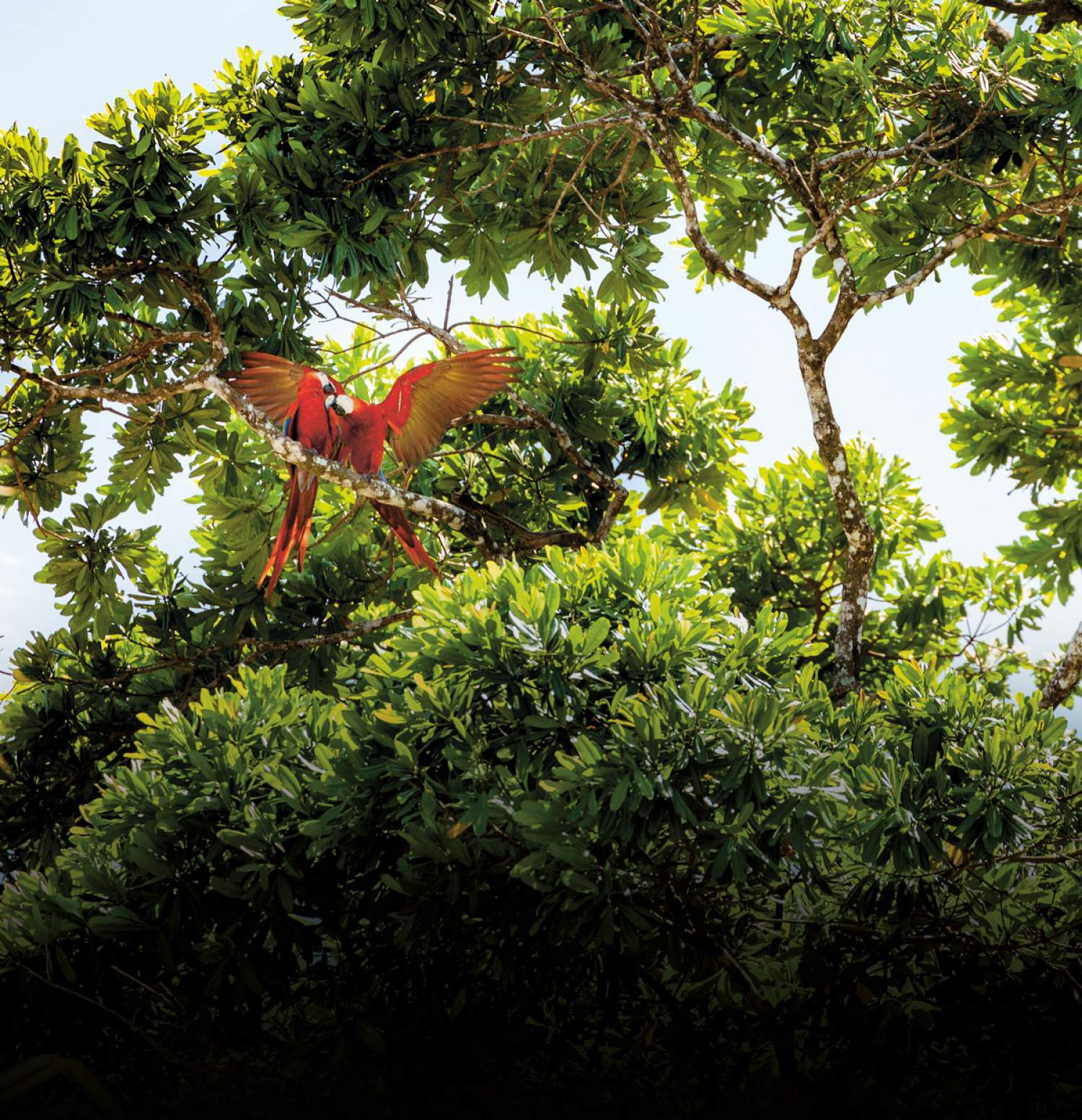 "These are your birds!" proclaims the guide. I'm confused for a second. But then I realize that the species surrounding me are, indeed, the same ones we have back in Canada: tree swallows, ruby-throated hummingbirds and red-winged blackbirds. And what a great destination they've chosen—I could spend a whole season in Costa Rica, too!
I've been exploring the country now for about 10 days with my eight-year-old daughter. An ecotourism hot spot, Costa Rica produces almost 100 per cent of its electricity from renewable energy. It's also the perfect travel destination for 2017, designated as the International Year of Sustainable Tourism for Development by the United Nations, which highlights the occasion with three keywords: travel, enjoy and respect.
Costa Rica's exceptional biodiversity makes for exciting nature vacations. The country harbors more than 160 types of mammals, 12,000 plant varieties and around 850 bird species. Plus, its mountains, volcanoes, forests, lakes and rivers plunge travelers into a ton of adventures. There are no zoos in Costa Rica, and 30 per cent of its territory is protected.
After admiring the mist dissipate over the Poás Volcano, the fascinating fumaroles and hot springs of Rincón de la Vieja National Park, the crocodiles of Tárcoles River and the indomitable Arenal Volcano, we head out to Drake Bay in the Osa Peninsula. A small motorboat leads us into the mangroves, and then docks near Corcovado Adventures Tent Camp, where we settle in for three nights.
Animals everywhere!
All tents at Corcovado Adventures are equipped with comfortable beds, a fan and a small lamp. Even the WiFi works great!
"Don't leave any food in the tent," warns the fella at the reception desk. "The capuchin monkeys know how to open the doors!" In addition to the sloths, howler monkeys and toucans we've seen since the beginning of our journey, will we get a surprise visit in the middle of the night? We'll have to wait and see!
The beach at Manuel Antonio National Park on the Pacific Coast may have delighted us a few days ago, but the nearly deserted Playa San Josecito perfectly wraps up our unforgettable holiday. And to complete this picture-perfect scene, two bright-red macaws soar across the sky just as we're about to go for a swim. Impossible not to feel a strong desire to want to protect such a beautiful world.
Upon returning to our campsite, we see the primates shamelessly wondering from one tent to another. Fortunately, none of them have the nerve to invite themselves over to our place!
Three other Costa Rican adventures 
1- Birdwatching in San Gerardo de Dota to catch a glimpse of the rare and colourful quetzal.
2- Hiking around Rincón de la Vieja Volcano, in the province of Guanacaste, followed by a few hours of relaxation in the hot springs.
3- Visiting Tirimbina Biological Reserve in Puerto Viejo de Sarapiquí to learn more about making chocolates from bean to bar.
Photo credits cover: Liisa Vexler
The comments and contributions expressed are assumed only by the author. The recommendations, intentions or opinions expressed are not necessarily those of Transat AT Inc. or its affiliates. See terms of use of the Air Transat website.