Between its rainbow casas and its lively terraces, San Juan shows its best side to the cruisers and visitors who come to stroll around. Halfway between Caribbean charm and American comfort, it offers a wide range of activities, from its festive capital to the tropical wetlands of the rest of the island of Puerto Rico, home to rich wildlife and dense flora, as well as coffee plantations at the foot of the Cordillera Central. Let's explore picturesque San Juan for a short stopover!
About San Juan
East of the Dominican Republic, Puerto Rico, whose capital is San Juan, is a Commonwealth of the United States with a population of 4 million English and Spanish speaking Puerto Ricans. Its Spanish, African and, of course, American influences give it a captivating island mix.
San Juan is often the departure point for cruise ship passengers heading to the Caribbean, especially because of its proximity to the U.S. and British Virgin Islands. The port area of San Juan, on the other hand, is appreciated for its ideal location at the foot of the old city. It's just a short cab ride to your ship from your hotel or the airport!
Colonial arteries
Discovered by Christopher Columbus in 1493, colonial San Juan is best visited on foot, to the rhythm of the music coming through the windows of its many bars, restaurants, boutiques and trendy art galleries. The notes of salsa ignite the discotheques at night and it is good to taste the flavors of the local cuisine, such as roast pork or seafood of unparalleled freshness. See the Spanish Gothic church of San Jose or walk along the Paseo de la Princesa promenade to La Fortaleza, the official residence of the Puerto Rican governor. Wander aimlessly along its arteries lined with colorful facades and soak up the atmosphere that makes San Juan such a pleasant port of call.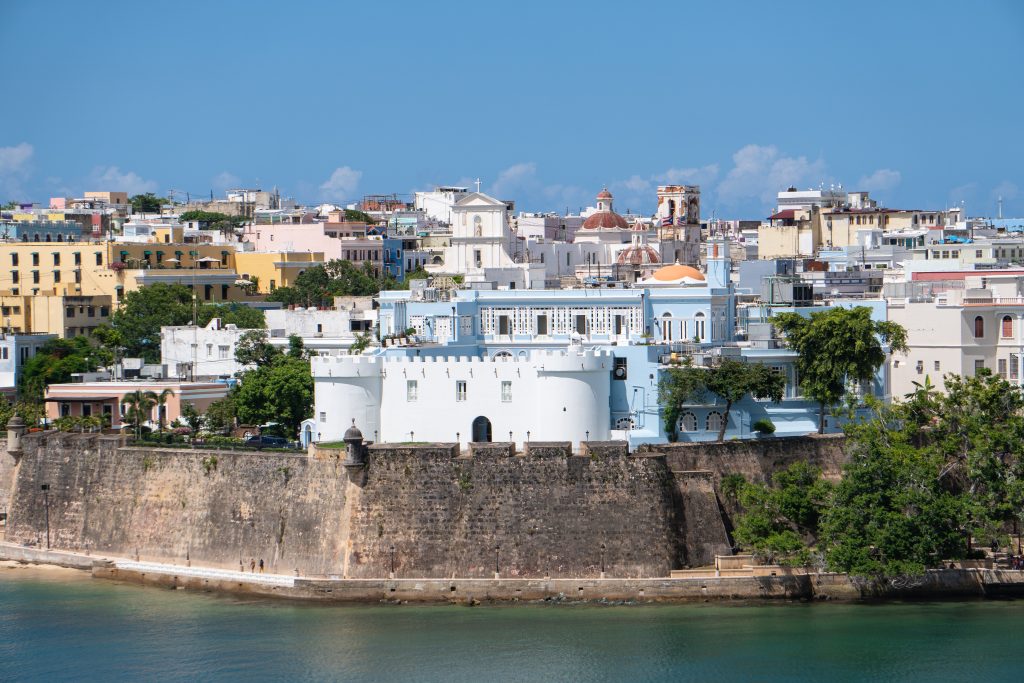 Castillo San Felipe del Morro
Perched on its panoramic promontory, the military bastion of San Felipe del Morro dominates the bay of San Juan. Its foundations date back to the 16th century, but it was not completed until two and a half centuries later. Attacked many times, it was well preserved and is now a UNESCO World Heritage Site. Focal point of a stopover in San Juan, a visit to its walls is a must!
El Yunque Rainforest
Lovers of insects, plants and jungle animals will love El Yunque Park, a 29,000-acre protected area that makes for a pleasant day trip just a 45-minute drive from San Juan. A peaceful retreat before or after a lively cruise, it's a whole new side of Puerto Rico!
For a break from the hot sun or on rare rainy days, the smallest island in the Greater Antilles also offers excellent museums,
such as the Museo de Arte de Puerto Rico and the Museo de Arte Contemporáneo, which host major international exhibitions. You can also visit the distillery of the famous Bacardí rum or go zip-lining at Toroverde Nature Adventure Park.
The comments and contributions expressed are assumed only by the author. The recommendations, intentions or opinions expressed are not necessarily those of Transat AT Inc. or its affiliates. See terms of use of the Air Transat website.