Summer is all about being free, and there's nothing more liberating than escaping to a place so low-key yet flamboyant, where the Mediterranean meets the Atlantic, and no destination is out of reach… This is the story of three good friends on a Portugal road trip.
Porto – Departure
The first stop on our Portugal road trip, Porto seems like a shining star. We begin our visit at the Bolhão market, on romantic Rua Santa Catarina. Among other local establishments, Churrasqueira do Infante serves mouth-watering meat and fish. Here, we learn that the famous wine bearing the city's name is actually a product of the Douro region, and exported from Porto! This calls for a mini-cruise on the Douro River, gateway to Regua and Pinhão. We pass peaceful, rolling hills and come to understand Porto's close ties with this fertile region. The whole experience has got us thinking about port wine tasting… Ruby, rose, white, tawny, crushed, vintage—we're tempted to try them all! Back on Porto's riverfront, Diego Leite Avenue is lined with wine cellars and storehouses beckoning us to drop in.
Guimarães (50 km)
Named 2012 European Capital of Culture, this town is very dynamic—not surprising, since half of the population is under age 30! Factories have been transformed into art venues, exposition halls, workshops and façades adorned with azulejos. This captivating city is also the birthplace of torta and toucinho do céu, pastries produced in the former convent of Santa Clara, where City Hall stands today. We happily grab a table at Pastelaria Clarinha, admiring the spectacular Toural Square and its sophisticated structures. A must-see on your trip to Portugal!
Nazaré (263 km)
Nazaré is two worlds in one, where tradition coexists with the laid-back vibe introduced by surfers from around the world. Women wearing the traditional seven-skirt dress are a common sight. We don't ever want to leave. From Sitio's promontory, grandeur looks upon us.
Ericeira (111 km)
On the way to Lisbon, we take the exit to Ericeira, where an unparalleled ocean view and the best fish ever await us at Esplanada Furnas. What you see is what you get… Literally! No need for menus when the catch of the day is hanging in the window. This restaurant, which looks more like a fish market, serves the freshest, local grilled fish, with line-ups snaking out the door.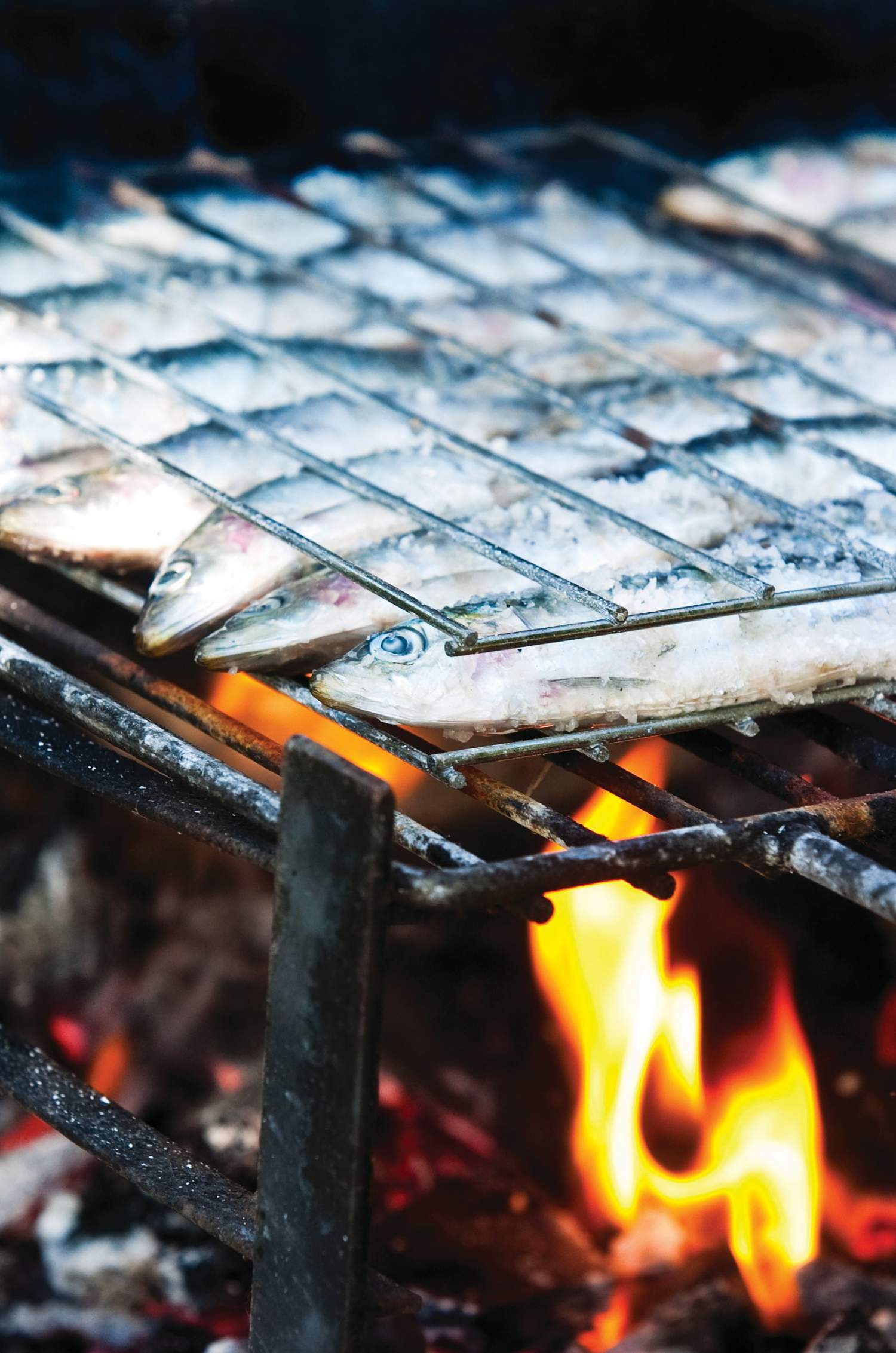 Lisbon (53 km)
Lisbon… Land of explorers, it's your turn to be discovered! Your seven hills stand tall and proud, between shadow and light, amidst irresistible beauty. Your buildings, covered in blue azulejos… We could stare at you for hours from your miradouros (lookout points). Tram 28 takes us up and down on a 45-minute ride to Belem, once the departure point of the great Portuguese explorers.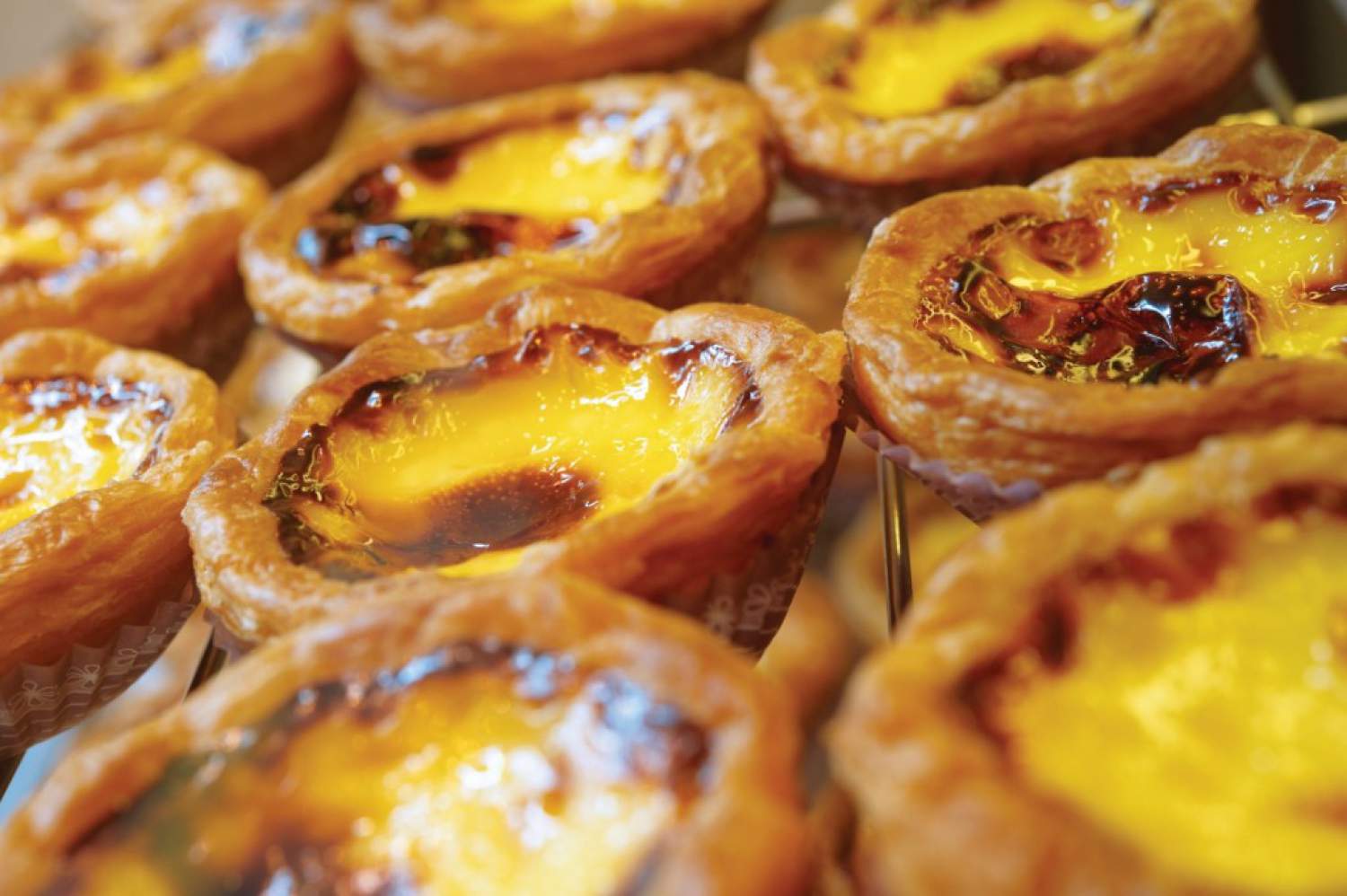 After treating ourselves to pasteis de nata, it's on to the Santos and Bairro Alto neighbourhoods. We then grab a bite at Pharmacia, recommended by locals for its awe-inspiring view of the Tagus. Happy hour quickly turns into a wild night out that continues in the Principe Real district. A delightful discovery: Porto Tonic!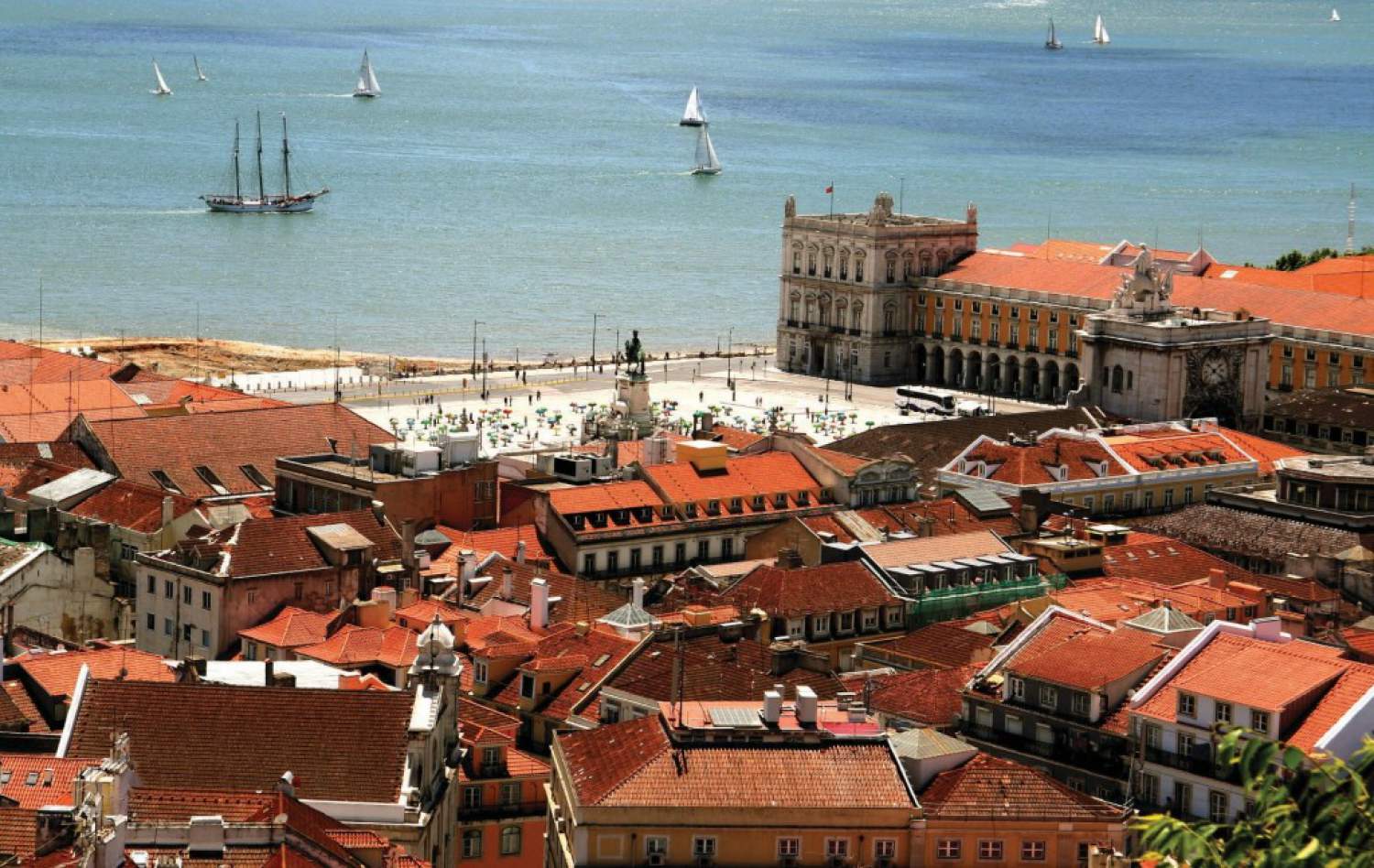 Day Trip to Sintra
The next day of our trip to Portugal is spent exploring the perched city of Sintra, 30 km from the capital, and former vacation spot of Portuguese royalty, with a particularly mild climate. This unique landscape is home to palaces, Moorish castles, manors and exotic gardens in the middle of the woods. Our favourites: Castelo da Pena, Castelo dos Mouros and Palacios da Cidade.
In the evening, time stands still. Back in Lisbon, we catch a ferry from the Cais do Sodre docks (south of Baixa) to Cacilhas, on the other side of the Tagus. We disembark, take a right and walk along the quays. At the very end is Ponto Final restaurant: the view is sublime, the tide is high and the moment is perfect, like the grilled fish. It does get chilly here, even in June, but don't let that spoil your evening — just remember to bring a sweater!
Costa da Caparica (17 km)
We depart Lisbon (only to return later on) and head south for the remainder of our Portugal road trip. Just 12 minutes away by car is a dreamlike, 10-km stretch of never‑ending white sand. Those without a car can ride the small train that runs along the beach. This region extends until Cabo Espichel, which offers a fascinating vista of an abandoned sanctuary and a church that's still in use, built near the cliffs.
Lagos (297 km)
A lively ambience fills the air of this touristic but charming seaside town in the picturesque Algarve. Cliffs overlook red rock formations jutting out of the Atlantic's blue-green waters, and the beaches abound with all sorts of water sports. Surf's up on the west coast, whose vibrant nightlife is just as exciting as its excellent waves. After sundown, we hit the restaurants, bars and nightclubs that line the main strip. Dining and entertainment options are endless!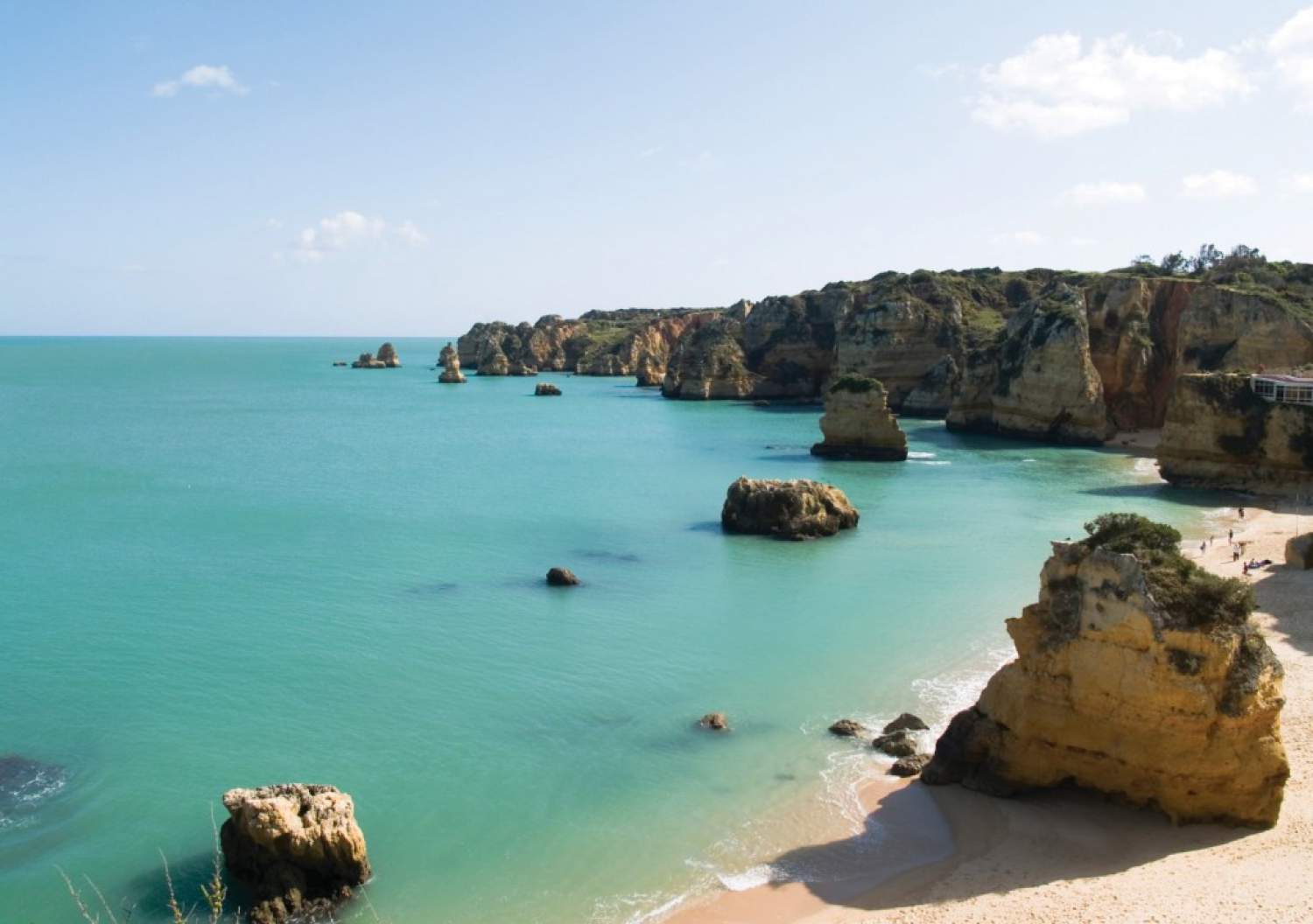 Sagres (32 km)
Refreshing and peaceful, with stunning views: this is what defines Sagres. Located at the westernmost point of continental Europe, the Sudoeste Alentejano e Costa Vicentina national park is a definite must. Extending more than 100 km, it's the best maintained coastline in Europe. Be on the lookout for otters, storks and other endemic species.
Lisbon (329 km)
Fado, Music of the Soul
We're back in Lisbon and ready to end our trip to Portugal with some fado! Between the traditional fado house and the more "casual" bars, we go for the first option. After dinner, at around 10 pm, the show begins as we sip on our cocktails. On to Tasca do Careca near the Picoas subway station, to prolong the evening with improvised fado vadio, the music still flowing in our veins.
In Portuguese fado music, themes generally consist of love and pain, or the yearning for things lost or unaccomplished. From the Latin fatum for "fate", its exact origins are unknown: certain experts attribute the "lamenting" aspect to the Moors, while others associate its melancholic character to the Portuguese fishermen who longed to be home during lengthy periods away at sea. One thing's for sure: fado is not about to die anytime soon. In fact, young artists like Mariza, Ana Moura and Cristina Branco are doing a great job at keeping Portugal's identity alive!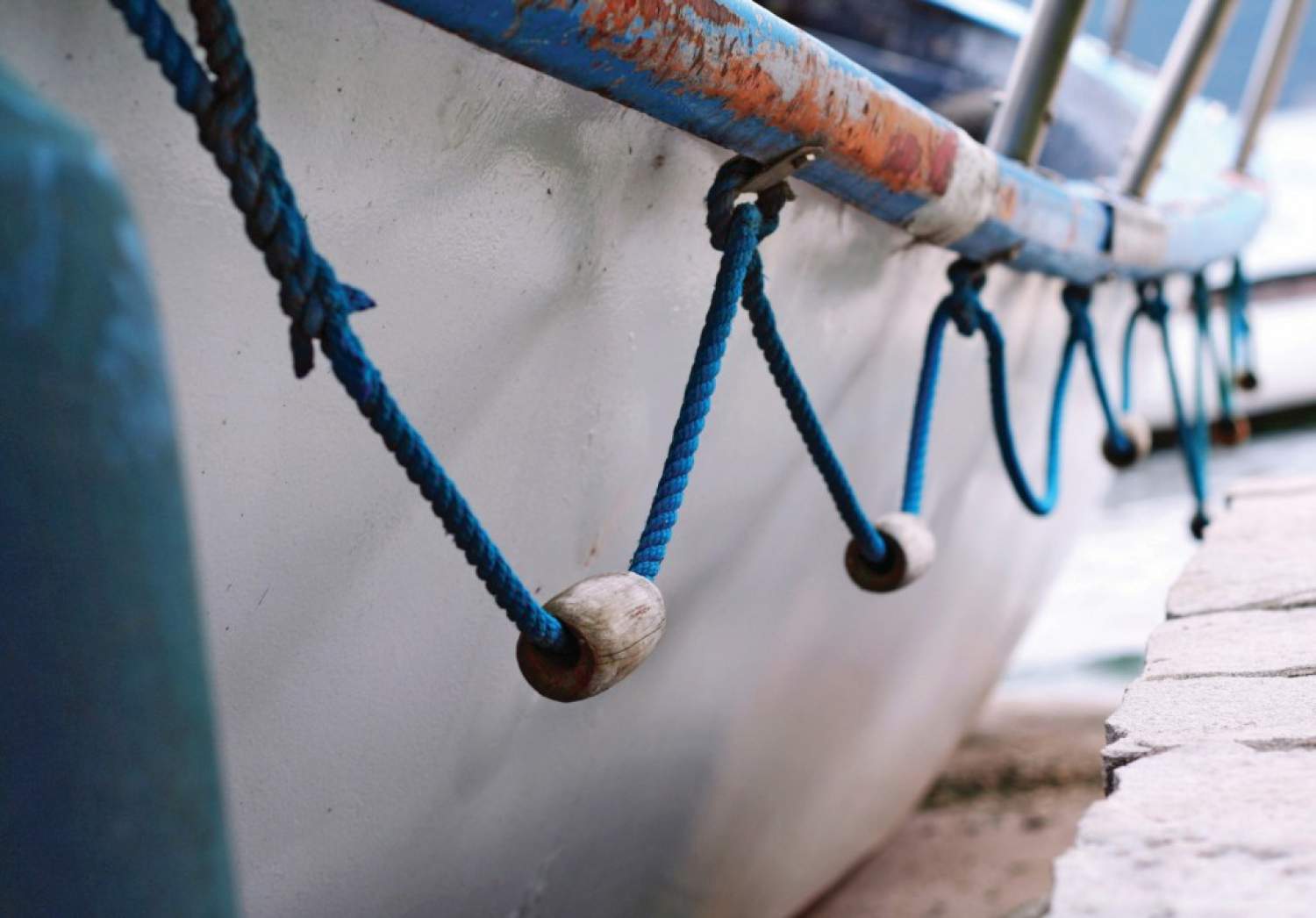 It may be our last night, but this road trip will never be forgotten. Obrigado, Portugal!
Start planning your Portugal road trip with Air Transat. Direct flights from Toronto and Montreal to Lisbon and direct flights from Toronto to Porto are available now.
The comments and contributions expressed are assumed only by the author. The recommendations, intentions or opinions expressed are not necessarily those of Transat AT Inc. or its affiliates. See terms of use of the Air Transat website.