Get outside Prague's Old Town and explore some of the undiscovered neighbourhoods of one of Europe's most amazing cities
From the 14th century gothic cathedral standing sentry, to the cascade of red roofs tumbling into the winding Vltava River below, to a picture-perfect Old Town Square, there's a lot to love about Prague.
No longer an afterthought on Central European itineraries, Prague was the 22nd most visited city in the world and ninth-most popular destination in Europe in 2014. Although the secret of Prague has long been out, it doesn't mean you can't veer from the well-trodden path between the Castle, Charles Bridge, and Old Town Square.
After a day or two exploring the tourist mainstays, strike out on your own to see how real Bohemians live in two of Prague's hippest, prettiest, and most accessible neighbourhoods.
Vinohrady (vee-no-rad-ee) neighbourhood
Translated as "vineyards," Vinohrady's population is a mix of ex-pats, young Czechs, and locals who've lived in the neighbourhood since Communist times. Filled with great cafés, restaurants and parks, the area has been on the rise since the 1990s, when it experienced one of the first property booms in the newly post-Communist Czech Republic.
For visitors looking to get a feel for local life, the most interesting aspect of Vinohrady is the area between Náměstí Míru, a picturesque square and transit hub with a 19th century church, and Jiřího z Poděbrad (or JZP, as it's known by many expats), another pretty square and church with regular farmers markets throughout the year.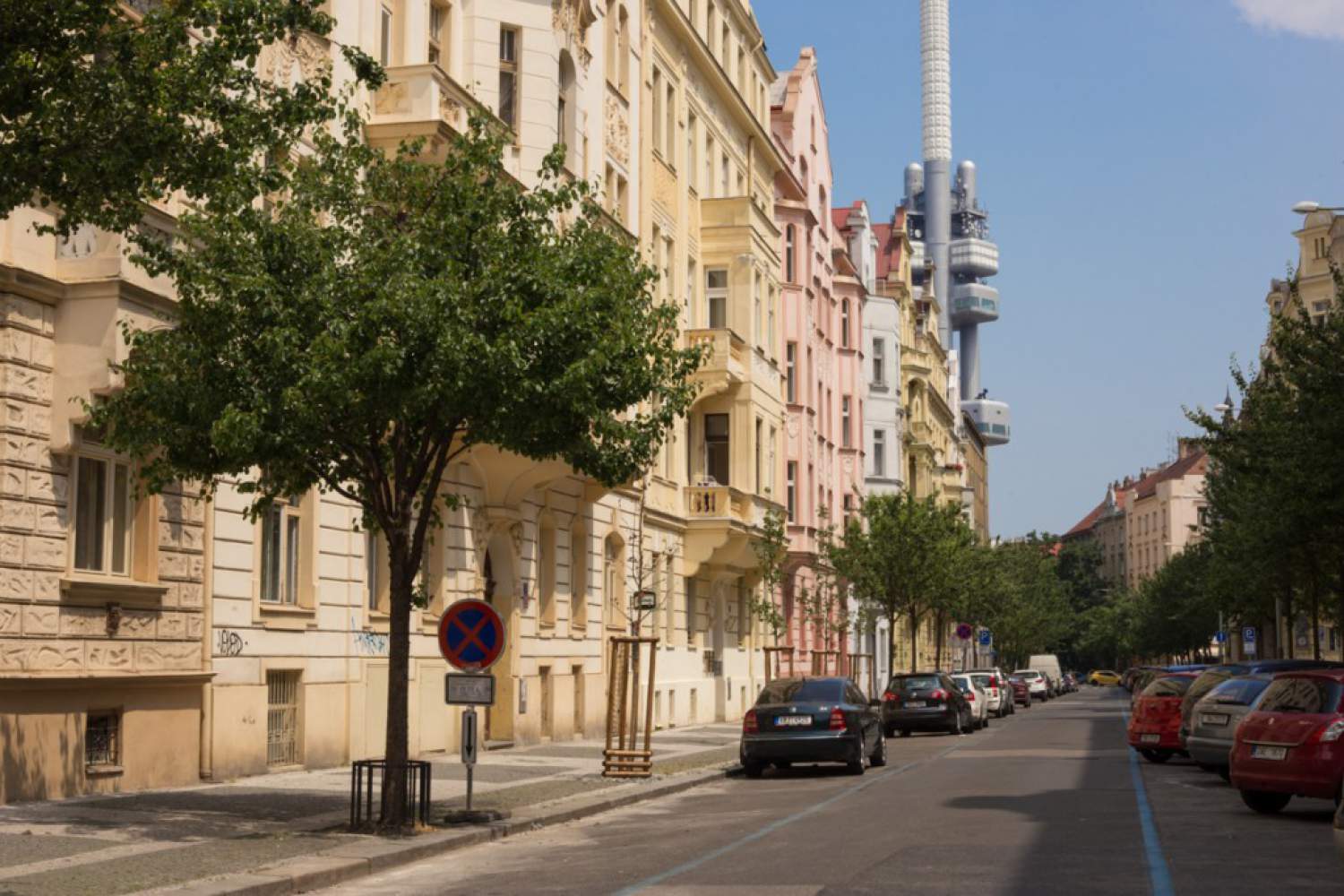 What to see in Vinohrady
1) Žižkov Television Tower near JZP is the most imposing landmark in the neighbourhood. Built between 1985 and 1992, local rumour has it that it was used during communist times to jam TV and radio signals entering Czechoslovakia from beyond the Iron Curtain. The 'creepy baby' sculptures crawling up the tower's exterior are the brainchild of David Černý, the Czech Republic's resident bad-boy artist and provocateur.
2) Cast your eyes downward while walking through the area to see a few of Prague's 'stumbling stones' commemorating individual victims of the holocaust. If you want to be sure to see one of these moving memorials, put one of the following addresses in your map app before leaving Wi-Fi: Korunní 1773/117; Balbínova 550/10; and Přemyslovská 1939/28.
3) Relax in one of the area's two large parks: Havlíčkovy Sady or Riegrovy Sady, both of which offer great views of Prague.
Where to eat in Vinohrady
1) The elegant Café Monolok (Moravská 18) offers fantastic brunches, light meals, and coffee, as well as a small beer, wine, and liquor selection. With reliable Wi-Fi and a pretty garden terrace out back, it gets busy on weekends, so be sure to book ahead.
2) The beer garden in Riegrovy Sady park is one of the city's best, and on a nice day you'll be surrounded by Czechs and expats. Open from late April to October, it offers simple Czech pub fare, which you can wash down with a half-litre of pilsner from 33 CZK, about $1.66 Canadian!
Getting to Vinohrady
Take Metro Line A (Green) to Náměstí Míru or Jiřího z Poděbrad, or jump on a tram to Náměstí Míru or Vinohradská Vodárna. It's also an easy 10-minute walk to Vinohrady from the top of Wenceslas Square: cut under Wilsonova Street using the metro tunnel in Muzeum station, and walk along Vinohradská street.
Karlín (car-leen) neighbourhood
Less gentrified than Vinohrady, today's Karlín still shows signs of its gritty past. You're just as likely to see graffiti-covered abandoned buildings as you are freshly painted Art Nouveau or glass-inspired modern structures. Severely damaged in the 2002 floods, Karlín has since rebuilt itself into a vibrant, young neighbourhood that's part hipster, part young professional. With a few minor sites and a growing crop of new and long-standing cafés, pubs, and shops to explore, there's enough to warrant a few hours on a lazy afternoon or evening.
What to see in Karlín
1) Lyčkovo Náměstí square scores high marks for the elementary school standing at its head (Lyčkovo náměstí 6). Covered in Art Nouveau murals, the school was recognized as the most beautiful school in the Austro-Hungarian Empire, and is possibly the most beautiful still.
2) The interior of the Church of Saints Cyril and Methodius on Karlínské Náměstí is worth a look for its ornate columns and murals, and the well preserved, brightly coloured Art Nouveau buildings running along the west edge of the square.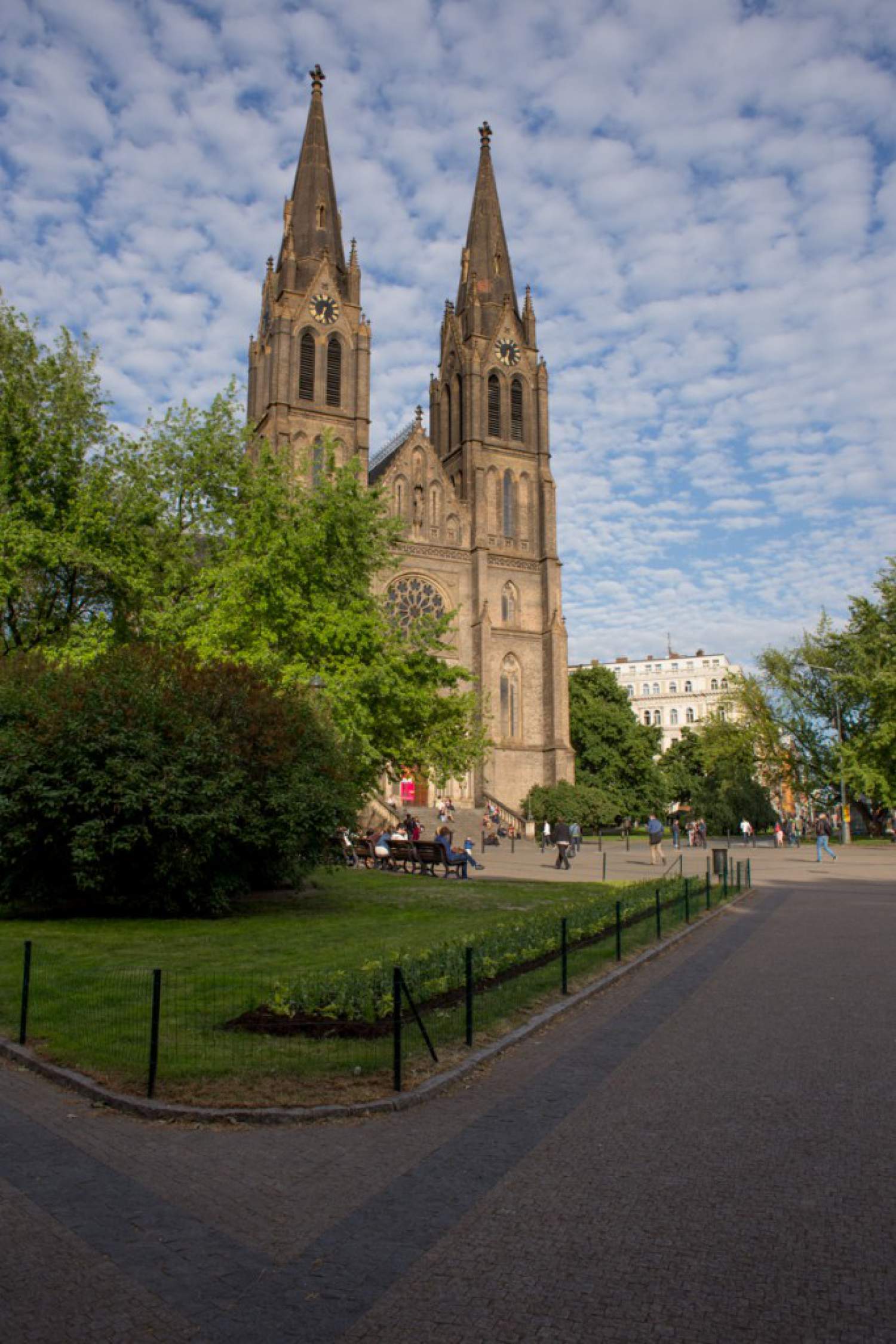 Where to eat in Karlín
1) For those in need of caffeine, Můj šálek kávy (Křižíkova 105) serves some of the best coffee in Prague. From flat whites made with an artisanal attention to detail, to bulletproof coffee shakes and a fresh daily menu, this is the place to get the energy you'll need to explore.
2) Krystal Mozaika Bistro (Sokolovska 99/101) is a favourite among many of Prague's expats, offering a fresh take on Czech classics and international dishes in a slightly upscale environment.
3) For an authentic Czech pub experience, try the fried cheese at Karlínská pivnice (Březinova 3). Be warned that most traditional Czech pubs still allow smoking indoors, so you may want to go on a sunny day to enjoy your meal on the sidewalk terrace.
4) If you want something quick and inexpensive, try Bageterie Boulevard (Thámova 22), the Czech Republic's home grown version of Subway or Quiznos, which serves a variety of hot sandwiches for less than $5.
Getting to Karlín
Take Metro Line B (Yellow) to Křižíkova. If coming from the tourist centre, you'll likely get on the metro at Můstek toward Černý Most, getting off at the 3rd stop.
#TransatExpatExperts
Featured Image Credit: Katie Matthews
The comments and contributions expressed are assumed only by the author. The recommendations, intentions or opinions expressed are not necessarily those of Transat AT Inc. or its affiliates. See terms of use of the Air Transat website.