Are you planning a trip to Canada this winter? Perhaps to explore the postcard-perfect forests? Or to explore the cosmopolitan city that is Montreal? Maybe experience the thrill of a traditional dog sled ride? While you're here, we suggest you try an unusual winter activity: a relaxing stop at the province's only social sauna, Solstice sauna. The atmosphere here is one of peace and quiet, contemplation and, above all, conviviality. Experience Quebec's legendary winters, admire its postcard-perfect snow-capped panoramas, meet the friendly locals, and dive headfirst into an unforgettable moment. Truly a great addition to your 2024 Canada itinerary or to your lifetime bucket list.
A bucolic setting in North Hatley, one of prettiest villages in Quebec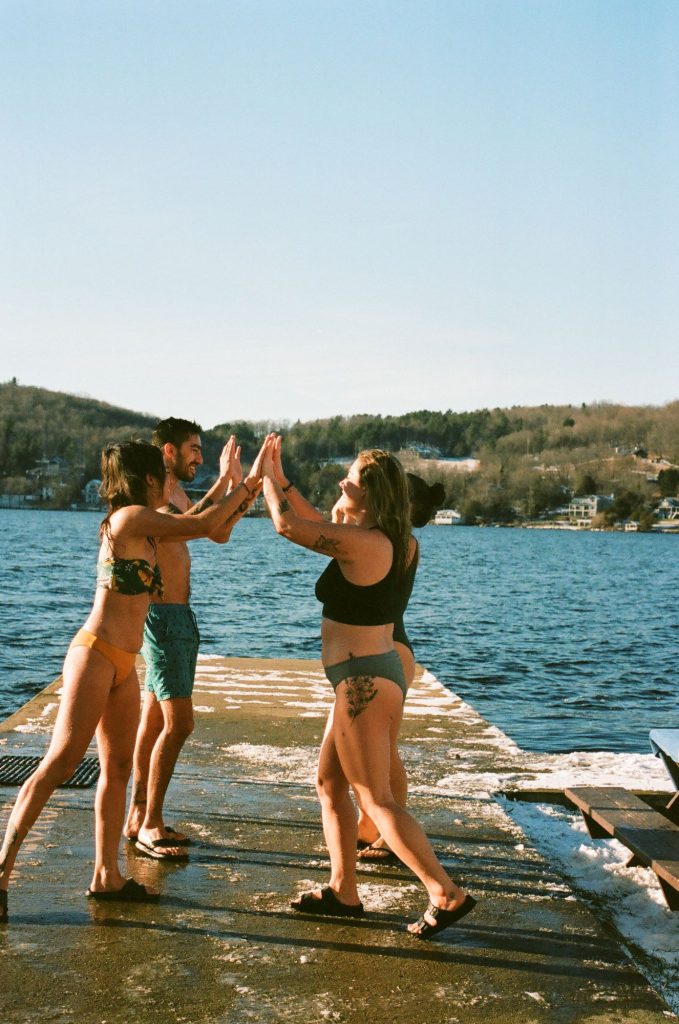 Solstice sauna is located on the shores of the 14 kilometer long, seahorse shaped Lake Massawippi in North Hatley. Coincidentally, it is one of the most beautiful villages in the Eastern Townships! With its fine restaurants, Anglo-Saxon heritage, artisan culture, and charming little cafes, North Hatley offers a picturesque setting that invites one to relax and unwind.
Whether you're there in the fall, when the trees are at their most colorful, or in the middle of a white-washed Quebec winter, the experience is always unique. But admittedly, as one of the top winter activities in Quebec, we have a preference for the Nordic experience.
The Solstice sauna project, which offers a new way to enjoy the lake in the winter months, was born out of this observation. Year-round plunging is part of a broader movement to make nature accessible and to truly reconnect with the Quebec sense of nordicity. A way of embracing, not escaping, winter, its traditions, its outdoor sports, its essence! For those who are new to Canada, it must be said that the fascinating wildlife, the dense forests and the numerous lakes and rivers of Quebec make for a fantastic playground. Walking, skiing, snowmobiling, fishing, snowshoeing, canoeing and now cold water bathing.
Ready to take the plunge?
A social activity to meet locals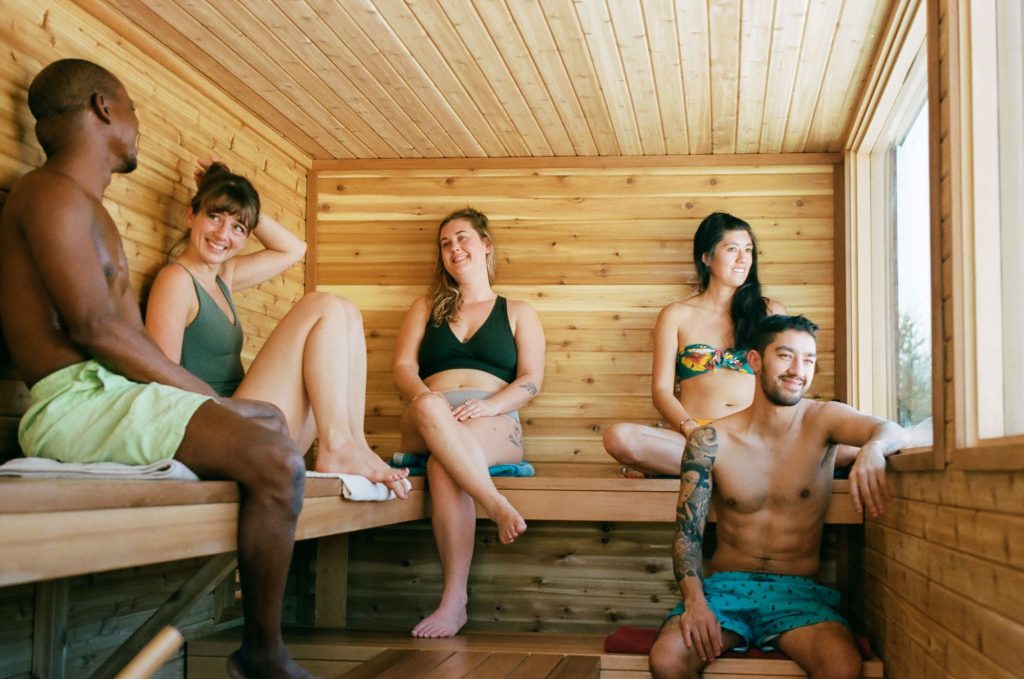 Unlike a typical spa setting, there is no need to be quiet in this social sauna. On the contrary, encouraging conversation, fostering openness and making new friends is the whole concept.
While the heat calms the body, the human contact feeds the soul. Visitors from near and far socialize on wooden benches while admiring the lake's splendor. Easily accessible and affordable, Solstice Sauna welcomes all types of visitors, including families. The goal is to promote the idea that we are all equal in the face of nature, creating a truly inclusive and unifying experience. And everyone gets the same thrill from stepping into the freezing water!
Ask local visitors for the best places to go if you want to start a conversation but don't know how to break the ice in this Quebec winter attraction. You might even be invited to dinner!
Solsice sauna: how does it work?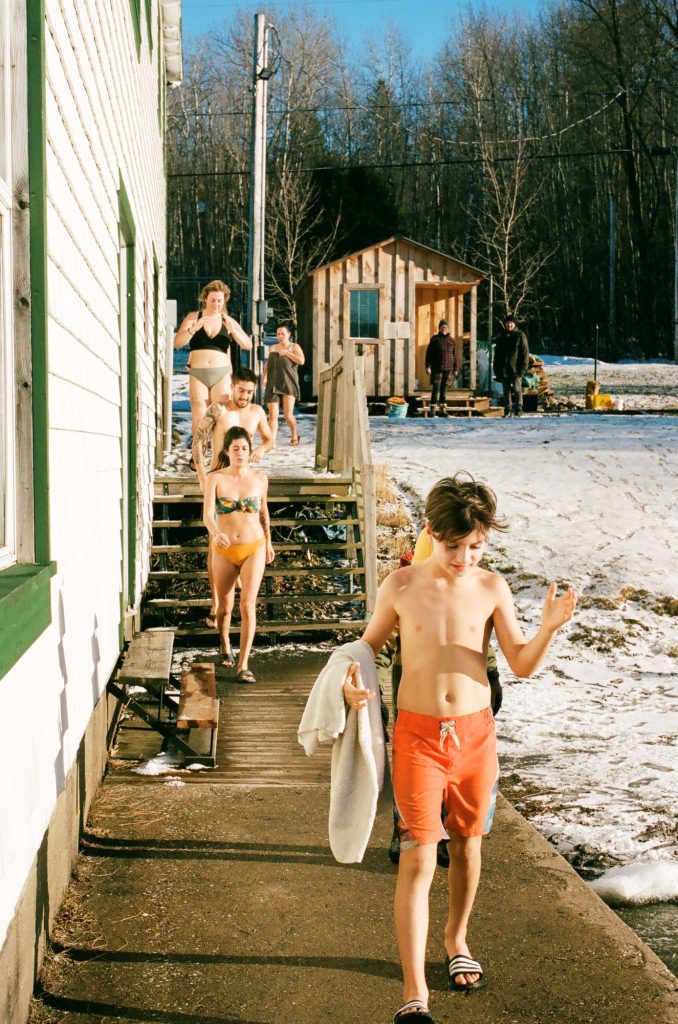 Solstice Sauna offers two types of packages: public sessions and private sessions. You can join other visitors for a public session in the steam room, or you can rent the room for a private activity with your family or friends. Regardless of which option you choose, a session is 75 minutes long. You will need to book in advance as there is no waiting room.
A locker room, restrooms, picnic tables, and other facilities are available. Other than your swimsuit, all you need to bring with you are two towels, a pair of sandals, and a bottle of water.
The concept is simple: Solstice sauna operates on a 2-step invigorating Nordic ritual. Firstly, enjoy the warmth of the sauna,heating up in the sauna, increasing your body temperature. Secondly, immerse yourself in the cold but invigorating waters of Lake Massawippi. This cycle can be repeated as many times as you wish within the 75-minute session.
Remember, this isn't just about enduring the cold, it's about embracing the contrast and reaping the health benefits! It's a ritual, a moment of awareness and a good way to truly experience Quebec's Nordic nature.
In fact, there are a number of benefits to a cold plunge or cold water immersion:
Release huge amounts of dopamine and endorphin
Fight stress
Reduce inflammation and swelling
Improve brain health
Relieve joint pain
Improve sleep
What do you do in winter in Canada? More Eastern Townships winter activities in Quebec
Want to get out and about after you've hit the sauna? For a weekend getaway or a day trip from Montreal, here are some fun winter activities in the Eastern Townships:
Café Mercantile
In partnership with Solstice Sauna, the café offers two packages on Sundays: Ashtanga yoga and sauna in the morning, followed by sauna and cake (with coffee, tea or hot chocolate) in the afternoon. The café is located just a two minute walk from the sauna.
Mont-Orford National Park
The Mont-Orford National Park offers many opportunities for hiking, cross country skiing and snowshoeing. There are several trails of varying degrees of difficulty that lead to the summit and offer spectacular winter views of the snow-capped region.
Manoir Hovey
The Relais & Châteaux property is known for its picturesque setting on the shores of Lake Massawippi and for its amazing restaurant that serves high-end, farm-to-table Quebec cuisine. For a complete wellness experience in the Eastern Townships, make sure to book a treatment at their newly renovated spa. This is truly one of the best luxury hotels in Quebec.
Alpagas Essencia
Have a hands-on experience with alpacas at the Domaine Alpagas Essencia farm in Hatley. Feed the animals, walk the snow-covered trails and stop by the boutique for a hand-woven wool souvenir.