Article by Anita Draycott originally published in one edition of the inflight Atmoshpere magazine. Read the latest edition here. 
In the last few decades the Caribbean has evolved from a no-frills golf destination to a hot spot worthy of your hit list. Nowadays, top designer courses with zillion-dollar budgets are sprouting up throughout the islands. If chasing a dimpled white ball is a prerequisite to your holidays, consider a Dominican Republic vacation. The beautiful Dominican Republic was named the "2013 Golf Destination of the Year in the Caribbean and Latin America" by the International Association of Golf Tour Operators.
Best golf courses in Dominican Republic
Teeth of the Dog 
Teeth of the Dog, designed by Golf Hall of Famer Pete Dye, opened in 1971 and has been ranked best golf course in the Caribbean and one of the top hundred in the world. Dye, who transformed a jagged coral reef into a masterpiece, is quick to point out that, while he masterminded 11 holes, "The Man upstairs created seven." Those heavenly seven border so close to the sea that you'll almost get your feet wet while teeing off.
La Cana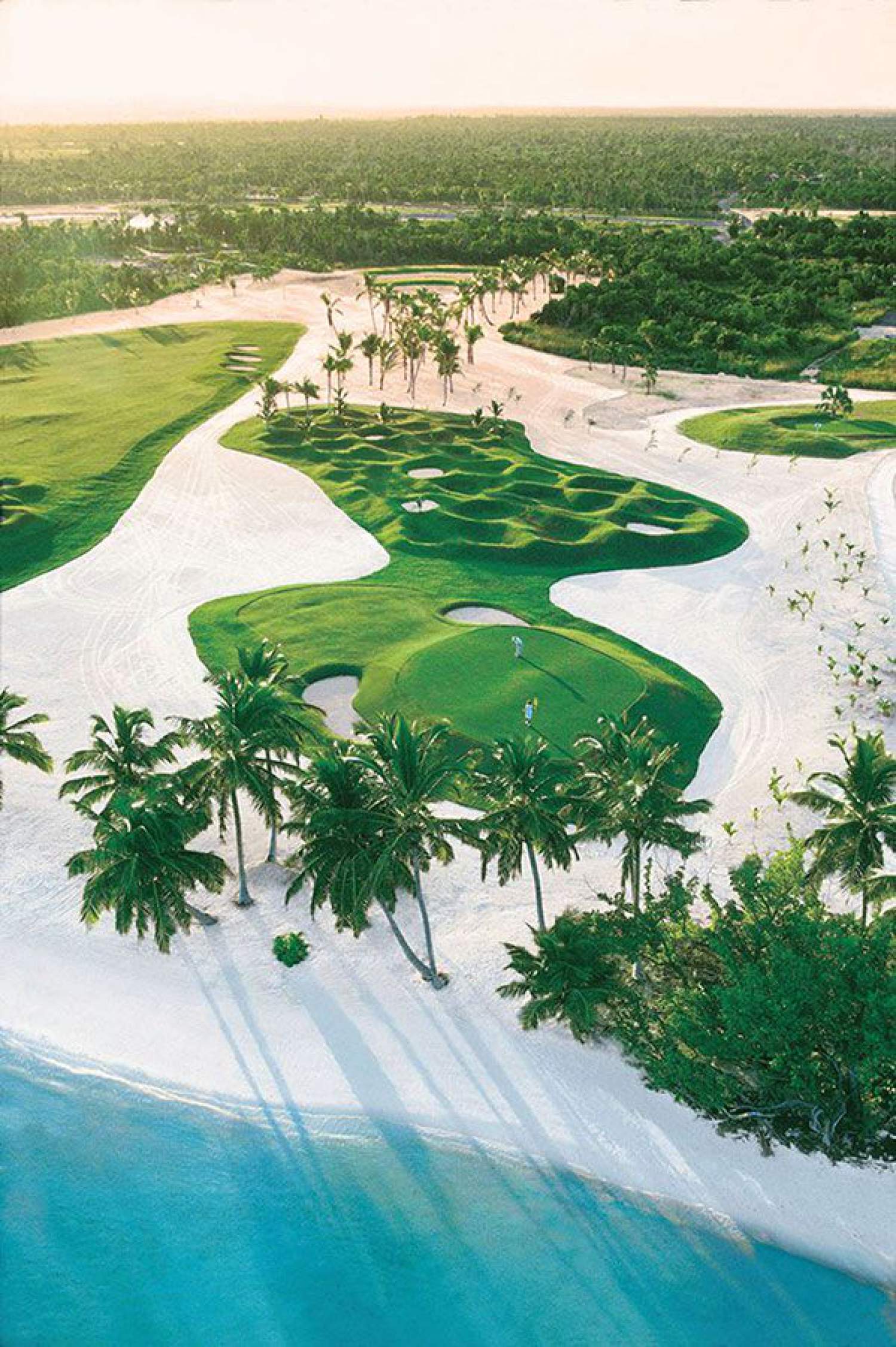 Dominican designer Oscar de la Renta decorated the elegant clubhouse, and P.B. Dye—Pete's son—created the 27 hole La Cana, consisting of three nines (Tortuga, Hacienda and Arrecife).La Cana was the first course in the Caribbean to be planted with eco-friendly Seashore Paspalum, a grass seed that can be irrigated using seawater. On Arrecife, the mighty par-five ninth is patterned after the finishing hole at Pebble Beach—only the sand is finer and the sea bluer.
Corales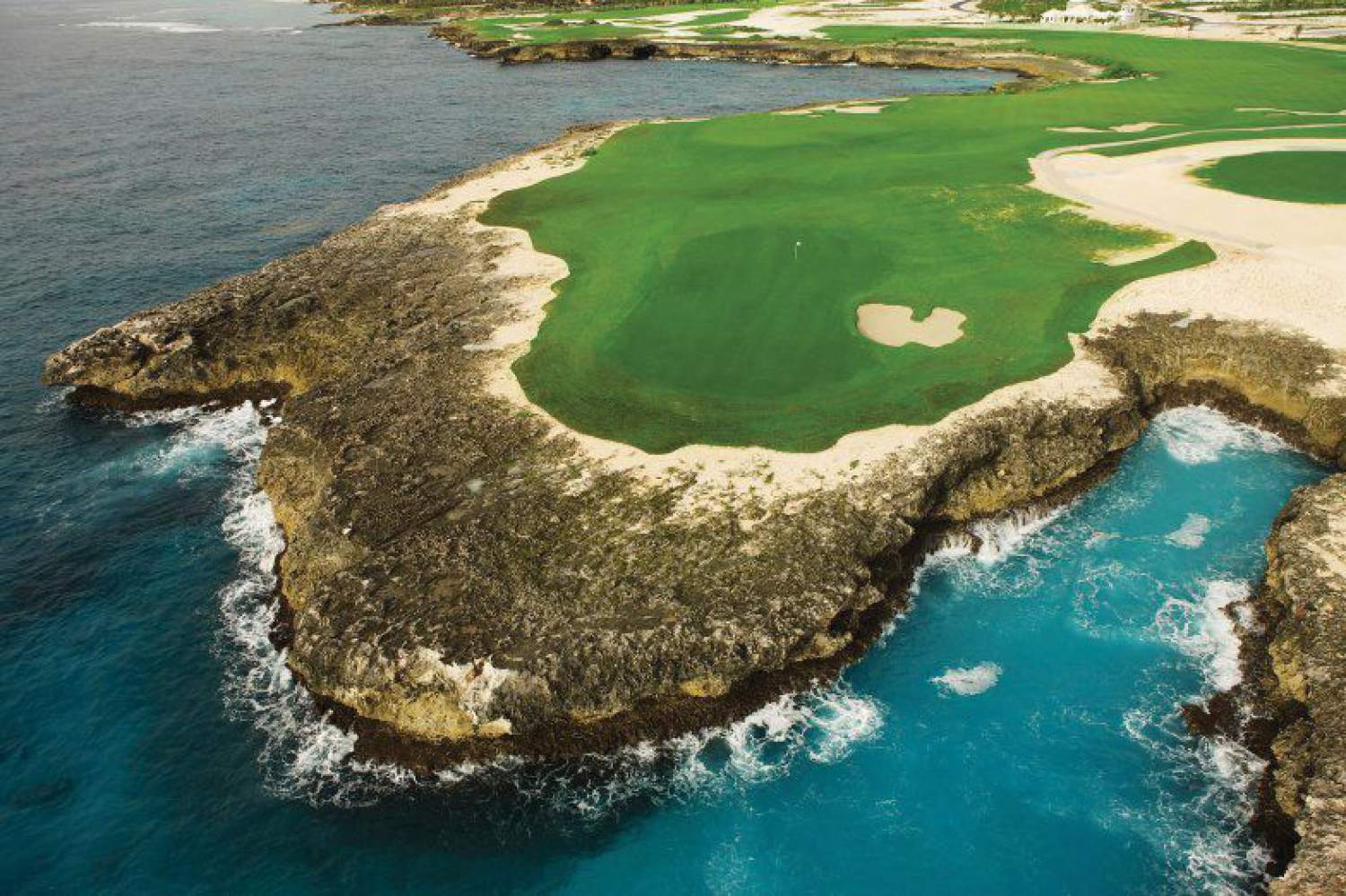 Opened in 2010, Tom Fazio's Corales course plays along rocky cliffs and coral stone quarries with six oceanfront fairways. Nicknamed Devil's Elbow, the last three holes present an exhilarating challenge with a grand finale nerve-wracking carry over the Bay of Corales on the eighteenth. Depending on how much sea you decide to bite off, it's a challenging risk or reward drive. Bring your camera!
Dye Fore
Dye Fore, Pete Dye's 27-hole giant set high above the Chavon River, arguably rivals his Teeth of the Dog. Dye Fore is humongous. Think wide tilting fairways, monster greens and whopper bunkers. Maybe mega numbers on your scorecard! Seven holes plummet 300 feet down to the Chavon River. Warning: not for those with a fear of heights.
Punta Espada
No fewer than eight holes play along or over the sea on this Jack Nicklaus Signature Design. This is Jack at the pinnacle of his design career, especially on the signature par-three thirteenth requiring a hefty carry over the Caribbean. Punta Espada played host to the Cap Cana Championship, the first PGA TOUR event to be played in Dominican Republic, so you'll be treading in the footsteps of golf legends Fred Couples, Greg Norman and Tom Watson.

Find flight information and more great tips for travelling to the Dominican Republic here.
The comments and contributions expressed are assumed only by the author. The recommendations, intentions or opinions expressed are not necessarily those of Transat AT Inc. or its affiliates. See terms of use of the Air Transat website.