Twirling ballerinas, elderly wizards and gnarled gnomes dangle and dance in the Old Town and the New Town, along the Charles Bridge and pretty much everywhere else in the city of Prague. Tourists and locals alike often wander into the city's many marionette shops, drawn in by the ceiling-to-floor display of fantastical dolls. If you are looking for things to do in Prague, a visit to a puppet workshop is sure to please both the young and the young at heart.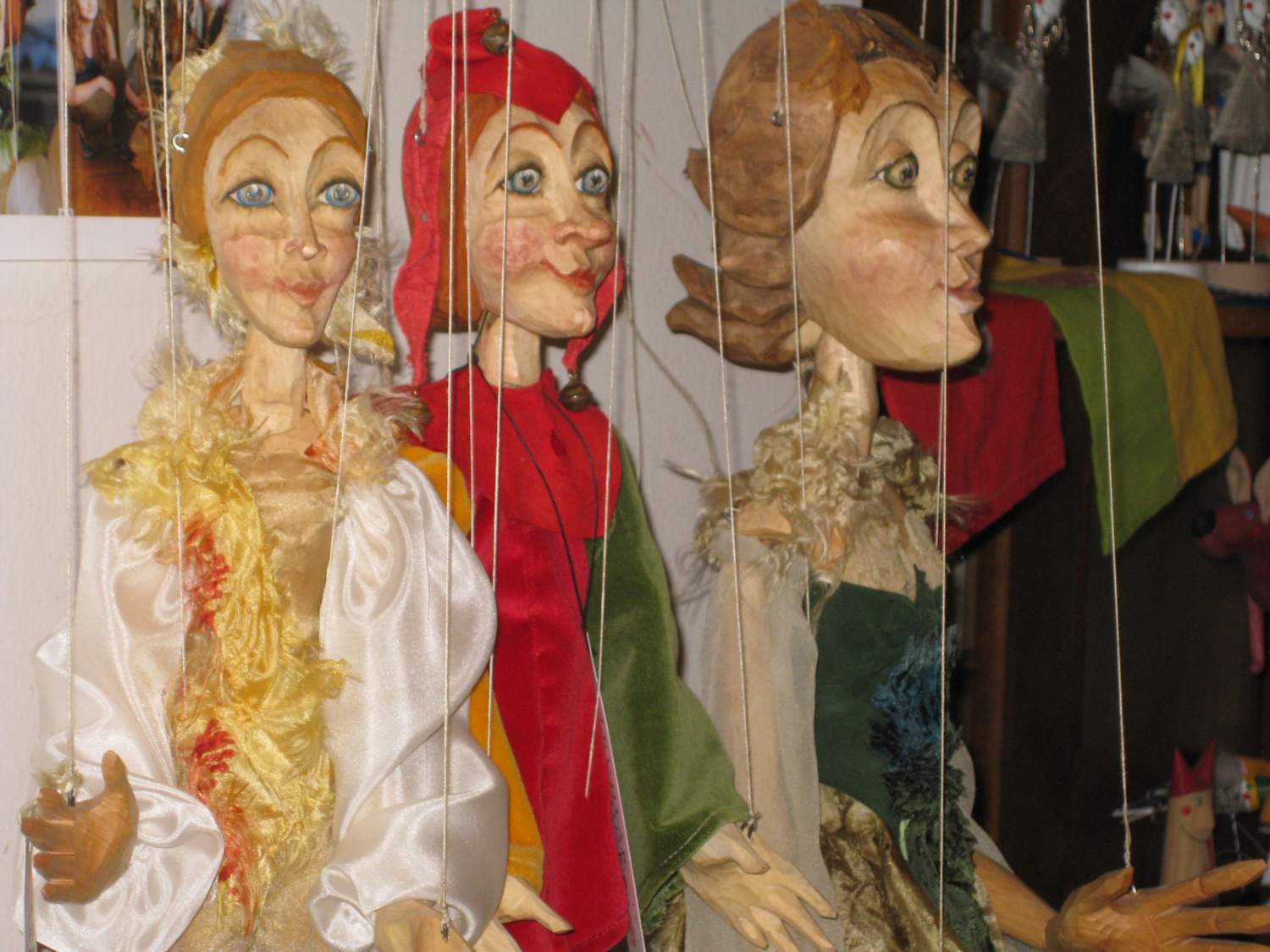 Artisans in the Czech Republic have been crafting marionettes since the 17th century, when they were first exposed to the art form by travelling European puppeteers. By the 18th century, marionettes and puppet theatre were firmly entrenched in Czech popular culture, with many shows being held in village town squares. Unlike today, the shows were meant for adults. The most popular performances were based on classics such as Faust, Don Giovanni or Czech historical plays.
To learn more about the history of marionettes in the Czech Republic, you can check out Puppets in Prague.
Where to Buy Marionettes in Prague
Inexpensive, factory-made marionettes can be found in most souvenir shops in Prague, but if you find the perfect puppet on the Charles Bridge, be prepared to bargain. If you're looking for a one-of-a-kind, handcrafted marionette, you can find a good selection in the two stores listed below.
Truhlar Marionety
In business since 1993, Truhlar Marionety represents more than 50 of the top Czech marionette makers, as well as their own Marionety Truhlar line of marionettes. Truhlar also offers popular puppet-making workshops for children and adults—a great idea if you're looking for unique things to do in Prague. The shop is located near the Charles Bridge on the castle side of the Vltava River.
Obchod Loutkami (The Puppet Shop)
Located near the Prague Castle on Nerudova Street, this pretty little marionette shop is stocked with both antique and new marionettes, all handcrafted in the Czech Republic. If you're lucky, you might catch a little marionette dancing to pop music, an impromptu performance put on by the shopkeeper to the great amusement of shoppers.
After seeing the pure artistry of Czech puppet-makers proudly displayed in these high-end marionette shops, you may find it hard to resist taking a perfect fairytale creature home! You probably wouldn't be the only traveller seduced by these delightful dolls. A quick check of the overhead compartments on return flights from Prague would probably yield enough carry-on marionettes to put on an in-flight puppet show.
Puppet Theatre in Prague
If you'd like to see marionettes in action while in Prague, take in a performance of Mozart's Don Giovanni at the National Marionette Theatre in the city's Old Town. The show's very tall marionettes, dressed in gorgeous period costumes, give a silly, enjoyable performance suitable for both adults and children.
With their special place in Czech history and popular culture, Prague's unique marionette shops should be on everyone's must-do list of things to do in Prague!
Addresses to check out:
Open daily from 10 a.m. to 7 p.m. U lužického semináře 5, 118 00 Praha 1-Malá Strana, Czech Republic
Open daily from 10 a.m. to 7 p.m. Nerudova 233/47, 118 00, Czech Republic
Žatecká 98/1, 110 00 Praha, Czech Republic