Sunny blue skies, warm ocean breezes, tons of great off-road trails plus not one, not two but three rivers within the city makes Tampa is the perfect place to explore nature and get active. Tampa may be best known for Busch Gardens but locals flock to the ever-popular Riverwalk or to one of the many nature parks that are scattered throughout the area for their adrenaline fix.
Discover incredible things to do in Tampa Bay, Florida, this pretty city by the bay is perfect for active adventures and anyone wanting to spend time in the great outdoors during their visit to Tampa.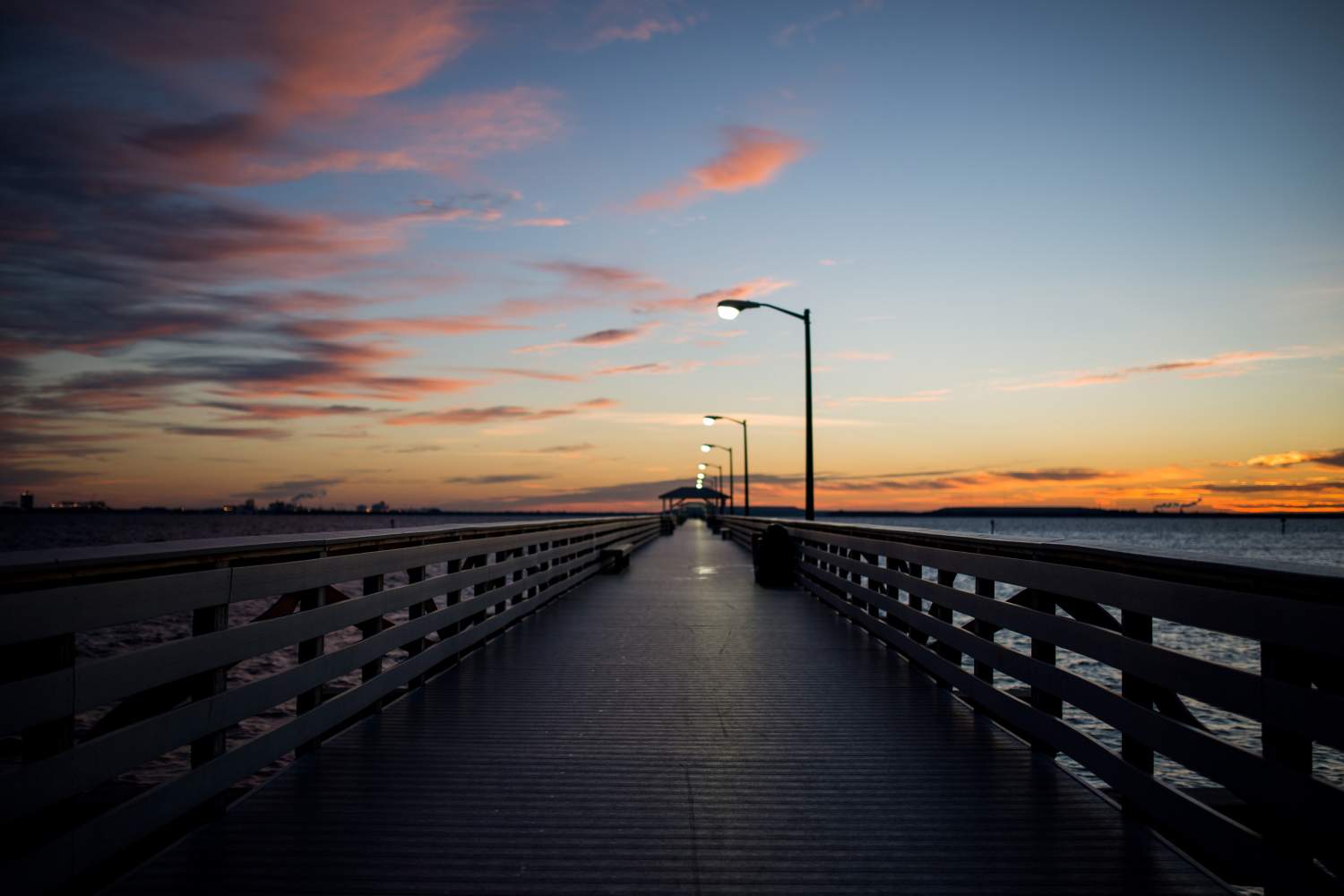 Water Activities in Tampa
Wow, where to start? Tampa has an embarrassment of choices when it comes to on- the-water activities, you can try kayaking, paddle boarding, cycle boats and water bikes, the city has them all. The city is located on Tampa Bay along Florida's Gulf Coast, and if salt-water fun is not your thing, Tampa also has three rivers, the Hillsborough, Alafia and Little Manatee, to play on as well.
Best Kayaking in Tampa
The most popular of the three rivers is the ninety-five kilometer long Hillsborough River, which starts out in the Green Swamp outside of Tampa and winds its way through the city before emptying out into Tampa Bay. Paddling along sections of this river gives you a feel of old Florida, you can experience life in a cypress swamp, spot an alligator or two, and watch the many herons, ibis and egrets that make the
Hillsborough their winter home. We loved the section from Sargeant Park to Morris Bridge Park; it was a mostly shaded, easy two-hour paddle through Florida wilderness. You can bring your own kayak or rent one from Canoe Escape, who have been operating in Tampa for over twenty-five years and are experts on river conditions and experiences.
Cycle or Paddleboard in Tampa Bay
Yup, you can cycle on water, yes you can. This unique experience is a fun and easy way to explore Tampa's downtown waterfront, just head over to the Sail Pavilion and book an hour or two with the Tampa Water Bike Company, you won't regret it! You can also try out their new biyaks, a kayak that has been outfitted with pedals, so you can have your hands free to take the ultimate selfie on Tampa Bay.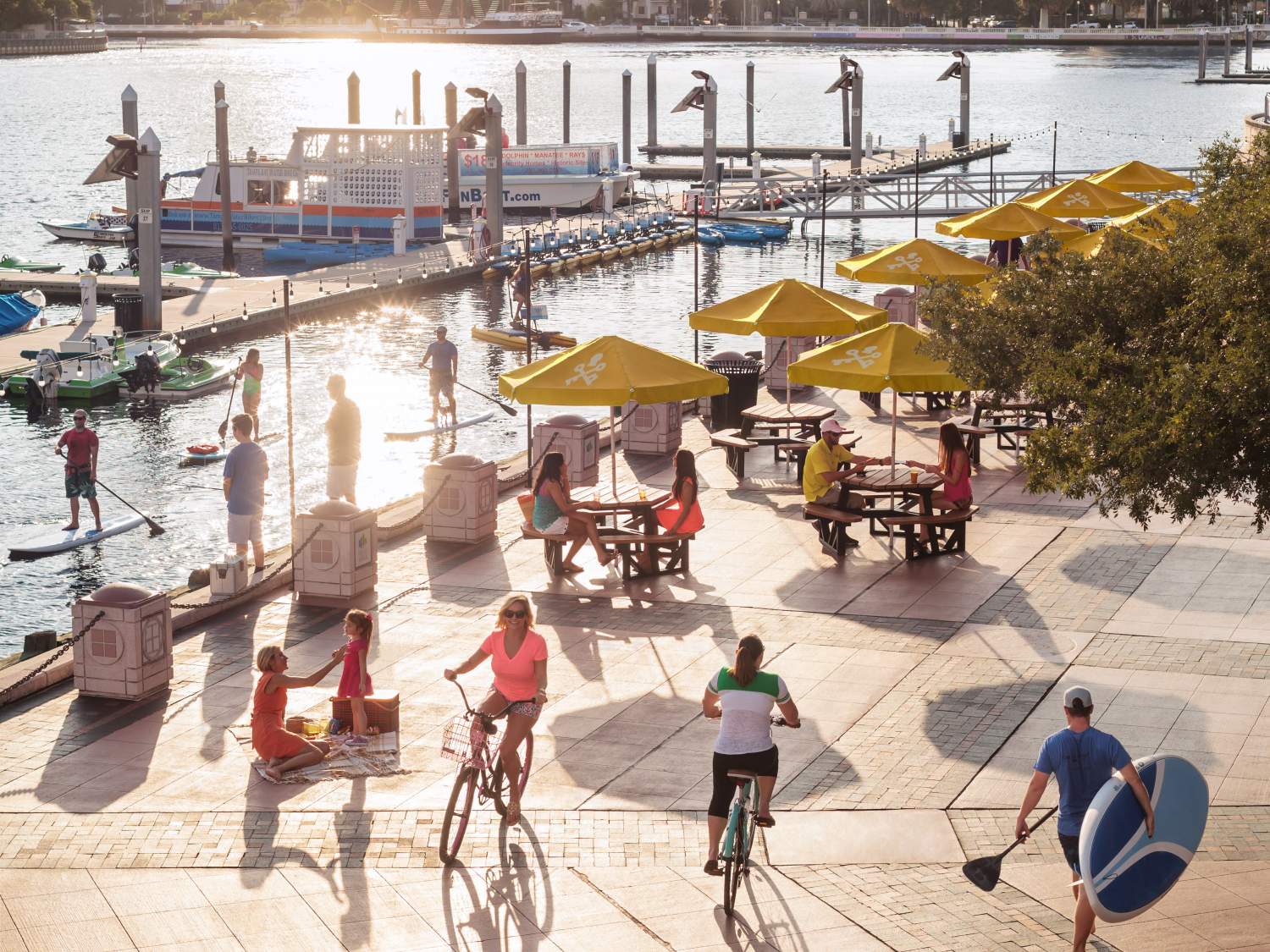 Another new attraction on the bay is a ride on a cycleboat or "pedal pub" where passengers peddle power their way along the water while sipping some cool refreshments; you can even book the entire boat for your own private water party with Kraken Cycleboats.
One of our favourite outings in Tampa is spending a quiet morning on a paddleboard on the bay. There is nothing quite like standing on a board on the water and gazing at the cityscape laid out in front of you, and if you're really lucky you might find yourself paddling next to a dolphin or manatee. Tampa Bay SUP offers rentals and lessons in convenient downtown location near the Tampa Marriott Waterside Hotel.
Best Spots to Walk or Bike in Tampa
With Tampa's many pedestrian and cycle trails and mostly perfect weather it will be hard to resist getting out of the car and moving. Our two top spots for walking or biking are conveniently located in the downtown area of Tampa, both are off-road and provide what you want in a great walk or cycle – tons of great views.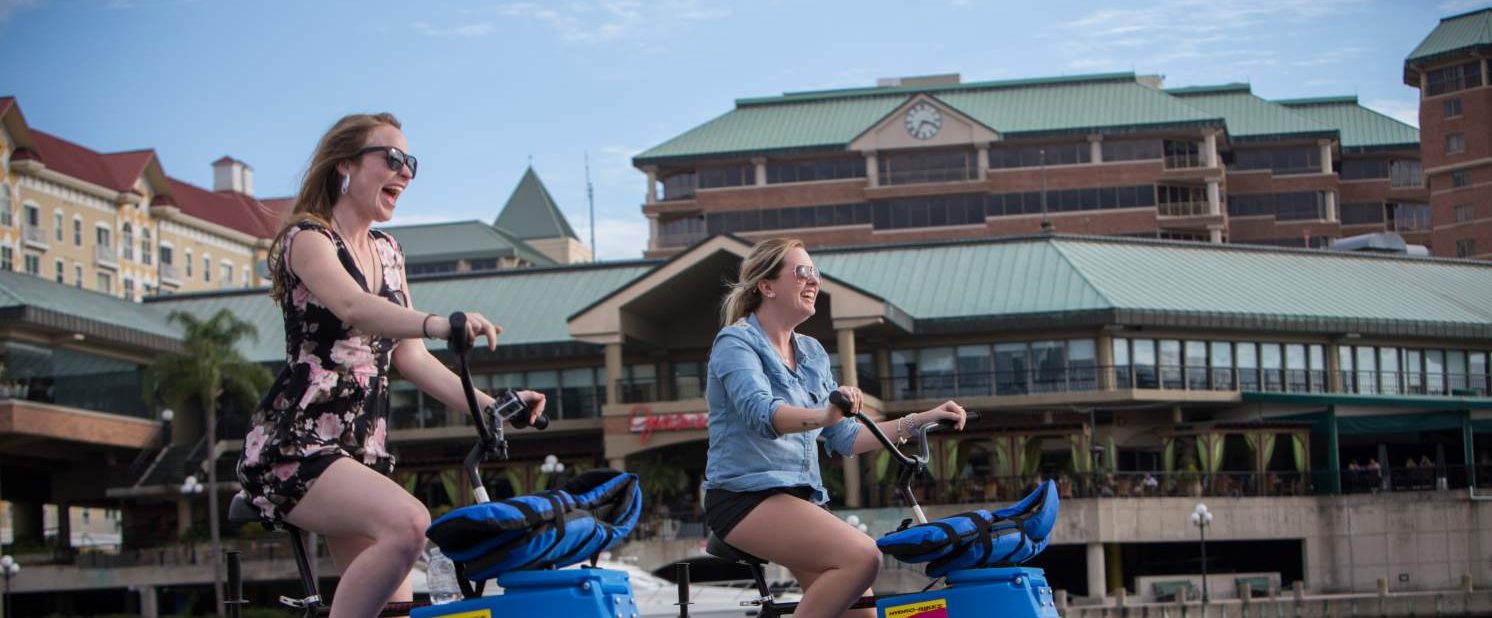 The Tampa Riverwalk is popular with both tourists and residents of Tampa for good reason, it is full of interesting and beautiful places to stop and sit a spell. But only for a little bit because the trail beckons you to explore and find out what other treasures lay right around the corner. You can start the journey on the southern end at the Tampa Bay History Center where you can gaze at the Riverwall, a collage of hundreds of Riverwalk photos taken by artist Bruce Marsh. Also along the five-kilometer path is the Florida Aquarium, Curtis Hixon Waterfront Park, the Tampa Museum of Art, and finally at the northern end is the newly opened Armature Works. You might want to end your day on the Riverwalk with a well-deserved chow down at Armature's vibrant food hall; the star attraction here is Hemingway's Modern Cuban Cuisine, the winner of the 2018 Cuban Sandwich Festival in Tampa.
The Cuban sandwich is the official sandwich of Tampa and locals insist the iconic roast pork, ham, salami and cheese combo got its start in the Ybor City neighbourhood of Tampa. The ever-popular sandwich has been on the menu at Ybor's Columbia Restaurant since it opened its doors in 1905. This gives Tampa an edge over Miami in its claim to being the birthplace of the Cuban, since Miami was still a young city at that time with a very small Cuban population. If you'd like to contrast and compare the Cuban sandwich between Hemingway's and Columbia, we have the ideal solution. You can begin your day on the Riverwalk by heading to the Columbia Café, a small outpost of the original restaurant located in the Tampa Bay History Center. Yes, start and stop your active day in Tampa with a Cuban sandwich at the two best places to try them, fuel up and replenish, how could a day in Tampa get any better than this?
Another great walking and biking trail to try in Tampa is the Bayshore Boulevard Trail, and we would argue you may want to continue your journey southward after you head back down the Riverwalk by continuing onwards to Bayshore, especially if you did indulge in two Cuban sandwiches during your day.
The Bayshore Boulevard Trail is an additional 5 kilometer trail that takes you along the western side of Hillsborough Bay, this trail might be quieter than Riverwalk but it is just as pretty. Along the trail, you'll be rewarded with fantastic views of the bay and downtown skyline as well passing by some Tampa's best homes. Be sure to keep an eye out for manatees and stingrays in the bay. City bikes can be rented on Riverwalk at several convenient locations.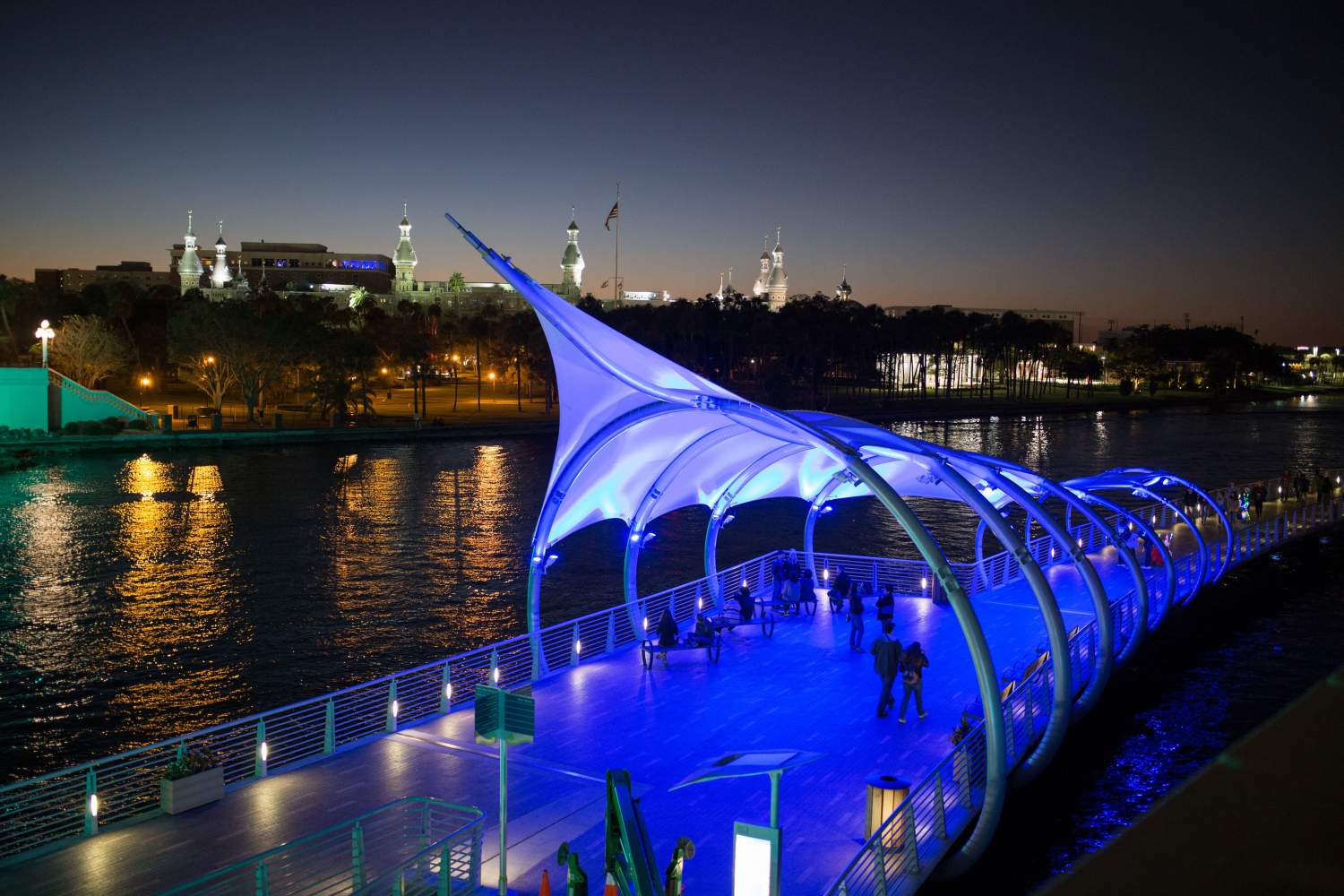 If you want more of a challenging bike ride during your visit to Tampa, you can access a fantastic trail located about a half hour drive from the city along Florida's western coast. Head out for a day trip along the Fred Marquis Pinellas Trail, a 58 kilometer Rails to Trail path that passes through a few of Florida's pretty little towns and villages along the water. Pack a picnic or stop at one of the many restaurants, and be sure to stop for a carrot cake ice cream cone at Strachan's in Dunedin, so very yummy.
Our favourite route and what we consider the prettiest part of the Pinellas Trail starts out in Dunedin or Clearwater for an 18 to 25 km ride north then heading back south once you reach North Anciote Nature Park in Tarpon Springs, you might even want to do a side trip to Honeymoon Island which also can be accessed via the trail system. Bike rentals are available close to the trail in both locations at Chainwheel. Drive in Clearwater or Kafe Racer in Dunedin. Enjoy the day; you're in the sunshine state, experiencing the Gulf Coast warmth and beauty up close and personal. This is Florida at her best.
There's so much to see and do on a trip to this bustling city on Florida's Gulf Coast so put a visit at the top of your must-do list! Start planning your active adventures in Tampa today with flights from Air Transat.
Cover photo credits: Visit Tampa
The comments and contributions expressed are assumed only by the author. The recommendations, intentions or opinions expressed are not necessarily those of Transat AT Inc. or its affiliates. See terms of use of the Air Transat website.