Want to treat the frequent flyer in your life (or yourself, that works too!) to a collection of essential travel treasures? Wondering what is a good gift for someone about to travel? We've got you. This carefully curated assortment of elegant and useful travel gifts is sure to bring holiday unwrapping joy this year. From beach essentials to must-have accessories for long flights, explore our handpicked selection of 16 exquisite travel gift ideas from acclaimed Quebec and Canadian brands.
Inexpensive travel related gifts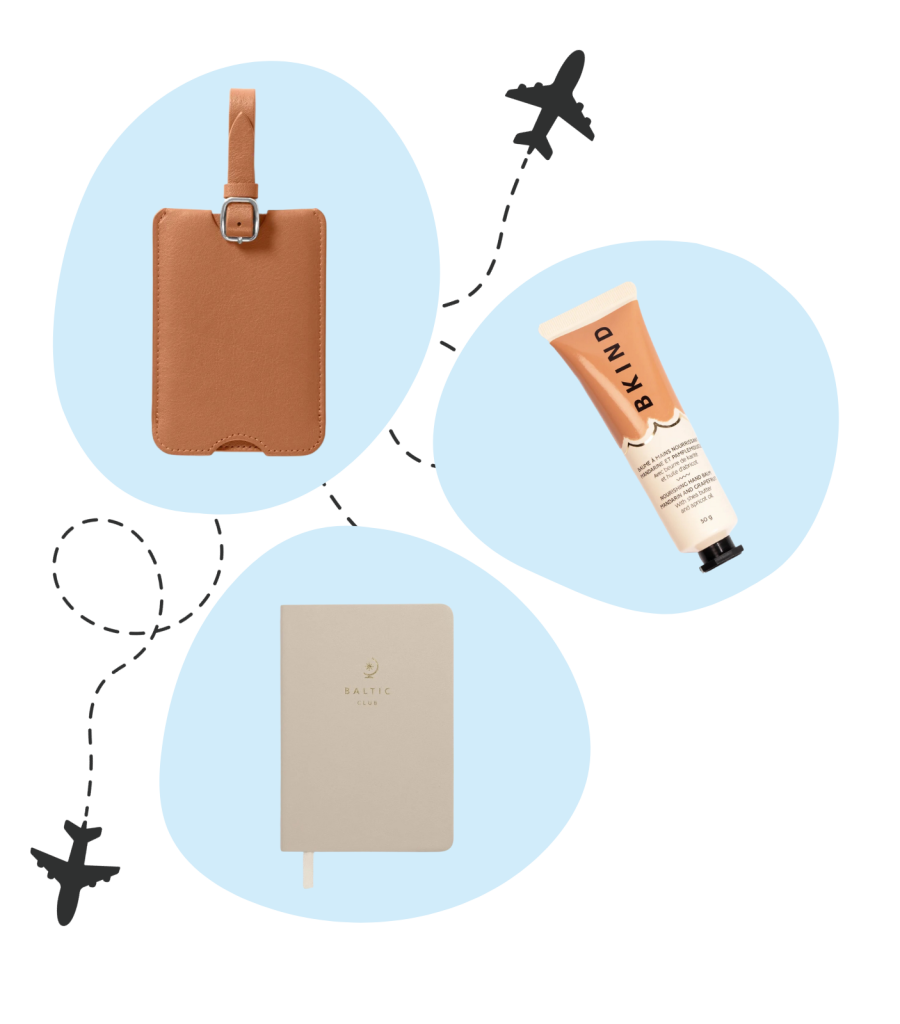 Nourishing hand balm, Bkind -$24
For dry skin needing hydration and a pleasant citrus scent, consider tucking this natural-ingredient travel-sized hand cream into a carry-on.
Customizable luggage tag, Modjùl -$22
What to gift a travel lover? This customizable luggage tag! It's made from Italian vegetable-tanned leather and comes in a variety of colors. Each of these stunning travel accessories made-to-order by the designer himself in St. Johns, Newfoundland.
Travel journal, Baltic Club -$18
This portable travel journal serves as a trusty companion, ready to capture experiences, ideal for documenting discoveries, sharing anecdotes or sketching while traveling. An excellent option as far as inexpensive, small travel gifts are concerned.
Luxury travel gift ideas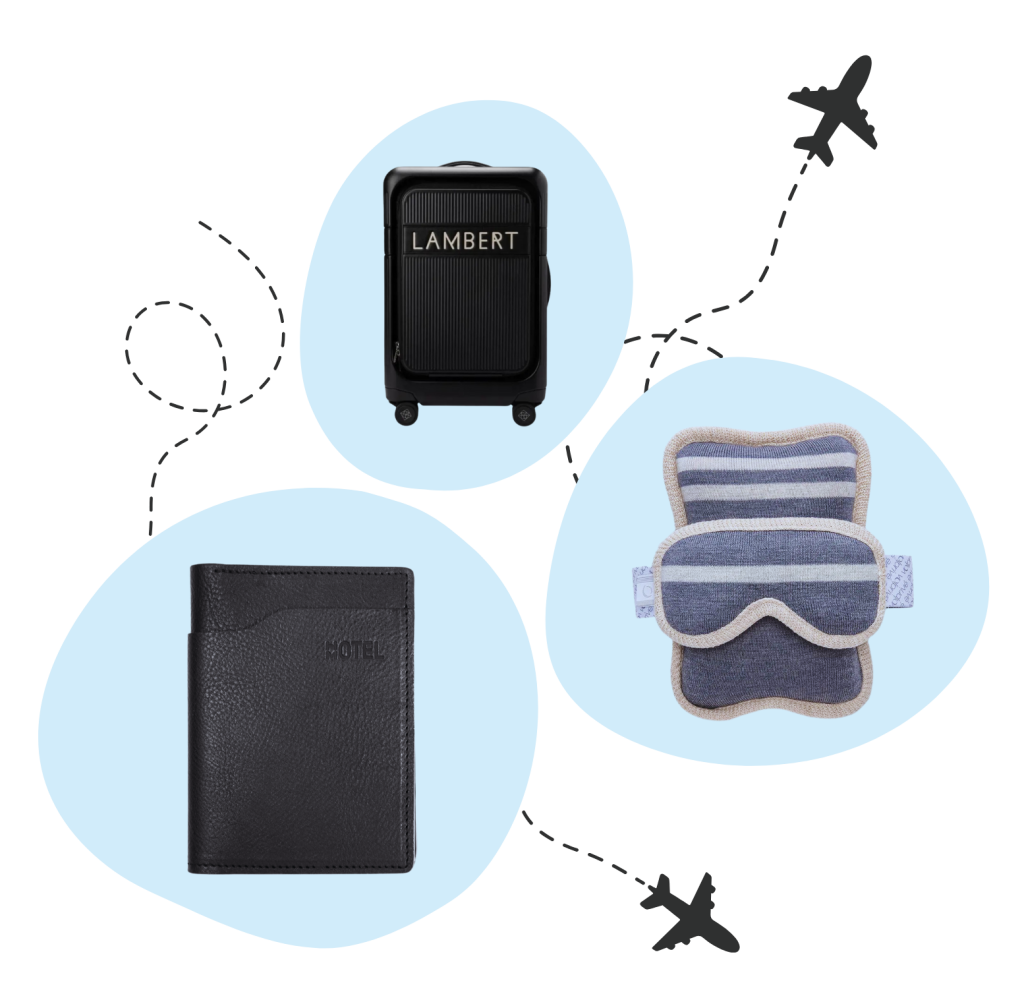 Pillow and mask combo, Vol Privé -$150
Getting a good night's sleep on a red eye trip may not always be easy, but this compact pillow and comfortable merino wool mask are sure to provide a relaxing experience in the air. This is certainly one of the most refined, luxury travel gifts there is out there.
Carry-on luggage, Lambert -$279
With two spacious main compartments for maximum storage capacity, it is an optimal carry-on bag for various adventures. In addition, the front pocket is designed to hold a 15-inch laptop. This makes these luggage convenient and perfect travel gifts for people who travel a lot for work or who are no strangers to bleisure.
Leather passport holder, Hotel Motel -$120
This sleek, Montreal-made leather travel wallet adds a touch of style to passport protection. It provides ample space for travel documents, currency and cards while keeping them secure. All in all, gifts for frequent travelers that will please even the most discerning of jet-setters!
Substainable travel accessories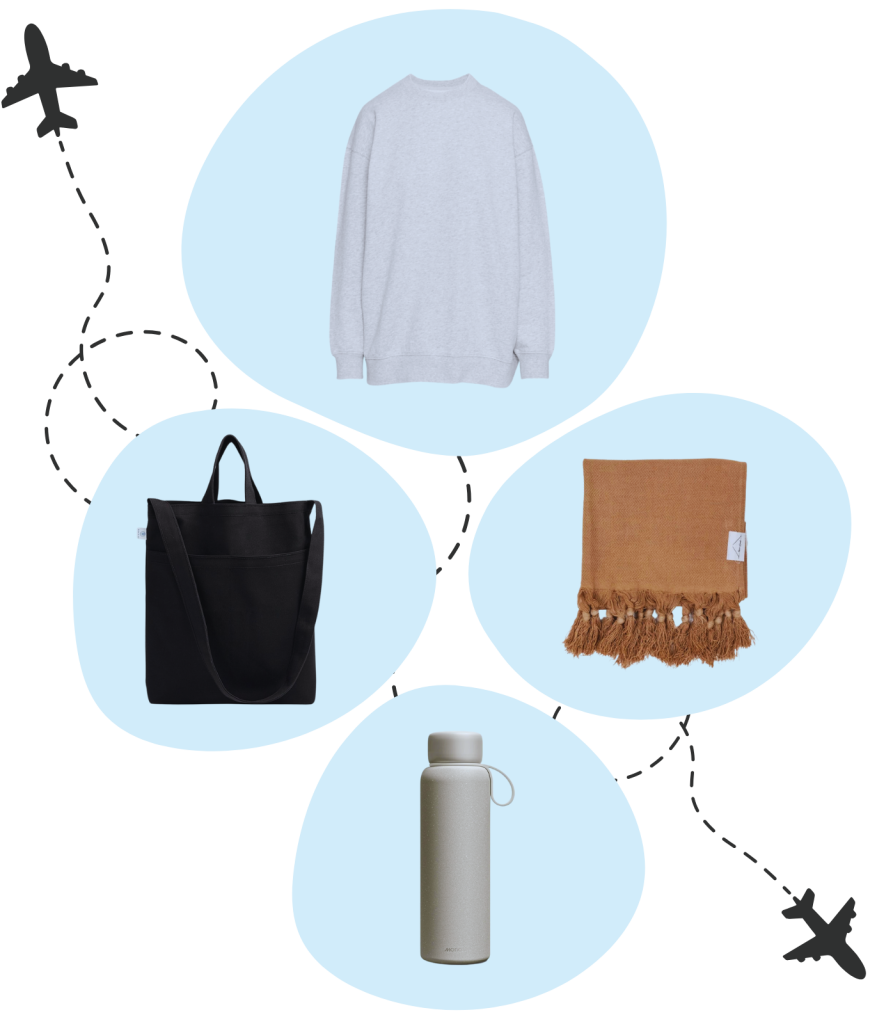 Turkish towel, House of Jude -$48
Planning to book an all-inclusive beach resort this winter? This stylish striped towel, with its compact design and quick-drying, absorbent fabric, will serve as a reliable companion for trips to the pool and the beach.
Unisex Crewneck Sweater, C'est beau -$79
Made in Quebec from organic cotton and recycled polyester, this sweater blends style and comfort, perfect for in-flight attire.
Tote bag, Dans le sac -$45
If we had to pick the ideal sustainable travel gift, this would be it. Both functional and fashionable, this tote bag is handcrafted in Quebec and serves as a quintessential travel accessory, keeping essentials safe and within reach thanks to two front pockets. It can be used to go grocery shopping, to store dirty shoes in transit or for a multitude of other purposes.
Reusable water bottle, Monos -$95
A substainable travel essential for staying hydrated on the go, this stainless steel reusable water bottle is designed to keep beverages cold and is a favorite of globe-trotters. Remember to empty it before going through security, then refill it again before flying. Plus, this water bottle is made locally, making it one of the most useful and overall best Canadian travel gifts ideas.
Best travel gifts for men, women, and children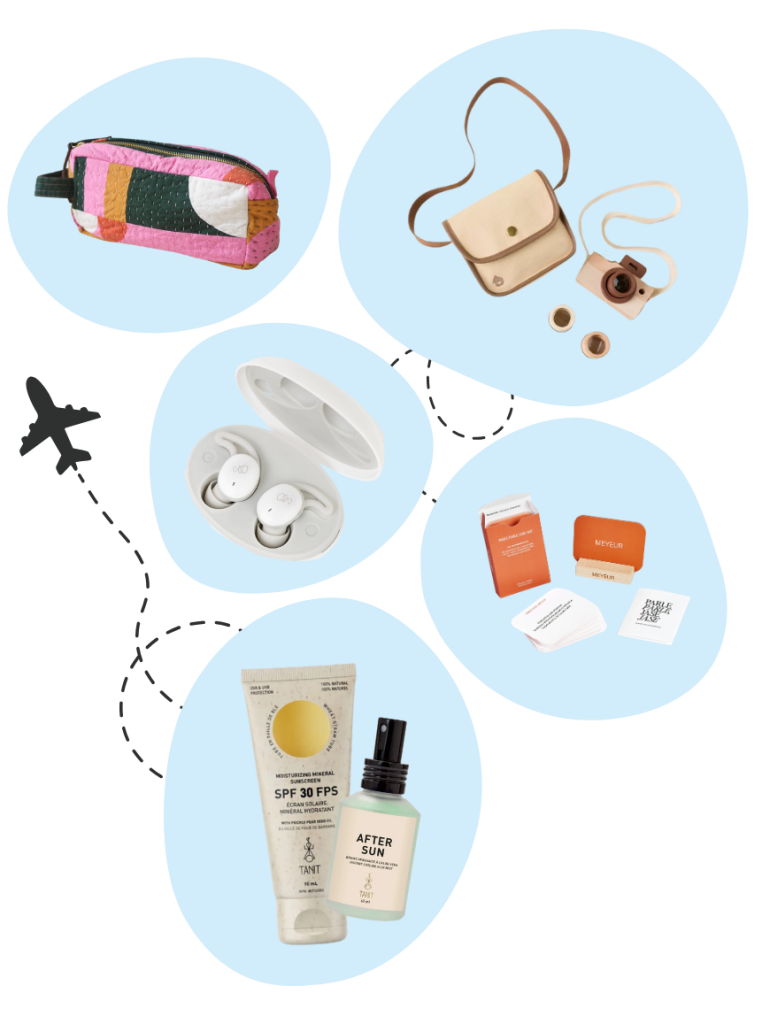 SPF 30/50 protection and ultra-hydration duo, Tanit -$64
Regardless of where you're traveling, from sunny shores to bustling urban areas, sunscreen is an essential companion. To ensure protection from the beach to the city and beyond, this set combines a moisturizing mineral sunscreen with a soothing after-sun mist.
SG mini wireless earbuds, Sounds Good -$78
Are you wondering what to get dad? Or are you just looking for ideas for travel gifts for men? From relaxing on the plane to working out at destination, these compact wireless noise-cancelling earbuds are known for their secure fit and superior sound quality.
Conversation game, Meyeur -$29
Definitely a top contender for original travel gifts! Designed to spark conversations and foster connections in a fun and entertaining way, the "Not So Small Talk" game is the perfect travel companion to turn plane rides, road trips and evenings around the campfire into unforgettable memories.
Toiletry bag, Bouche-bée -$39
This colorful, whimsical travel bag is the perfect place to store toiletries, beauty essentials and other tchotchkes while traveling. It's one of the best travel gifts ideas for people who you aren't that close with or don't know that well; these bags always come in handy.
Wooden camera for kids, Coco Village -$41
Encourage young adventurers to cultivate their creativity and capture beautiful scenery and family moments on their upcoming vacation with this wooden camera toy, complete with carrying case. If you are looking for an original travel gift for children, this camera is sure to be a hit!
Swimsuit, Othersea Bikini -$78
It's no small feat to find the perfect bikini, especially when it's made right here in Quebec. These unique travel gifts for women show up just in time for a South vacation this winter! This swimsuit is a great idea that promises to make a statement when heading to the pool or beach.