The decision was made in 2019. It seemed so obvious and inevitable. It happened while I was traveling from Berlin to Montreal, curiously observing the crew working on the flight. From the boarding to the landing, I watched them carry out meticulous, attentive, formal, and supportive gestures. And then the revelation: once I arrived at YUL, I knew I wanted to be an Air Transat Flight Attendant.
My best friend was the one who finally persuaded me. He encouraged me to apply for the job at the same time that he was doing it, before I left for Germany. So, after flying back to Canada, I finally admitted to myself that I wanted to do this.
When I decided to take the plunge that year I didn't yet know that I was about to discover a profession and an airline full of passionate and dedicated colleagues, build solid friendships, develop a passion for aviation, and ultimately strengthen the passion I already had for customer service. Four years later, I smile as I look back on the time spent crisscrossing the skies with Air Transat, from the Caribbean to Western Canada, crossing the United States and Europe. All these little gems of places where I created habits and memories.
Interested in becoming an Air Transat flight attendant as well? Welcome on board!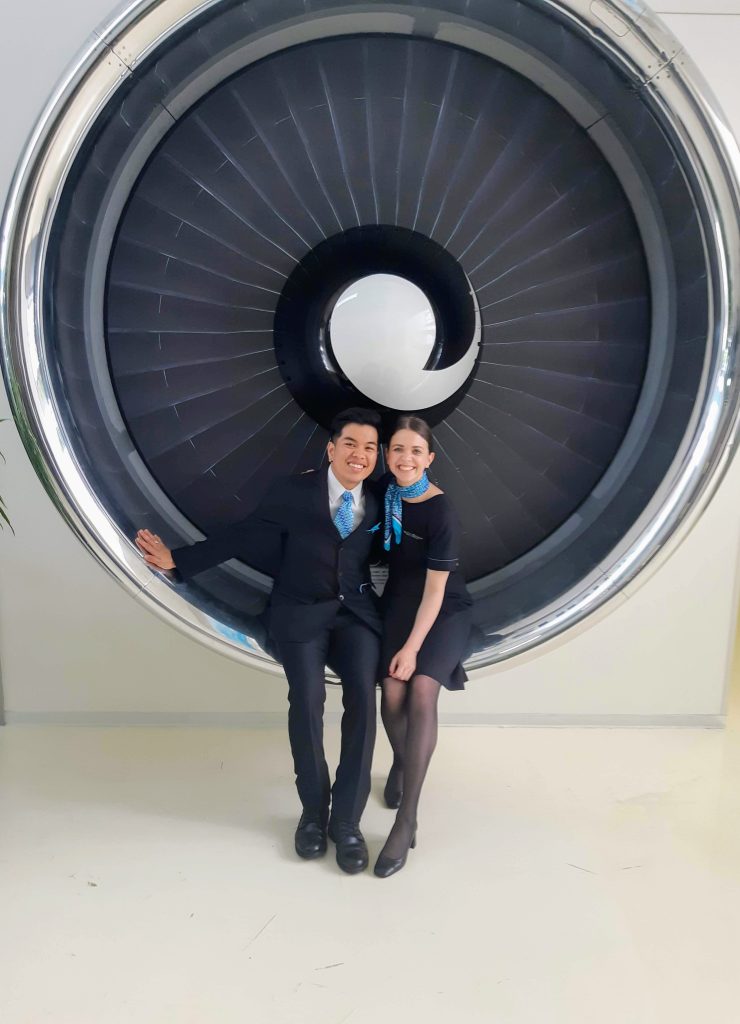 Qualities of a flight attendant
A passion for customer service
To be a flight attendant, you must first be passionate. Passionnate about travel, of course. But above all, passionate about people. Interacting with passengers is at the heart of our profession! It serves two distinct and equally important purposes. To provide them with an unforgettable travel experience on our wings, but also, and above all, to ensure that they are safe and secure on board.
There are as many topics to discuss as there are passengers, and every day is different from the last. We must not be afraid to reach out to them, to ensure their comfort, to answer their questions, to assess their needs, to reassure them, to celebrate special occasions such as their child's very first flight, to explain the characteristics of our aircraft to aviation enthusiasts, etc.
It's important to remember the special place we, as flight attendants, hold in their overall travel experience.
A natural ability for team work
Knowing how to work as part of a team and valuing colleagues is more than essential in our profession. With every flight, I meet new colleagues with whom I spend many hours in the cabin aisles and gangways, and sometimes even during layovers. So it goes without saying that helping each other and being open-minded are values that we all must hold dear, because together we share great responsibility and occasionally great stress.
We might as well do so in an environment that is respectful and enjoyable!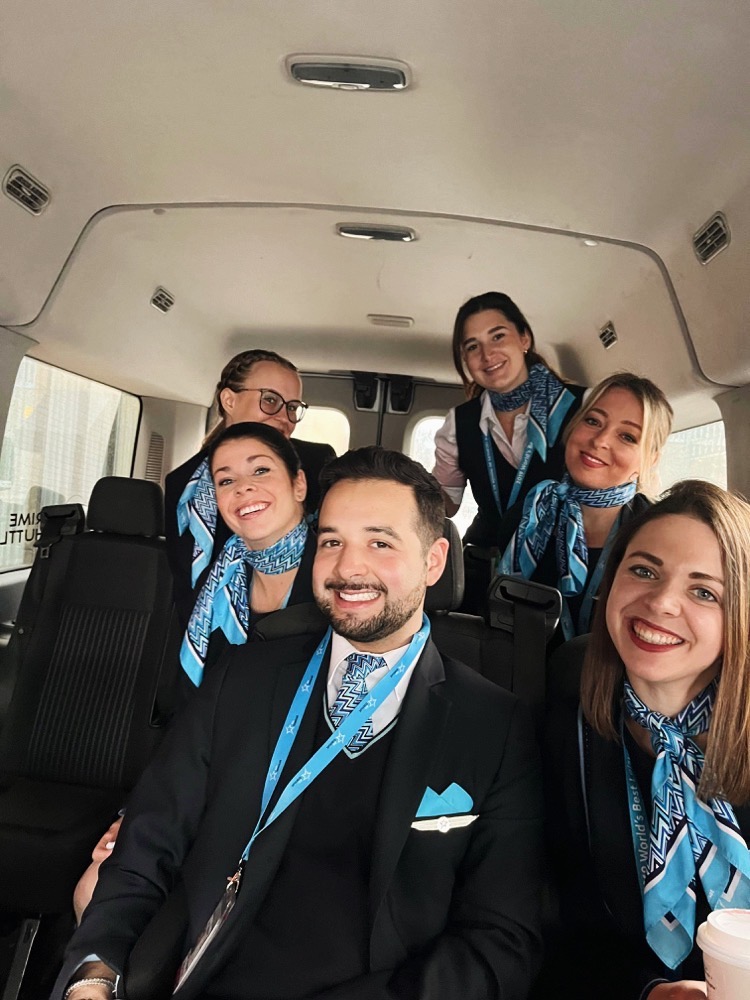 What qualifications do I need to be a flight attendant?
In order to become a Flight Attendant with Air Transat, you will need to meet the following hiring criteria
Hold a valid passport
Be at least 18 years of age
Meet medical requirements
Have a high school diploma
Be at least bilingual in English and French (speaking more than two languages is a big plus!)
Finally, all that's left for you to do is to enroll in the technical training that is provided by the company. You'll finally dive headfirst into this incredible world where you'll learn everything you need to know to become a Flight Attend. The training covers a wide range of topics and scenarios: in-flight service, first aid, evacuations, air and ground safety, and so on. This comprehensive training is tailored to the needs of the airline and follows Transport Canada regulations.
And it's through this training that you'll get to meet the colleagues who will follow you around the world and form wonderful friendships with.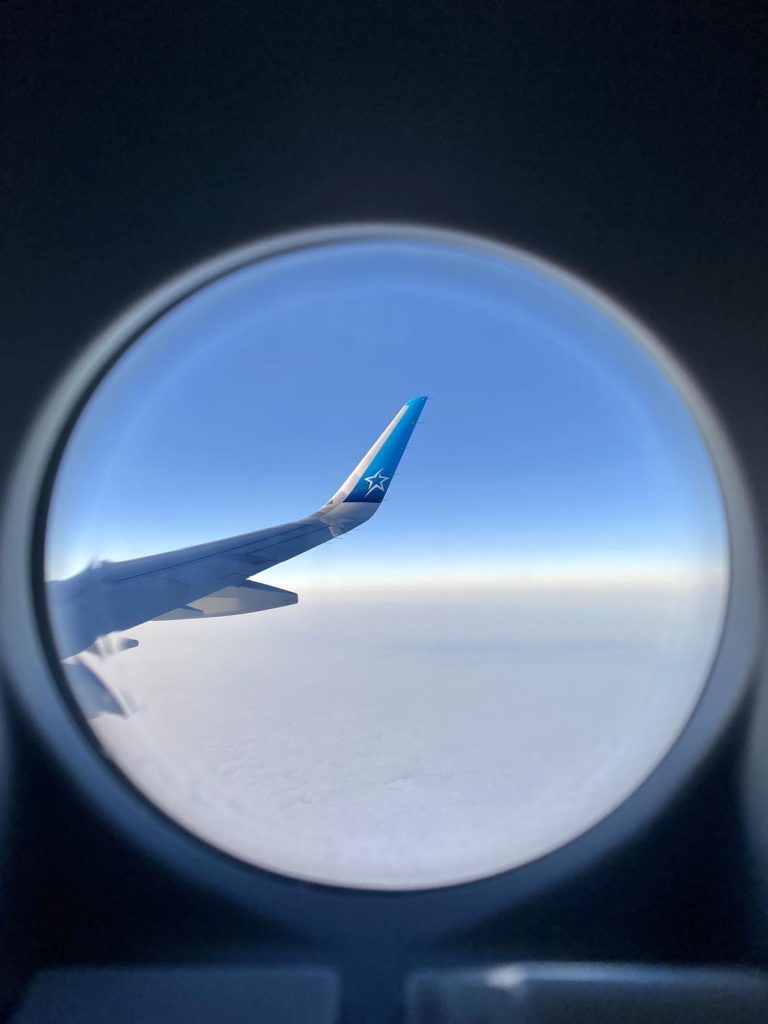 What is the Air Transat difference for flight attendants?
As far as I am concerned, being a flight attendant is the best job in the world.
But I truly think doing it at Air Transat makes it even more rewarding. Why is that so? Firstly, because of the incredible people I get to work with. Secondly, because of the core values of the company, which genuinely cares about the well-being of its employees and customers, in addition to its involvement in a number of charities and concrete efforts in sustainable tourism.
Being part an Air Transat flight attendant team is about unwavering support from colleagues and managers.
It's about discovering the destinations you've always dreamed of visiting and meeting new people along the way.
It's about wearing your uniform with pride.
It's about smiling on your way to work. It's about providing passengers with a safe and enjoyable flight from the moment they step on board when they set off on their vacation.