On this International Women's Rights Day, we handed the microphone to our colleague Karina Scattolin, Air Transat pilot, with a tough question: what's it like to be a woman in aviation?
Why did you choose aviation?
Before I became an Air Transat pilot, I was a travel agent and to tell you the truth, I was bored out of my mind by the office routine. I knew I had to change careers and very quickly, as I researched, aviation became the obvious choice. The job allows me to feed my passion for travel and to have experiences that are continuously out of the ordinary. It was everything I was looking for!
What was your career path to become a pilot?
My career path is a bit atypical. I worked as a civilian in support of the Canadian Army on the NATO military base in Afghanistan back in 2010. When I was there, I was surrounded by all kinds of planes, helicopters and drones. It was all quite fascinating! I operated my first flight in a C-130 Hercules. I enjoyed the experience so much that I immediately decided to become a pilot. Over the next few years, I worked tirelessly to complete my training and gain experience as an instructor. I even worked in the far north with Air Inuit. These experiences led me to my dream job: becoming an Air Transat pilot.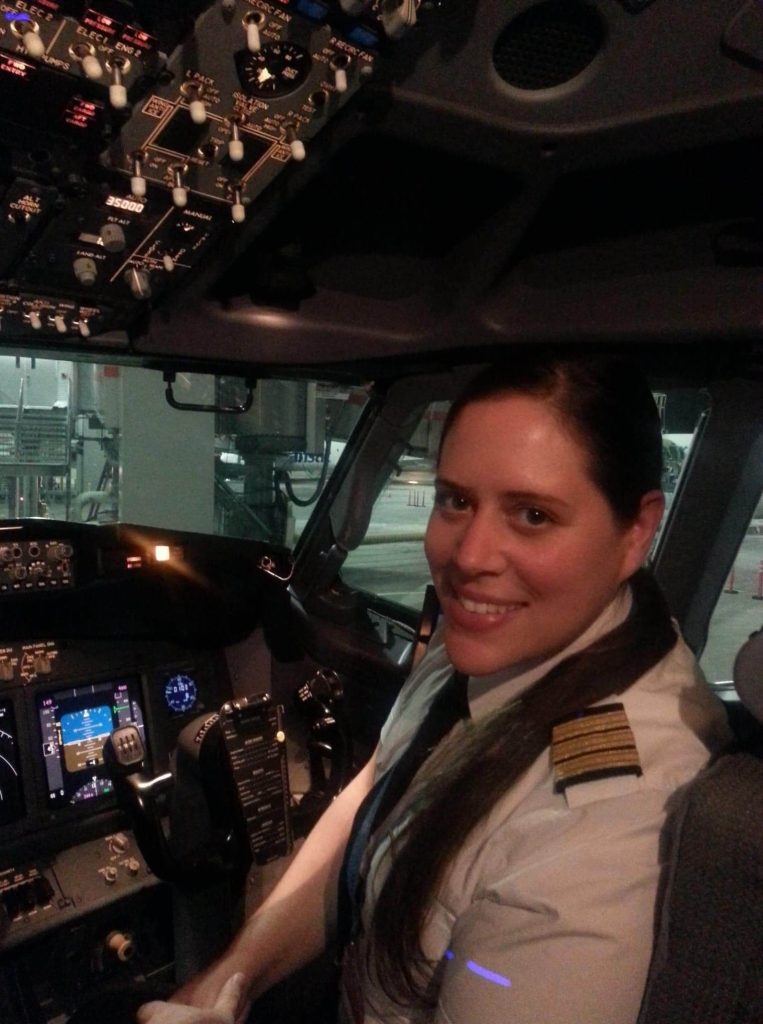 What is your involvement with Elevate Aviation?
I never thought about becoming a pilot when I was younger. It didn't even cross my mind. Why? Because I didn't see female pilots anywhere. The career path that is most talked about for women in aviation is flight attendant.
So when I was asked to talk to young girls about being a woman in aviation through Elevate Aviation, I didn't hesitate. I feel immensely proud to show them in very tangible ways that it's possible to become a female pilot and to share resources to help them on their journey.
Women in the flight deck are seldom talked about and even more rarely pictured or profiled. Even today, less than 5% of airline pilots in Canada are women.

– Karina Scattolin
Do you have any idols in aviation?
My idols in aviation are all the amazing women I get to meet! It makes me so happy to see another female pilot, whether it's an experienced captain on an airliner or a woman who one day decided to follow her dream of sitting in the flight deck. They are all inspiring in their own unique way.
What kind of obstacles do you face as a woman in aviation?
Obviously, there are still outright sexist comments and "jokes" about women not having a sense of direction. It's unfortunate, but I hold on to the fact that most people are actually pleasantly surprised to see me in the flight deck. I also think that as a woman, we put a lot of pressure on ourselves to be irreproachable so as not to be told that women have no place in aviation. Fortunately, mentalities are changing positively thanks to the courageous women who paved the way before me. I talk about this a lot with the young women I meet through Elevate Aviation.
How many years have you been an Air Transat pilot?
I've been an Air Transat pilot for almost 5 years! I started out operating a Boeing 737 and now I fly our largest aircraft, the Airbus A330.
What is your favourite route?
I love going all over Europe, but my real passion is gelato! So I would have to say Rome.
Air Transat is a member of the 25by2025 by IATA, which aims to increase the number of women in senior positions and under-represented areas by 25%.