Some people consider that Portugal is Europe's best-kept culinary secret. On certain days, when I look back with great longing at the intricate flavours I tasted during my visit to Lisbon, I can't help but agree.
In fact, Lisbon isn't, first and foremost, a culinary destination. Of course it's a beautiful place, and it's the main reason why so many tourists show up every summer. There is beauty everywhere you look, from the architecture that harks back to the time of the Moors, to the hand-painted blue tiles from the 15th century, to the beautiful plazas with marble floors, to the cobblestone streets under your feet.
And don't forget, Lisbon is the city of the seven hills. And so, when you go on your food tour—trust me, it's well worth it—wear comfortable shoes as you will be walking up and down. A lot. There are stairs built as shortcuts to help pedestrians go from one street to another. And when you go down, you go all the way down to the ocean, which is pretty amazing in itself.
Lisbon is also spectacular at night, as there is an orangy, sandybrown glow from the streetlights that bathes the city in a lovely tint.
Finally, Portugal was once a colonial empire, and one of the longest-lasting. It's no surprise that the influences of its former colonies, Goa, Macau, Brazil, Angola, Mozambique, to name a few, can be seen and felt everywhere, even in its food.
Enough talking. Let's eat.

1. Sardines
If you are visiting Lisbon during summer, you simply have to sample the fresh sardines.
In June, at the Festo de Santo Antonio, the whole city throws a party and fresh sardines are served everywhere. They are at their most delicious and juiciest at this time of the year. And they're grilled right along Lisbon's streets, and served with copious amounts of wine, roasted bell peppers, and boiled potatoes. Once you smell sardines being grilled during the Festo, you'll always associate it with the city, guaranteed.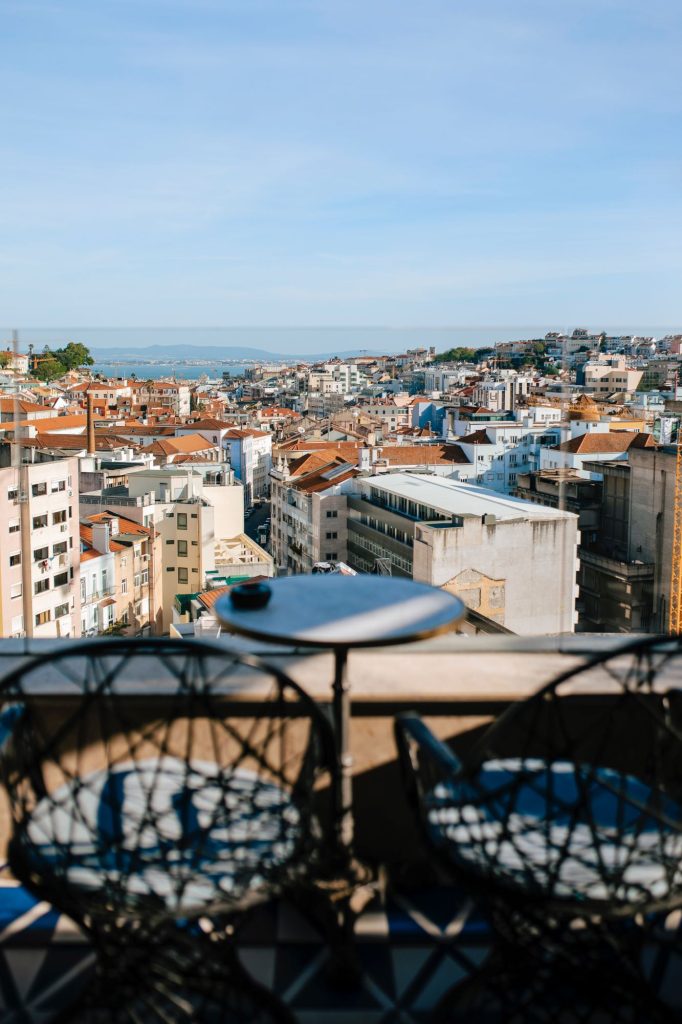 2. Bacalhau
For a country with an unbelievable amount of fresh seafood, it seems odd that one of their national dishes, bacalhau, is dried salted codfish.
There are a hundred ways to prepare this meaty fish, and one of the most traditional ways to prepare it is Bacalhau à Braz, scrambled eggs with olives and fried potatoes. If you're feeling a little adventurous, try the Bacalhau Ze do Pipo, baked under a blanket of warm mayonnaise (sounds odd, we know, but it's good, we promise).
These dishes and many more are available at A Casa do Bacalhau. The restaurant is a bit touristy, but it's still pretty awesome!
Where to eat bacalhau in Lisbon: A Casa do Bacalhau, Rua do Grilo 54, Lisbon 1950-145
3. Cozido a portuguesa
This is not a dish to be eaten alone, and that's the reason why it's served family-style. It's a pot of tender beef and pork chunks, sometimes there's even chicken, and then what feels like a truckload of vegetables, carrots, potatoes, cabbage, turnips. On top of all that, there are different kinds of sausage, including blood pudding and chouriço!
Brazil, once a part of the Portuguese empire, has a dish called feijoada that is very similar to cozido — chunks of meat, sausage and vegetables – but the main difference with feijoada is that beans are part of the main ingredient.
Where to eat cozido a portuguesa in Lisbon: Restaurante Os Courenses, Rua Jose Duro 27, Lisbon 1700-259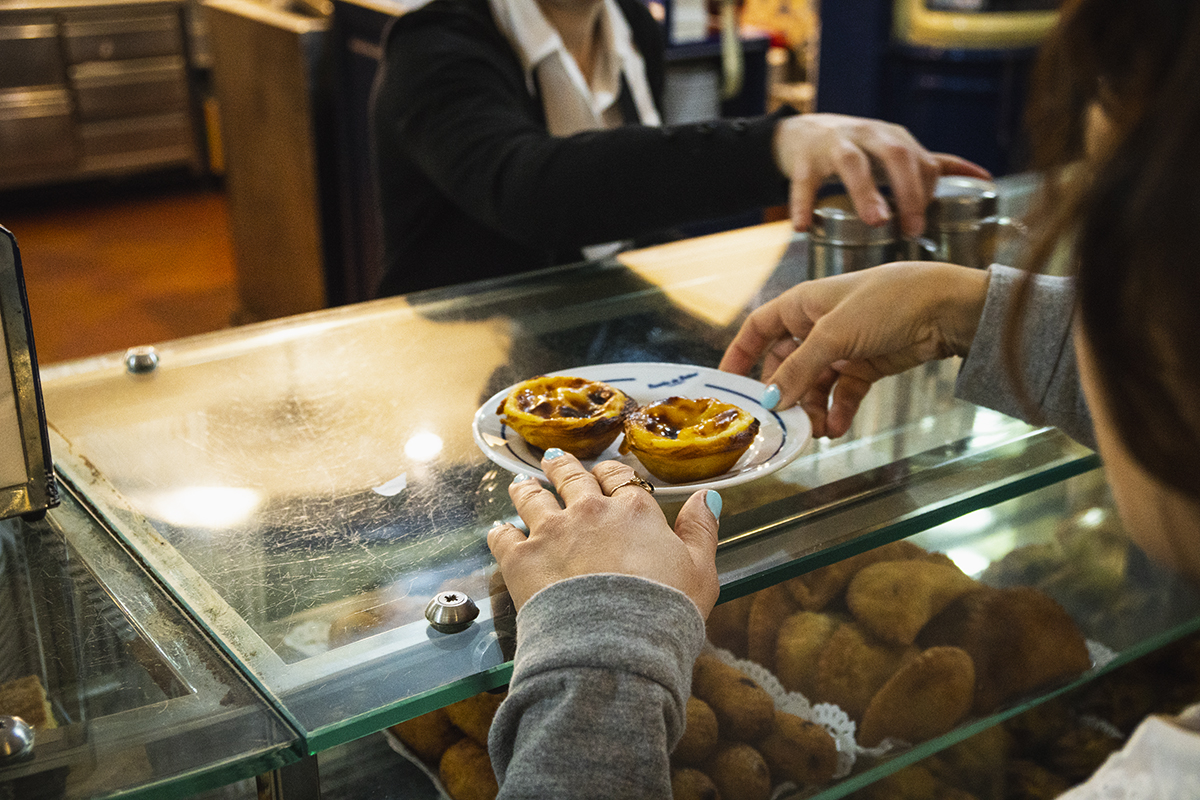 4. Pasteis de Nata
They're the most famous food from Lisbon! And the recipe is under lock and key: Apparently, only three people in the world know it! Pasteis de Nata is golden puff pastry circle with a barely firm rich egg custard in the middle. It's sold at Pasteis de Belem. The Clarinha family, heirs to the original bakers, have a copyright on the recipe, which is centuries old.
Where to eat pasteis de nata in Lisbon: Pasteis de Belem, R. Belém 84-92, 1300-085 Lisbon
5. Whole crab – brains and all!
The whole crab at this place is famously delicious. They mix the crab innards and fat together with a sauce made of butter, garlic, onions, white wine, peppers and chili sauce and serve it all in the shell. Best way to eat crab! Completely delicious and nothing is wasted. You'll end up ordering more bread to dip into the sauce. It's that good!. They also serve very fresh prawns, shrimp, lobster and clams.
Where to eat crab in Lisbon: Cervejaria Ramiro, Av. Alm. Reis 1, 1150-038 Lisbon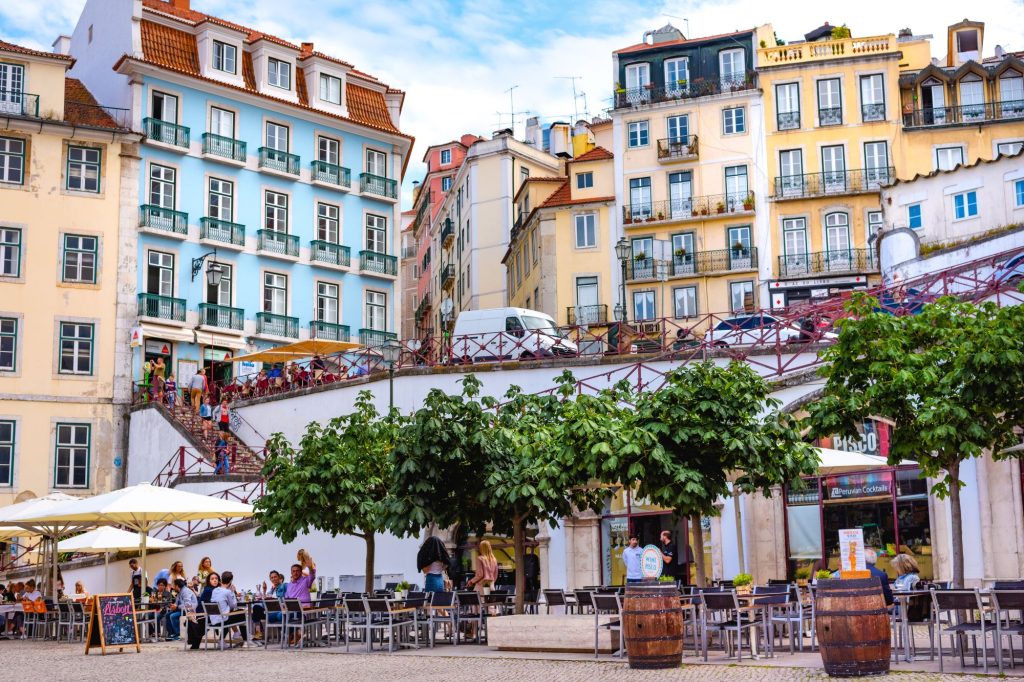 6. Bifana
Oh bifana! This is our personal favorite, and it could not be simpler, but its taste is sublime. Bifana is one of the most popular snacks in Portugal, and can be found in almost any food stall or food truck in the streets of Lisbon.
Bifana is simply thin slices of pork marinated in white wine and a lot of garlic, then fried, and slapped into a bun. Instant happiness. Some people add mustard or hot sauce, but for us, it's unnecessary, as the taste of the meat and the juices in the bread is all we need.
Pro tip: Have it with a cold beer.
Bifana is also extremely popular halfway around the world, in Macau, China, another former Portuguese colony.
7. Chicken piri piri
Well, we know that one good thing that came out of Portuguese's colonial past is the food! In fact, the extra-famous piri piri pepper comes from Portugal's former colonies in Africa, namely Mozambique and Angola. Cantinho do Aziz is a restaurant that specializes in dishes from that region. And chicken piri piri is probably the most famous of them all. The place itself is unique, ten tables under umbrellas in the Moorish part of Lisbon, and the prices can't be beat!
Where to eat chicken piri piri in Lisbon: Restaurante Cantinho do Aziz, Rua de Sao Lourenco N0 5, Lisbon 1100-530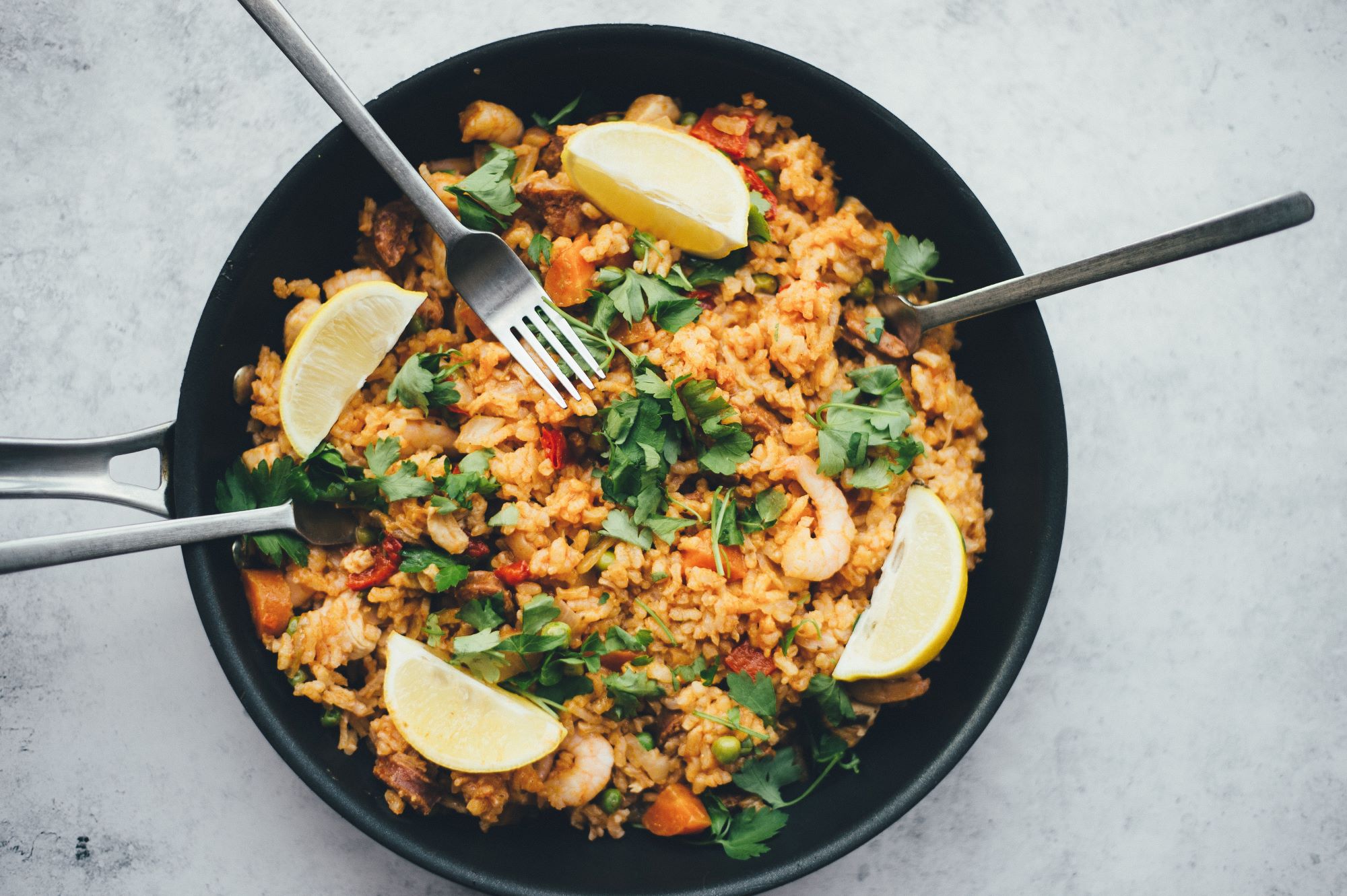 8. Arroz de marisco
Portugal is a place built on seafood… and rice! In fact, a single Portuguese person eats about 15 kilos of rice per year, compared to less than 5 kilos per person for the rest of Europe. Arroz de marisco is an abundance of prawns, clams and other seafood, all cooked beautifully with rice and vegetables and some herbs. It's quite similar to a Spanish paella. The seafood is always amazingly fresh.
Note that Restaurante Farol isn't in Lisbon, but rather across the river from it, and you have to take a ferry to get there. It's a spectacular spot to find yourself, with the locals, and enjoy the skyline of Lisbon.
Where to eat arroz de marisco in Lisbon: Restaurante Farol, Largo Alfredo Dinis 1, Almada 2800-252