Portugal's capital is far from the relatively hidden treasure of the Old Continent it once was. Its popularity has consistently soared over the past decade to become one of the most sought-after destinations, transforming the White City's atmosphere. Thus, the question arises… Is it still possible to enjoy the charm of Lisbon without having to wait in endless lines and being flooded by tourists? Claro que sim. The trick is quite simple: to discover Lisbon like a local, venture beyond the emblematic sites to equally enchanting but off-the-beaten path locations.
Explore below some of the best kept secrets and recommendations of our colleague Caroline, who was introduced to Lisbon and the poetry of saudade at an early age thanks to her Portuguese mother.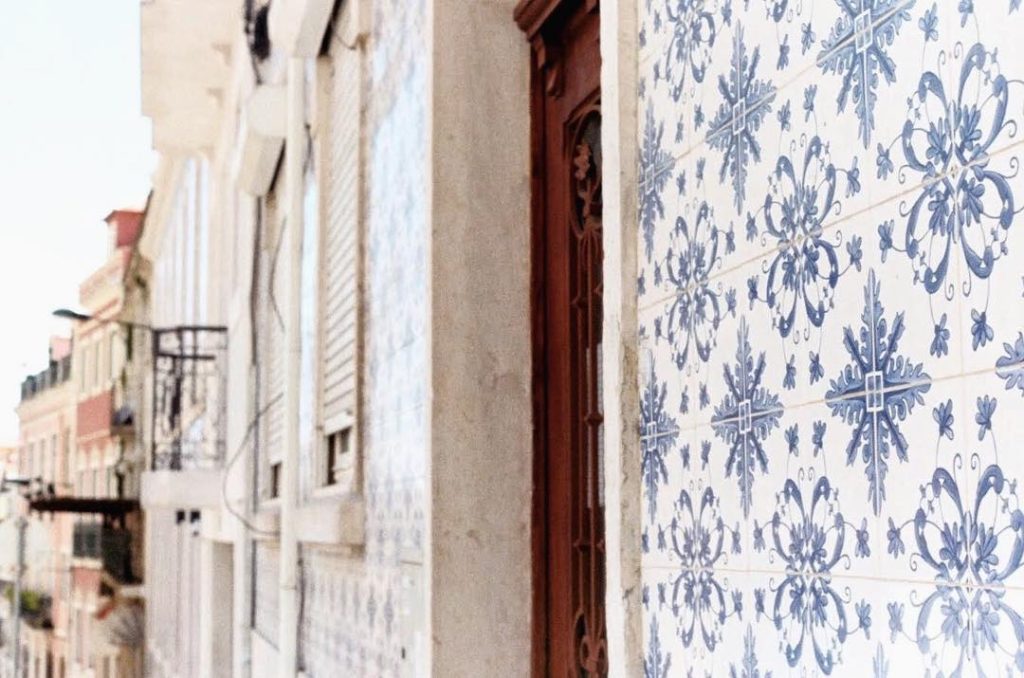 Choose an alternative neighborhood
To begin with, consider staying in an area that is further away from the hustle and bustle. Sure, it might distance you from the city's main attractions, but it will also give you a respite from their crowds and noise. Plus, a more secluded and quiet neighborhood will allow you to witness — perhaps even embrace— the pace and customs of authentic locals. Then, when you want to go to the lively Praça do Comércio the metro easily takes you there. Uber fares are also very affordable, if you feel like partying in the Bairro Alto.
With this in mind, consider the neighborhoods of Ajuda, Alcântara, Campo de Ourique or Estrela.
Lisbon like a local
Treasure hunt at Feira da Ladra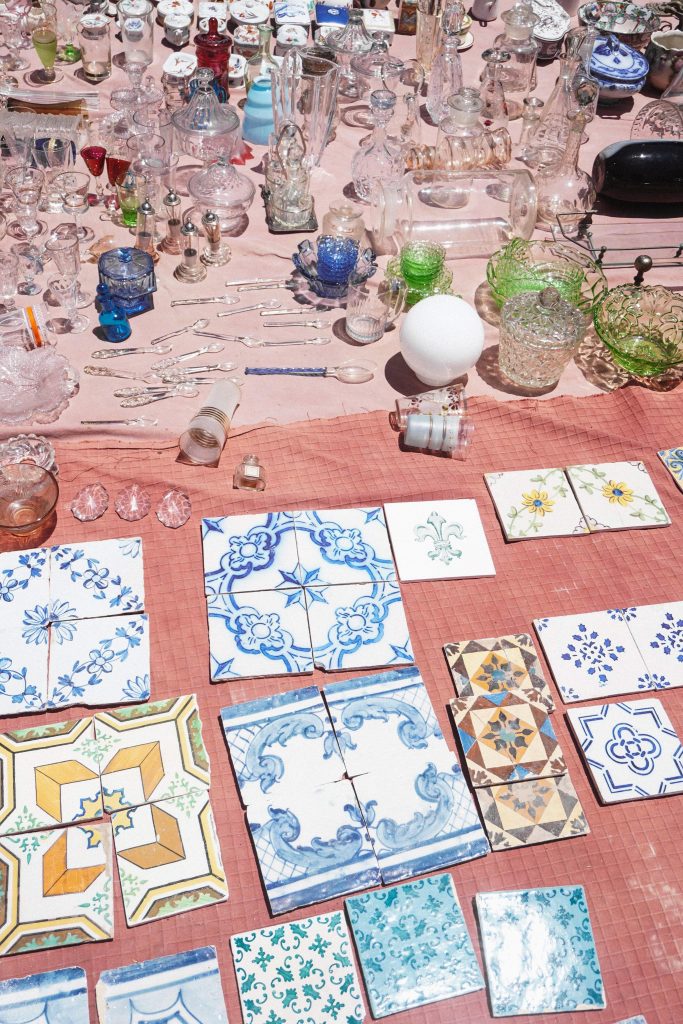 Located in the historic district of Alfama, the Feira da Ladra — which literally means "thieve's market", is a century-old tradition. This fascinating flea market is filled with treasures waiting to be found: retro decor, ancient world maps, antique jewelry, records, vintage clothing, rare books and curiosities of all kinds. Lisboans and savvy travelers alike wander through this eclectic scene, where the thrill of finding that special souvenir is palpable. More than just a place to score a good deal, this is where you can feel the pulse of a city where past and present blend harmoniously.
The flea market takes place every Tuesday and Saturday from 9am to 6pm.
Aperitivo with a view at Café Da Garagem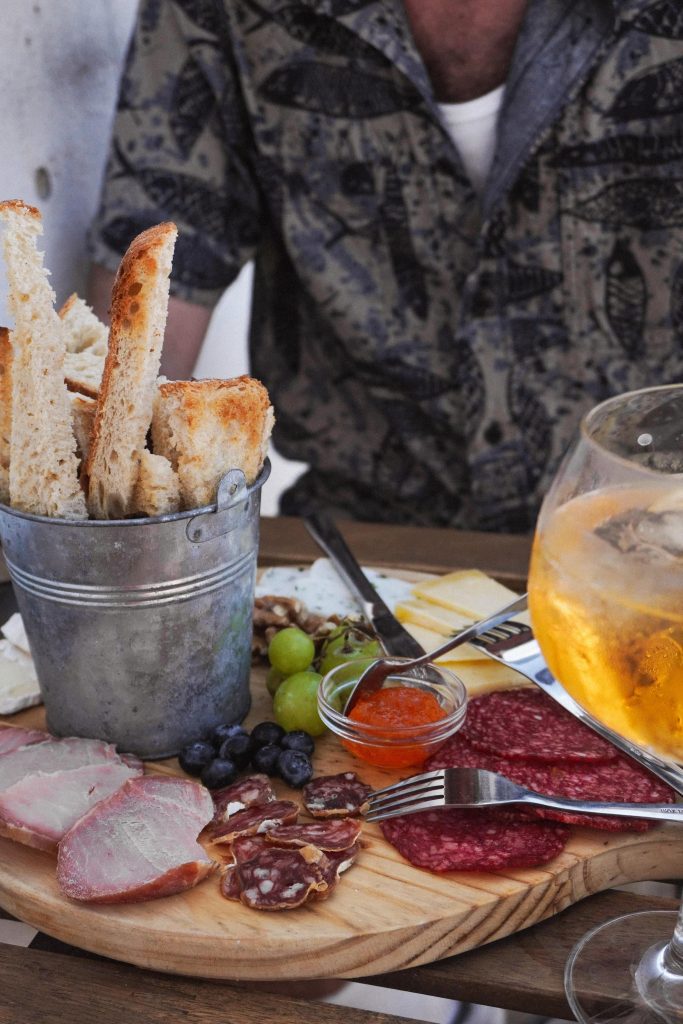 Nestled in the grounds of the Castelo São Jorge, this tiny jewel is housed in the theater of the same name. This subtle entrance ensures a moderate and pleasant traffic flow. More than just a café, it's the perfect spot for an appetizer before visiting the iconic Saint-George's Castle. Enjoy a delicious mixed board with a glass of vinho verde or a cerveja, overlooking a gorgeous panorama. The atmosphere is casual and the staff very friendly.
Tiles and tradition at the Museu Nacional do Azulejo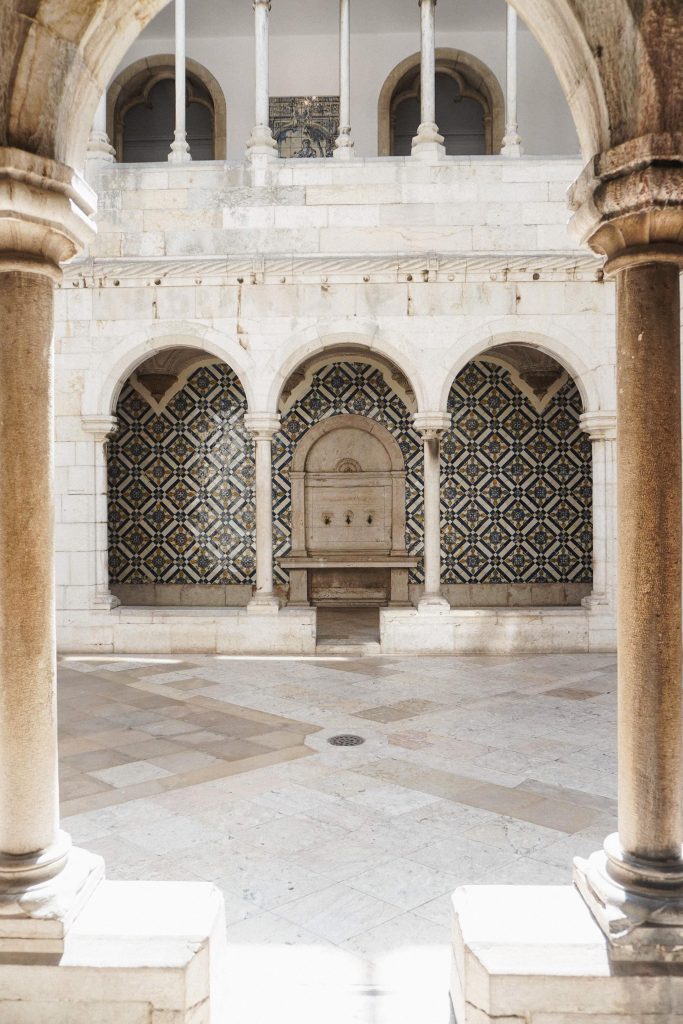 The Museu Nacional do Azulejo is dedicated to the emblematic azulejos legacy — the predominantly blue and white ceramic tiles adorning Lisbon. Introduced to the Iberian Peninsula by the Moors in the 13th century, their Arabic name translates as "polished stone". Stepping through the doors of the museum, you find a world of complex colors and patterns, where centuries of Portuguese culture are preserved in ceramic form. Here, every tile has a story to tell. A bit removed from the historic districts, the museum's location explains its relative tranquility, while it's definitely worth the detour.
Entrance fee: free for children up to 12, €5 for adults, €2.50/person for families and €2.50 for 60+.
Comadre's gourmet journey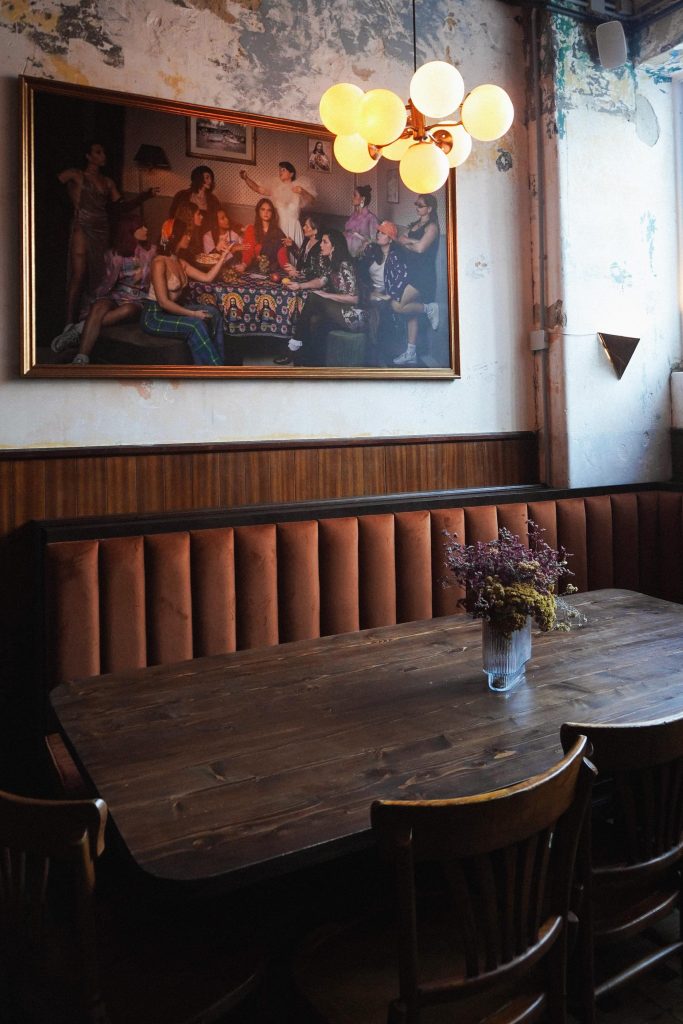 Sitting between the districts of Marquês de Pombal and Saldanha, Comadre masters the art of mystery: this special place is concealed behind a secret passage, a big truncated mirror. You may think you're about to walk into the fabulous world of Narnia. But instead, you find a restaurant that looks just like a cabinet of curiosities. Then, the thoughtful and passionate staff guide you through the evening and courses. Complemented by exquisite cocktails, the delicious menu features Italian-Mediterranean flavors. The pink mimosa eggs and the revamped cod nuggets are a must, as the selection of natural wines elevates the experience.
The magic doesn't stop there. If you and your guests are looking for a more private experience, you can book the underground dining room. The space features a long table and themed rooms that could be used as Twin Peaks set.
Authentic Fado night in Lisbon : a Tasca do Jaime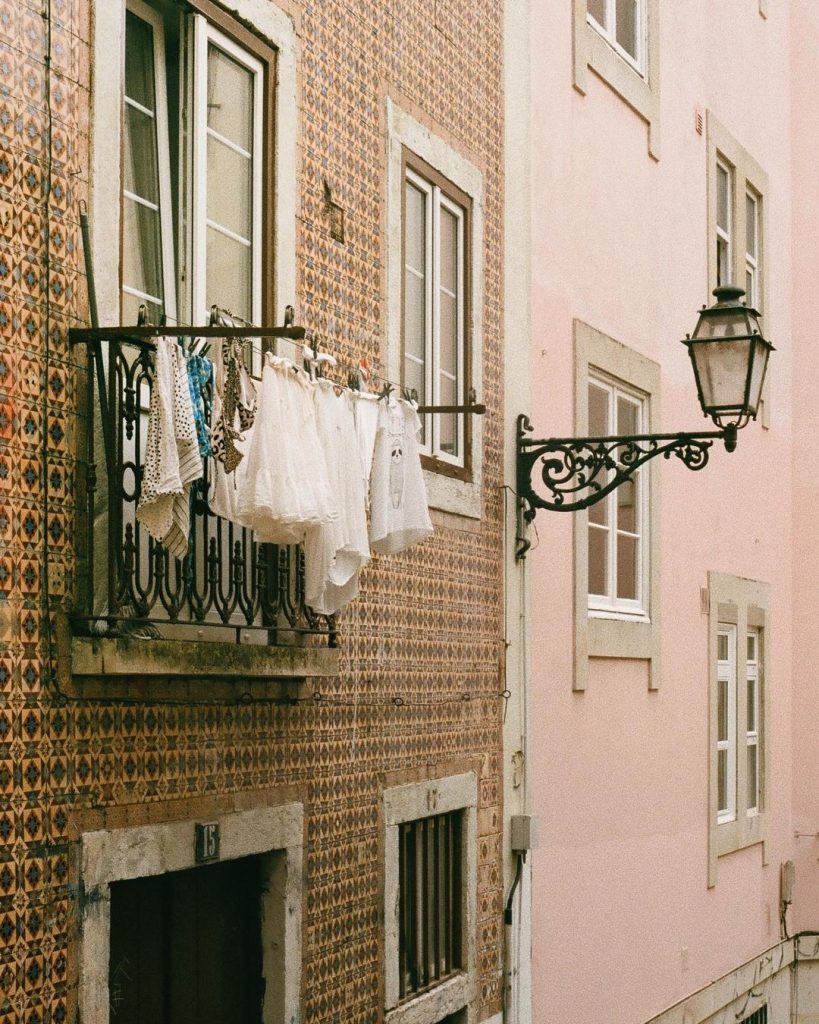 Alfama district
Fado is inextricably linked to Portuguese folklore. It is a musical genre characterized by melancholy, where the lyrics serve as powerful narratives. It commonly portrays love, sorrow, home longing and nostalgia in all its forms. Traditionally, the fadistas perform in fado taverns. There is gem of this type, the Tasca do Jaime, in the heart of the Alfama district. The adventure begins on the way. You're carried away by the essence of Lisbon's oldest neighborhood — which also happens to be the birthplace of fado, back in the 19th century. Marvel at the pastel-colored streets and the breathtaking views over the River Tagus.
At the small family-run restaurant, you're greeted by the owners. Dona Laura provides a warm service while her husband Jaime sings in between two artists. Following tradition, the fadistas informally march in and fill the room with their haunting melodies. The typical Portuguese cuisine is simple and tasty — bacalhau à Brás, fish dishes, pork loin, cod or shrimp nuggets. Wine is served in a jar, ensuring a festive atmosphere. For an authentic introduction to Fado, Tasca do Jaime is the place to go.
Note that they only accept cash and that it's best to book a day before or so. It's also important to be respectful towards the artists and pay attention while they perform.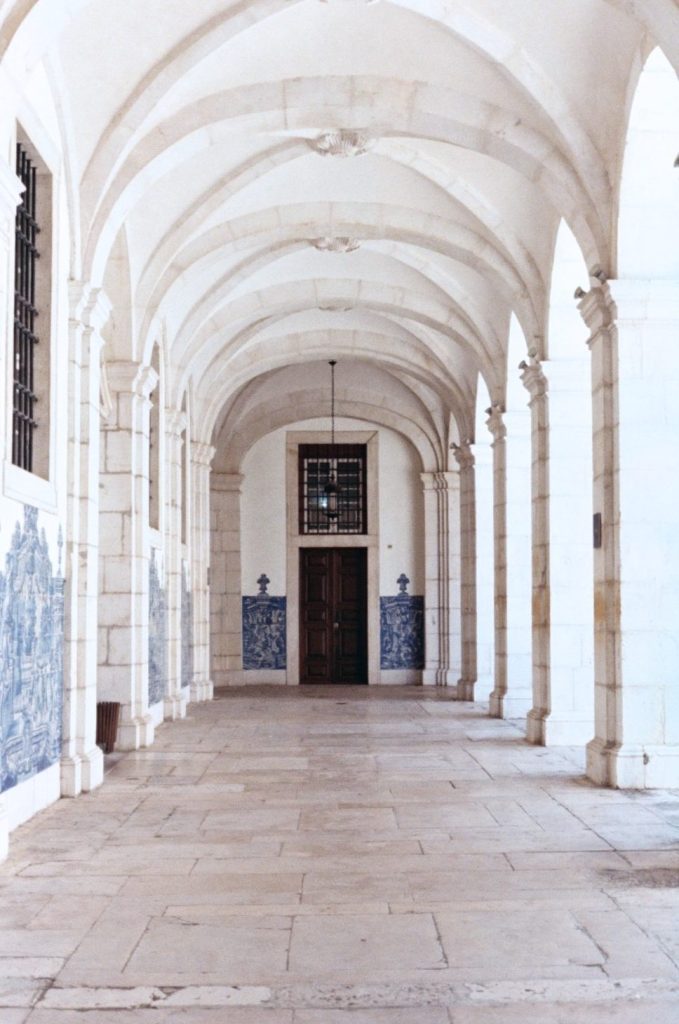 Mosteiro de de São Vicente de Fora — Gin Lovers Bar & Restaurant — Palácio Real de Queluz
Eat and drink in Lisbon
A Tabacaria — This lovely place is a former post office converted in a small, vintage-looking intimate bar. The music selection is stellar and the cocktails/mocktails are made-to-order to suit your mood.
Gin Lovers Bar & Restaurant — A cozy establishment where mixology meets generous cuisine, in a Moorish-inspired setting. The service is remarkable and the mood is festive. Enjoy a drink, dinner or pick up a bottle of their house gins.
Imprensa — An oyster bar with luxury cocktails and a sophisticated ambiance. Need we say more?
Páteo Alfacinha — This summer restaurant is located in a charming patio, with stunning views of Lisbon. It features simple traditional dishes and delicious grills.
Prado Mercearia — Halfway between grocery store, restaurant and wine bar, this is the little sister of the very chic Prado restaurant. Choose from an assortment of fresh local produce, charcuterie, cheeses and organic wines.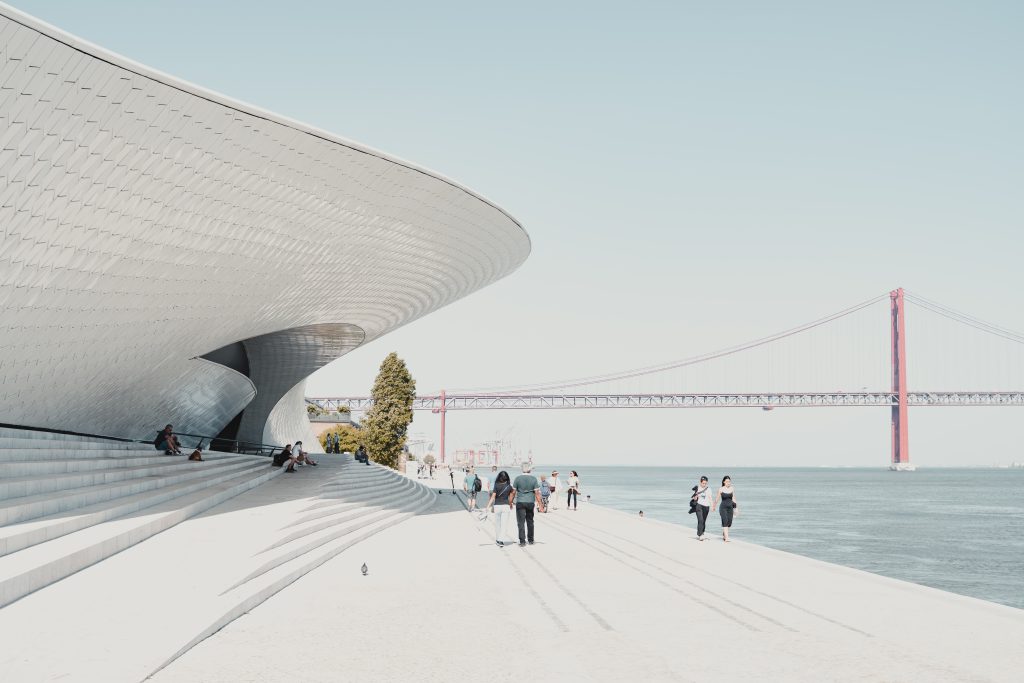 MAAT
What to do in Lisbon
Cortiço e Netos — This company has been carefully curating a collection of azulejos, produced locally since 1960 and then discontinued. By offering these rare pieces to its customers, Cortiço e Netos contributes to the preservation of the priceless heritage embodied in each ceramic tile.
MAAT — The MAAT (Museum of Art, Architecture and Technology) boasts a stunning undulating façade that follows the contours of the river. A fascinating cultural center, it explores the intersection of artistic and technological disciplines.
Mosteiro de São Vicente de Fora — This beautiful monastery has a lot to offer: a church, a cloister, a pantheon, gardens and a terrace overlooking the city. Pay attention to the tiles decorating its walls: they represent La Fontaine's fables.
Palácio Real de Queluz — An architectural marvel, Lisbon's "little Versailles" blends Baroque and Rococo styles and bears witness to the opulence of Portuguese royalty.
Terraço da Igreja da Graça — Thanks to its seven hills, Lisbon is dotted with viewpoints. Unfortunately, the most popular ones are often crowded with tourists. Graça Church's spacious, serene terrace offers a stunning 360-degree panorama. Plus, there is a complimentary glass of wine or port with the €5 entrance fee.
All photo credits : Caroline Sobral Cabana