Marie-Joëlle Parent is the author of the book 300 Reasons to Love San Francisco and has over 15 years of experience in journalism. Along with her family, she is now exploring the hidden corners of the Sunshine State that she loves so much.
"There is so much to see in California, from national parks to wine country and even surfing beaches, all within an hour's drive from San Francisco. Having lived in New York for so long, this access to nature and vast open spaces is really what attracted me to the West Coast. Plus, San Francisco is a progressive European-style city, with unique architecture, a human dimension, right on the Pacific coast. I just really feel at home here," she says.
Through her discoveries, she has been able to create a well-stocked rolodex of good restaurants, ocean views, charming inns and other Californian treasures.
"The Pacific Coast Highway is, in my opinion, one of the most significant roadtrips to do in a lifetime. It stretches from Southern California to Oregon, but the most alluring stretch is definitely between San Francisco and Los Angeles. These landscapes have inspired many authors such as Henry Miller and Jack Kerouac."
What to do, what to see, where to stop along the 715 kilometers that separate these two cities? Marie-Joëlle Parent shares her favorite spots, useful travel tips and photo advice for a memorable California roadtrip.
Day 1: San Francisco to Carmel-by-the-Sea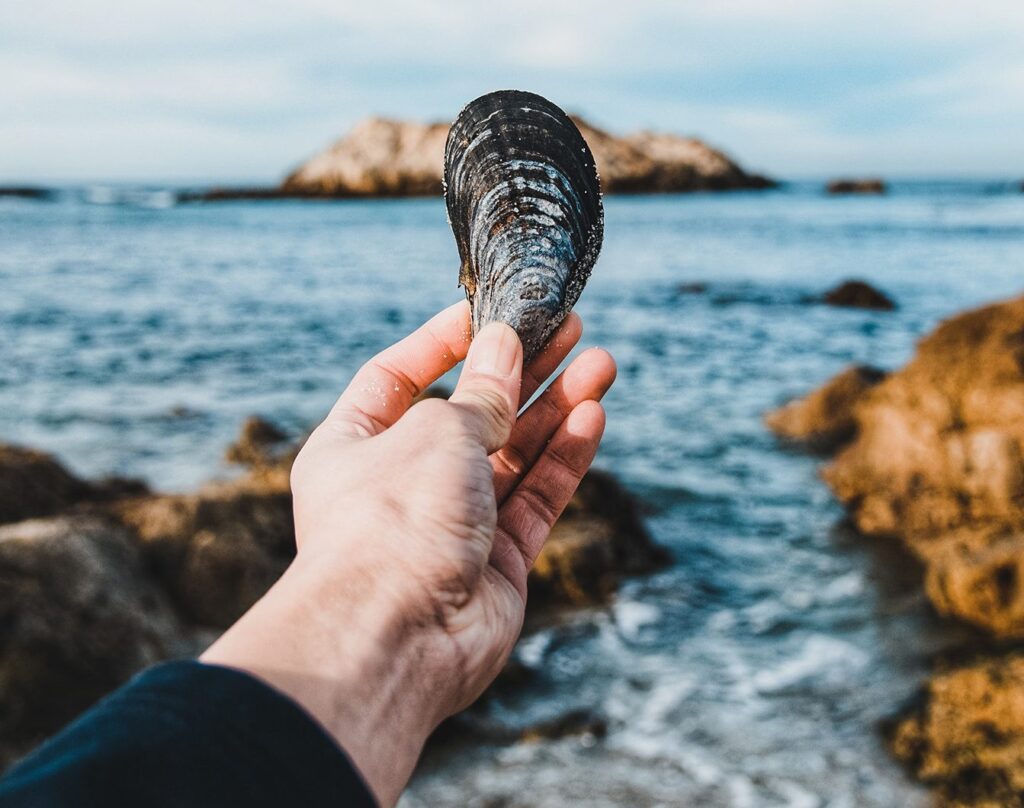 The beaches of Pacifica and Montarra
"This is where I took my first surfing lessons, it's the best place to learn! It's super accessible," adds the author. For the record, the only Taco Bell in the United States with direct access to a beach is here.
Half-Moon Bay and Maverick Beach
Some of the most powerful waves in the world are recorded here, which can be as high as 18 metres in the winter and break with such a splash that the impact is recorded on the Richter scale.
Sam's Chowder House
For sustenance, stop at this ocean view terrace where the seafood menu is a must on any California Roadtrip. Marie-Joëlle Parent is adamant: "This is the best lobster sandwich I've ever had!"
"I recommend landing in San Francisco, spending two or three days there and then driving to Los Angeles. The view is simply better when driving from north to south, with the ocean as far as the eye can see from the passenger side of the car," says Marie-Joëlle Parent. "It's enchantingly beautiful."
Pescadero
A Portuguese-influenced farming village that seems absolutely frozen in time since it was founded in the 19th century, with an eerie resemblance to Western movie sets. To this day, it still only has 600 inhabitants. The strawberry rhubarb pie at Duarte's Tavern is a must, as are the fish tacos at Taqueria De Amigos which is… inside a gas station!
Pigeon Point Lighthouse
Perched atop a 35-meter high cliff, this pristine white lighthouse has been guiding sailors to port since 1872. Marie-Joëlle Parent adds that it is a favorite place to see whales and dolphins.
The 17-mile Drive
This is a mythical scenic route that runs along the coast for about 25 kilometers. The private road is lined with cypress trees and some of the most desirable dream homes in the U.S., overlooking the Pacific. Beware, however, that since this is a toll road, you'll need to budget $11 per vehicle.
Carmel-by-the-Sea
La Playa Hotel is the place to stay! An authentic writers' retreat, the mission-style property with a Spanish flair dates back to 1905 and was built by an artist as a gift to his wife during the city's bohemian era. Some other good places to discover in Carmel-by-the-Sea according to Marie-Joëlle Parent: Carmel Valley Coast Coffee Roasting for a locally-roasted coffee and excellent pastries, La Bicyclette for its French-Italian inspired menu as well as Stationæry for its very trendy brunch.
"Carmel is definitely one of my favorite places, I go there often. It's a small town with charming colonial architecture and one of the most beautiful beaches in the country. I just love getting an early start with a coffee to-go and head on to the half-moon shaped beach, wher I mingle with residents as they walk their dogs in the morning sunlight. It is truly magical," enthuses Marie-Joëlle Parent.
Day 2: Carmel-by-the-Sea to Big Sur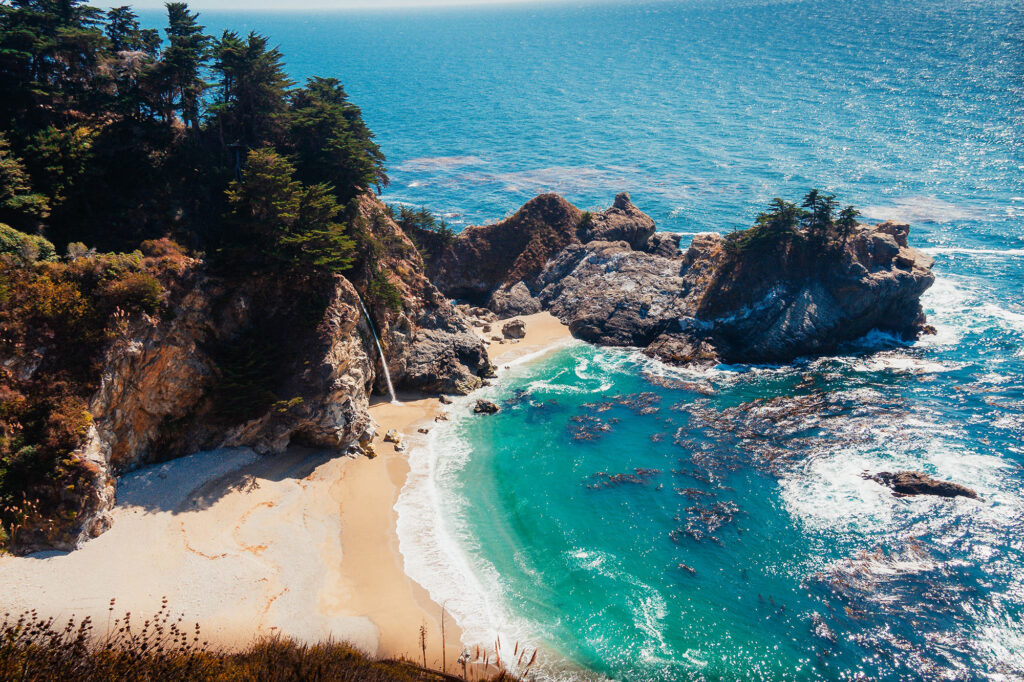 Bixby Bridge
One of the most photographed bridges in the U.S. and also the star of many car commercials filmed on Highway 1. For the best view, stop at the Castle Rock Viewpoint just north of the bridge.
Big Sur
The coastal park that runs along 150 kilometers of coastline attracted just about every author of the Beat Generation who famously flocked to California, more specifically to Big Sur in order to write in peace surrounded by giant sequoias. Note, though, that hhere is no phone service in the area. Total disconnection guaranteed! Many travelers come here for the multitude of yoga and mediation retreats that are offered in the area. "For the record, the final scene of Mad Men, the one with Don Draper meditating on the edge of a cliff, well, it was filmed there, in Esalen," she says.
"This part of the California roadtrip is very close to my heart, as Big Sur is where my husband proposed! It's an absolutely beautiful national park with unforgettable scenery, there is an almost palpable grace and magic to this place. One can feel so small between the immense sky, sea and cliffs".
Post Ranch Inn
A remarkable property that would normally be reserved to the most affluent travellers. But Marie-Joëlle Parent has a better idea! "It's an amazing hotel, with cliffside rooms and an award-winning restaurant, but both are totally overpriced. To enjoy the view at a lower cost, I suggest having a drink at sunset on the bar's balcony surrounded by the Pacific Ocean." Reservations are advised.
Pfeiffer Beach and McWay Falls
Two of the most photogenic, postcard-worthy stops on the route.
Tip for a successful California roadtrip: the California National Parks Passport! Get the California National Parks booklet and make sure you get the stamp for each park you visit.
Glen Oaks Hotel
A lovely mid-century modern hotel in the middle of the forest. Insider's tip: each room is equipped with a small gourmet kit to make smores on the campfire outside!
Day 3: Big Sur to Santa Barbara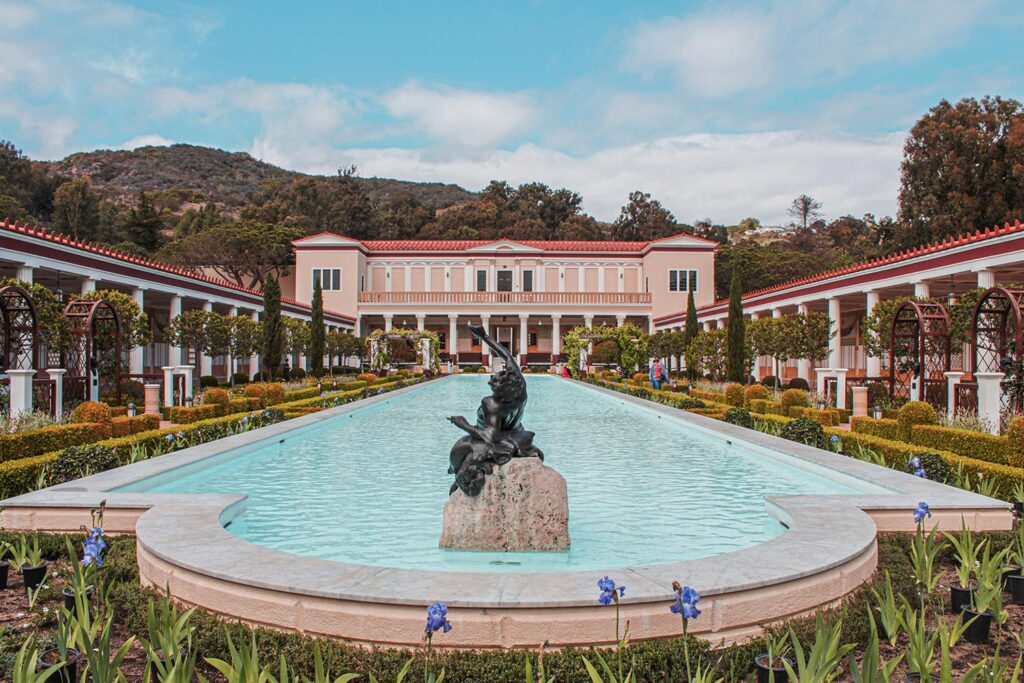 "Santa Barbara is a beautiful place to really, truly relax before entering the whirlwind that is Los Angeles. Here, the tempo is much slower. It's also the gateway to the wine region, which definitely deserves a visit, especially for its Cabernet and zinfandel", says Marie-Joëlle Parent.
Big Sur Bakery
The ideal place for breakfast before getting back on the road to Santa Barbara. It's still widely regarded as the cradle of slow food and Californian locavorism, with a most inviting terrace surrounded by a cactus garden.
Hearst Castle
The lavish estate of newspaper magnate William Randolph Hearst, who was the inspiration behind the main character in the mythical movie Citizen Kane. Construction began in 1920 and was completed 30 years later, under the supervision of Julia Morgan, "A name that is often heard in California because she was the first female architect in California, and as such, she designed several buildings that are now national historic monuments," says Marie-Joëlle Parent. The 165-room castle, which also featured a somptuous pool with mosaic tiles and hanging gardens, was the backdrop for Lady Gaga's GUY music video back in 2014. Advance reservations are recommended.
Madonna Inn
A temple of kitsch! This motel in San Luis Obispo, unusual to say the least but still a must on any California roadtrip, dates back from 1958. It's incredibly photogenic and has an entirely pink restaurant that makes for a whimsical lunch spot.
Wine Region
The famous Turley Wine Cellars is a great introduction to California wines, and so is DAOU Family Estate, which particularly charmed this new Californian: "It's a family-owned vineyard, operated by people that are originally from Lebanon. It's located on top of a mountain and the view is absolutely stunning! The wine tasting is accompanied by Lebanese mezzes, which definitely helps discover the region in a much less touristy way."
Paso Robles and Los Olivos
Two charming villages that deserve to be explored slowly and leisurely between two wine tastings.
Hotel El Encanto
Why not opt for a small luxury hotel to end this roadtrip in California on a high note? The charming residence is located in the middle of the mountains with a swimming pool surrounded by lush gardens and features a lovely on-site restaurant.
Day 4: Santa Barbara to Los Angeles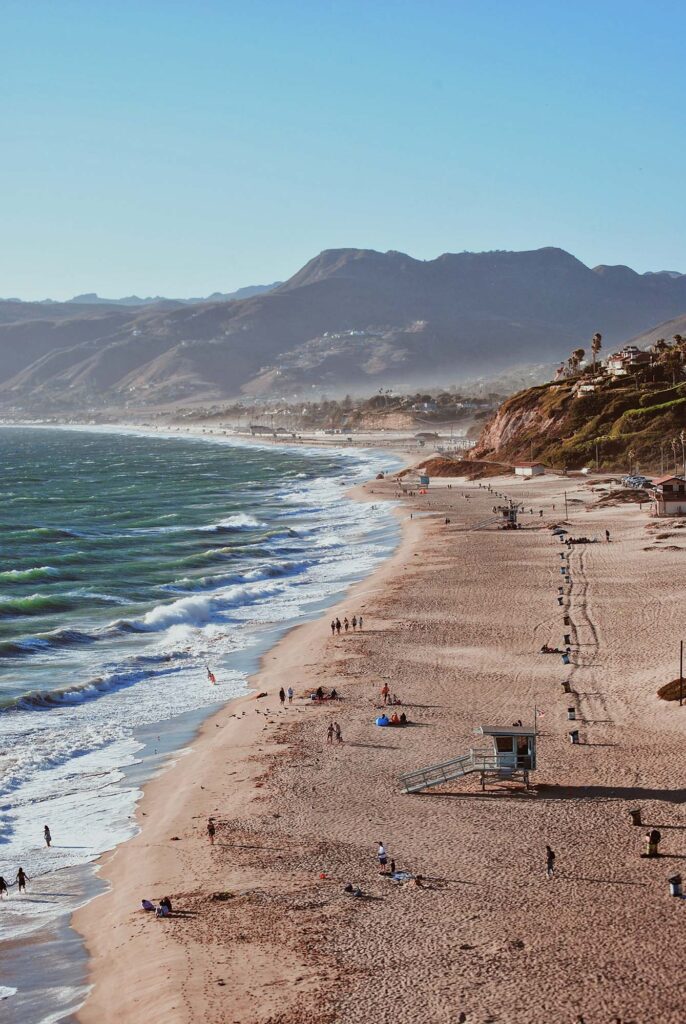 Santa Barbara Botanical Garden
A 78-acre botanical garden containing over 1,000 species of rare and indigenous California plants. A must-see for all botanic enthusiasts.
Santa Barbara Mission
The biggest mission in California, often referred to the 'Queens of the Missions'. It was founded in 1786 as the tenth of what would later become 21 missions built as part of a broader effort to consolidate Spain's religious claim on Alta California.
Malibu
Obviously, the beach absolutely must be included on any California roadtrip! But the author suggests to avoid the main beach (the one featured in the somewhat infamous, eponymous TV series) and to instead head to the residential part. Just park along Highway 1 and walk down to the beach to enjoy some peace and quiet, and who knows, maybe catch a glimpse of celebrities going about their daily business.
Getty Villa
The Roman-style villa of oil and financial tycoon J. Paul Getty is filled with antiques. Admission is free!
Malibu Farm Pier Cafe
Everything here is organic, local and tasty. The restaurant is located right on the pier, next to the water, making it a perfect place for a bucolic California-style meal. Dolphins might even show up…
And as Marie-Joëlle Parent reminds us: "And it's all very accessible. All you have to do is rent a car and get going."
"To be honest… I never thought I would live here! I mostly knew Los Angeles which to me felt very intimidating, unattainable even. It wasn't until I visited San Francisco that everything changed. It was love at first sight, and for me California is now the most beautiful state in the United States. There is really everything here, from Lake Tahoe to Palm Springs, from Yosemite to Joshua Tree. The vineyards of Napa that look like a postcard from Tuscany, the restaurants of Los Angeles that redefine the world's standards of local gastronomy. The diversity of climates in California is beyond comprehension, it is possible to ski and surf in the same day."