Although El Salvador is the smallest country in Central America, its well-preserved territory boasts a remarkable concentration of volcanoes, making it a unique destination for sporty travellers who love hiking. The region is criss-crossed by trails, each more surprising than the last, guiding you through picturesque villages and lush forests to breathtaking peaks. Much more than a simple getaway, hiking in El Salvador offers you the opportunity to open yourself up to new perspectives, immerse yourself in a fascinating cultural wealth, and let yourself be transformed by the power of travel. Daring to go hiking in El Salvador is an invitation to transcend the boundaries of your comfort zone.
So pack your hiking boots and your rucksack, because adventure awaits you in El Salvador!
Useful tips for hiking in El Salvador
What is the best time to start hiking? For a successful trek in El Salvador, it is advisable to start early in the morning to avoid the hot afternoon temperatures and to have enough time to make both the ascent and descent safely. Above all, respect your own pace, listen to your body and don't hesitate to take breaks if necessary. Hiking is a marathon, not a sprint!
What is the average weather in El Salvador? We recommend to check weather conditions and follow the advice of local guides for a safe and enjoyable experience.
What to wear in El Salvador? Because of the altitude, the temperatures and weather will change quite dramatically. You'll need proper equipment to stay warm (but not too warm) and dry. consider packing the following:
Lightweight layers of clothing that can be taken on and off easily
Sunglasses
Sunscreen and a cap
Hiking boots, preferrably in Goretex waterproof material and with proper grip
Enough food and water
Santa Ana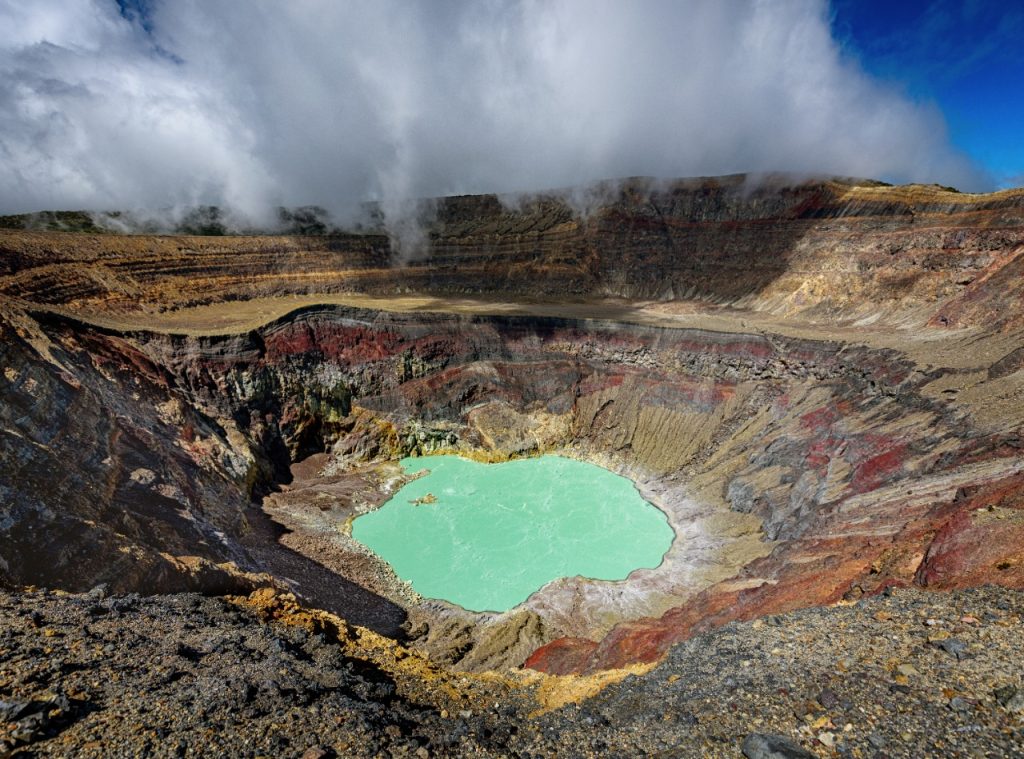 At around 2,381 metres above sea level, Santa Ana is the highest active volcano in El Salvador. The climb is of medium difficulty and takes between one and three hours to reach the summit, depending on a number of factors, including your physical condition, walking pace, weather conditions and the path you take. The descent generally takes less time, around one to two hours.
As you climb, you'll pass through a variety of volcanic landscapes that make this hike an unforgettable visual experience, including lush forests, rocky slopes and fields of dried lava. After a while, your efforts will be rewarded with panoramic views of the surrounding volcanoes, but above all, of Lake Coatepeque, Santa Ana's main attraction. The acidic lake is formed by a spectacular crater filled with emerald green water surrounded by steep black walls. The contrast is breathtaking and absolutely worth the effort of the hike. Definitely something to add to your bucket list!
As well as its natural splendour, the region around the Santa Ana volcano offers opportunities to explore the local culture and history. You can visit picturesque villages, coffee plantations, Mayan archaeological sites and learn more about the region's traditions.
You can even spend the night between two volcanoes, surrounded by nature, and spend a perfect night watching the stars!
Hiking Santa Ana in a nutshell:
Active volcano
Moderate intensity
1 to 3-hour climb
Izalco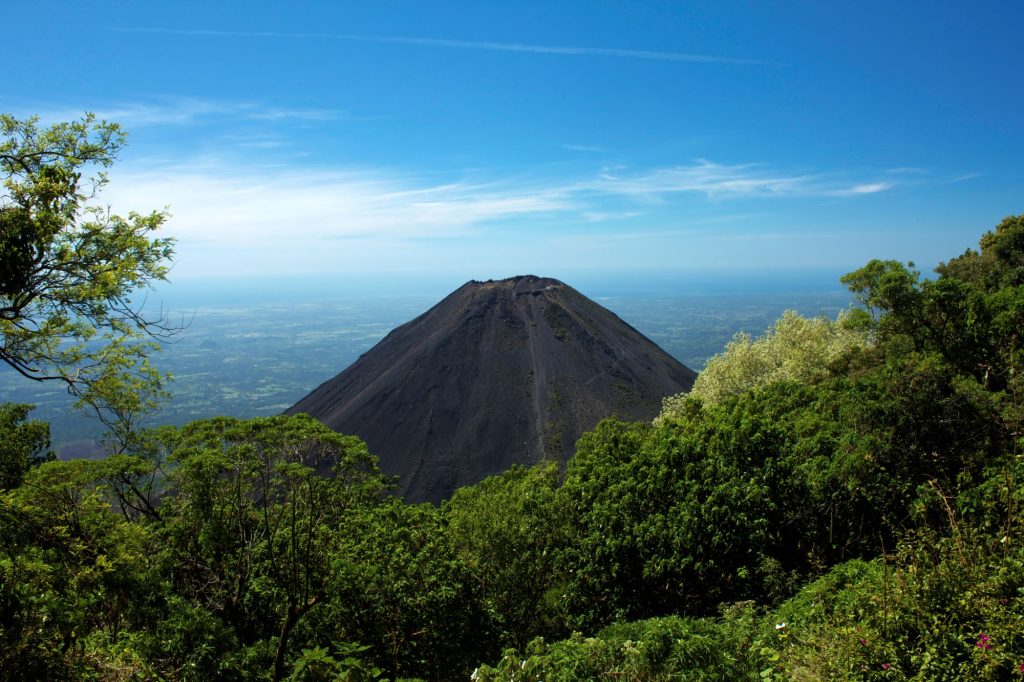 Izalco is the youngest volcano in El Salvador and in the world. Standing out amid the thick vegetation of the region, it is nicknamed the "lighthouse of the Pacific", as ships were once guided by the constant eruptions and lava flows of this natural leviathan. Although once one of the most active volcanoes in the region, it has been relatively quiet since the mid-20th century.
Interesting fact: in Nahuatl, a language native to Central America, the name Izalco means "place of black sands", which characterizes it to this day. Indeed, the volcano is renowned for its magnificent lunar landscape. Its slopes are covered in volcanic ash and black rock, creating a unique and almost unreal atmosphere for hiking. You'll feel like you're walking on another planet!
Unlike some climbs, which can take several hours, the ascent of Izalco is relatively short but intense. It generally takes between one and two hours to reach the summit, depending on your pace. Once at the top of the crater, you can admire extraordinary panoramic views at 1,950 meters above sea level.
While your adventure on Izalco will allow you to push your limits, it will also allow you to learn more about the history and impact of the volcano on the region. Izalco has played a significant role in Salvadoran history and culture. It erupted several times during the 20th century, most recently in 1966. As a result, climbing it nowadays both a challenge and an incredible experience for tourists.
Hiking Izalco in a nutshell:
Active volcano
High intensity
1 to 2-hour climb
San Salvador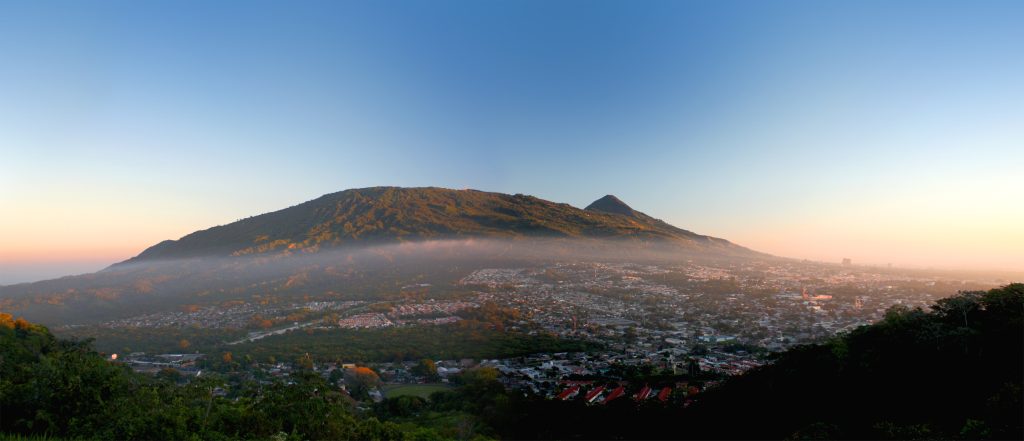 San Salvador volcano offers hiking opportunities with picturesque views of the capital and Lake Ilopango. The climb is relatively short and moderate, making it accessible to a wide range of hikers. The climb starts from the residential areas of the city, making it a nature getaway within easy reach for locals and visitors alike. And because the volcano is extinct, there is no risk of eruption.
You'll need to walk for around 30 minutes along signposted paths to reach the crater of San Salvador, which is home to El Boquerón National Park, a protected natural area. During your walk, you'll pass through lush green forests where you can observe the local flora and fauna. Keep your eyes peeled for birds, butterflies and tropical plants!
Another unique feature of this hike is the opportunity to enjoy a magnificent sunset from the summit of the volcano. Many hikers choose to climb San Salvador at the end of the day to be rewarded with this breathtaking natural spectacle.
What's more, along the way you'll find beautiful viewpoints, restaurants and cafés with spectacular panoramic views of San Salvador, Lake Ilopango and the Chinchontepec volcano. Here you can enjoy a cup of hot coffee or other tasty beverages, from natural soft drinks to more sophisticated wines. The gastronomy is also very varied.
San Salvador in a nutshell:
Inactive volcano
Moderate intensity
30-minute climb
Chaparrastique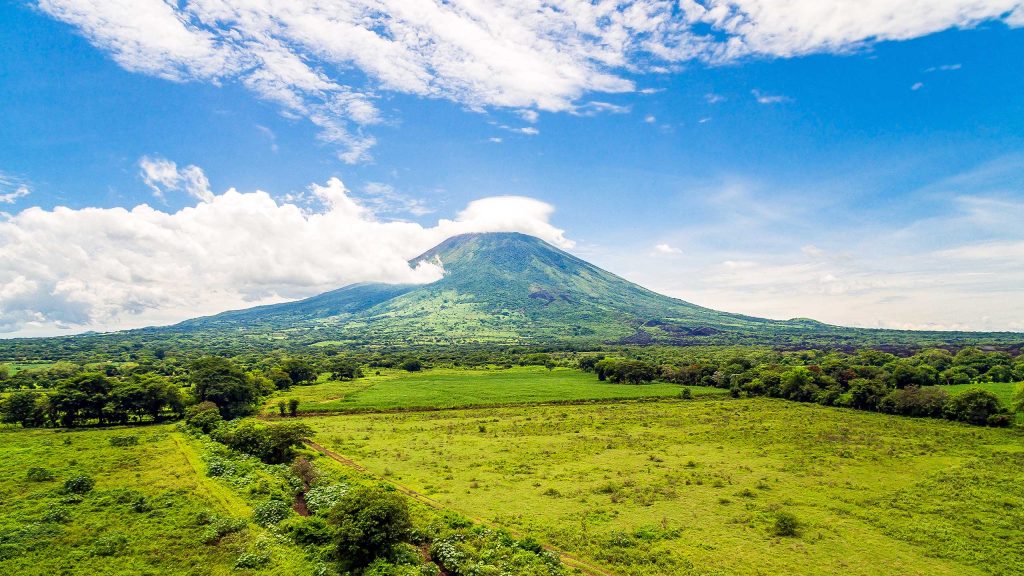 The Chaparrastique volcano, also known as San Miguel, is one of the most active volcanoes in El Salvador, and has seen several notable eruptions in recent decades, most recently in 2013. This volcanic activity gives it a unique and evolving atmosphere, although its ascent is generally safe with careful monitoring by the local authorities. In general, the trail is well defined and signposted, making it a relatively accessible hike for experienced hikers. However, the climb can be long and demanding in places, as some of the paths are steep and the altitude makes itself felt. You'll need three to four hours to climb up, and two to three hours to descend. Quite a challenge!
One of the special features of this hike is the panoramic view from the top of the volcano, 2,130 meters above sea level. From the crater, you can enjoy breathtaking views of the surrounding countryside, other volcanoes in the region, as well as the Gulf of Fonseca and the Pacific Ocean. This is one of the reasons why hikers from all over the world are attracted to the Chaparrastique volcano.
The climb up the volcano will also allow you to explore the fascinating nature of the region. Along the way, you'll see lava formations, volcanic ash and a wide variety of plants and animals adapted to these unique conditions. Don't hesitate to stop for a rest and take a few photographs!
Chaparrastique in a nutshell:
Active volcano
Moderate to high intensity
3 to 4-hour climb
Cerro Verde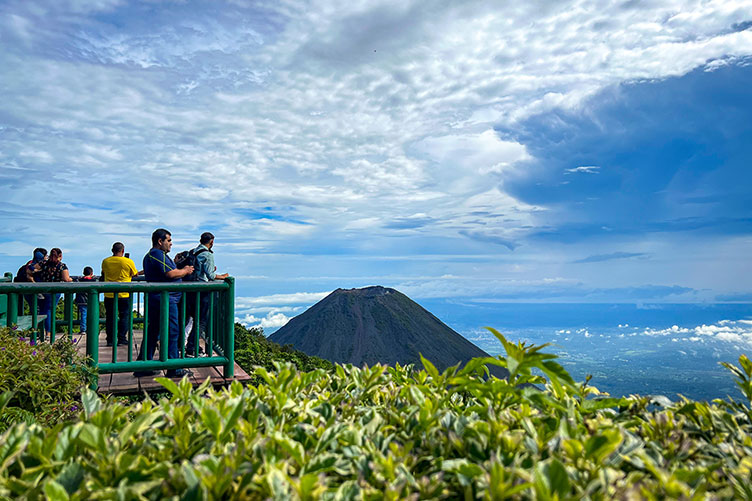 Founded by Don Raúl Contreras and opened to the public in 1955, Cerro Verde offers a variety of landscapes, from lush green forests to the rocky slopes of the volcano. The climb is moderate, making it suitable for hikers of all levels, and takes around two hours. Here, the contrasts between wooded and open areas create a truly diverse hiking experience.
At the summit of the volcano, some 2,030 meters above sea level, you can admire the splendour of the Apaneca mountain range and the magnificent Coatepeque lake. Located close to Santa Ana and Izalco, Cerro Verde is distinguished from its neighbours by its inactivity. It too is part of the Los Volcanes complex, a national park protected for environmental conservation in El Salvador. As well as hiking, the park offers other activities such as stargazing, museum visits and excursions in the surrounding area.
Cerro Verde in a nutshell:
Inactive volcano
Moderate intensity
2-hour climb