Want to travel to another continent without countless stopovers and enjoy a variety of experiences and landscapes? With new nonstop flights from Montreal to Marrakech, imperial cities and ancient dynasties await this vibrant Moroccan itinerary. Not to mention the unparalleled surf and the abundance of natural beauty! You can discover all of this and more in just 10 days in North Africa with this Morocco travel guide.
Are you wondering how many days is enough to see Morocco? Or is 7 days enough in Morocco? Well, it depends. First of all, it should be noted that Morocco is a rather large country with long distances to cover and in which the attractions are quite spread out. This means that it would take a good month to see the whole of Morocco! For a first and introductory visit, we suggest planning 10 days and sticking to one region, as you'll see in our Morocco travel guide below.
Day 1 – Overnight in the Agafay Desert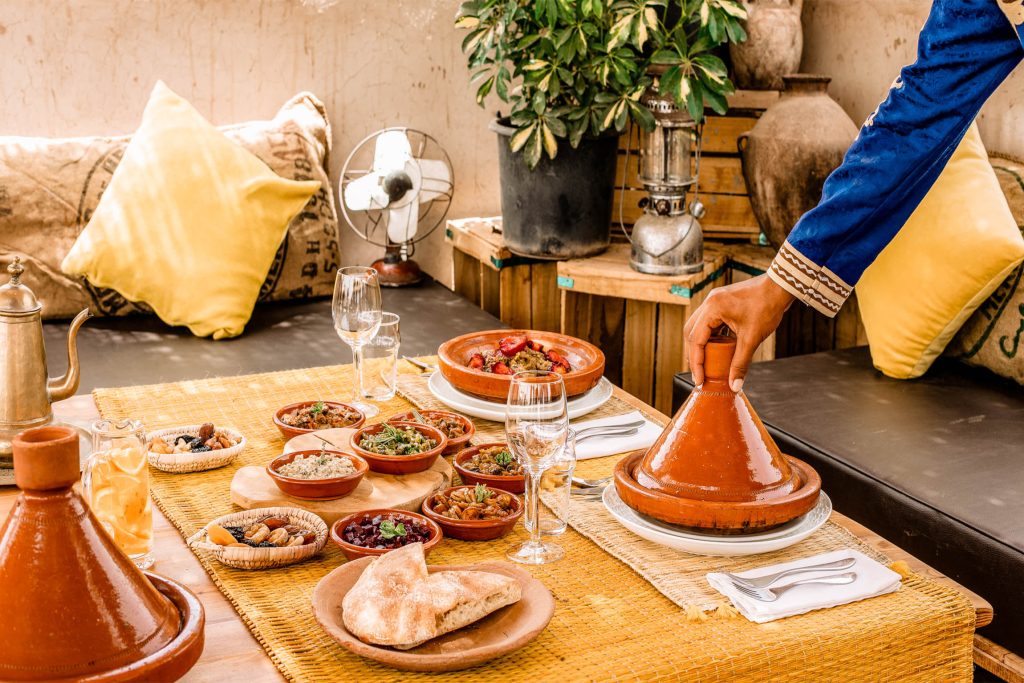 Start your Morocco itinerary right when you arrive at the airport in Marrakech! Sleeping in the desert is a must on any trip to Morocco. However, the classic places of Merzouga and M'Hamid El Ghizlane require a great deal of travel. Fortunately, the Agafay Desert makes it possible to have this extraordinary experience in less than an hour after landing.
To reach the Agafay Desert, it's a short 40-minute drive from Marrakech. The desert, despite its proximity to the city, offers a complete immersion into Sahara-like landscapes.
Choose your preferred desert camp accommodation, whether it's glamping or traditional Berber tents. Some camps even offer a swimming pool! Take a quad bike ride through the sand dunes. Sip fresh mint tea. Enjoy traditional Moroccan cuisine in the moonlight. Fall into the arms of Morpheus in this landscape that is only surpassed by the phenomenal sunrise the next morning!
Distance Marrakech-Ménara International Airport – Agafay: 21 km – 28 min by car
Days 2 and 3 – Trip to Marrakech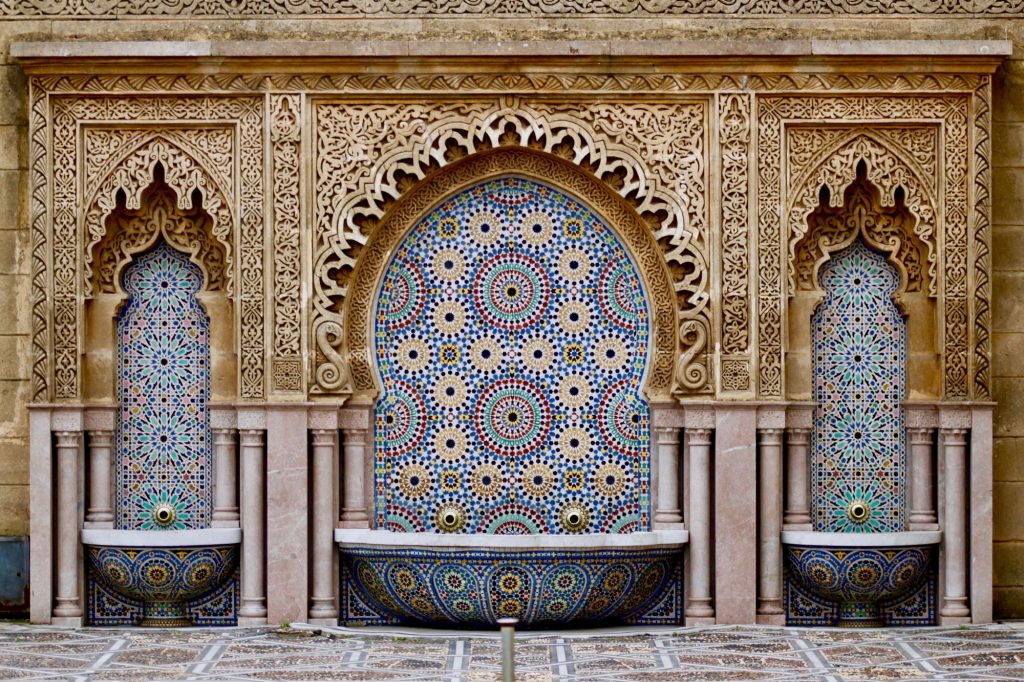 Marrakesh offers travelers an unparalleled variety in a maze of alleys, stalls, imposing palaces and ancient doors. It is the perfect place to start your 10 days in Morocco.
Getting lost in the medina is inevitable, but it's not a bad thing considering all your senses will be heightened by the sights, smells, and sounds of this polarizing labyrinth. Do a little bargaining in the bustling souks, experience a traditional hammam, then visit the city's popular attractions.
The Ben Youssef madrasa and the Majorelle garden are among Marrakech's must-sees. Of course, you should not miss the nightlife when the Place Jemaa el-Fna is lit up with a thousand lights.
Day 4 – Morocco Road Trip from Marrakech to Ouarzazate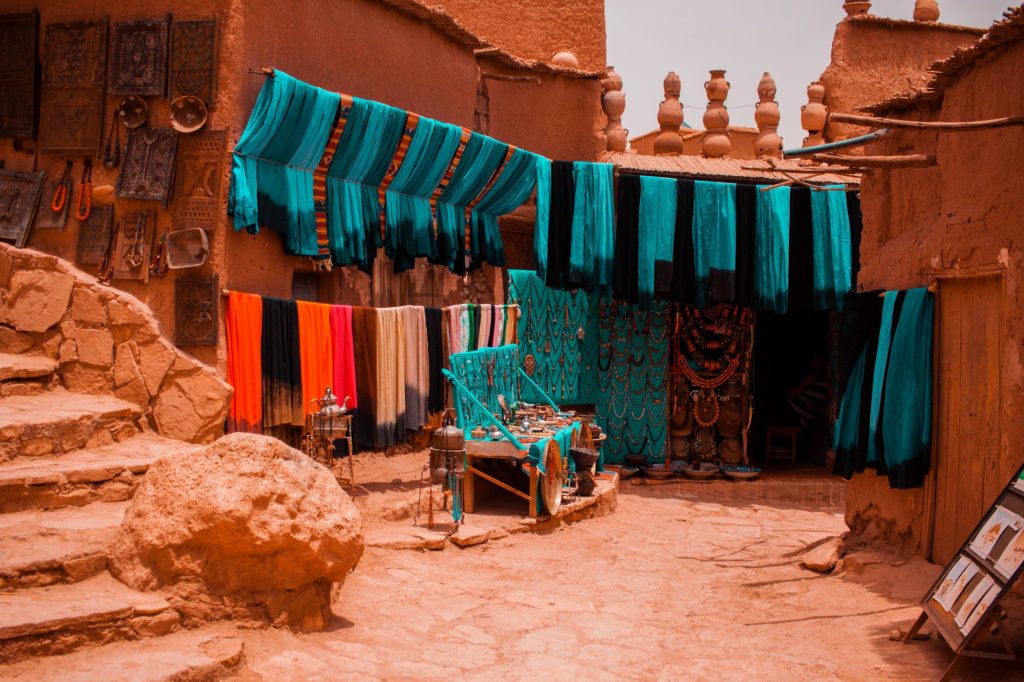 Rent a car or hire a driver-guide and set off early in the morning to explore Ouarzazate and the southern valleys. The fourth day of this Morocco itinerary promises to be an unforgettable one!
This road trip will take you on a route through the Atlas Mountains, with the awe-inspiring Tizi-n'Tichka pass as a highlight. Make sure to have an expert at the wheel! At 2260m, it is the highest pass in the country and its breathtaking, if bewildering, curves stretch for 200km. This route provides striking contrasts between the ochre of the mud brick constructions and the verdant oases and palm groves.
Along the way, take a break at the fortified pre-Saharan ksar (fortified village) of Aït Ben Haddou. Thanks to its excellent state of preservation, it's undoubtedly the star of the region and appears on all Moroccan postcards. No wonder it's listed as a UNESCO World Heritage Site! It's truly one of the best place to visit in Morocco. You may even have seen it on the big screen in the Game of Thrones, in Gladiator or in Lawrence of Arabia.
Walk in the footsteps of the chieftains of the past at the Telouet kasbah, a former trading post abandoned in the 1950s. From the terrace you can enjoy an amazing view over the valley.
Finally, reach Ouarzazate. Visit Taourirt Kasbah, a former residence of the Glaoui dynasty and explore the town's unique features. The area is dubbed Morocco's Hollywood due to its popular film studios. Finish the day by visiting the Cinema Museum Studio located near Ouarzazate. This Moroccan Hollywood is home to spectacular film shoots. There are also numerous costumes and sets from famous films. Visit Taourirt Kasbah, a former residence of the Glaoui dynasty and explore the town's unique features. 
Remember, the journey from Marrakech to Ouarzazate can take approximately 4 hours due to winding mountain roads. Plan accordingly to make the most of this day
Day 5 – From the land of dates to the mountains of Taroudant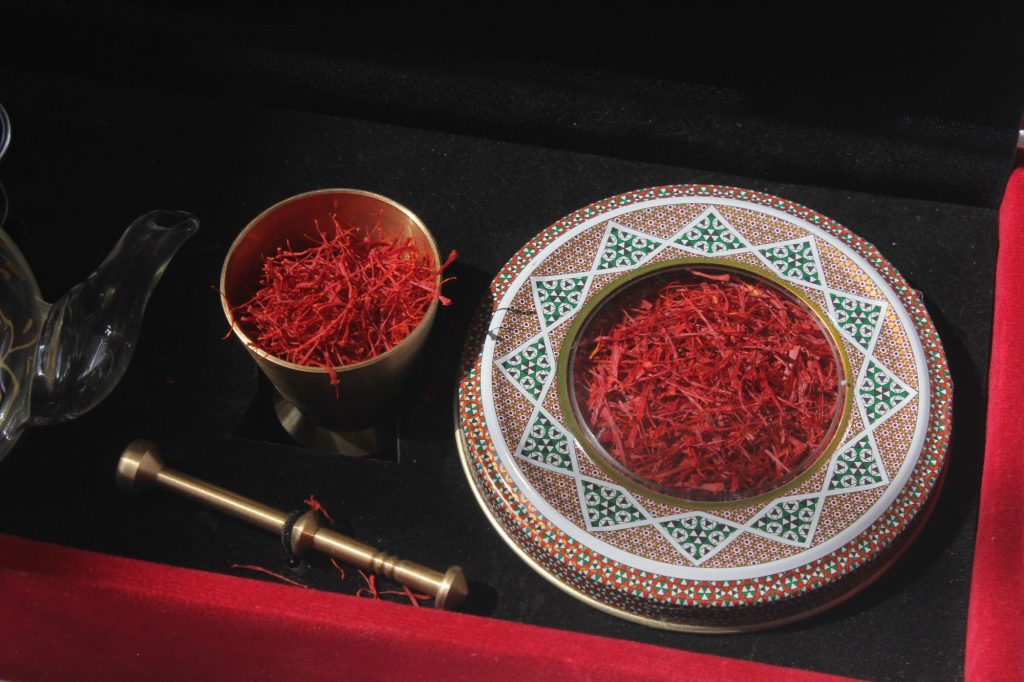 Continue your Morocco itinerary by heading west to the town of Taliouine and then on to Taroudant.
The day starts with a picturesque drive towards Taliouine, known as the saffron capital of Morocco nestled between the Sous Valley and the High Atlas mountains. Don't miss the opportunity to visit a saffron cooperative and learn about the cultivation and harvesting process of this 'red gold'.
Remember to visit the bustling Berber souk, Jnane al-Jaami, where you can stock up on fragrant spices, dried fruits, and traditional Moroccan clothing.
Upon leaving Taliouine, the journey continues through the Anti-Atlas mountains, an area brimming with natural beauty and cultural history. The landscapes change dramatically as you descend into the fertile Sous Valley, where vast date groves provide a striking contrast against the stark mountain backdrop.
Reaching Taroudant, which offers a more relaxed and authentic Moroccan experience. Situated in the heart of an oasis, its remparts, almost 8 km long and with 130 towers, are sure to attract your attention.
Spend the afternoon exploring the city's impressive ramparts, which span over 7.5 kilometers with 130 towers and 19 bastions. Don't forget to visit the Amazigh Souk, one of the city's main attractions, where you can find traditional Moroccan crafts and fresh produce.
If you're an art lover, a visit to Palais Musée Claudio Bravo is a must. This unique venue serves as a hotel, museum and was the former residence of the late Chilean painter Claudio Bravo.
Distance Ouarzazate – Taroudant: 275 km – 4h10 by car
Days 6 and 7 – Surfing Trip to Taghazout on the Moroccan Coast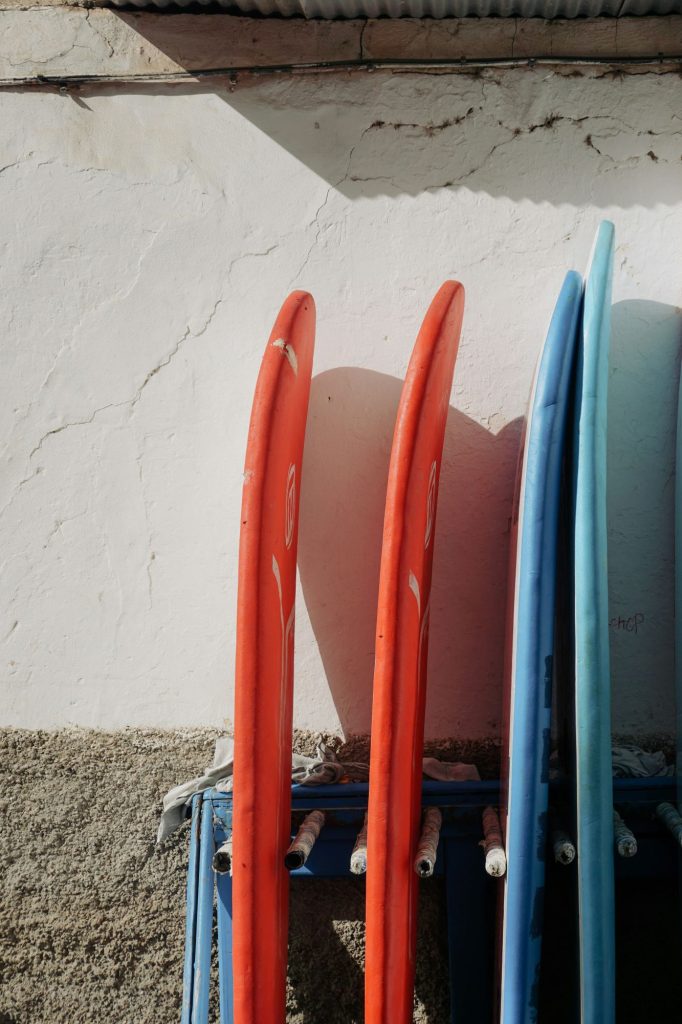 It's impossible to plan 10 days in Morocco without stopping to enjoy the crystal-clear waters lapped by the coast. With its 3500 km of coastline, the country is characterized by a large number of sandy beaches and paradisiacal surfing spots.
Taghazout, located by the Atlantic ocean, has been leading the North African surfing scene since the 1960s. You could spend your days catching waves or learning to surf if you're a beginner. There are several local surf schools and board hire facilities in the town. Indeed, the exceptional conditions make it possible for both beginners and experienced surfers to find their groove.
If you're in serious need of rest and relaxation, why not add a yoga retreat in Taghazout to your Morocco itinerary? There are plenty of places to choose from, since the town's vibe is laid-back and bohemian, thanks to the surf culture that has shaped it over the years.
Indeed, in addition to surfing, Taghazout town itself is worth exploring. It started as a small fishing village but has grown into a bustling, culturally rich community with a unique charm.
Days 8, 9, and 10 – the Medina of Essaouira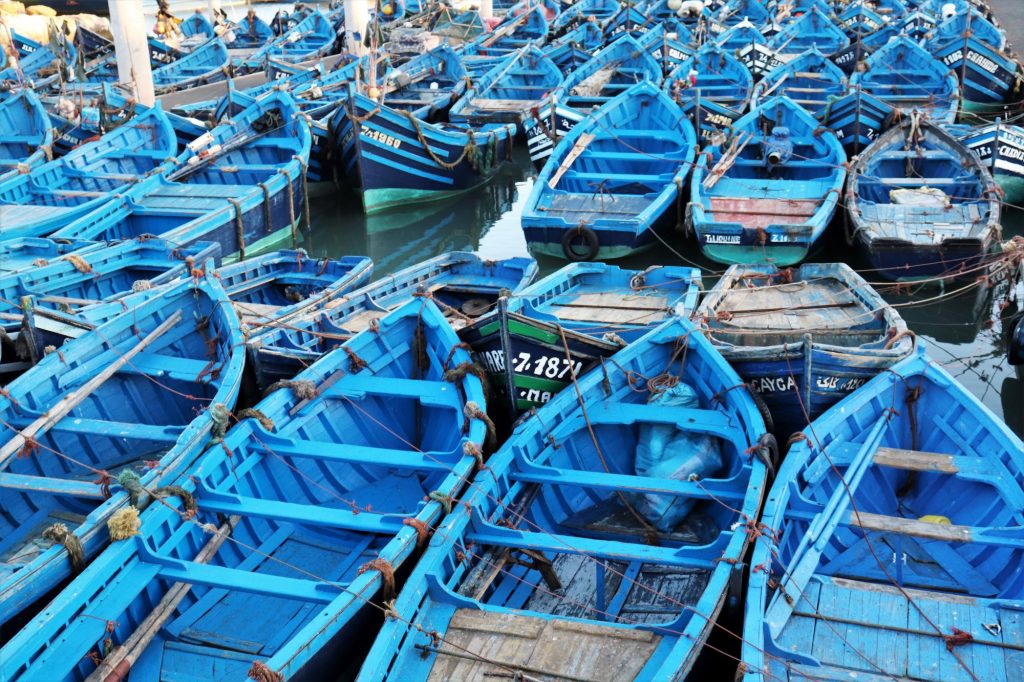 After the energetic surfing in Taghazout, the historical Medina of Essaouira offers a refreshing contrast. Head north along the coast for your final destination Essaouira, also a UNESCO World Heritage Site. This charming port city has a wealth of attractions to explore!
Take a stroll through the bustling Moulay El Hassan Square, lined with cafes and restaurants offering stunning sea views. Spend your mornings marveling at the architecture and exploring the old medina with its indie art galleries, Moroccan eateries, and shops selling unique local crafts. Decked out in white and blue, the medina is a pleasant place to stroll, as is its azure-blue Skala harbor and the fish market on the edge of the beach (and a chance to see the Game of Thrones filming site). It's a laid-back atmosphere that might just stick with you and make you want to come back again and again!
If you're feeling adventurous, you can go wild with the water sports such as surfing, kite-surfing, and wind surfing that are made easier by the notoriously strong winds that blow here.
Finish your trip to Morocco by leaving Essaouira to spend one last evening in Marrakesh before your flight out, or simply leave early to head for the airport, as you wish!
Distance Taghazout – Essaouira: 152 km – 2h30 by car
Distance Essaouira – Marrakech: 177 km – 2h45 by car