Anyone who's ever travelled to Spain knows all about the Spaniards' predilection for making the most out of every evening by staying out well into the night, eating late and spending time outdoors when it's not so hot. Nowhere is this nightlife more obvious than in cosmopolitan Barcelona, where the streets are teaming with feasting locals until the early morning hours.
Dinner in Barcelona usually starts between 8pm and 10pm–sometimes even later than that!–so what is one to do between the end of the workday and supper? Enjoy some tapas, claro!
Tapas Culture in Barcelona: What You Should Know
The word "tapas" is derived from the Spanish word "tapar" which means "to cover". The original tapas consisted of a piece of bread that was used to cover one's drink to prevent insects from flying in. The bread was eventually topped with a slice of meat, cheese or other small portions of Spanish specialties and ultimately, these "tapas" became just as important as the drink they covered.
The origin of the tapas culture is somewhat disputed, with several stories and legends claiming a variety of ways this Spanish bar hopping habit may have started. One story involves a king who was sick and could only eat small bites, which he subsequently declared should be served in all taverns. Another involves a different king and his desire to keep his workers from getting inebriated by making sure food was served with their wine. And a third theory states that it originated with field workers who ate smaller meals throughout the day in order to be more productive.
Tapas are always a part of a social gathering involving spending time with friends. They describe more a way of eating than a kind of food. Tapas bars are usually loud and filled with lively conversations and laughter. Meander through any neighbourhood in Barcelona at the end of any day and you're bound to hear the local tapas bar before you even see it. Tapeo, or the art of eating tapas, is akin to our "bar hoping" but is an unpretentious yet more elaborate affair since drinks are always accompanied by food. The "hopping" part is also taken very seriously as Spaniards usually never have more than one drink per establishment. It is important to make the rounds and meet up with as many friends as possible for the couple of hours those tapas hopping lasts before heading to dinner.
Tapas are not meant to be a full meal. They can vary from the very basic olives and roasted almonds to more elaborate dishes like stews and saucy affairs. They usually involve seasonal produce as well as simple fare that are easy to prepare. Some classic dishes such as pan con tomate (bread smeared with ripe tomatoes), tortilla de patatas (Spanish omelette), marinated sardines or anchovies, garlic shrimp, patatas bravas and cheese and charcuteries always find their way onto most menus. Regional tapas bars offer a tapa with each drink you order, as was always customary. Since the tapas are always a bit on the salty side, it guaranteed customers would order more drinks. Unfortunately, with the influx of tourism and tapas' rise in popularity, it's hard to find a tapas bar where the food is free in big metropolises like Barcelona. However, we have compiled a short list of great tapas bars from old school traditional taverns to contemporary establishments where you can enjoy contemporary incarnations of old classics.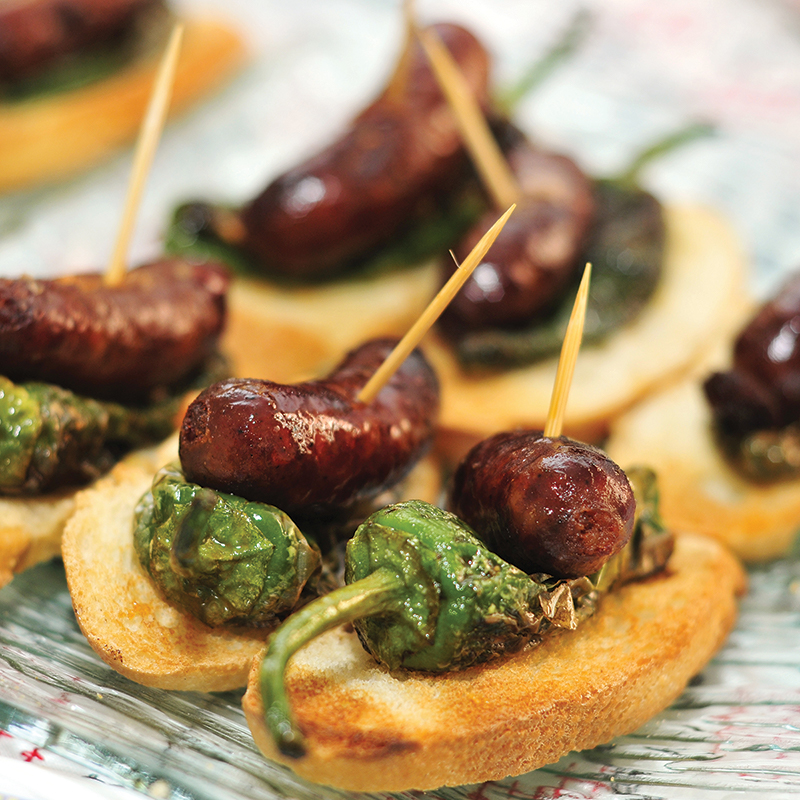 A few tapas bars to try in Barcelona:
Quimet i quimet
Open since 1914, this tiny, standing room only, fourth generation family-run bar has the reputation of being the best tapas bar in Barcelona. Quimet specializes in high-quality canned goods such as fish, seafood and meats served as montaditos, or small, open-faced sandwiches. The service is friendly as the owner himself is usually behind the bar dishing out drinks and bites.
La Cova Fumada
Located along the sea front in Barceloneta, La Cova Fumada is a family-run tapas bar frequented by locals. Arrive early if you want to find a seat at this packed bar where you must try the bomba, a spicy potato ball filled with meat that is said to have been invented here.
Tapas 24
Chef Carles Abellan twists favourite tapas into elevated versions, such as the popular McFoie Burger and his now famous dessert of bread and chocolate drizzled with olive oil and sprinkled with salt. If you can't make it to Barcelona, you can find a Tapas 24 by chef Abellan in Old Montreal.
Your direct flight to Barcelona and its rich tapas culture awaits!
The comments and contributions expressed are assumed only by the author. The recommendations, intentions or opinions expressed are not necessarily those of Transat AT Inc. or its affiliates. See terms of use of the Air Transat website.