What if students could study sustainable travel… on location? For the third edition of the Journey for Change program, Transat has partnered with Iberostar Hotels & Resorts and the University of Guelph's School of Hospitality, Food and Tourism Management for an international field study program that provides 12 students with a unique experience in the Dominican Republic. The general idea was to offer a unique hands-on experience for tomorrow's leaders in sustainable travel.
"Sustainable travel is at the heart of Transat's corporate responsibility strategy, and I'm pleased to see that the next generation is already sensitive to these issues. We believe in the power of numbers and hope that students will return from their stay with a renewed desire to get involved in social and environmental issues, both at home and abroad."


– Chrystal Healy, Vice President, Corporate Responsibility at Transat
Gabriel Martorell, Sustainability Director for the Americas at Iberostar, entirely agreed. "At Iberostar, we view sustainability as a core principle that drives and guides our business. We are committed to transforming the way people perceive travel and are constantly innovating to inspire our guests to join us in creating a better future. We are delighted to welcome students from Journey for Change, as they can learn about our responsible tourism practices and discover that there are always solutions to be found. During their visit to the Coral Lab, they will gain insight into how coral studies can aid in overcoming the challenges that climate change poses to reefs".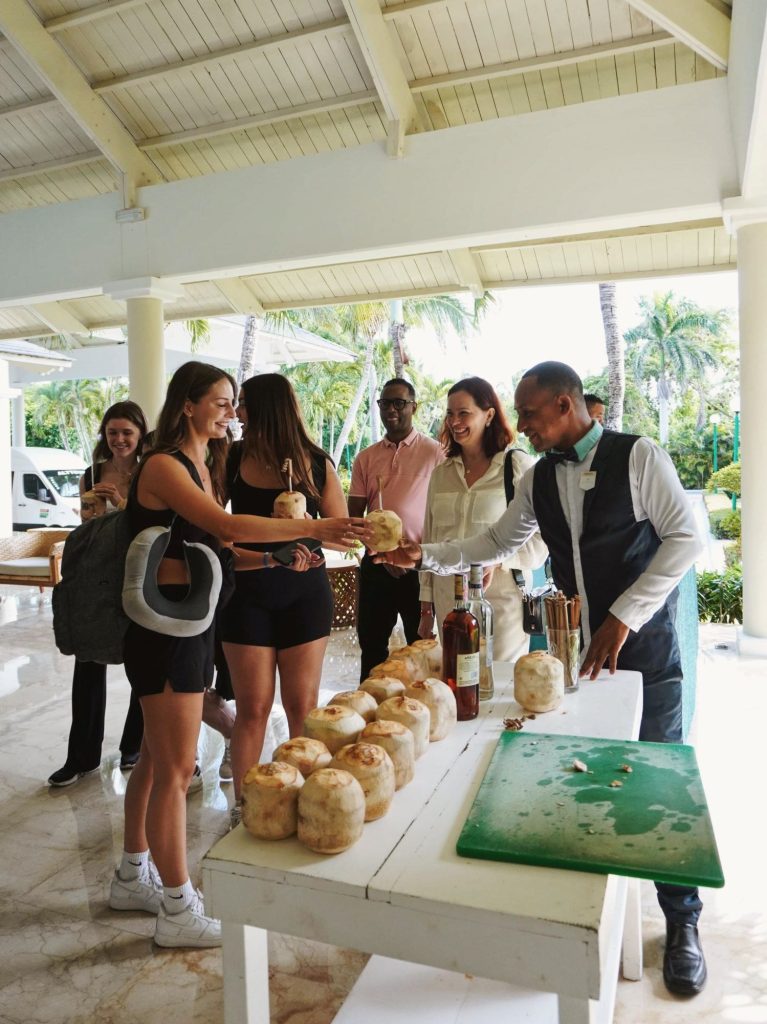 The Journey for Change program
The first Journey for Change trip took place in spring 2019 in Puerto Plata, Dominican Republic. Both previous editions have provided an opportunity to meet local communities and tourism service providers. But not just! Students also learned about the complex issues inherent in sustainable tourism at the destination. The program includes a rich variety of topics and workshops, including responsible sourcing, food waste prevention and composting, coral reef rehabilitation, mangrove planting, beach clean-ups, and community centre visits.
Students are from a variety of programs and were selected on two criteria. Firstly, on the basis of their academic performance. And secondly, through a thorough n interview process. On location, they take turns recording the main findings and challenges related to the initiatives studied the previous day or within the hotel's protocols. They then present their findings to the group at breakfast the following morning. Students also submit an assigned paper, analyzing the issue from a global perspective of sustainable tourism, either specific to the Dominican Republic or to the all-inclusive hotel world.
"I took the Corporate Social Responsibility class last semester, and it was an eye opener, to say the least. And since UofGuelph is such a sustainable school, it was a catalyst for me to continue in that direction. Journey for Change was also an excellent opportunity for me to travel for the first time. The thing I was most looking forward to was seeing how they manage food waste."

– Natacha Cisecki,

Business Management and Human Resources student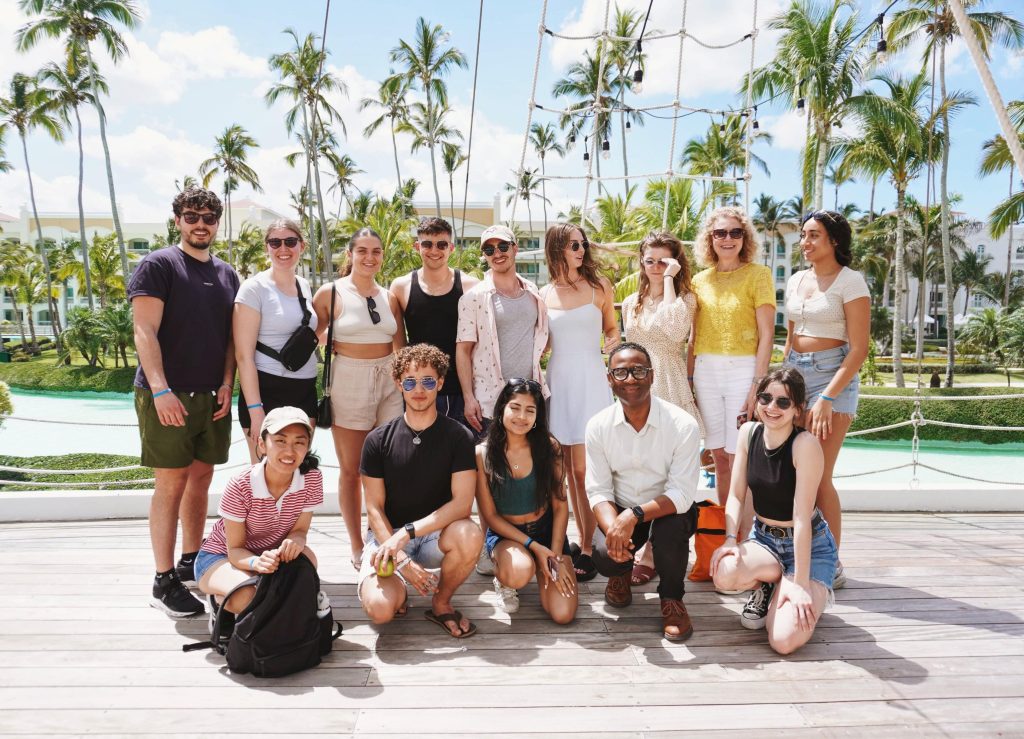 Journey for Change was created and is overseen by Dr. Statia Elliot, professor at the School of Hospitality, Food & Tourism Management – University of Guelph, and recognized as one of the world's 30 Most influencial Educators in Hospitality by the International Hospitality Institute. She has been working in education and tourism for several years, including leadership positions on various boards. She is particularly interested in substainable tourism as well as women-led leadership in the tourism industry. "The strength of Journey for Change is that the destination is the classroom. Students learn about sustainable tourism while experiencing being a tourist themselves. They see first-hand the challenges that Transat and Iberostar are tackling. And together, we can find solutions to advance responsible travel," she says.
"I've been to close to 10 all-inclusive resorts in my lifetime, and it's always baffled me: Why aren't hotels taking better care of the fragile environment they operate in, why aren't there better protocols and practices? I'm passionate about sustainability in general and sustainable tourism in particular, so that was always at the forefront of my mind. I love how symbiotic this experience has been between our group and Transat, it really goes to show that as a company they are really in support of sustainable tourism practices."

– Jayden Convery, Business Management student
A typical day with Journey for Change
Several activities were planned for the students for the 2023 edition in Punta Cana. For example, they were able to be introduced to the Winnow system for the reduction of food waste. The group then visited the hotel kitchens to learn about the implementation of the system. The Winnow guidelines calculate the amount of food wasted so that orders can be adjusted week over week.
Later in the week they visited a mangrove plantation. This helped learn about the essential role of this plant in the ecosystem. During extreme weather events such as hurricanes, mangroves indeed provide natural infrastructure that protects nearby populated areas by reducing erosion and absorbing the effects of storm surges. Under the careful supervision of local landscaping experts, the students were even able to plant a brand new mangrove!
And then was the Coral Lab. Perhaps the favourite activity on the itinerary! Located right on the hotel grounds, the Coral Lab is dedicated to educating, researching and preserving coral reefs. The coordination team on site was proud to present its facilities! They also explained the restoration experiments that are being carried out there.
"Honestly, when you go to a typical all-inclusive resort, you think all they care about is booking rooms. But to see all the initiatives Iberostar has taken was incredible. For every problem that has come to my mind, they have a solution. And not just in a way that eliminates the problem immediately, but also makes it easier to manage in the future. I thought that was amazing! I'm really looking forward to taking what I learned this week and applying it to my business in the future. At the end of the day, it's not just about profits. It's about making real change."

– Selena Nelson, Commerce & Marketing Management student
Why it matters
Dr. Statia Elliot also noted that each year she is impressed by the enthusiasm of the group and the unique bond that the students form. This will last for the rest of their studies and perhaps even beyond. "Students do not meet until the day of departure as they come from different programs, which brings forward interdisciplinary solutions. This, to me, is the ultimate testament to the importance of experiential learning," she says.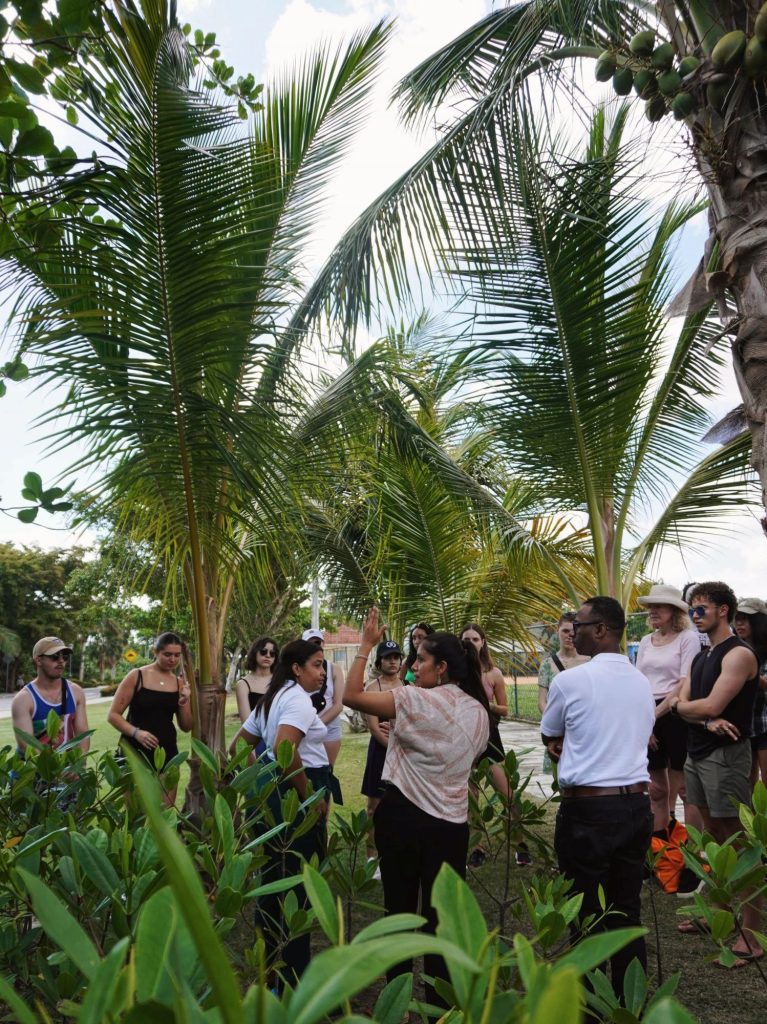 From a sustainable tourism perspective, most students are quite amazed to see how far some companies are willing to go (and have actually gone) to completely revolutionize how they operate.
"What has blown me away is how many initiatives Iberostar is implementing and how committed they are to sustainability. In the last few days, I've been amazed by almost every single thing they're doing. Truth be told, I don't usually expect much in the way of sustainability from big corporations; most of them are making these big plans for being environmentally friendly by 2050. Instead, Iberostar is like, "No, we can do this right now". They manage to make it all look so easy, while others make it look like it's so difficult. What, like it's hard?"

– Jayden Convery, Business Management student