Article by Hélène Laurendeau, originally published in the Atmosphere magazine. Read the latest edition here.
A memorable press trip introduced me to the many wonders of Greece a few years ago. I promised myself I would return one day with my sweetheart, and the Greek gods granted my wish! 
For a nutritionist who loves to eat, Greece is a pilgrimage site, a place to experience the blessed Cretan and Mediterranean diets.
In Greece, healthy eating and skilful cooking are a way of life, to the point where its citizens enjoy a longer life and a lower risk of chronic illnesses like obesity, cancer and heart disease. The Greek diet consists of whole grain bread, fresh or dried fruit and vegetables, olives, fresh yogurt, fromage frais and olive oil, as well as water and wine with meals (but not too much). A few times a week they'll add fish, eggs or chicken to a meal. Red meat appears on their plates only a few times a month.
During my second trip to Greece, where I visited Athens, Crete and Santorini, I strolled through numerous markets, tasted amazing traditional dishes and learned to cook goat meat. I also drank wonderful local wines and enjoyed the hospitality of the Greek people. When you visit Greece, you can do the same!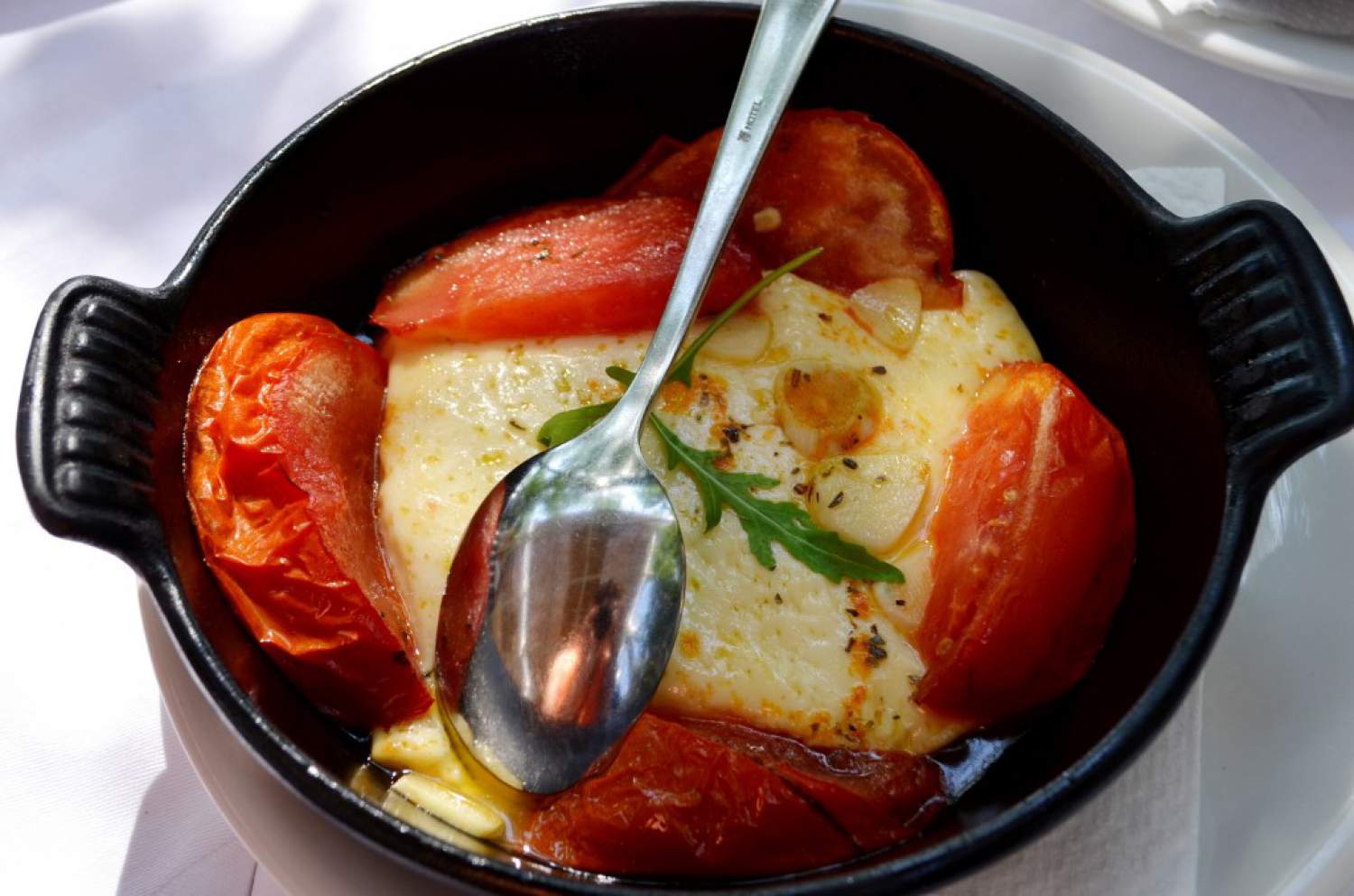 Some Wonderful Restaurants Where I Ate
To Psaraki Taverna – Vlychada, Santorini

When a restaurant features a simple, honest style of cooking and discreetly displays the acronym for "Aegean cuisine", which certifies that the establishment uses local products and wine, I'm usually the first in line. But when I spotted this restaurant, overlooking the marina at the south end of the island, I thought it had to be a tourist trap. Not at all: it turns out the local sailors eat there regularly – and now I know why! Customers are invited into the kitchen to choose their own, freshly caught fish, and the restaurant also serves delicious fish carpaccio, stuffed grape leaves, Santorini tomato fritters and many more delights.
Metaxi Mas – Exo Gonia, Santorini
This ouzeria, whose name means between us, is a favourite among the locals for its many Cretan and Santorini specialties. Even the village's Orthodox priest eats here! Situated inland, this little gem of a restaurant provides a different perspective on the beautiful island of Santorini.
Selene Meze & Wine – Pyrgos, Santorini
My friend, the pastry chef Patrice Demers, tells me Selene (Greek for moon) is the finest restaurant on the island. I'm sure he's right, but while I was in Pyrgos I opted to have lunch in the restaurant's annex, Selene Meze & Wine, which drew me in with its bistro-style menu and its focus on the culinary heritage of the Cyclades. The restaurant's shelves display gorgeous staples of the Greek diet like olives, capers and dried tomatoes, which patrons can buy to enjoy at home. The restaurant also offers cooking classes and wine tasting. I know I'll be going back!
Kapetan Dimitris – Paleochora, Crete
Perfectly situated in front of the Libyan Sea, we dug into Greek salad, calamari and eggplant. The white wine of the house is better than average and it's the perfect libation to take before easing into an afternoon siesta. Ask someone to point you to the road that runs along the coast; it leads to magnificent Sandy Beach, a stretch of sand not yet overrun with tourists.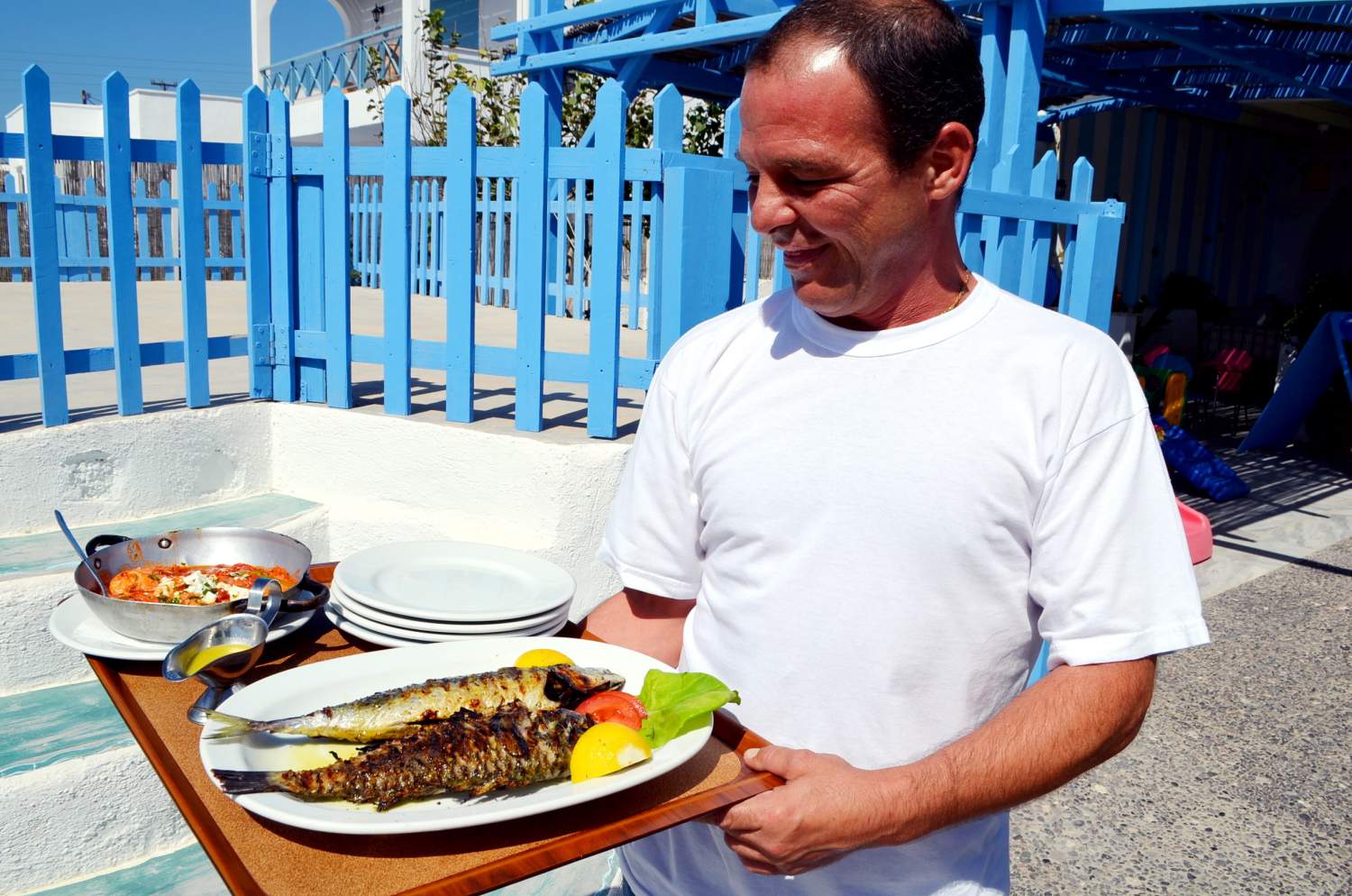 The Best Excursions on Your Trip to Greece
Athens
Climb up to the Parthenon, ideally early in the morning before the cruise ship tourists arrive. Afterwards, head to the Acropolis Museum, an architectural masterpiece in its own right, to admire some of the most beautiful sculptures of Ancient Greece. (If your budget allows for it, an accredited guide really enriches the experience. It's wise to reserve in advance.)
Stroll through the labyrinthine streets of Plaka. Take the subway to the Athens Central Market (Monastiraki Station) to contemplate the stands groaning with fish and seafood, and its other agora, dedicated to meat and offal. If you're a vegetarian or suffer from a delicate stomach, I suggest you stick to the stands outside, where you'll find a cornucopia of gorgeous vegetables and fruits!
Santorini
To Get the Blood Flowing
Follow the road along the caldera, between the three neighbouring villages of Fira, Firostefani and Imerovigli. The latter two are less touristy and more picturesque, and offer absolutely breathtaking views, some good restaurants and shopping opportunities.
Out on the Water
A sailboat tour of the caldera, with a swim, and a delicious lunch served on board a luxury catamaran, is a must if you're looking for the best food in Greece.
On Terra Firma
Visit the Sigalas Estate for a tour of the winery, with a tasting of 10 of this renowned estate's wines. (Reservations required)
Made in the Shade
The Museum of Prehistoric Thera in Fira is an easy one-hour visit and a wonderful voyage through time. The section on kitchen implements—including ancient barbeques and skewers—is fascinating.
Crete
If you're passionate about Minoan history and civilization, you must visit the Archeological Museum of Heraklion and Knossos Palace, built on a strategic site covering 20,000 square metres. It is only 5 km from Heraklion and worth the visit.
To get into the Fira groove, head to the covered Chania Market, where you're sure to make all sorts of new Greek food discoveries. Next, go for a stroll along the Venetian Harbour and see the extraordinary lighthouse built in the 16th century and the Mosque of the Jannisaries, so evocative of the Ottoman Period, and head into the Marine Museum where you can refresh yourself with a glass of wine on its shady outdoor terrace.
Falassarna Beach, at the extreme western end of the island, 60 km from Chania, is among the 10 most beautiful beaches of Europe, with fine white sand glimmering with pink coral and a magical sunset. I pounced on an olivewood salad bowl sold by a local artisan at a much better price than I had seen in the tourist towns.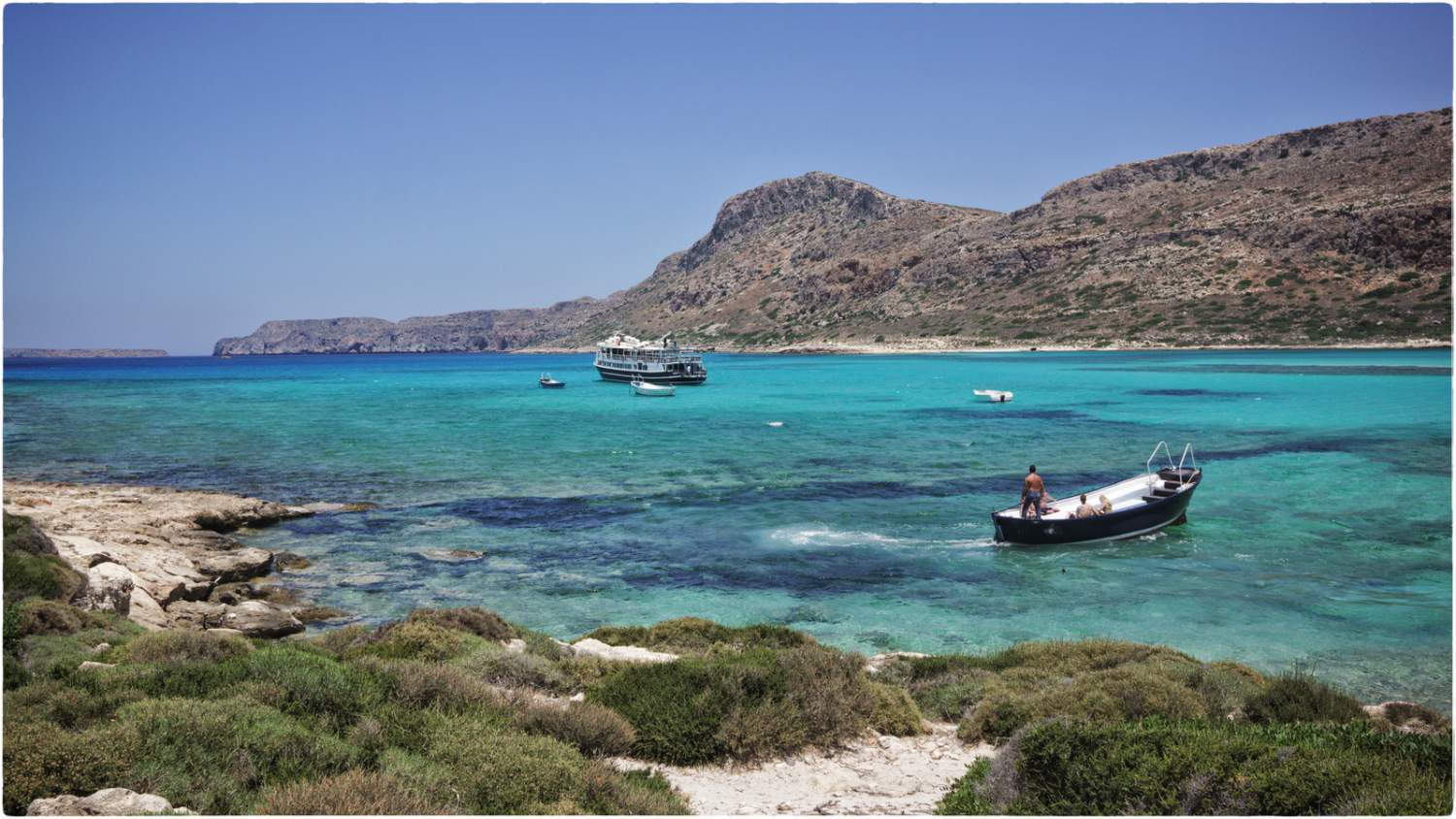 Must-Have Greek Food Staples
Mountain oregano
Honey
Dried or preserved fruit
Olives
Dried tomatoes
Santorini tomato paste
Pistachios and other nuts
Olive oil soap
Olive wood kitchen utensils
White wine made with assyrtiko grapes—lively, fresh and earthy
Vinsanto, a delicate wine with notes of honey and dried fruit
Ouzo or raki (a Cretan liquor) often served to guests
My Greece-Inspired Recipe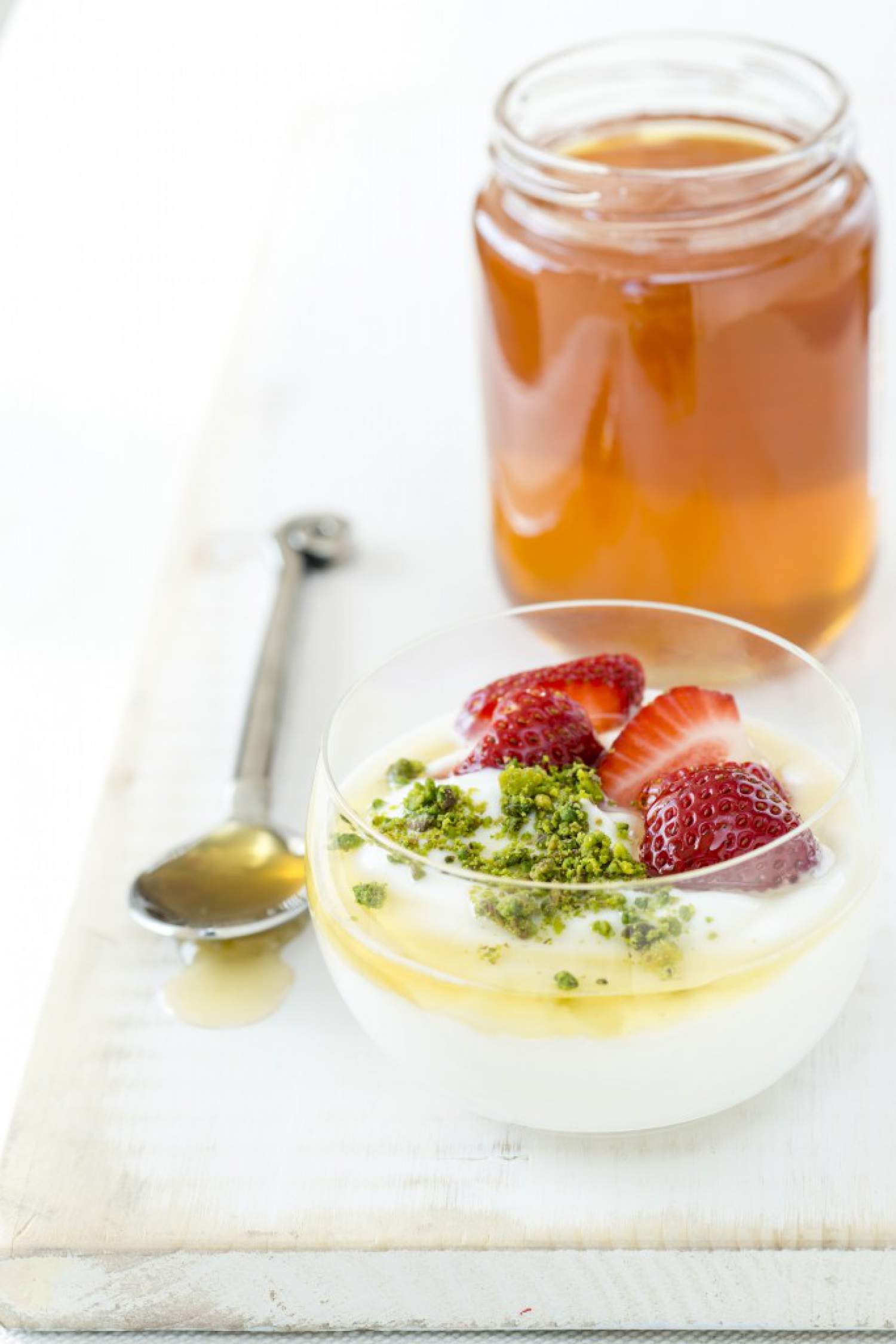 Yogurt with Honey, Strawberries and Pistachios

(serves one)
125 ml (1/2 cup) of plain Greek yogurt
15 ml (1 tbsp) of liquid, scented honey
2 ripe strawberries, trimmed and sliced
5 ml (1 tsp) of pistachio powder
In a small coffee or spice mill, grind the peeled pistachios to a pretty green powder. Next, pour the yogurt into a glass cup and add the strawberry slices. Drizzle generously with honey and dust with ground pistachios.
The secret to Greek cooking: the ingredients are more important than the recipe!
In Greece, yogurt is made with goat or ewe's milk. Greek yogurt in Canada is usually made from cow's milk. Greek yogurt is drained, with a thick and unctuous texture. If you get the chance, try the yogurt made out of buffalo milk from the Quebecois farm Bufala Maciocia, or the ewe's milk yogurt from La Moutonnière, found at the Jean-Talon Market in Montreal.
Air Transat offers direct flights to Athens from Toronto and Montreal.
The comments and contributions expressed are assumed only by the author. The recommendations, intentions or opinions expressed are not necessarily those of Transat AT Inc. or its affiliates. See terms of use of the Air Transat website.