Article by Mackenzie Patterson. This article was originally featured in the Weddingbells special feature in the Transat 2017-2018 Weddings brochure.
A beach wedding and a formal tuxedo are two things that just don't match. So what should grooms be wearing for a hot weather celebration? Style experts weigh in on the best looks.
When it comes to a groom's style for a destination wedding, the first thing to consider is the overall style vibe you're going for with your celebration and your look. From more formal affairs to relaxed beach parties, there is a hot-weather look for every guy.
Suiting Up
Paul E. Smith, fashion communications director for Harry Rosen, advocates a classic style for beach weddings and is a firm believer in the suiting option. "There's a level of formality that comes with a wedding, and I think looking great is all about having an amazing suit that's a fit for the climate and wedding style," Smith says.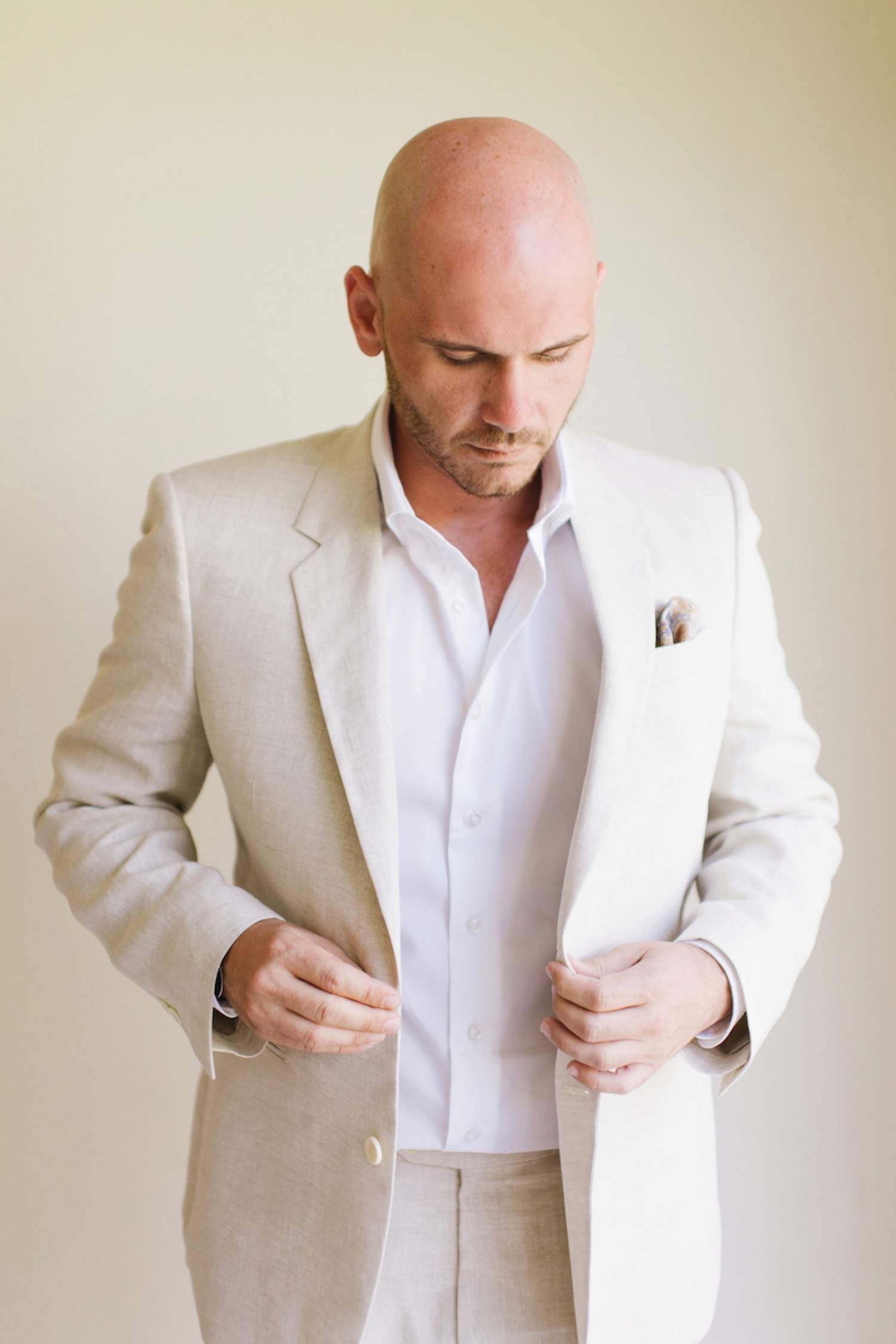 For a beach wedding, it's all about choosing a suit in the right fabric and colour. Stick with lighter tones like white, light grey and blue, and even sun-friendly patterns like seersucker to keep the look crisp and clean. "Avoid dark colours, heavy fabrics and any synthetic materials," advises Tara Williams, a fashion stylist who's a fixture on Weddingbells fashion shoots. "Light colours will reflect the sun and help keep you cool. For fabrics, stick to cool linens and cottons, which breathe."
Williams says for grooms looking for a style option outside of the suit, playing with separates is a fun way to go: "I love the look of a linen jacket and shirt with a breezy cotton pant, no tie required!"
Accessories Required
Smith says the easiest and best way to personalize your wedding look is with shirting. While white is a classic choice, Smith suggests stepping things up by playing with colours and patterns. "Different variations of a blue colour shirt would look amazing against the white sand and blue water of a beach wedding," he says. "Or, for the more adventurous grooms, patterns, stripes and checks are fun style options."
Another key accessory to pull a sleek groom style together: shoes! Try a tailored loafer or brogue worn without socks for a hip, modern vibe. "There are some great slip-on shoes in suede, leather or canvas with espadrille detailing that are very on trend," Smith says. "We're also seeing guys wearing sneakers with suits more and more. I think a classic white sneaker on the beach looks very cool. Guys should never be afraid to have a little fun when it comes to footwear."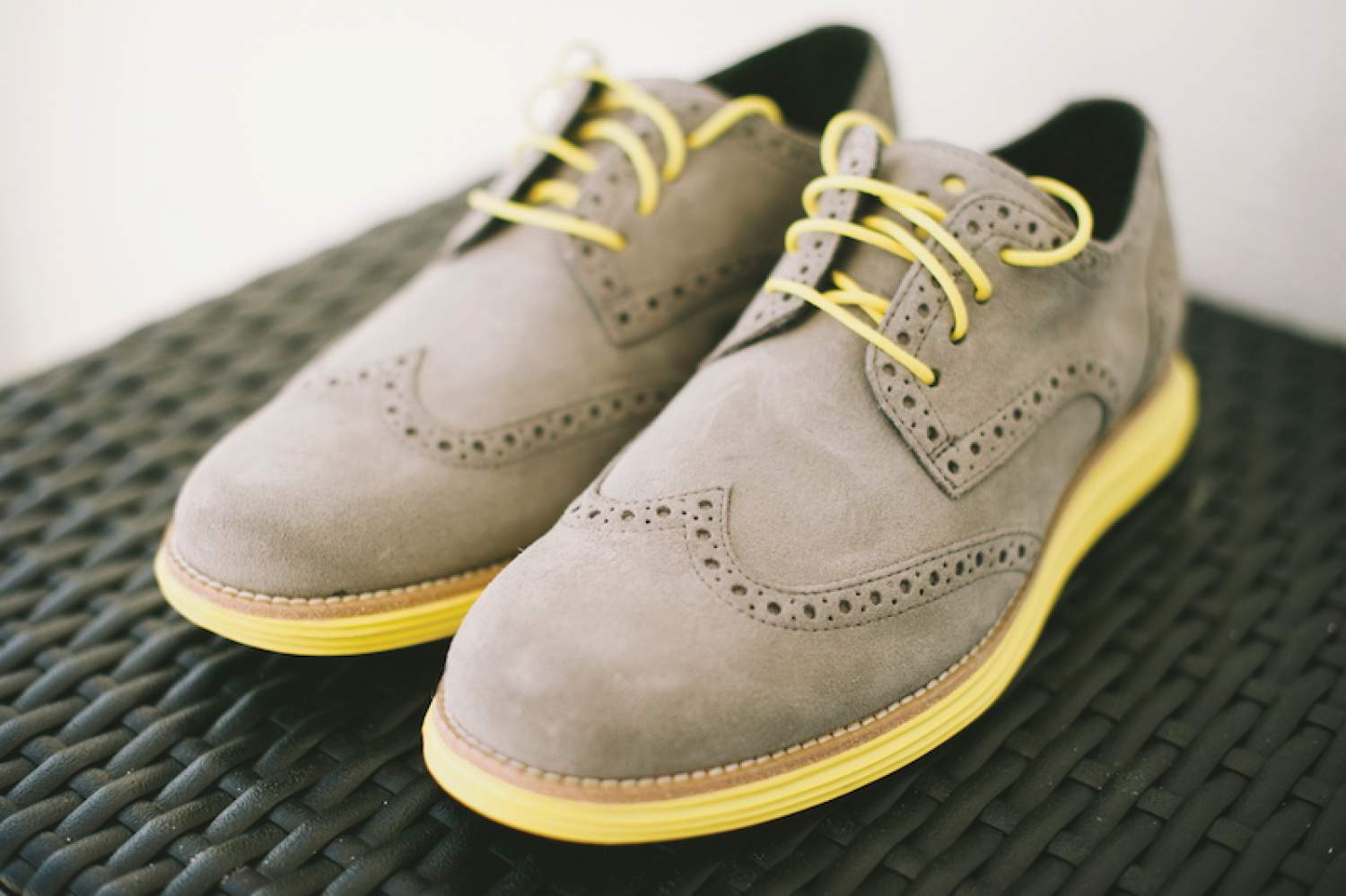 Lastly, Williams says don't forget to pick up a new pair of shades for your 'I dos.' "Sunglasses are an easy and fabulous way to bring some individuality into your wedding style."
***
To discuss with one of our Destination Wedding experts and learn more about the extras we offer to newlyweds, visit our website!
For more wedding inspiration, visit Weddingbells' website.
Cover photo credit: Claudia Hung.
The comments and contributions expressed are assumed only by the author. The recommendations, intentions or opinions expressed are not necessarily those of Transat AT Inc. or its affiliates. See terms of use of the Air Transat website.