There's an old saying that it's the journey that counts, not the destination. But what if you could do both? One thing is certain: the route linking Puerto Plata and Santo Domingo makes for one of the top Dominican Republic roadtrip and is sure to be a feast for both the eyes and the soul. It may just be the perfect opportunity to finally explore this stunning country outside its ecosystem of resorts, and really set on a journey to discover the authentic soul of the Dominican Republic.
The journey from Puerto Plata, passing through Santiago de los Caballeros, La Vega, and Bonao, and on to Santo Domingo, will reveal plenty of captivating panoramas. From beautiful beaches to verdant rainforests, from cobbled colonial zones to busy markets, there are plenty of underrated sights to explore on this three-hour drive. All you need to do is book a rental car and get going.
Go ahead, make this your chance to experience this Dominican Republic itinerary beyond the clichés!
Santiago de los Caballeros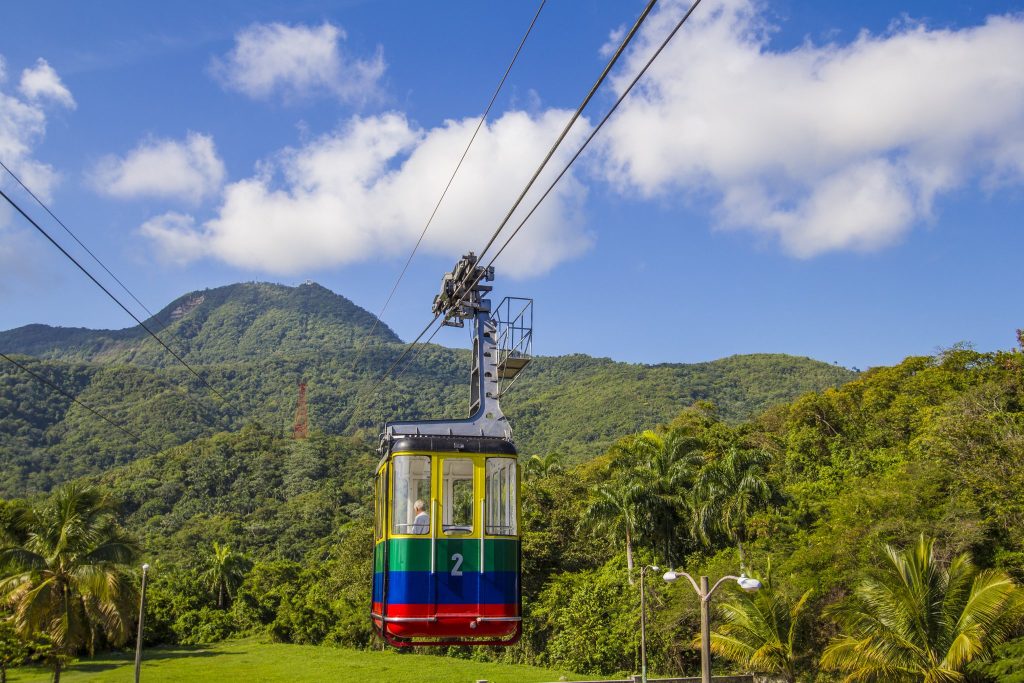 First stop on the itinerary is Santiago de Los Caballeros. The dynamic city is just over an hour's drive from Puerto Plata, nestled in the majestic mountains of the Cordillera Septentrional, the central mountain range of the Dominican Republic. Set aside some extra time for a few chats and maybe even a few drinks; locals here are so notoriously friendly that the city is now known as La Ciudad Corazón (The Heart City).
Did you know that Santiago de Los Caballeros is named after the 30 Spanish aristocrats who followed Columbus and settled here in 1495? It was actually the Dominican Republic's first capital!
Here, you can immerse yourself in Dominican art and culture through the historic monuments with panoramic views of the region. Firstly, the Fortaleza San Luis, a fascinating 16th-century fortress. Secondly, the Monumento a los Heroes de la Restauración, a 70-metre high obelisk dedicated to the Dominican soldiers who fought during the last War of Independence against Spain. Climb to the top terrace and enjoy the 360-degree panorama.
Still got a little time to spare in your day? If you're an art-enthusiast, visit Centro León, an internationally renowned museum with fascinating exhibitions that take place in a surprisingly modern building. If you're a foodie, stop at the Mercado Modelo, one of top markets in Santiago de Los Caballeros. It's the perfect place to shop for handmade crafts, mingle with local artisans, and taste new-to-you flavors while stocking up on snacks for the road!
La Vega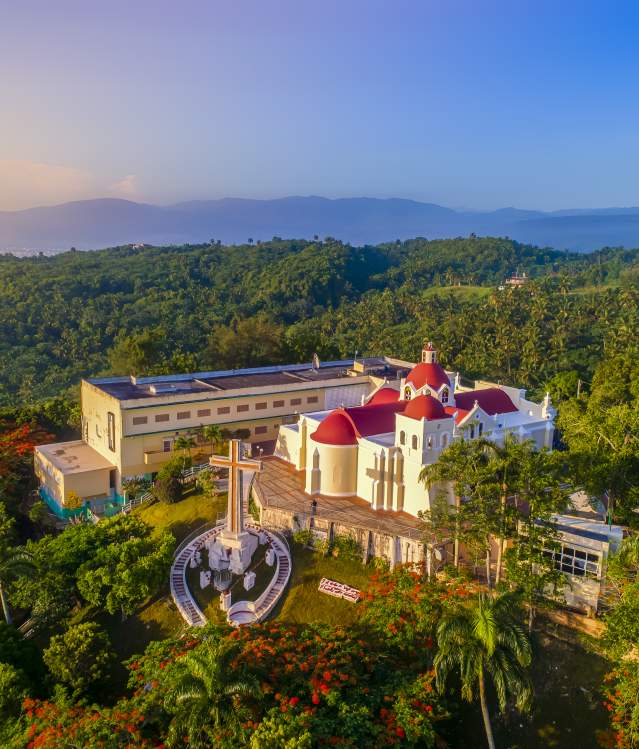 You'll need around 30 minutes to reach La Vega from Santiago de Los Caballeros. It's a picturesque town whose main claim to fame is being home to one of the biggest Dominican Republic carnivals. Every year in February or March, the city comes alive to the rhythms of exuberant bachata and merengue music, spectacular costumes, and a jolly atmosphere all around. Don't miss your chance to take part in this unforgettable cultural tradition!
If your trip to the Dominican Republic is not until later in the year, though, La Vega offers a tranquil atmosphere in which to relax in enchanting surroundings.
Nicknamed El Jardín de la República thanks to its flourishing agriculture, this rural yet wild area is full of natural treasures that make up a postcard-perfect day trip from Puerto Plata.
Feeling hungry? Visit a fruit plantation to sample the delicious and legendary strawberries of La Vega.
Feeling tired? La Vega is also home to thermal spas, such as Aguas Calientes, where you can relax in the hot springs that flow directly from the surrounding mountain range.
Feeling adventurous? The nearby Armando Bermúdez National Park hosts a wealth of magnificent hiking trails, refreshing waterfalls and exotic wildlife.
Feeling curious? To see La Vega valley from above, head to the top of Santo Cerro hill.
Bonao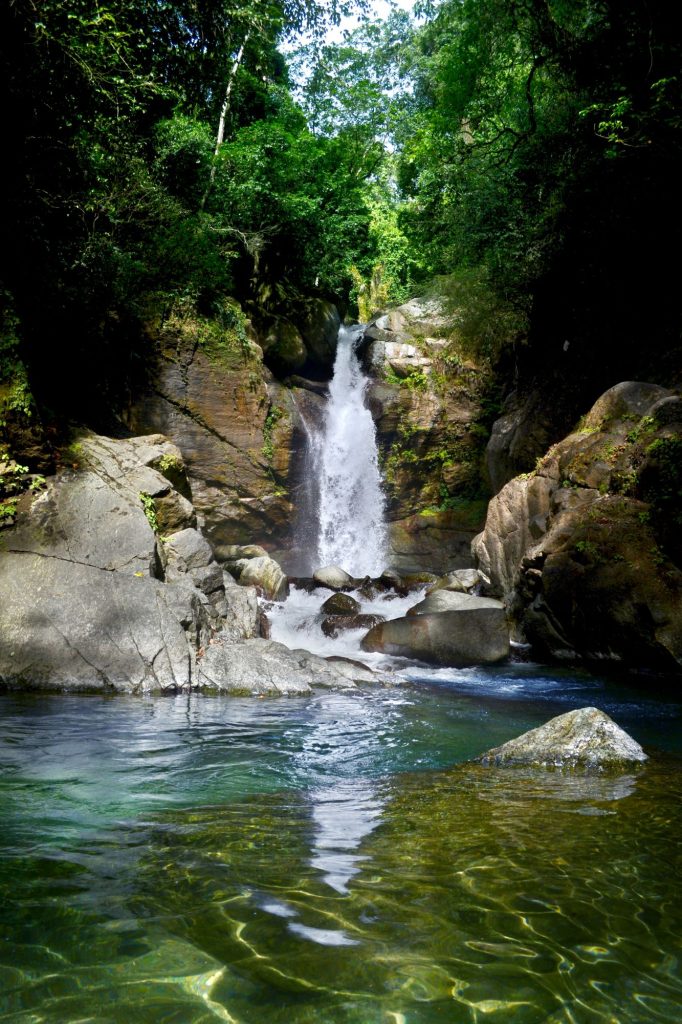 Also on the itinerary of this Dominican Republic roadtrip is Bonao, a breathtakingly beautiful town renowned for its talented artists and craftsmen. Bonao itself is a cultural gem, with its fascinating blend of indigenous, African and European influences. The streets of the old town are lined with colourful houses, bustling markets and welcoming squares where you can sample local dishes and sweet treats.
If you want to do as the Dominicans do, try picaderas. Not unlike tapas, these are small portions of a variety of dishes, such as empanadas, quesadillas, seafood, grilled vegetables and many more. It's a great way to sample different local flavours! But we recommend wearing stretchy clothes just in case you end up being a little too curious.
To walk off the picaderas, head to the Cándido Bidó and Tiburcio museums. Both are great places to admire works by local artists, ranging from paintings to sculptures. The Bonao craft market offers a host of unique souvenirs, from leatherwork to jewellery and pottery.
If time allows, make sure to visit Blanco River. Renowned for its crystal-clear, refreshing waters, the river is dotted with waterfalls, each offering its own charm and natural pool. It's the perfect place to escape the tropical heat!
Santo Domingo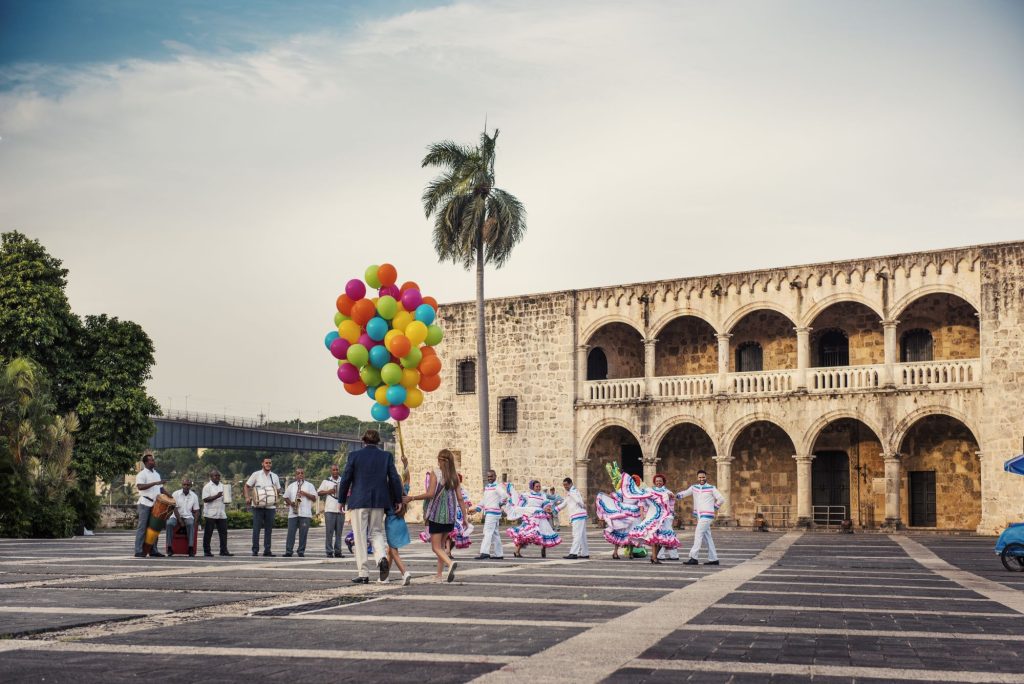 Santo Domingo is the lively capital of the Dominican Republic. Its colonial zone, a UNESCO World Heritage Site, is a historical gem, with its magnificent cobbled streets and well-preserved buildings.
To take in the typically Dominican atmosphere, settle at one of the many charming bars, restaurants and cafés dotted throughout the colonial center. Is your stomach is still set on discovery? Order these traditional Dominican dishes:
A sancocho (a thick meat and vegetable stew)
A mangu (mashed plantains)
A pescado con coco (fish in coconut milk)
And for dessert? A dish of fried plátanos maduros (ripe plantains). A real treat!
The best way to explore Santo Domingo and learn about its complex history is on foot. Book a guided tour with a local expert and let yourself be transported back in time. Finish this visit off with the two main things to do in Santo Domingo. Firstly, the Primada de América cathedral, the first cathedral in the New World. Secondly, the Alcázar de Colón Museum, the former residence of Christopher Columbus.
After sunset, Santo Domingo comes alive with a vibrant nightlife. Live music shows, including bachata, merengue and salsa, abound throughout the colonial zone. Whether you're a music lover, a talented dancer or just looking for a fun night out, enjoy the city's cultural heritage while sipping a cold beer or a glass of rum (or two, or three…)!
Where to next?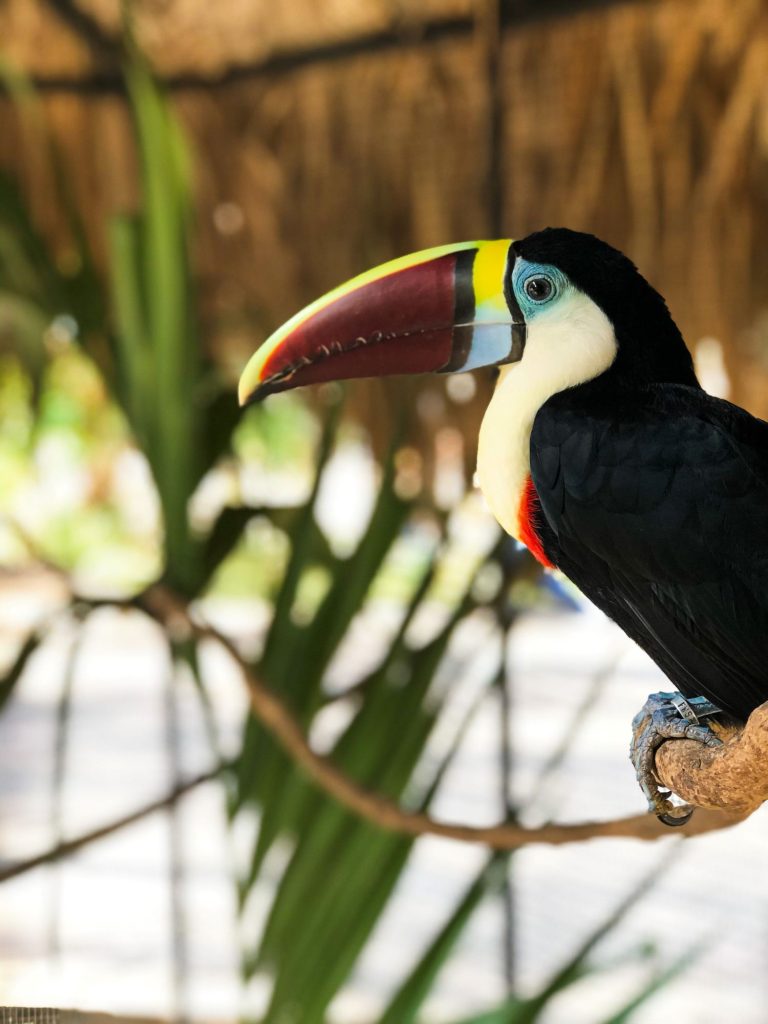 Should you want to add a few more stops to your Dominican Republic itinerary, know that Santo Domingo is the gateway to many interesting destinations in the eastern area of the Dominican Republic.
These attractions are amazing things to fill your week in the Dominican Republic with lasting memories and significant cultural discoveries!
Explore Cueva de las Maravillas, known as the "Cave of Wonders"
Go on a boat trip to Saona Island
Soak up the sun at Bayahibe Beach, one of the most beautiful beaches in the Dominican Republic
Play world-class golf at PGA OCEAN'S 4, a stunning course bathed by the Caribbean Sea within the Playa Nueva Romana residential resort and gathers 4 great scenarios in a single course
Visit the Centro Histórico Ron Barceló, a traditional rum distillery
Discover Ojos Indígenas Ecological Reserve
And then, to get home, simply make your way to nearby Punta Cana (2.5 hours away) or La Romana airports (1.5 hours away).