Thanks to an aggressive restoration project, Elizabethtown is now home to the city's hottest nightspots and Ruin Pubs
Budapest is one of the most popular destinations in the world for its historical beauty, an array of activities and excellent food. No wonder it is now called the Little Paris of Eastern Europe.
The city's architecture dates back to the 19th century, in the same "gothic" style in which Paris was built. But instead of the Seine River running through the middle of the city, the Hungarian Duna, the River Danube, divides Buda and Pest.
Elizabethtown's Evolution
Erzsébetváros or Elizabethtown is the trendy-hip 7th district of Budapest, also known as the Jewish quarter and home to the largest functioning Synagogue in Europe.
In the early 2000s the area was returned to its original beauty with an intense restoration project which included cafés, restaurants, and nightclubs, all within a 10-minute walk from the waterway.
Ruin Pubs
The area is also famous for a new nightlife phenomenon taking hold throughout Budapest called "Ruin Pubs"  where developers remodel apartment houses and factory buildings set for demolition and convert them into temporary nightclubs. These Ruin Pubs often move locations, and each one is completely unique, following no rhyme or reason.
Ruin Pubs places are hip, and stylish, which as you might guess winds up attracting artists, and celebrities. You will also find theatre performances, concerts, exhibitions, and creative workshops.
Many are decorated in recycled retro furniture leftovers from the communist era and are super popular among the youth in Budapest since the beginning of the 21st century. The nightlife in Budapest is for adults of all ages, and this cult trend, Ruin Pubs brings partiers from around the world to experience these uber-cool hot spots.
Top Picks to Experience Nightlife in Budapest
Szimpla Kert
1075 Budapest, Kazinczy u. 14
Phone: +36 20 261 8669
Open: 12:00- 03h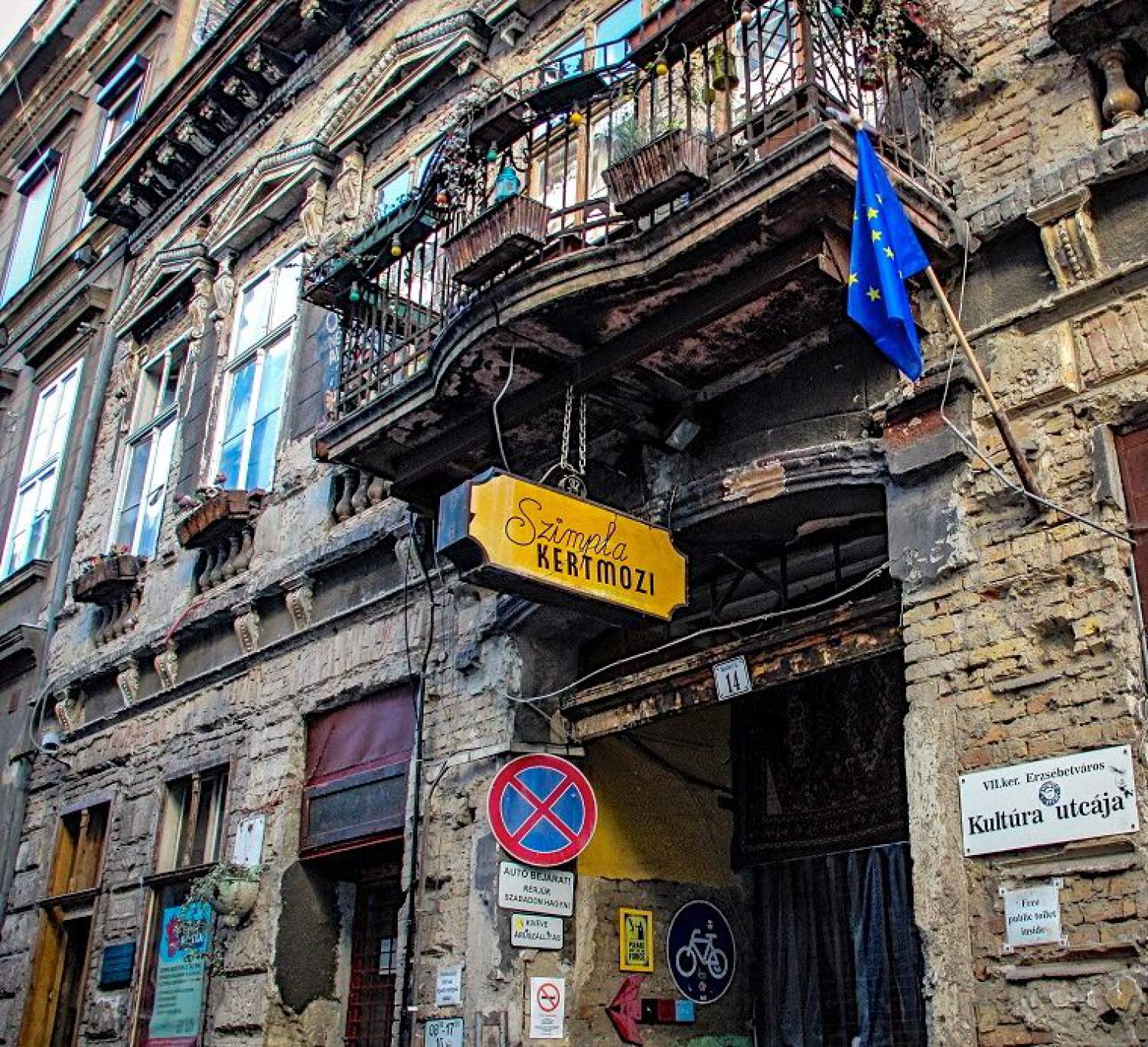 Szimpla Kert, or Simple Garden, was among the first of these Ruin Pubs, and remains the most well-known of its kind.
Many fashion trends got their start here, and tourists love the cutting edge concept. Once inside, the atmosphere is charming. You can order a beer and sit in a booth made from an old Trabant car and absorb the trendy ambience. There is an open-air courtyard in the centre, four different distinct bars located on different levels and areas, and three smaller bars scattered throughout. People wander around checking out the décor.
Corvintető
1085 Budapest
Blaha Lujza tér 1-2
Phone: +36 20 378 2988
Open: 12:00pm-6:00am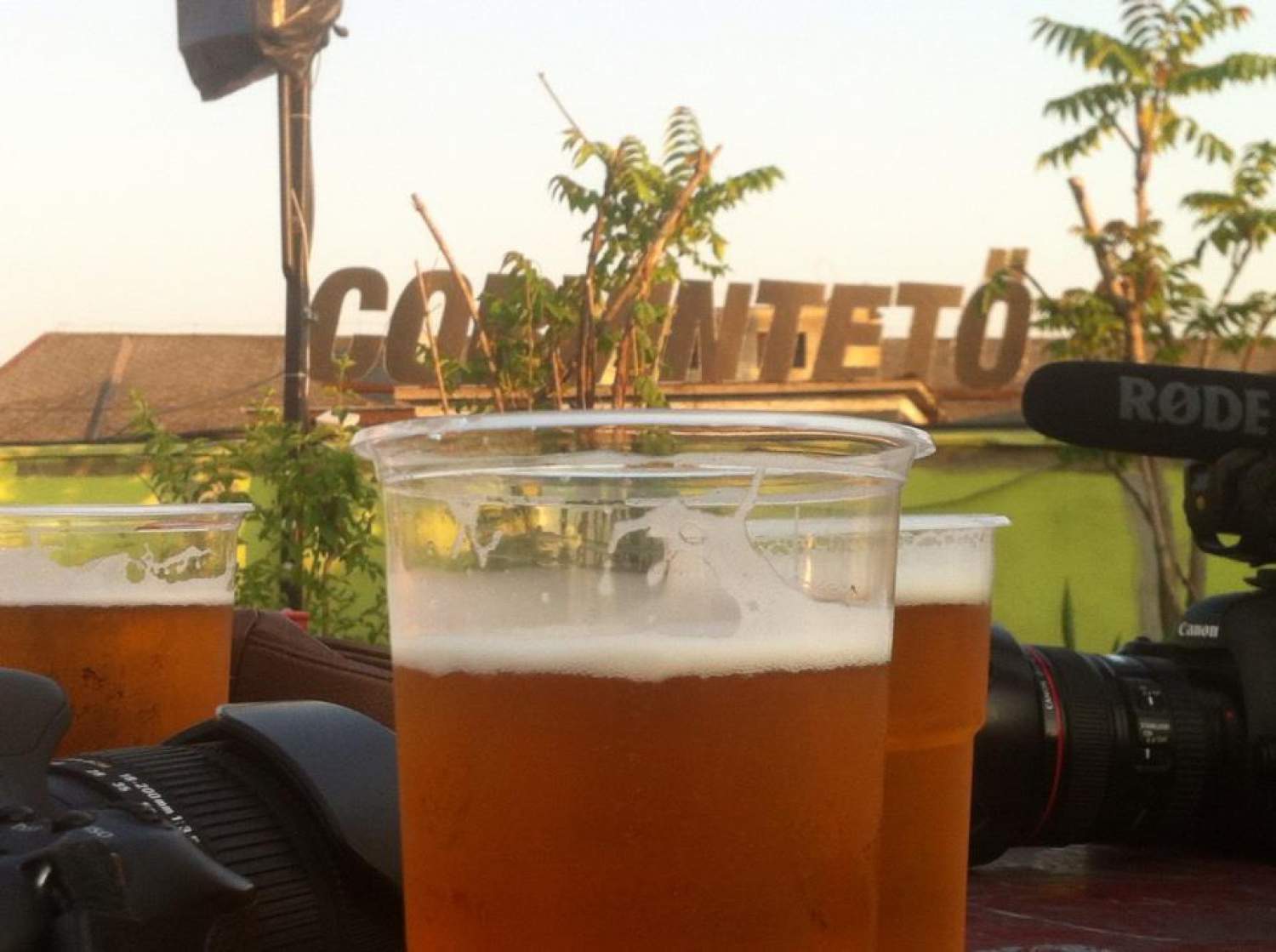 Underground above the city, the Corvintetö, or the top of the renowned Corvin department store, offers a variety of entertainment.
The Budapest Rooftop Cinema features films like A Clockwork Orange, and other cult classics and the outdoor movie screenings, which offer a unique view of the skyline, start at 6 p.m.
After 10 p.m., the mood changes, and Corvintetö hosts the world's most popular music from dusk 'til dawn for the 18+ crowds. The bar also holds regular slam poetry nights, yoga with a view and Indie rock concerts.
Corvintetö used to be Ruin Pub, but now it's a polished nightclub with many venues located directly across from the Blaha Lujza tram stop.
These are my party picks for nightlife in Elizabethtown, but there are many more Ruin Pubs in Budapest. Check out http://ruinpubs.com for a complete list.
Get a direct flight to Budapest and start your Hungarian adventure here.
The comments and contributions expressed are assumed only by the author. The recommendations, intentions or opinions expressed are not necessarily those of Transat AT Inc. or its affiliates. See terms of use of the Air Transat website.