Tourists often walk right by some of the best street food places in Budapest, so look closely and you may enjoy one of the best meals of your life from a wooden hut
You don't have to be a local to truly appreciate the convenience of street food in Budapest.
Many tourists walk right by some of the best Lángos, palacsinta, and hot sandwiches ever made on earth on their way to the touristy restaurants on the main walking drag.
You can find many food vendors at festivals in wooden huts serving up traditional sausages, roasted stuffed goose and duck legs, cabbage rolls with sauerkraut, and even pörkölt – the local paprika stew. These are staples at most events, but street food is a little different, and the food is offered at a more reasonable price point.
No matter what your budget, there are plenty of great dining options in Budapest, Hungary.
1075 Budapest
Kazinczy u. 18
Kazinczy is the new foodie street of Elizabethtown, and the best-kept secret here is Karaván Street Food.
Originally, Karaván started out with one Lángos vendor wanting to rent two parking stalls to cater to the hungry crowds leaving the Ruin Pub next door. However the idea took off, and now a half-dozen food kiosks have permanent parking spots under heated tents during the cold winter and under the skies during the warm summer. The fenced in rear garden now serves as a large seating and mingling area, giving a happy festive feel. There is also a community garden growing fresh herbs and vegetables.
A very popular location, Karaván offers cheap alternatives to some more expensive restaurants, but does not compromise on the quality of food.
Karaván's Street Food stands include:
Mangalica és Társa serves up foot long Bavarian sausages with an assortment of tasty toppings
Paneer is the home of the breaded deep-fried cheese sandwich (perfect for the vegetarians among us)
Parázs offers Pad Thai and other traditional Thai favourites
Vespresso is a coffee bar pouring hot beverages
Zing Burger serves homemade hamburgers stacked high with condiments
Lángos Máshogy offers the traditional Hungarian classic, Lángos, which is a deep-fried bread dough served with a variety of pizza-like toppings. They are also known as beaver tails in Canada.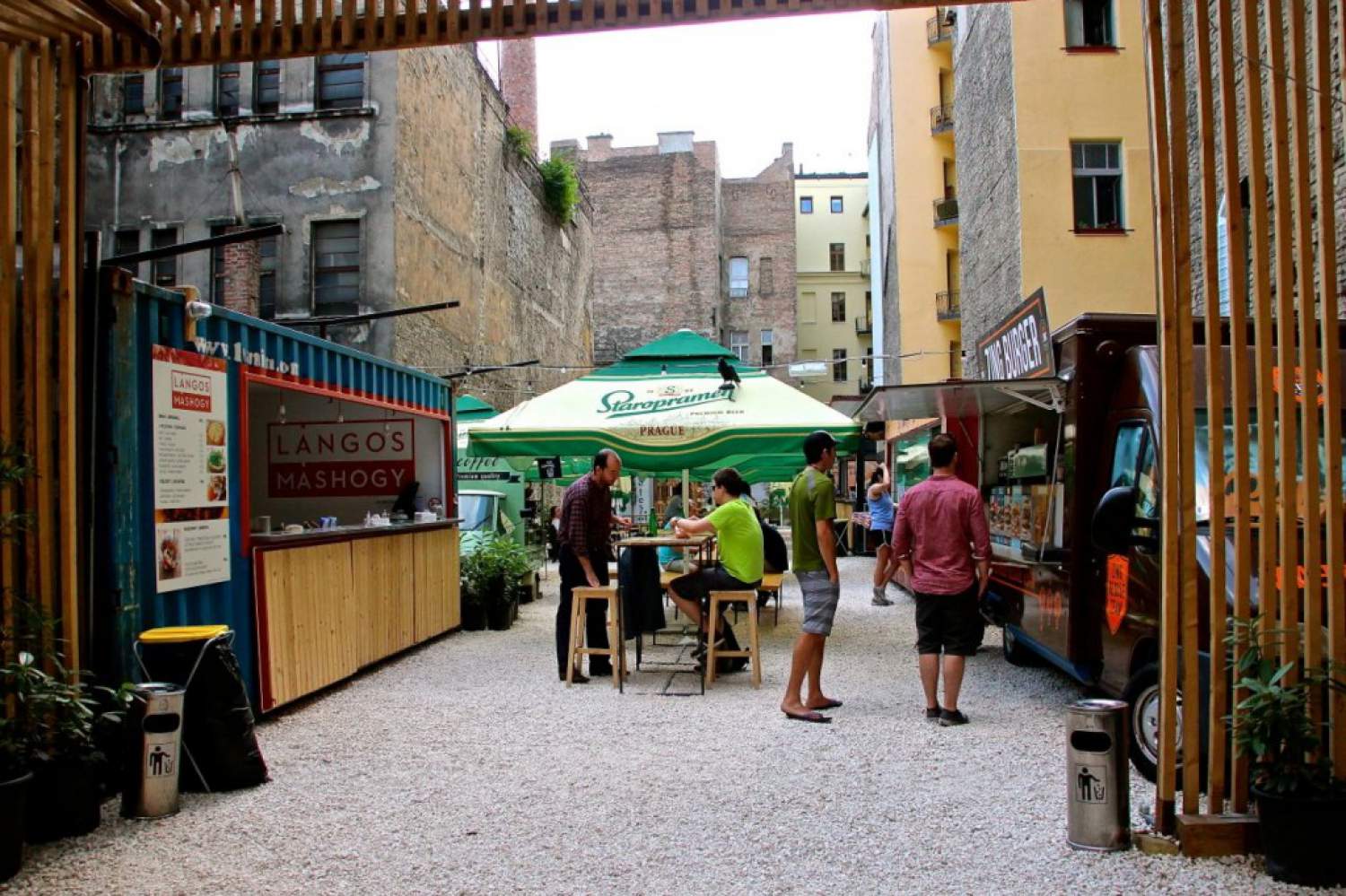 Phone: +36 20 942 4774
Street Food Startup is a fledgling operation for street food, functioning from tiny pushcarts replicating the three varieties of above-ground public transit systems.
The yellow cart represents the electric train, the blue cart resembles the city bus and the red cart emulates the trolley line. These handcarts sell a unique style of bagel with a variety of fillings inside, including cottage cheese, bacon and green pesto, sausage with dried apricots, and sun dried tomatoes with Parmesan cheese.
You can see these carts moving throughout the city at different events, but after the traditional work day, during the early late night rush they can be found serving the after-hours crowd and congregating on the Gozsdu Udvar Square near the new epicurean boulevard, serving the gourmands among us.
Although Street Food Startup isn't quite famous yet, the operation has the right combination of an eye-catching cart matching the server's shirt, a great marketing campaign on Facebook and a distinctive twist on a traditional favourite, the New York bagel.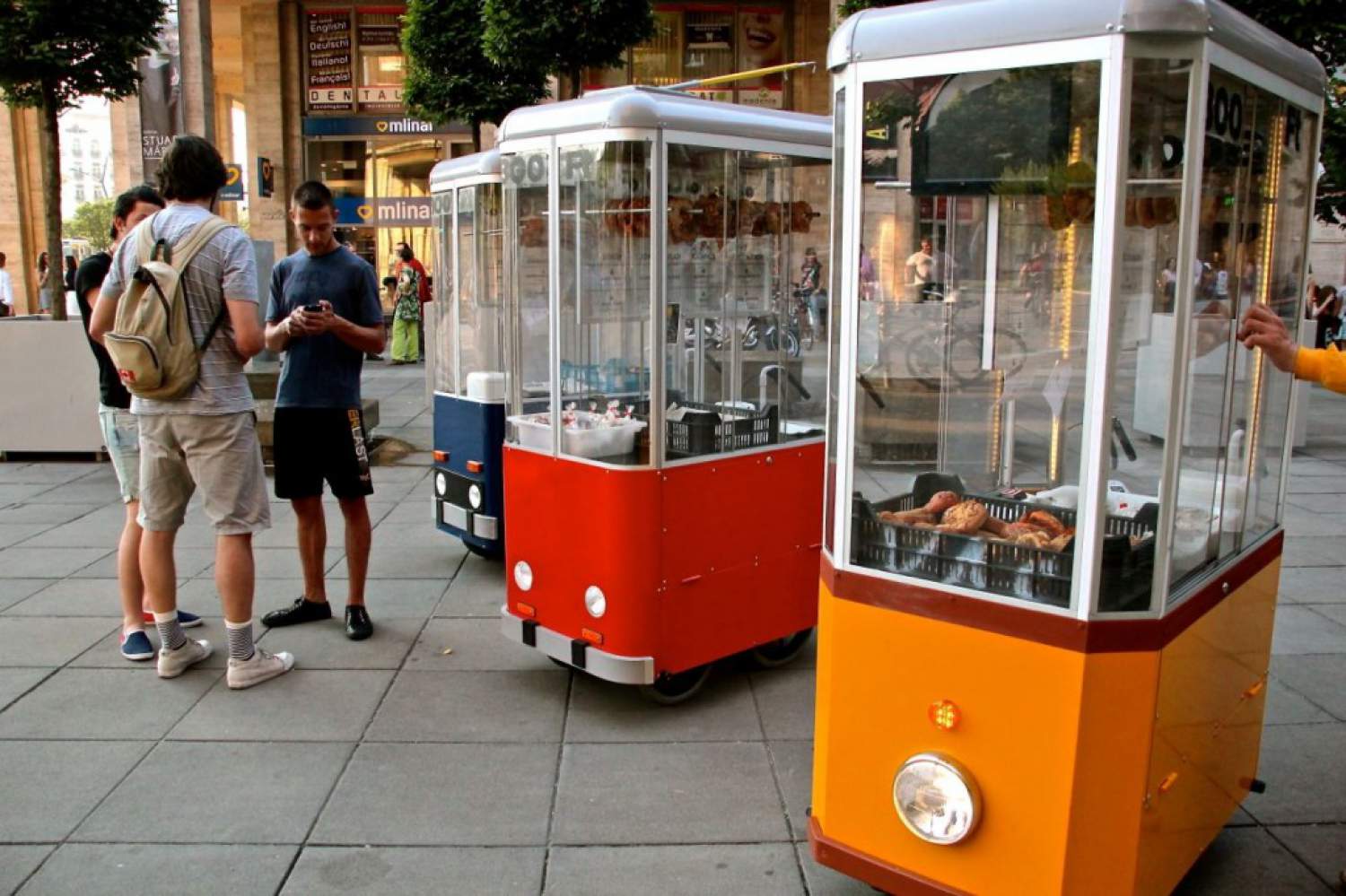 Eating at these establishments can help save money off your travel expenses, by giving you the fare to go on picnics, stopping here for a quick bite or if you are only visiting for the weekend. It really is the perfect place for one stop shopping.
Take advantage of Air Transat's direct flights to Budapest and start your Hungarian adventure.
Cover photo: Alejandro
The comments and contributions expressed are assumed only by the author. The recommendations, intentions or opinions expressed are not necessarily those of Transat AT Inc. or its affiliates. See terms of use of the Air Transat website.
#TransatExpatExpert