Article by Matt Gibson originally published in one edition of the Atmosphere magazine. Read the latest edition here.
When visiting Spain on a family vacation with limited time, it can be hard to decide which cities, sights and activities to schedule, and which to leave out. Here are a few ideas to make the most of your day in Madrid, enjoying the best things the city has to offer: culture, nature and food.
Visit The Prado Museum Early
Madrid's Museo del Prado (known simply as "The Prado") is Spain's most famous art museum and is among the finest in the world. It's a must-see for any family visiting Madrid. The Prado is located in the central Alonso Martínez neighborhood (or "barrio") along with many of the city's best historical and cultural sites.
Museo del Prado, which is nearly 200 years old, houses some of the finest works of art created between the 12th and 19th centuries.
The most famous exhibit in The Prado is arguably the Francisco de Goya collection, which is the museum's largest collection from any single artist. It's quite impressive. The museum also features significant bodies of work by El Greco, Titian, Peter Paul Rubens, and Hieronymus Bosch. If you're short on time (or the young ones are short on patience), these are the collections you'll want to focus on. If you don't dawdle, you'll be able to see many of the major artistic achievements of the past millennium before noon on your first day in Spain.
Admission is €14 per adult and, for an extra €9, you can hire a guide. Seniors pay half price for admission, while children (under 18 years old), students and the disabled enter for free.
If you have young children to entertain, the museum offers a treasure hunt for children aged 8–12. Audio guides are also available for both adults (€3.50) and children (€1).
A half-day is plenty of time to take in the highlights of The Prado, though you'd be rushed to see everything. When I visited, a concierge advised me that morning is the best and quietest time to visit, and I highly recommend it. The museum allows free entry after 6 p.m. (5 p.m. on Sundays) and it gets very crowded.
The museum opens at 10 a.m. every day of the year except January 1st, May 1st and December 25th. Another tip: Skip the lineup at the ticket booth by buying your tickets online in advance.
If your children are too young to appreciate cultural activities (or get bored of them), Madrid also has its share of kiddie attractions. The city's amusement park, Parque de Atracciones, the Zoo Aquarium at Casa de Campo (which houses over 6,000 animals) and Parque Warner, which is Warner Brothers' answer to Disneyland, will be sure to keep them busy.
Explore Parque del Buen Retiro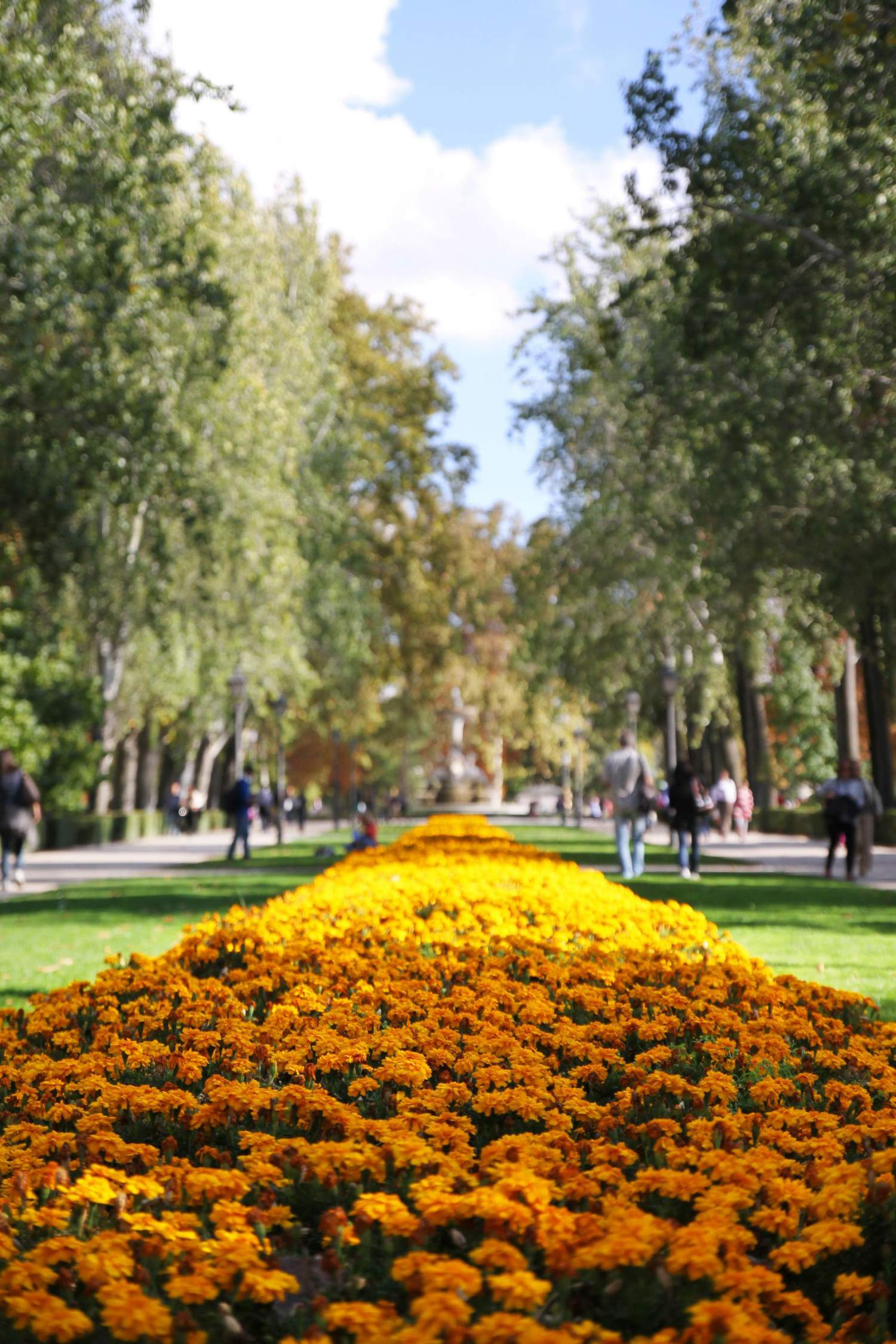 Madrid's Parque del Buen Retiro, also locally known as "Retiro Park," is right beside The Prado. It's one of the most exquisite urban green spaces in Europe. The three-century-old park has been called "the last great creation of the Renaissance in Spain" and is a central hub for urban life in Madrid. On any given day, one is likely to encounter gypsy fortune tellers, musicians, and public art exhibitions. Much of the activity in the park takes place around the lake, which is lined with a variety of edifices including the Monument to Alfonso XII and an Egyptian fountain complete with Sphinxes.
Picnics in the park are "officially" prohibited, but it's one of those rules that nobody listens to. Lots of people do it, park employees don't seem to care and it's a great way to enjoy a sunny Spanish afternoon while the kids get some fresh air.
Sample Some Of Madrid's Best Family Restaurants
Dining abroad with finicky eaters (and by that, we mean your kids) can be tricky. Fortunately, the Spaniards' love of family is equally matched by their love of food and Madrid has several traditional, yet playful, family-friendly restaurants.
If you ask at your hotel for dining recommendations, Casa Mingo is almost guaranteed to be one of them. Casa Mingo is Madrid's oldest cider house. It serves a small, but varied selection of reasonably-priced Spanish meat dishes and salads. Most patrons, however, come for just two things: the roast chicken and the cider.
The simple wood dining hall with high ceilings is over three centuries old, and has kept much of its original charm with exposed beams, large windows and an ever-present stack of wooden cider barrels.
If you're looking for something a little more familiar, Pizza Marzano serves quality comfort foods, such as pizza and pasta, at reasonable prices and has several locations around the city.
Have fun in Madrid!
Addresses to check out:
Paseo del Prado, s/n, 28014 Madrid, Spain
Plaza de la Independencia, 7, 28001 Madrid, Spain
Metro Lago | Batán/bus 31, 33, 39, 41, 75, Madrid, Spain
M-301, Km 15.5, 28330 San Martín de la Vega, Madrid, Spain
Casa Mingo
Paseo de la Florida, 34, 28008 Madrid, Spain
Pizza Marzano
Gran Via 69, 28013 Madrid, Spain

Find flight information and more great tips for travelling to Madrid here.
Feature Image Credit: Haleigh Walsworth
The comments and contributions expressed are assumed only by the author. The recommendations, intentions or opinions expressed are not necessarily those of Transat AT Inc. or its affiliates. See terms of use of the Air Transat website.
[cf]skyword_tracking_tag[/cf]