With the mountains on its doorstep and a vibrant city scene, Vancouver is a good choice for your next vacation! This holiday season Vancouver has plenty to offer you and the family, from stunning light displays to New Year celebrations, and with tasty treats, festive markets and mountain adventures along the way. You might even have the chance to meet Santa too! Here are some of the best experiences for your trip to Vancouver this holiday season.
Vancouver Christmas Market
With over 80 huts stuffed with sweets, treats, and treasures, coupled with a great line up of activities and entertainment, the German-inspired Christmas Market is perfect for getting into the holiday spirit.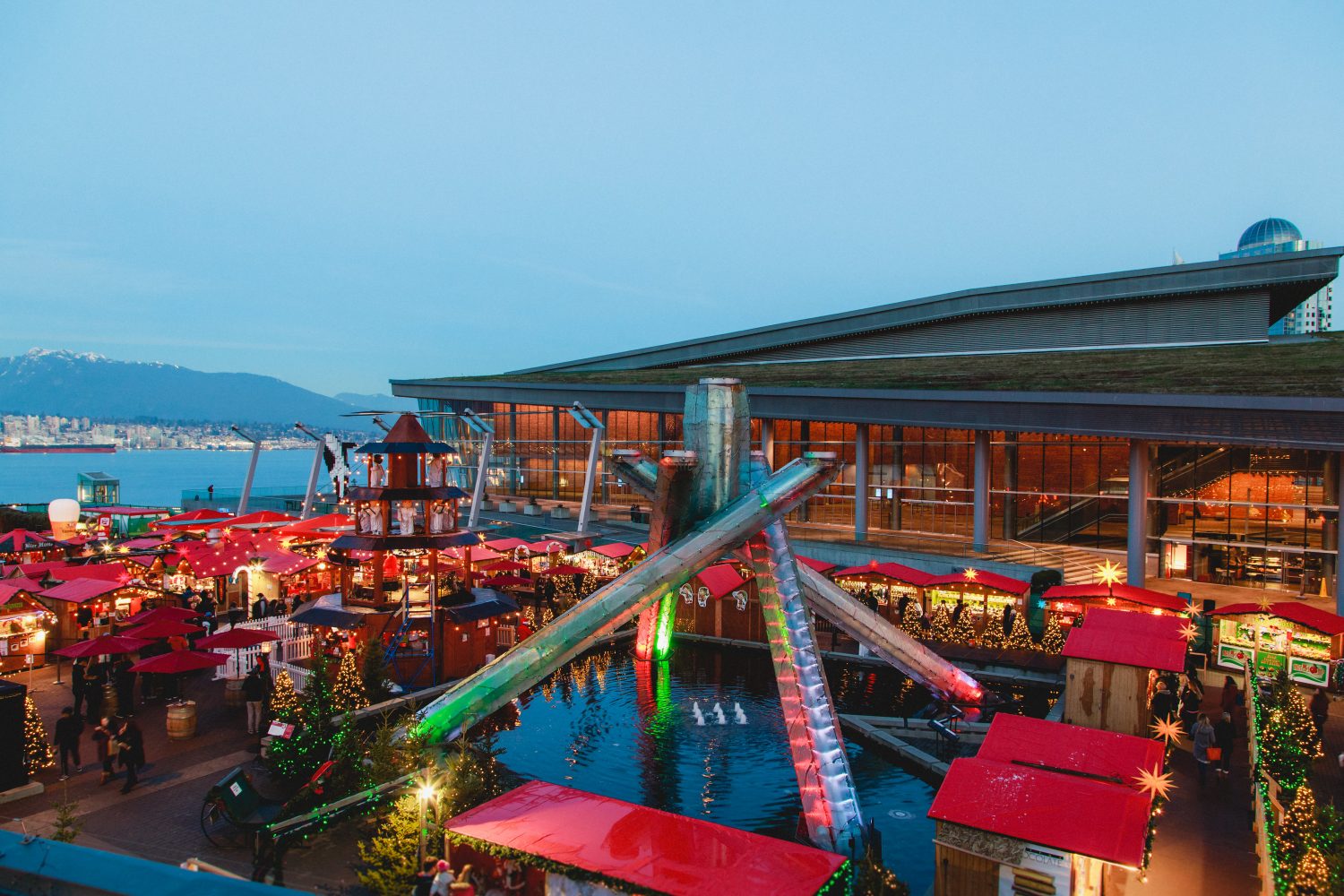 This year Vancouver's Christmas Market promises to be bigger than ever with a cozy Alpine Lounge where you can enjoy a hot drink and delicious food, the Instagram-worthy tunnel made with over 10,000 twinkling lights, and the return of Canada's first-ever Walk-In Christmas Tree. Marvel at the stunning views of the North Shore from the Winterdeck and wander the market's winding alleys to discover authentic German delicacies such as mulled wine, sausages, chimney cakes, handcrafted gifts and more. The Vancouver Christmas Market runs from November 21 to December 24, 2018.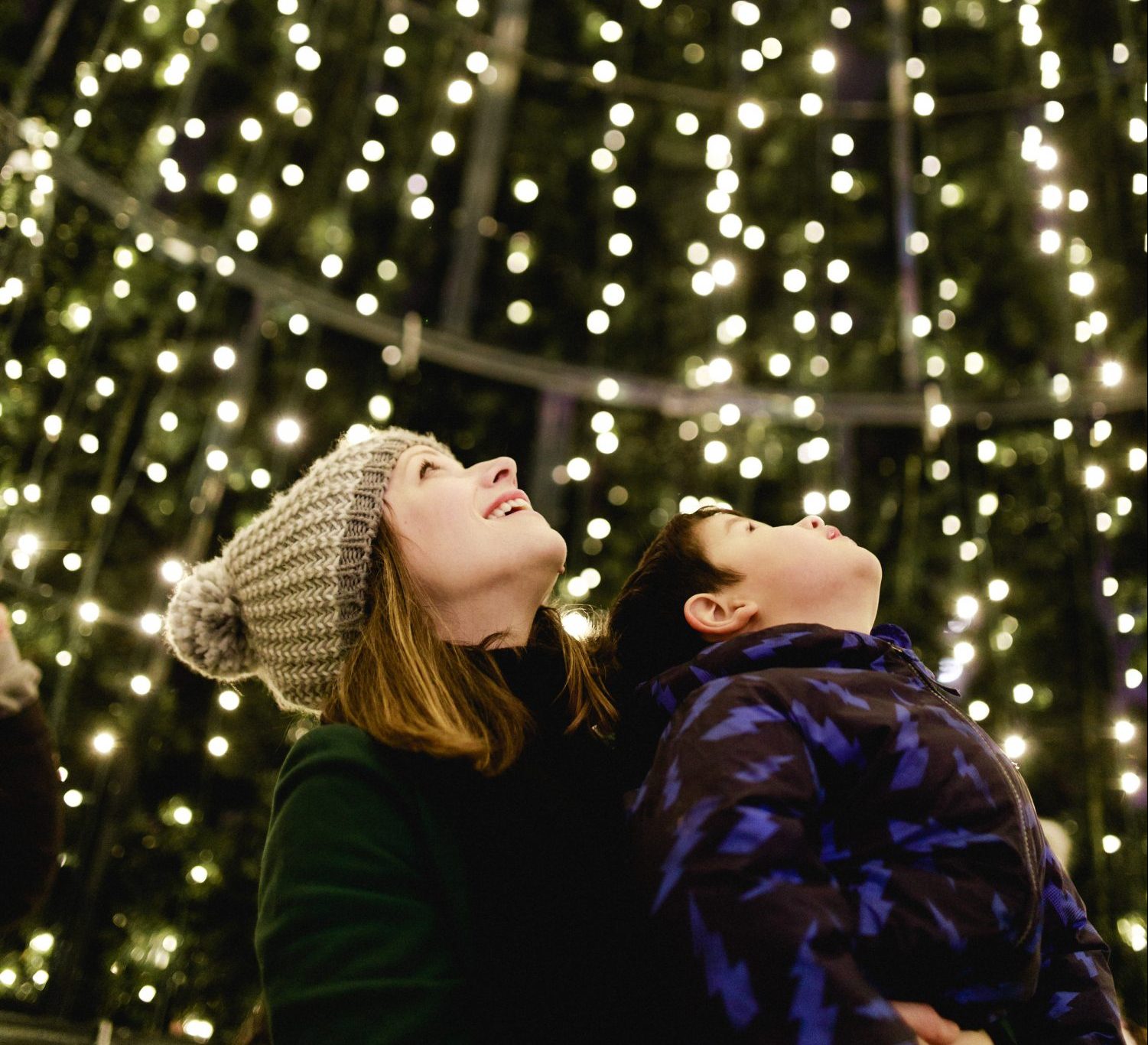 Hang out in the trees at Capilano's Canyon Lights
Capilano Suspension Bridge Park is a must-do activity if visiting Vancouver at any time of year, but during the holidays it becomes even more memorable.
Located in North Vancouver, the 170m long suspension bridge sits a vertigo-inducing 70m above the Capilano River. On either side of the suspension bridge you'll find activities, from the squirrel's-eye view of British Columbia's coastal rainforest at Treetop Adventure, to Cliffwalk's narrow and glass-floored walkways that cling to the granite cliffs lining the Capilano River.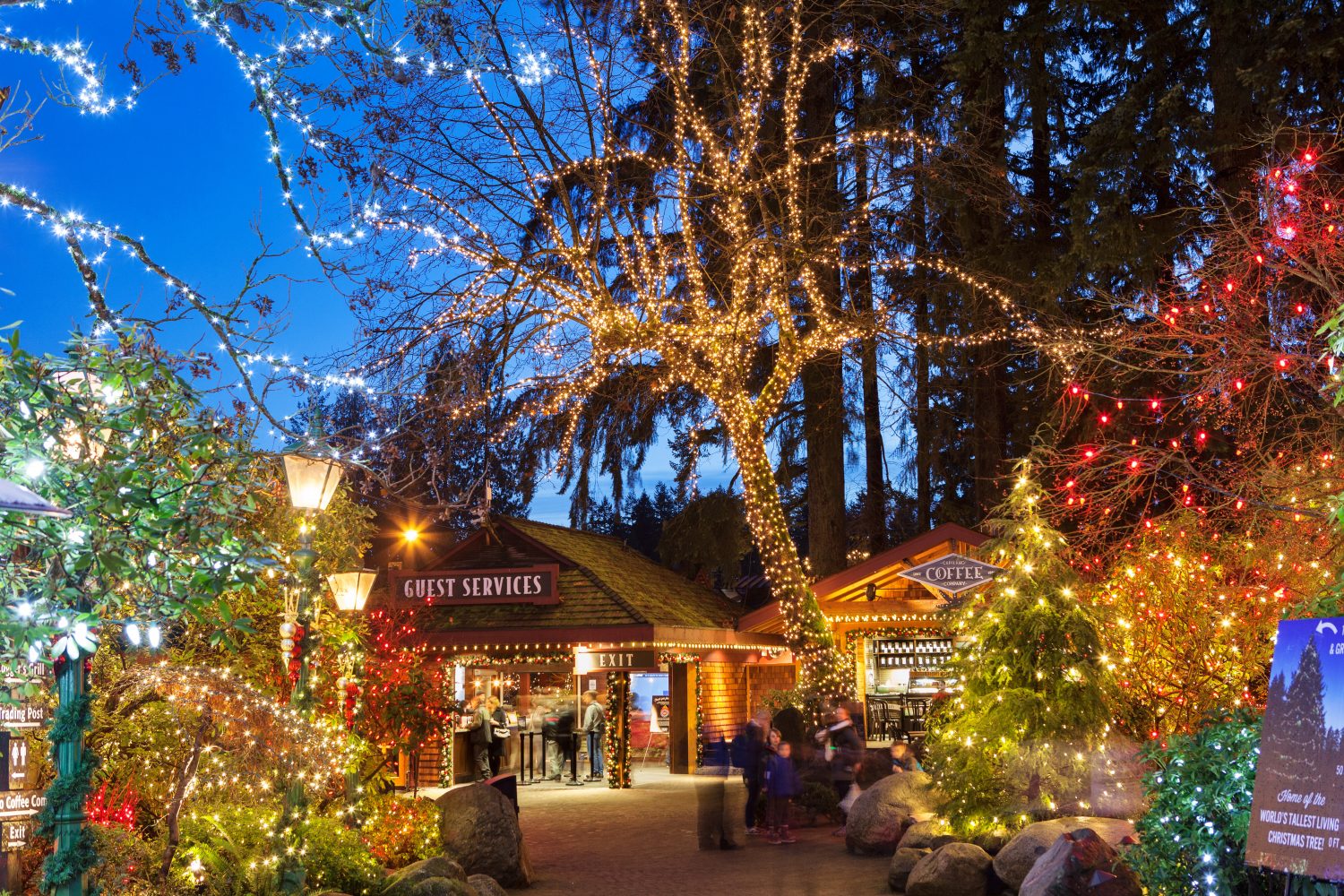 Canyon Lights is the park's winter festival, running this year from November 22, 2018 to January 27, 2019. Be enchanted as the suspension bridge, Treetop Adventure, Cliffwalk, rainforest and canyon are transformed with hundreds of thousands of festive lights.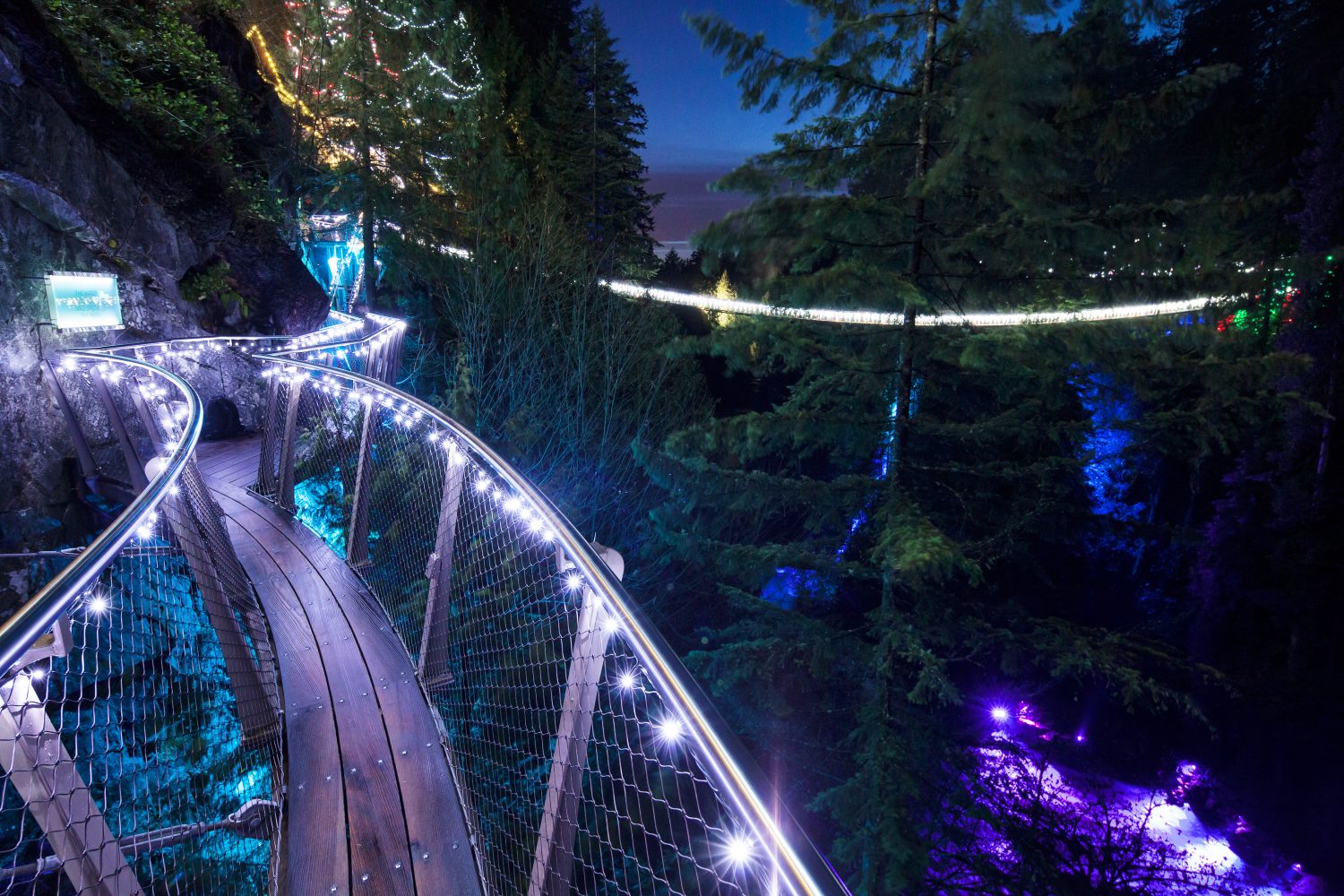 Treetop Adventure's 30-ton Douglas firs are the star attraction of this bunch. These 250 year old trees are connected by seven suspension bridges, with viewing platforms suspended up to 110 metres above the forest floor. With these trees lit, you'll be walking through the world's eight largest Christmas trees!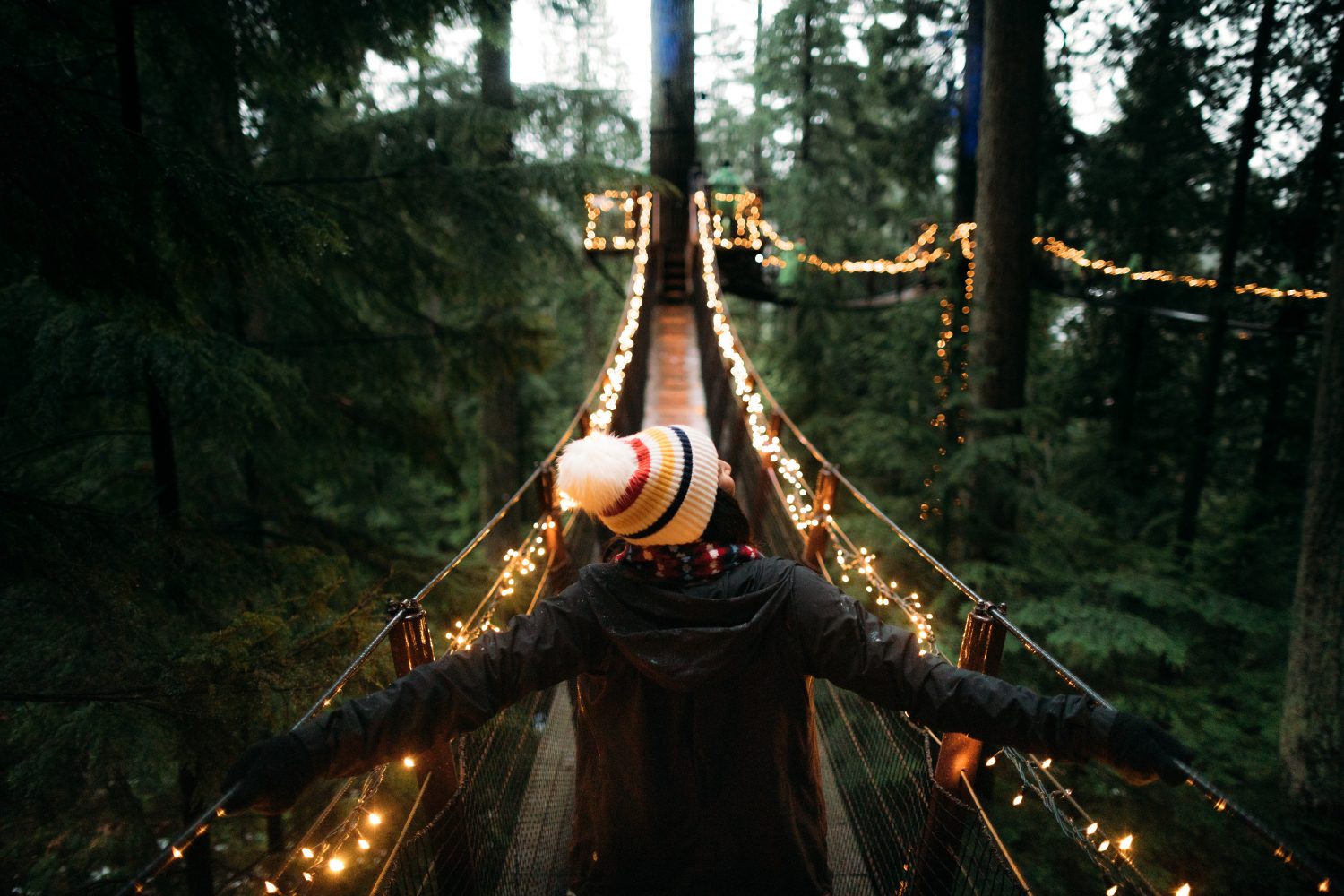 Once you have marvelled at the lights, you can still go on a Snowy Owl Prowl, decorate gingerbread cookies (by donation) or enjoy sing-along carols with the holiday band.
Take a festive food tour
What better way to enjoy the holiday season than eating your way around Granville Island? With the Vancouver Food Tours' Classic Christmas Market Tour you can do just that. Spend a cozy December morning enjoying a festive breakfast at the famous Public Market, featuring everything from mimosas and French toast to winter cheeses and gingerbread donuts. Make sure you go hungry! Learn how chefs and experts shop at the market to make the perfect holiday feast, get insider tips on the best the market has to offer and best of all, skip to the front of the line.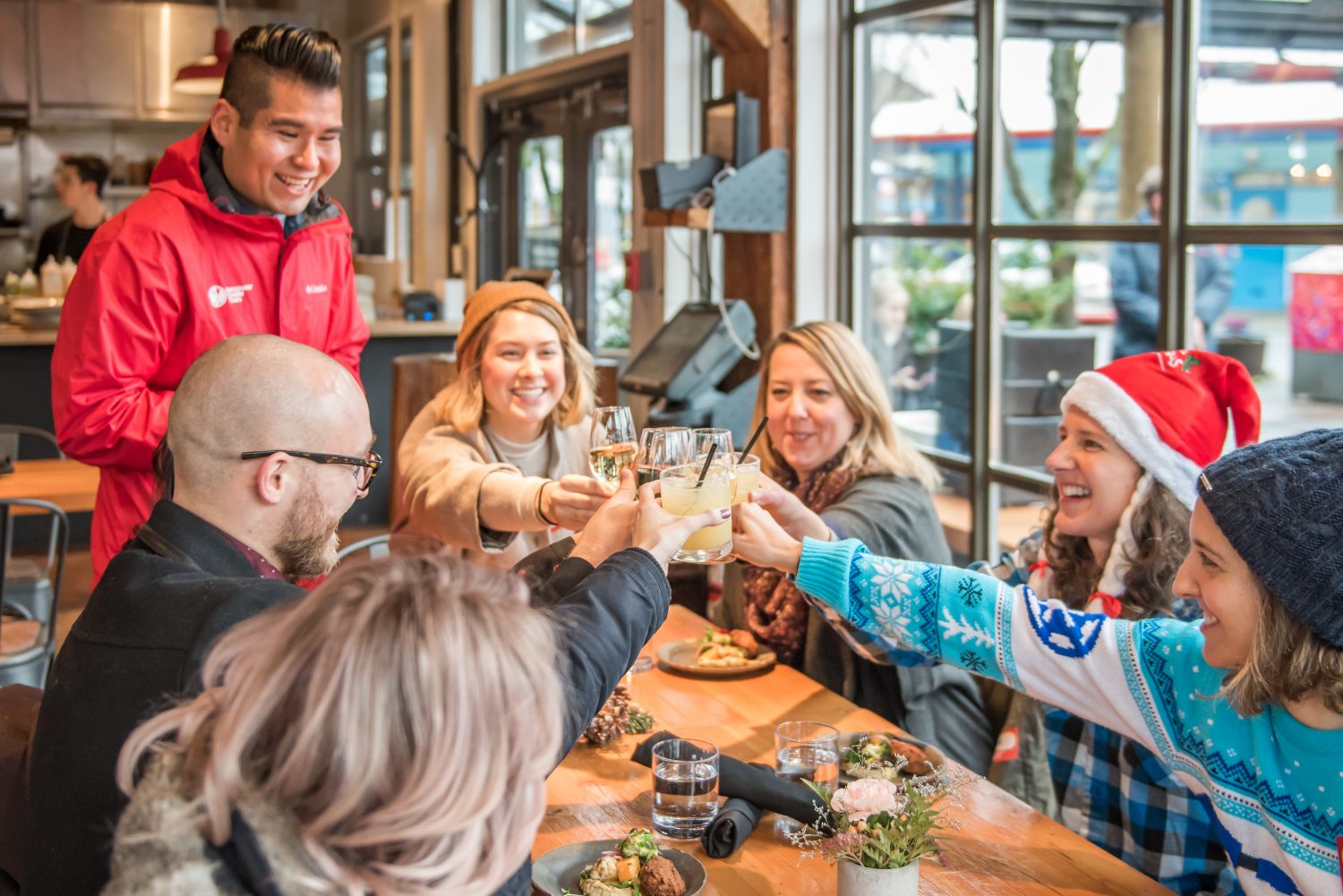 As well as indulging in plenty of delicious treats, you'll be guided through Granville Island's best dressed artisan shops to soak in the holiday atmosphere and pick up a gift for yourself or your loved ones. The Classic Christmas Market Tour runs throughout December, be sure to book in advance to secure your spot.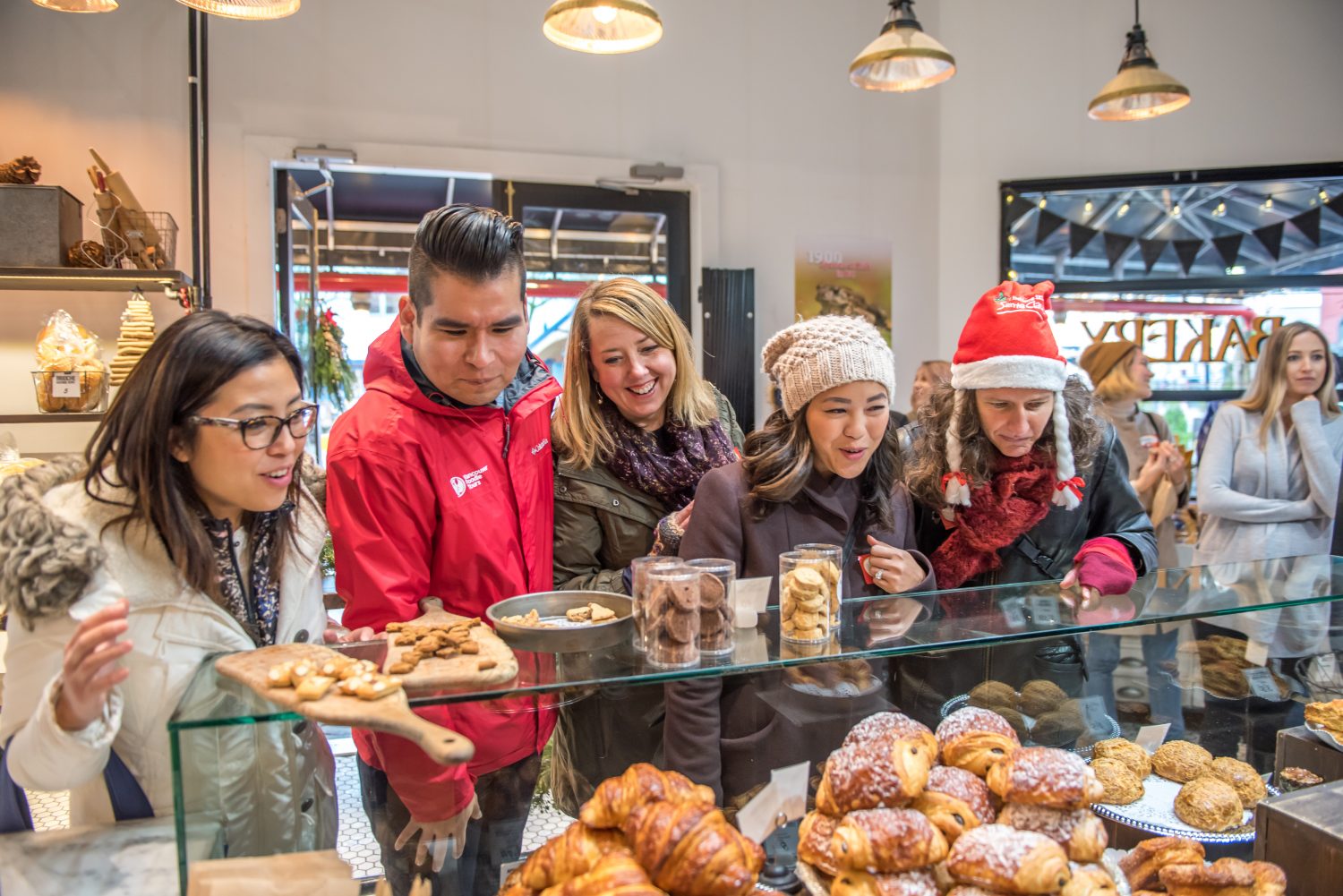 VanDusen's Festival of Lights
There is nothing like a light display to brighten those winter nights and get you in the mood for holiday festivities. VanDusen Botanical Garden, a 55-acre oasis in the heart of Vancouver and home to over 7,500 plant species and an Elizabethan hedge maze, is your destination for a holiday light show.
Visit VanDusen from December 1st, 2018 to January 6th, 2019 for the Festival of Lights. You'll see the Garden as it is transformed by thousands of lights creating beautiful festive displays. Don't forget to take a ride on the carousel, before then meeting Santa and grabbing a festive, tasty treat.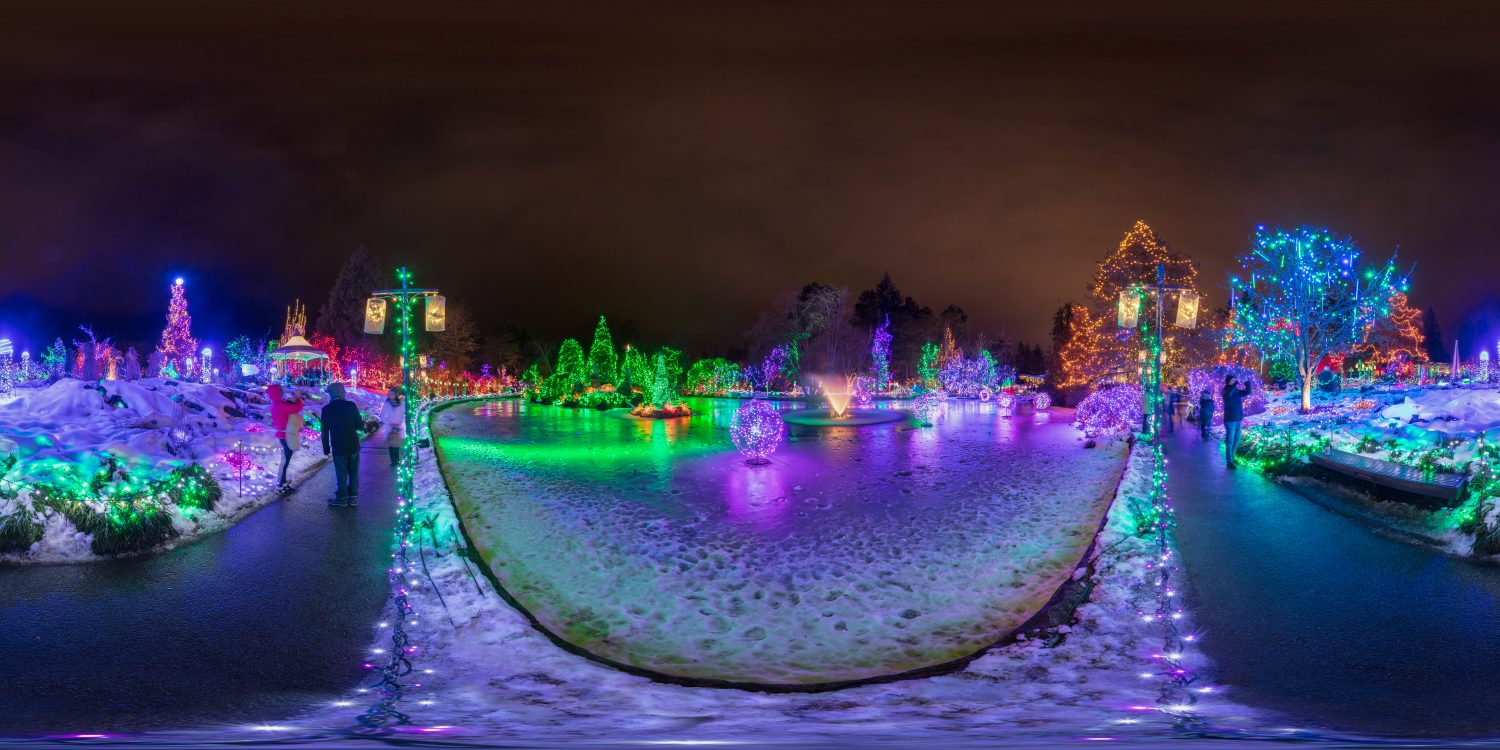 The Peak of Christmas at Grouse Mountain
While you might not get a white Christmas down in the city, you don't have to go far to find the perfect winter wonderland. Snow is abundant at Grouse Mountain and the holiday spirit is alive and well throughout the Peak of Christmas celebration which runs from November 23rd, 2018 to January 6th, 2019. Meet Santa himself and learn all about his reindeer, skate around the mountaintop Ice Skating Pond, stroll through the Gingerbread Village, or take a romantic sleigh ride through the snow covered trees.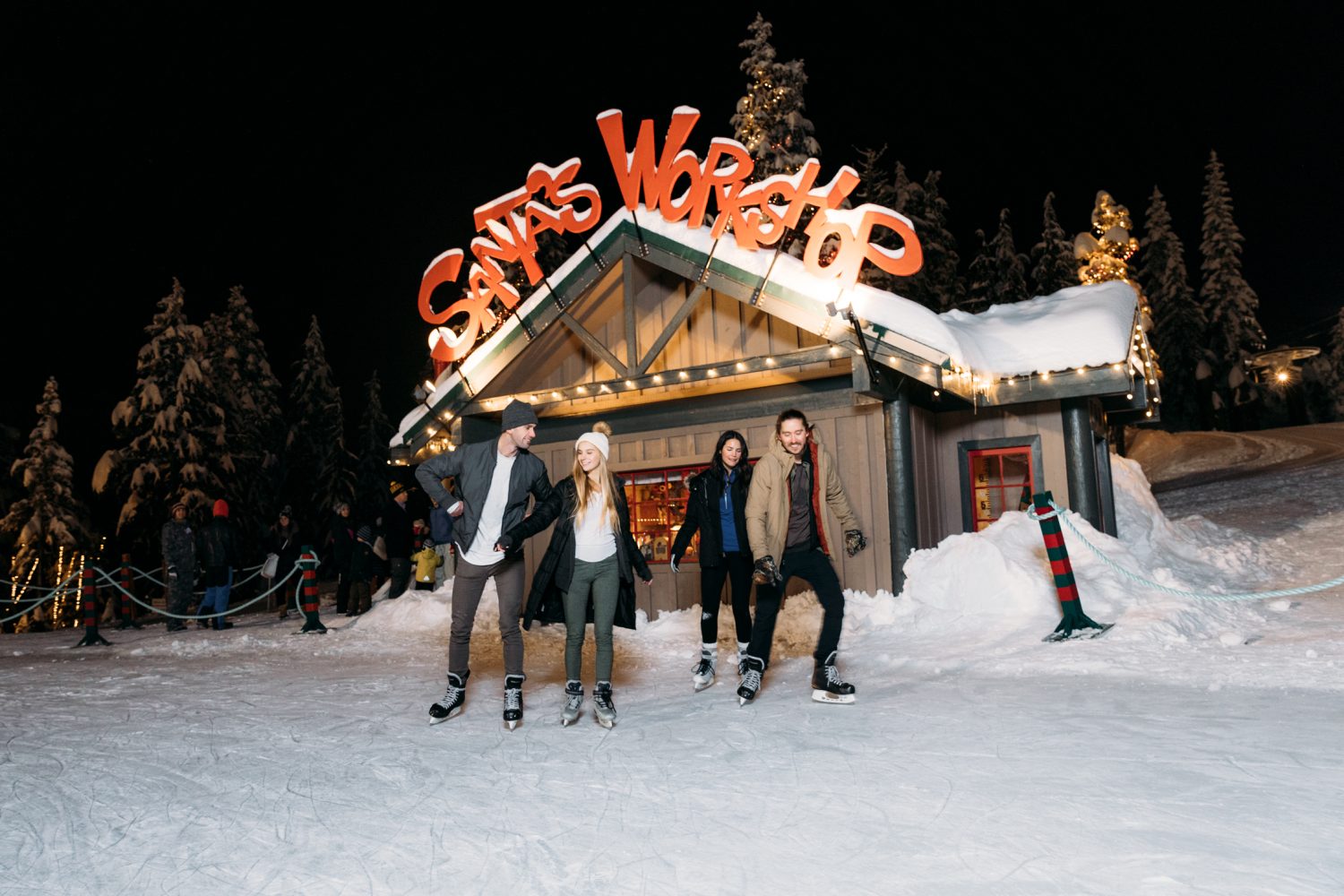 There's fun for the whole family, and kids big or small will enjoy sliding down the designated lanes and groomed terrain or watching a Christmas movie at the Theatre in the Sky. When the sun goes down take a wander through the Light Walk and snap the perfect shot among the beautiful light installations with an idyllic snowy backdrop.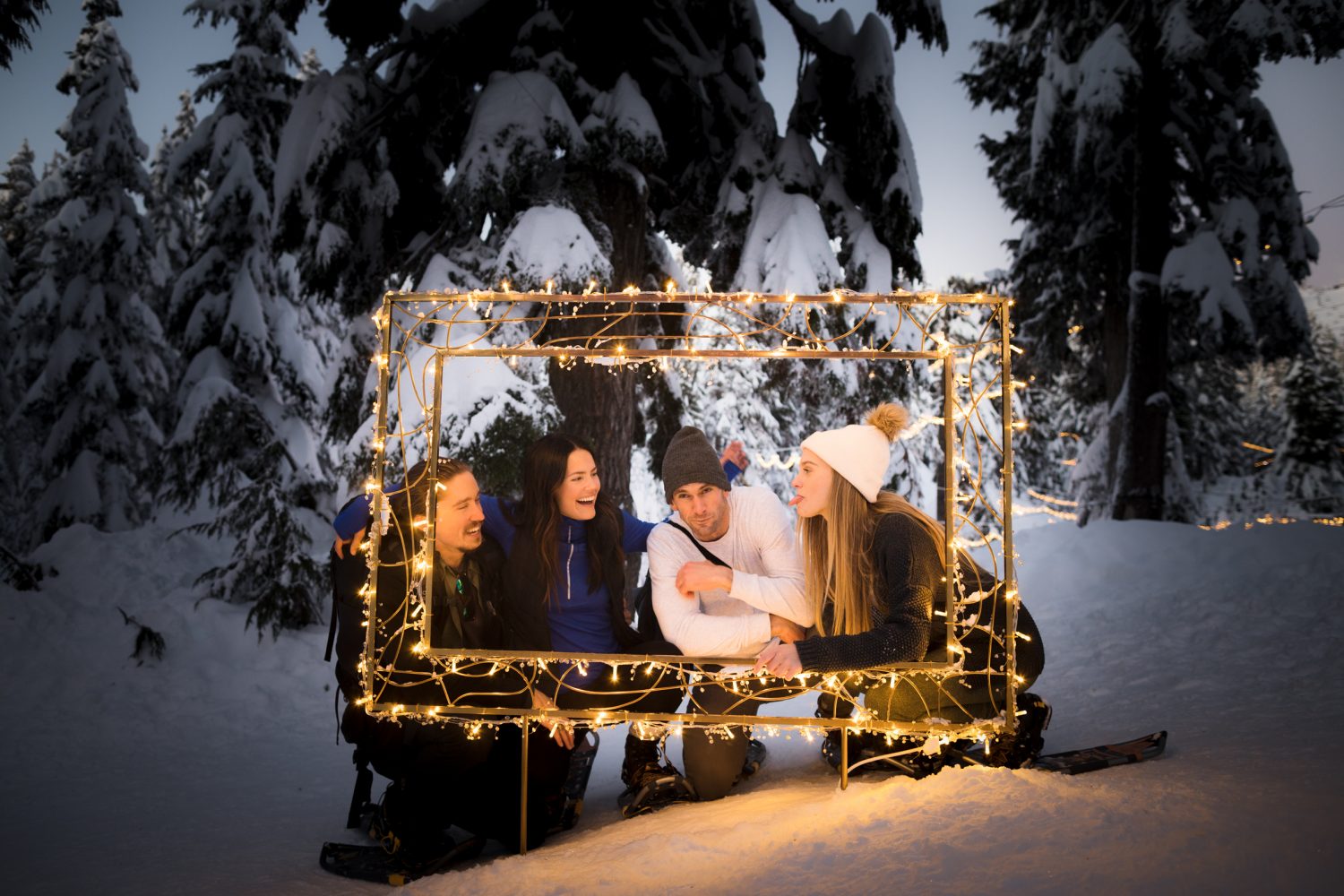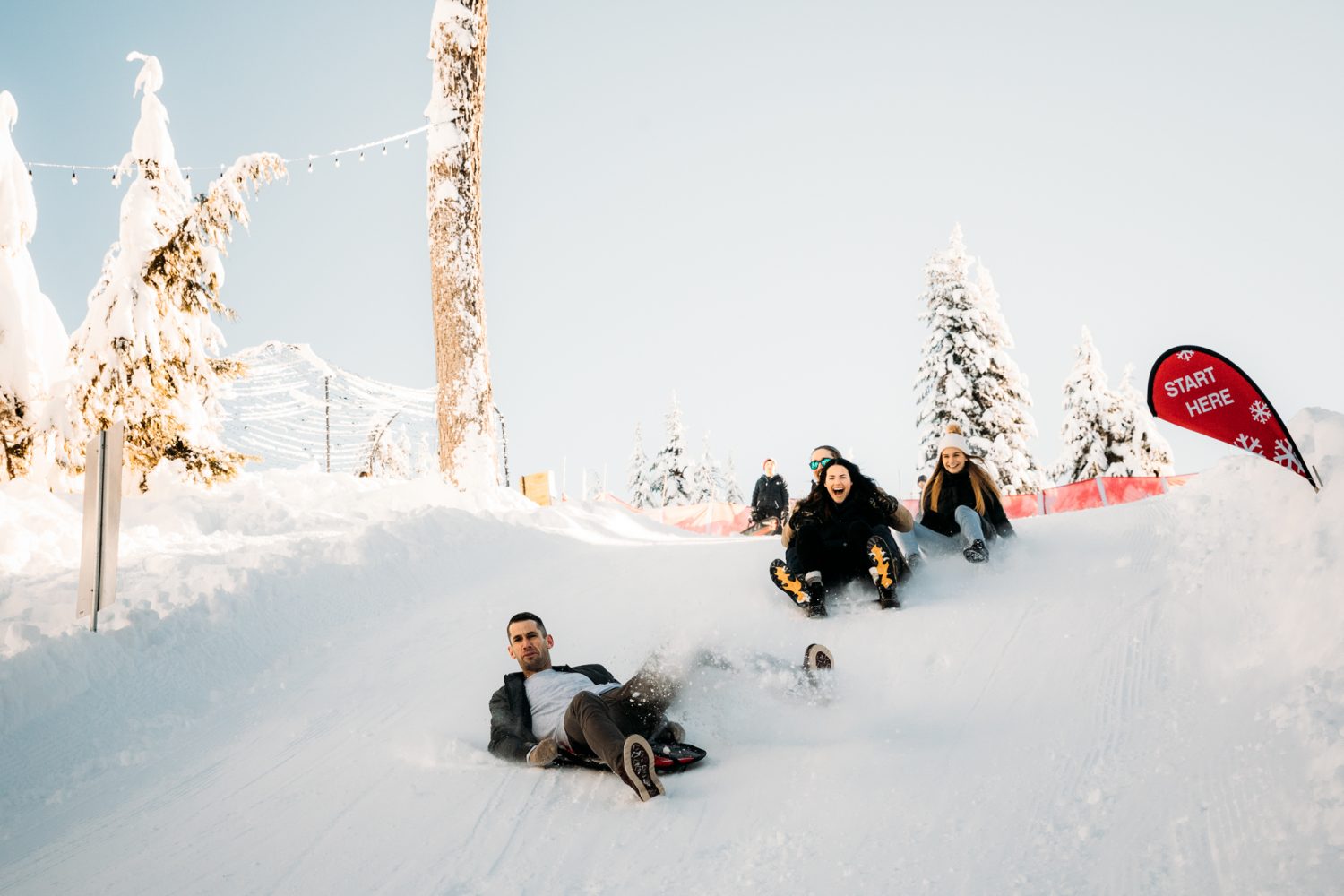 Fly like Santa at FlyOver Canada
If you wanted to see more of Canada than just Vancouver, then don't worry, as FlyOver Canada is here to help. Suspended in front of a 20-metre spherical screen, be prepared for an immersive experience – complete with wind, mist, scents and motion – as an exhilarating 8-minute journey flies you from coast to coast and through some of Canada's most iconic and spectacular locations.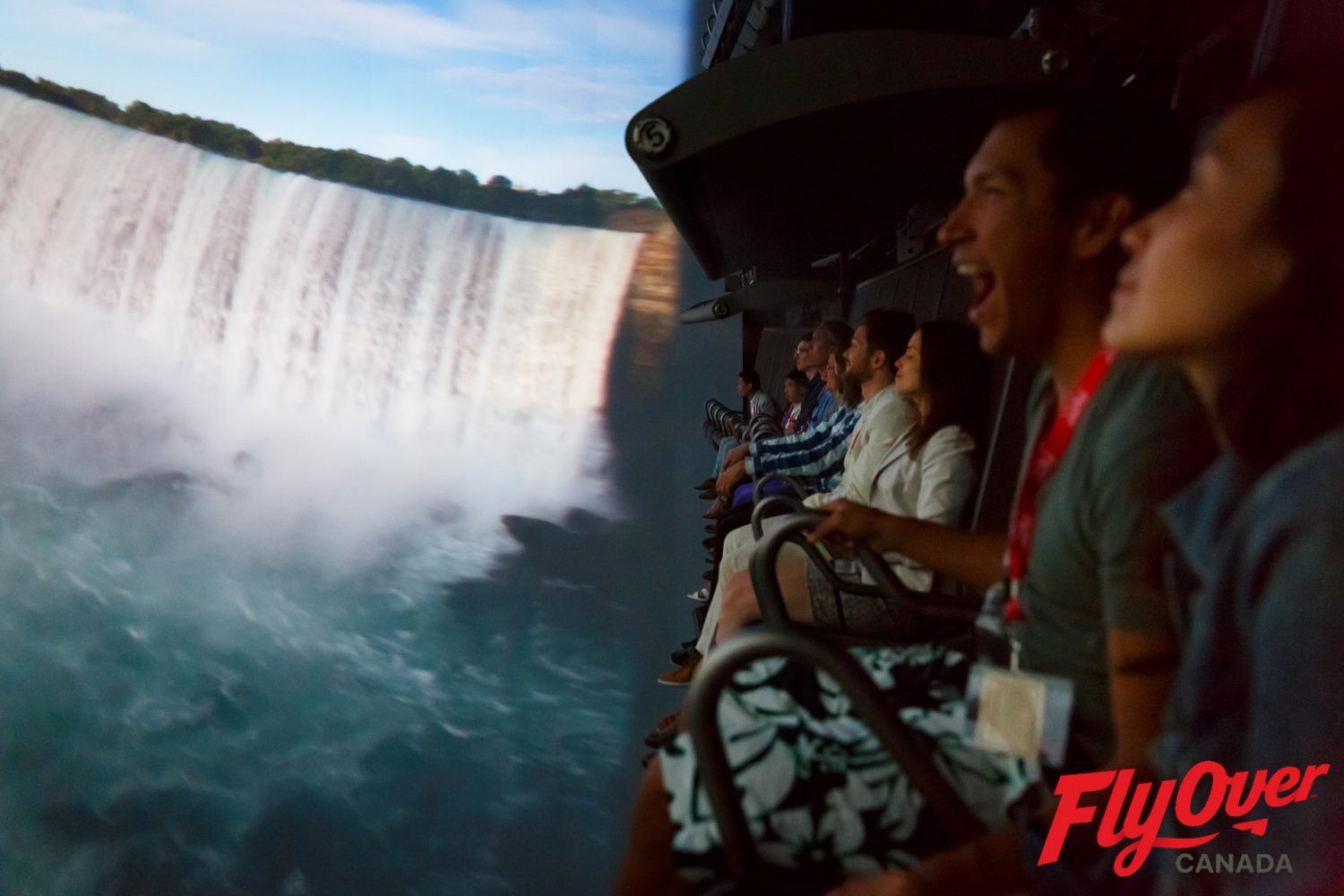 Of course, when the holidays arrive, Canadian airspace needs to welcome a special, seasonal visitor and his reindeer. From November 22nd, 2018 to January 6th, 2019, the whole family can fly like Santa on a magical flight across Canada. After meeting two of his elves, they will join you on your flight across the country as you search for their fellow elves. Your flight may even include a visit to Santa's Workshop as you fly over the North Pole!
Combine your visit to FlyOver Canada with the Vancouver Christmas Market through the special Holly & Jolly Combo package.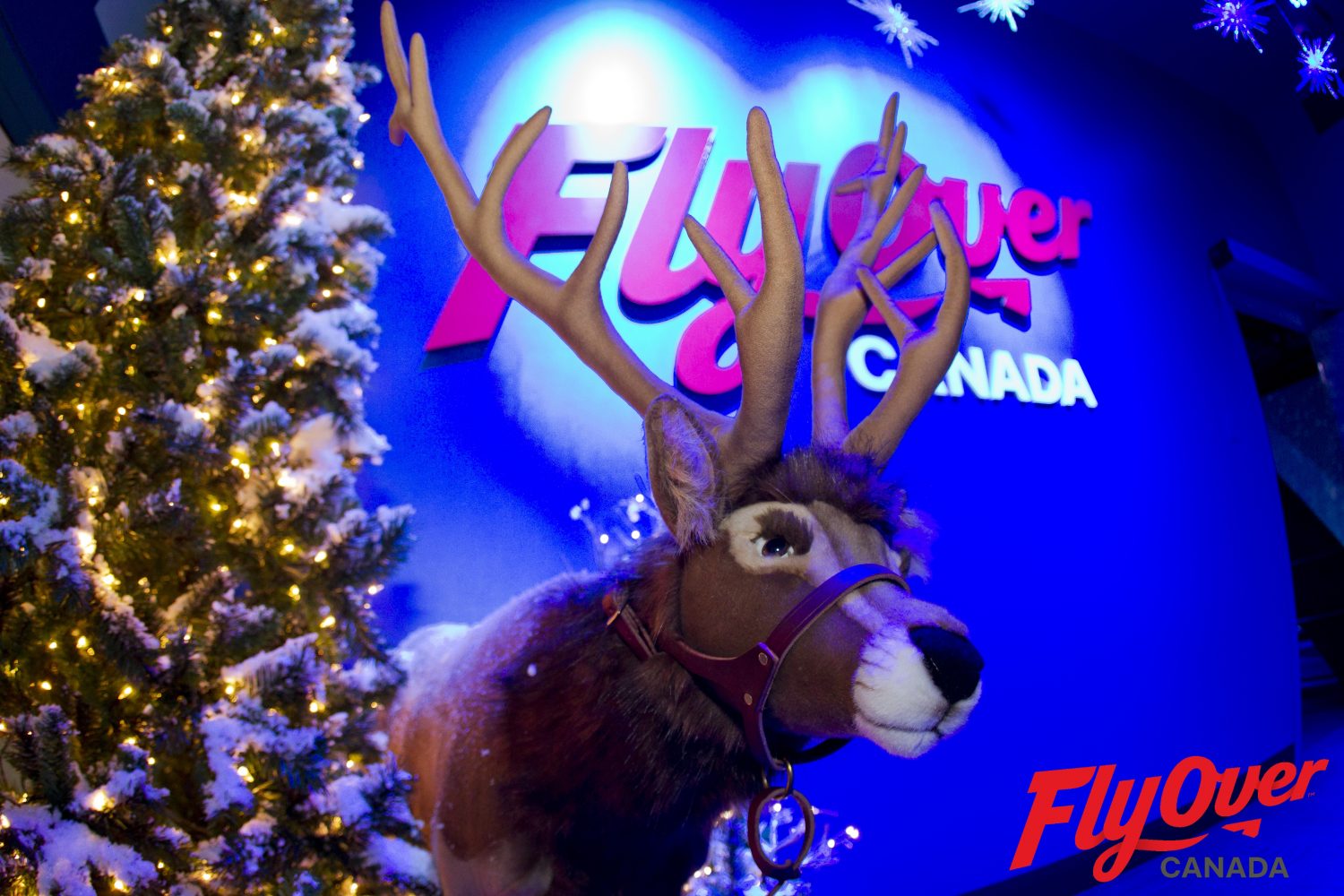 Celebrate the New Year
Ring in 2019 at Canada's largest New Year's Eve party at Canada Place. Concord's New Year's Eve Vancouver celebration includes live music, entertainment and of course fireworks (both at midnight and earlier in the evening so everyone can enjoy the fun). Various ticket options are available ranging from free concerts to paid parties.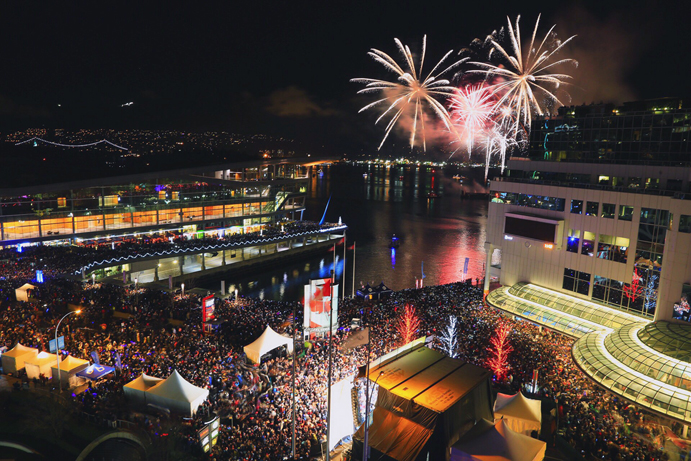 Many of Vancouver's nearby ski resorts also put on fabulous firework displays and family friendly activities, so if you're looking for something a bit different head to Grouse Mountain, Mt Seymour, or Cypress Mountain on the North Shore. Visit Vancouver this winter https://goo.gl/a58qSz
Cover photo credits : Tourism Vancouver
The comments and contributions expressed are assumed only by the author. The recommendations, intentions or opinions expressed are not necessarily those of Transat AT Inc. or its affiliates. See terms of use of the Air Transat website.