Love the salty air at the beach? Love exploring the rainforest? Want to discover local culture? Fear not, because Costa Rica has something for everyone.
With its warm climate, sunny beaches and biodiversity, Costa Rica makes the perfect destination for you and your kids. Whether you prefer soaking in the salty sea air at the beach, exploring the flora and fauna of the rainforest or discovering local culture, this Central American destination has something for everyone.
The beach is a natural playground
Kids can boogie board and play for hours in the tropical waves on the beaches of the Pacific coast. Just when they begin to tire of this, the tide goes out and changes the landscape. Tide pools full of shells and sea life are yours to explore. While the littlest ones can carve extensive pathways through the sand, the big kids can learn to surf the waves at one of the many surf schools that are famous to the region. Tamarindo and Hermosa Beach are towns known for consistent waves accessible to beginners. Though you won't find Blue Zone Surf School on the main strip in Tamarindo Beach, do get in touch with them online. They are our go-to place for little surfers.
Not interested in surfing? Search out Playa Conchal, which literally translated means Shell Beach. Why? Because the entire beach is covered in ground shells rather than sand. The rocks at the north end of the beach are perfect for snorkeling, and there's even a snorkel gear rental stand in case you forgot yours at home. Insider tip: Seek out the guys with the grills near the snorkeling area. Enjoy a lunch of grilled fresh fish and lobster caught just offshore with an ice cold beverage, but don't expect anything fancy. Your simple meal is served on plastic and the drink from the can or bottle.
Wildlife aplenty
Your kids will not be the only ones thrilled by the sight of a troop of monkeys swinging through the trees overhead. There are four types of monkeys that make this lush country their home, and you are certain to come across them. Travel into one of the country's protected national parks with a naturalist guide to have your best chance of seeing more shy creatures like slow-moving sloths, tiny tree frogs and sneaky snakes. Look to the treetops to find brightly coloured birds like the toucan, the scarlet macaw and more. You might be lucky enough to spot a tapir or a jaguar in its natural habitat in the Osa Peninsula, in southern Costa Rica. If your travel plans don't include that part of the country, consider a visit a refuge like Las Pumas Rescue Center or animal parks like La Paz Waterfall Gardens where you can see rescued jungle cats and other species.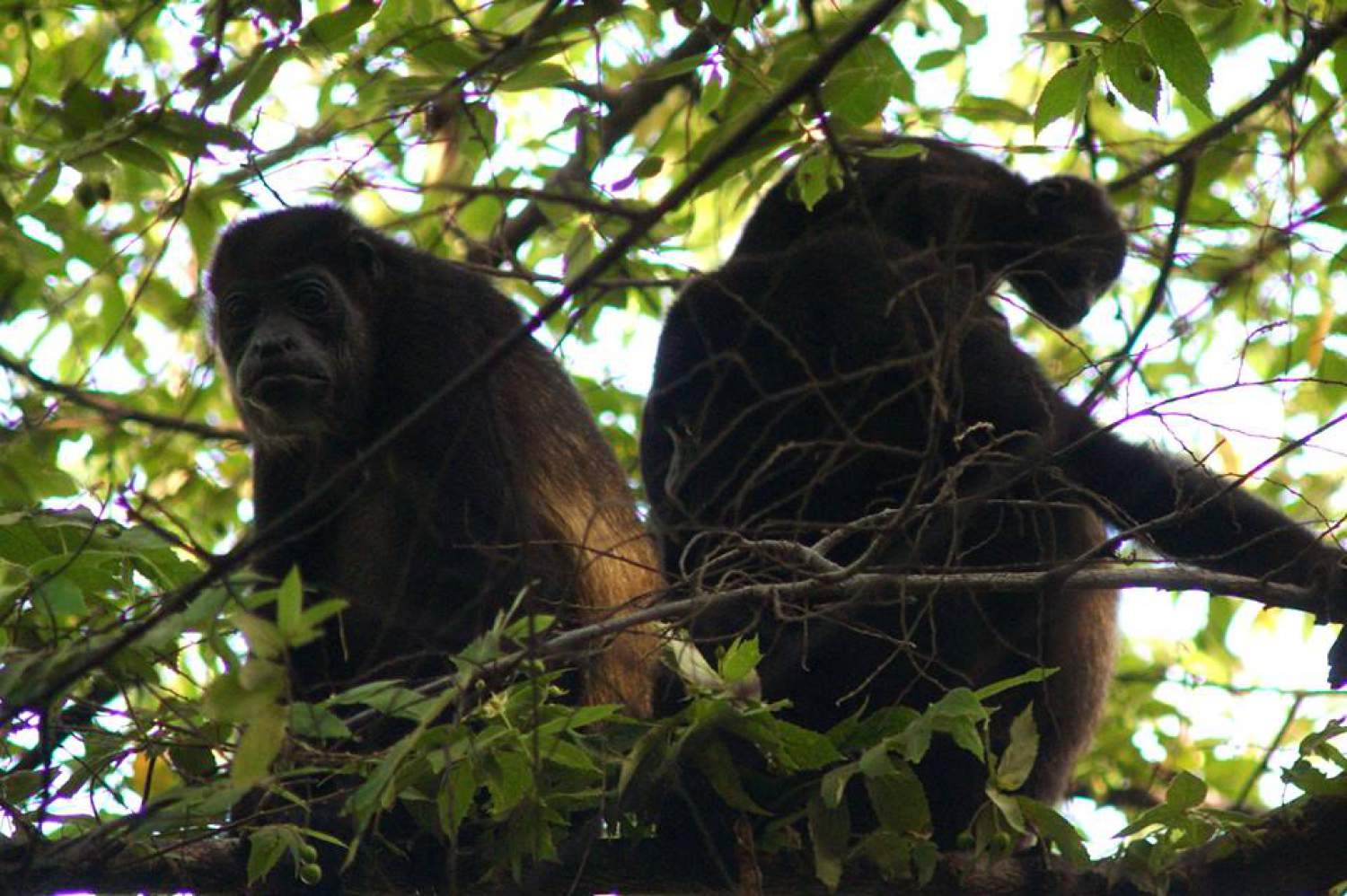 Adventure at every turn
Does your family thrive on adrenaline? Kids big and small can ride a water slide into a volcanic hot spring, ride a horse or ride a wave in Costa Rica. They can swing through the treetop canopy on a zip line, cross over deep river gulches on hanging bridges or explore the dark and surprisingly loud rainforest at night. An afternoon on a catamaran provides just the right amount of adventure for every member of the family. Laze the day away while trying to spot marine wildlife as you sip a cold drink or jump right in with a mask and snorkel to get a closer look at what lies undersea. The area around the Arenal volcano is lush and tropical while the gold coast area of Guanacaste offers miles of sand, surf and sea life. For families, we recommend the all-in-one convenience of Los Lagos Resort near La Fortuna. Our kids once called it "The best place on earth".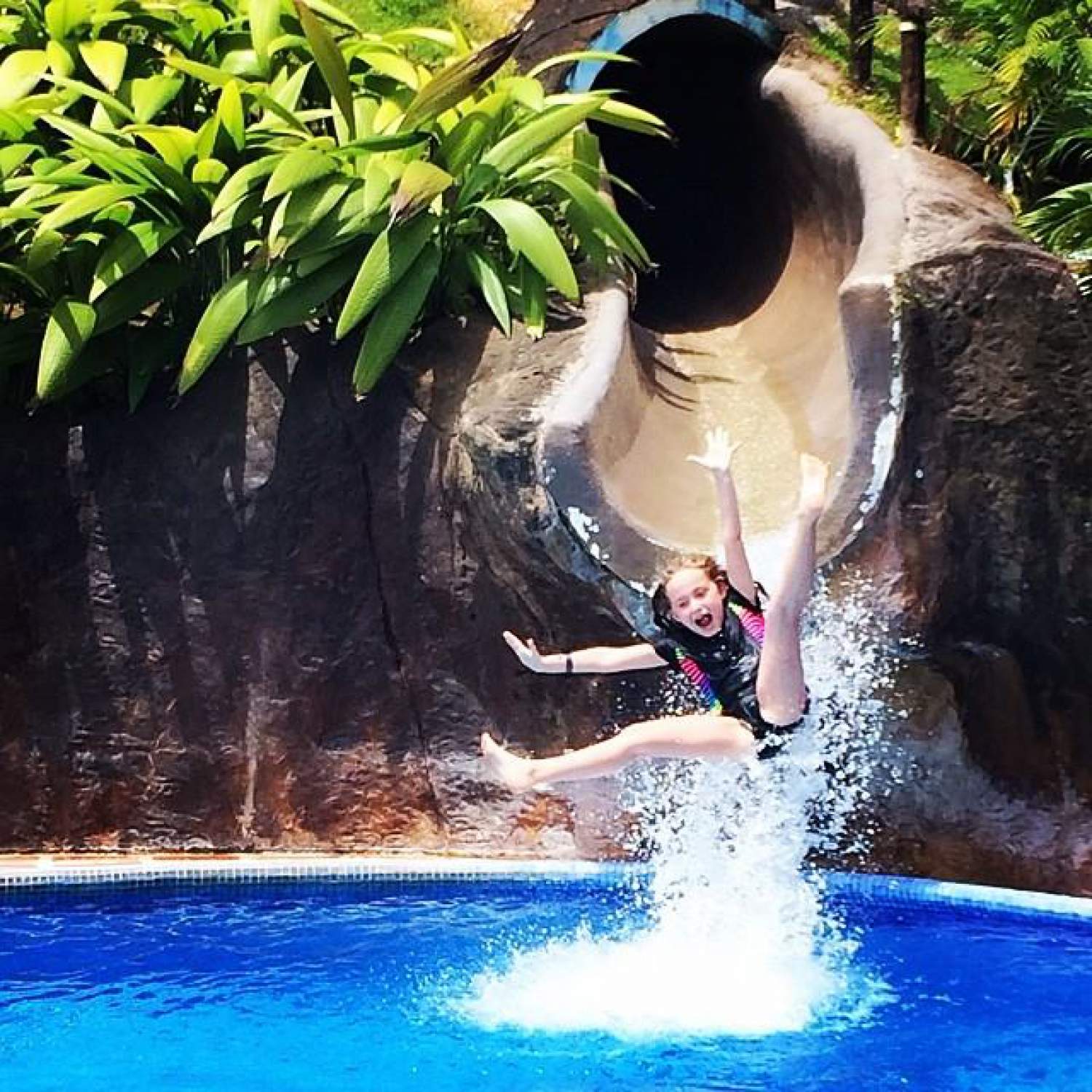 Ecotourism on the rise
Ecotourism in Costa Rica has increased tourist demand for accommodation on working farms. These traditional 'fincas' or ranches provide an insight into the rustic Costa Rican agricultural culture and tradition, while providing hands on experiences, like milking cows, cooking over a wood fire, or preparing coffee and cocoa from bean to final product. La Carolina Lodge is an expat family favourite for quiet weekend getaways. For those looking for an eco-farm-luxury, Rancho Margot is the right farm resort for you. If you fly into San José, the country's capital, consider a stop at the Gold Museum which celebrates the pre-Colombian history of the precious metal.
Find flights and other information about Costa Rica on Air Transat's website.
Cover photo credit: Liisa Vexler
The comments and contributions expressed are assumed only by the author. The recommendations, intentions or opinions expressed are not necessarily those of Transat AT Inc. or its affiliates. See terms of use of the Air Transat website.