All of a sudden, everyone loves Sherlock Holmes. Benedict Cumberbatch plays him brilliantly on TV, and Robert Downey Jr. makes Sherlock downright sexy in the Guy Ritchie movie adaptation of Arthur Conan Doyle's most popular mystery novel. With all of these recent movies and TV series about the popular detective, a Sherlock Holmes tour of London is a must for any Sherlock fan visiting the city.
Much of the filming for the Sherlock movies and TV series has been done on location in London, so there are tons of new Sherlock sights to visit throughout the city, but there are only a handful of key spots that can't be missed on any self-guided Sherlock Holmes London tour.
Statue of Sherlock Holmes and the Sherlock Holmes Museum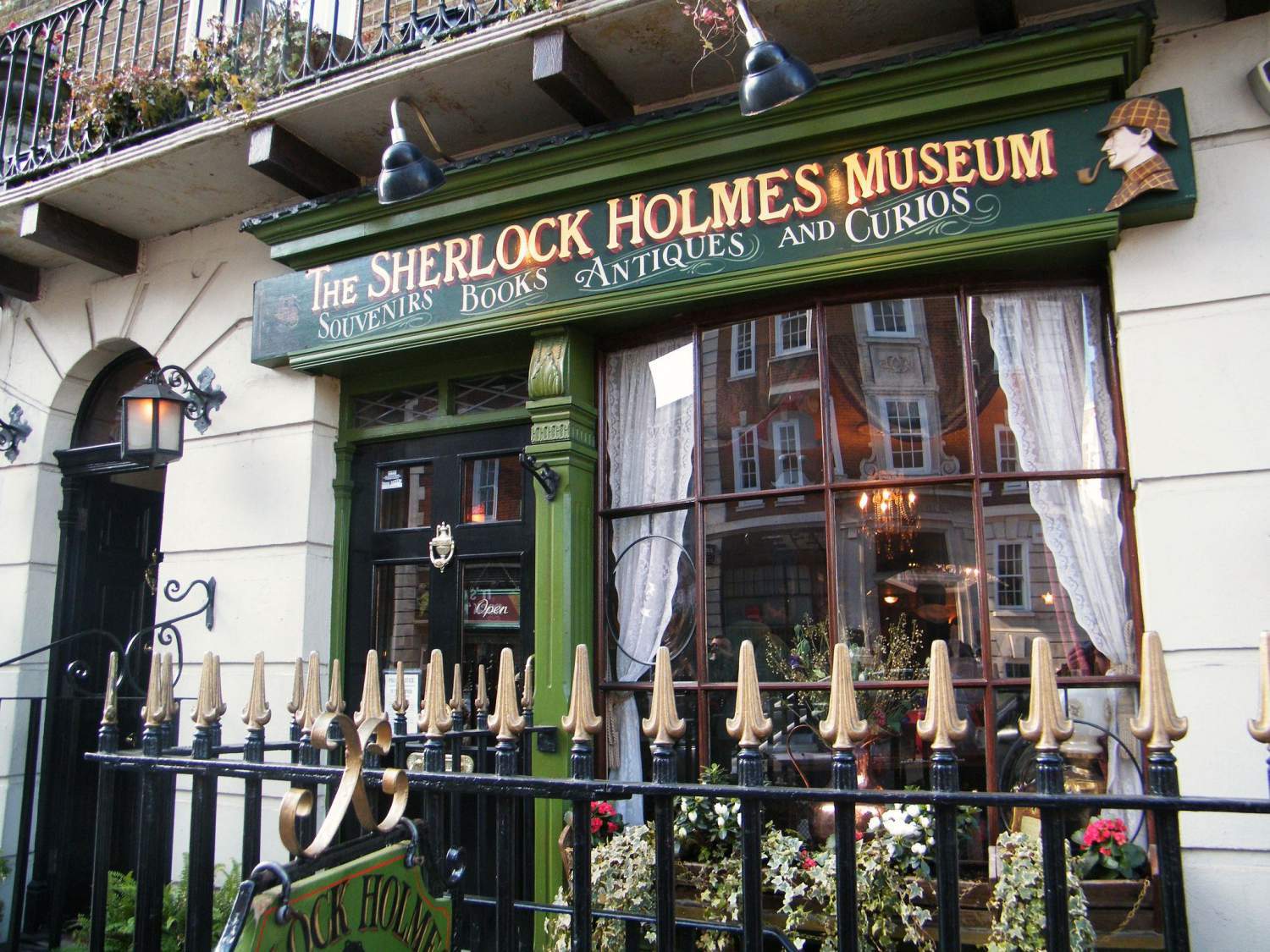 A Sherlock Holmes tour of London would not be complete without a visit to the Sherlock Holmes Museum on Baker Street. When you exit Baker Station on the London Tube, you really don't need to consult a map or your smartphone for the location of museum, just follow the crowd. At any time of the day there is a steady stream of fans, all making a pilgrimage to 221B Baker Street, the mythical home of Sherlock Holmes and now the official site of the Sherlock Holmes Museum.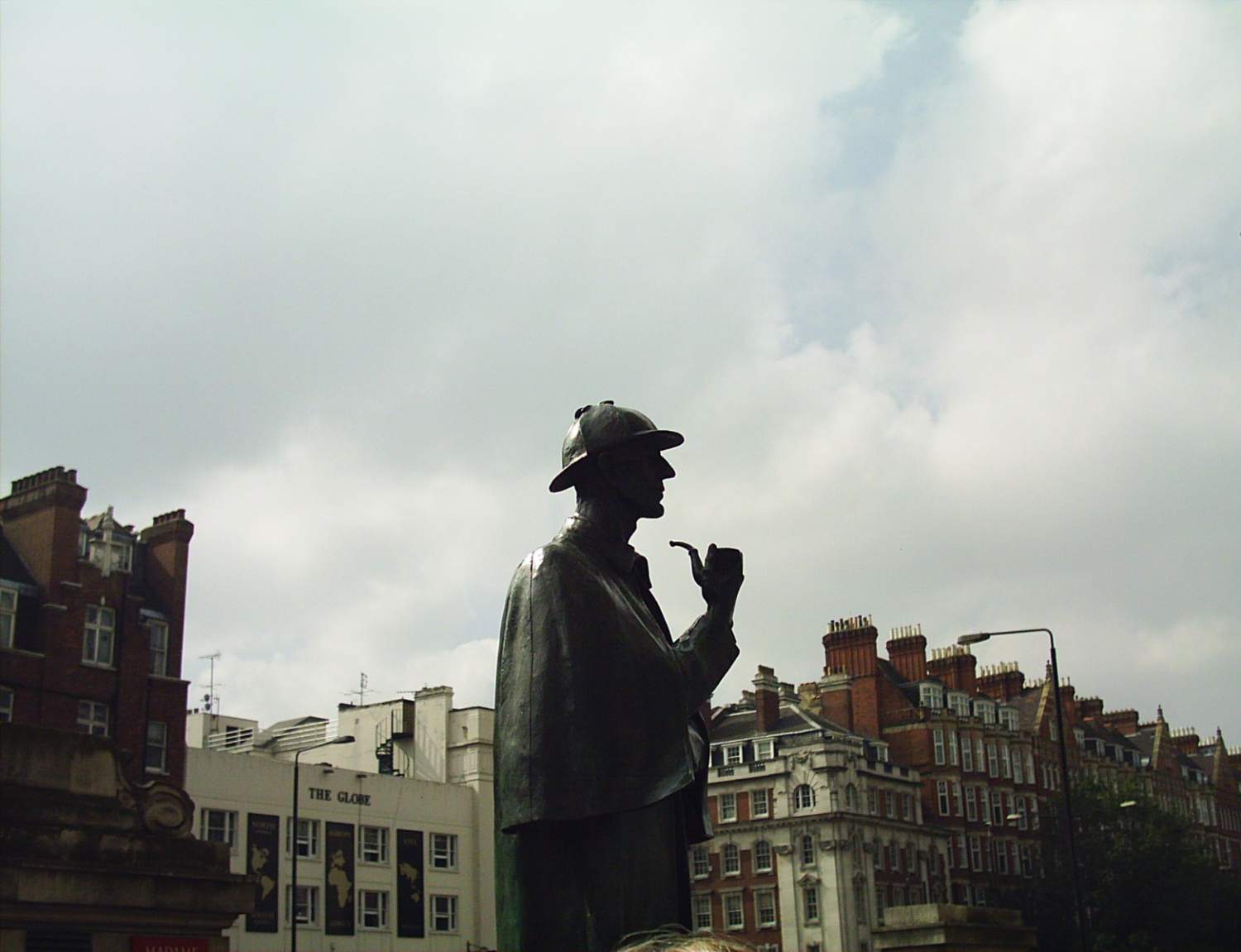 The Sherlock Holmes Museum, located a short 5-minute walk from the station, is a great starting point for the true Sherlock Holmes fan. Here you can climb the seventeen steps (as mentioned in the Holmes's mystery "Scandal in Bohemia"), up to Sherlock's shabby crowded parlour filled with Holmes memorabilia and Victorian furniture. Dr. Watson's room is one floor up, and a gift shop is located on the ground floor. Although tiny, the museum is a great way to start your Sherlock Holmes tour in London. Tip: Be sure to purchase your entrance ticket in the gift shop before waiting in line.
http://www.sherlock-holmes.co.uk/
Madame Tussauds
Head back down to Marylebone Street for a visit to Madame Tussauds Wax Museum, perfectly located only about a five-minute walk from the Sherlock Holmes Museum. Here you can find two wax figures of Sherlock as depicted by Robert Downey Jr. and Benedict Cumberbatch. The museum is also planning to open a couple of exciting Sherlock shows in the near future. Visitors will be able to participate in a Sherlock mystery in a thrillingly immersive theatre show called "The Game's Afoot."
In this brand-new show, members of the audience play detective and sleuth to solve a crime along with the theatre group "Les Enfants Terribles". This limited-run theatre show is still in development, but you can join the mailing list on the Madame Tussauds website for pre-sale tickets to this exclusive evening performance.
On July 15th, Tussauds will be opening a permanent immersive entertainment exhibit featuring Sherlock Holmes. In "Sherlock Holmes: The Experience", you will be able to walk through some of the most famous locations and moments immortalized in the Conan Doyle detective novels. This interactive adventure, which comes complete with period-dressed actors and sound effects, is included in the price of admission to the Madame Tussauds Musuem.
https://www.madametussauds.co.uk/london/en/
Speedy's Café
Cute and cozy, Speedy's Café was featured extensively in the BBC series Sherlock, and is within easy walking distance of the Sherlock Holmes Museum and Madame Tussauds. The café has capitalized on its newly-found fame with dishes such as the Sherlock Breakfast (avocado, eggs and salmon, yum!) and the Sherlock and Watson Wrap.
Sherlock Holmes Pub
Located near London's Charing Cross Station, the Sherlock Holmes Pub is a must-see for any Sherlock Holmes fan. The pub boasts a life-size copy of the Baker Street apartment shared by Sherlock Holmes and Dr. Watson. This exhibit was originally made and put on display at the 1957 Festival of Britain. Some of the pub's more popular dishes include Dr. Watson's Traditional Sunday Roast, Sherlock's Own Sirloin Steak and Mrs. Watson's Shin of Beef and Ale Pie.
http://www.sherlockholmes-stjames.co.uk/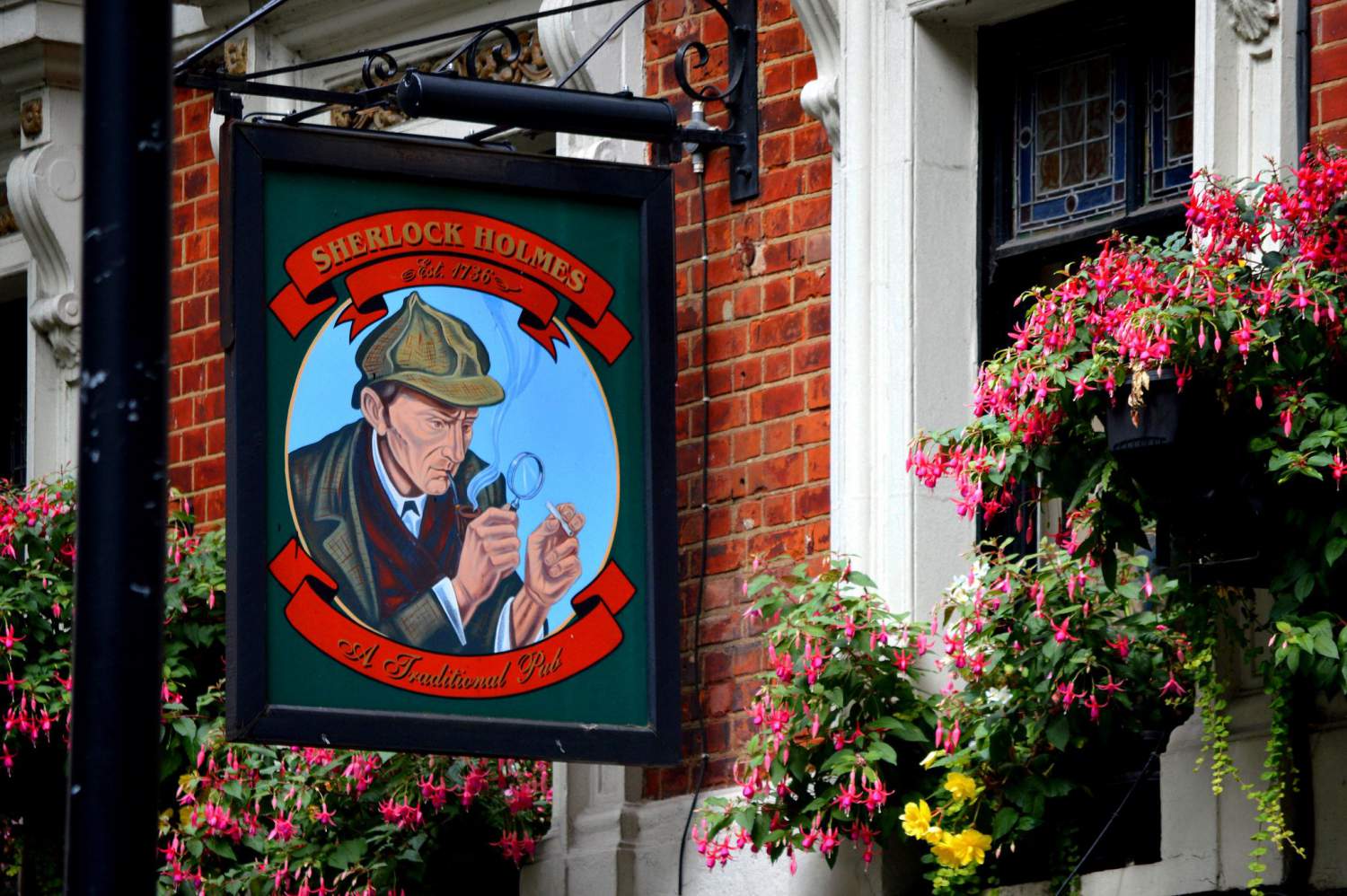 Sherlock Holmes Walking Tour of London
For a fuller and more intense Sherlock Holmes experience in London we recommend the Brit Movie Walking Tour, where you can visit the film and TV locations featured in many of the Sherlock adaptations. The tour is two hours long, starting at Picadilly Circus and ending at the Strand, and along the way there are tons of opportunities to take photos of the many Holmes-inspired stops. From start to finish, you will be immersed in all things Sherlock, with interesting facts and history about the novels, films and TV series. What a perfect way to spend a day in London for any Sherlock Holmes fan!
http://britmovietours.com/bookings/sherlock-holmes-london-tour/
Sherlock Holmes has always been a popular literary figure in England, but with the release of blockbuster shows in recent years, a Sherlock Holmes tour of London is so much fun, and a perfect day out in London.
The comments and contributions expressed are assumed only by the author. The recommendations, intentions or opinions expressed are not necessarily those of Transat AT Inc. or its affiliates. See terms of use of the Air Transat website.

Cover Image: John Wright under CC BY 2.0